---
Crew
Director/Screenplay – Mike P. Nelson, Producers – Shannon Gaulding & Gianni Nunnari, Photography – Maxime Alexandre, Music – Nathan Barr, Visual Effects – Technicolor Toronto (Supervisors – Kevin Candoo & Edward Taylor), Special Effects Supervisor – Guy Clayton, Makeup Effects Design – Elvis Jones, Production Design – Roshelle Berliner. Production Company – Hollywood Gang.
Cast
Kate Bosworth (Nina Monroe-West), Tyler Hoechlin (Mark West), Lance Reddick (Nathan Wood), Sonoya Mizuno (Betsy), Kaden Washington Lewis (Steven Wood), Jacinte Blankenship (Theresa Wood), David Dastmalchian (Willy Cunningham), Thomas Francis Murphy (Plowboy Jim), Dana Gourrier (Wanda the Gambler), Brad Leland (Pit Boss Gambler), Lee Perkins (Dean the Nailer), Allyn M. Schmitz (Voice of Crazy Al), Mikael Armstrong (Bella Wood), Richard Holden (Phil), Laura Cayouette (Connie), Jim Gleason (Dale), Lance Nicols (Winston), Jeff Chase (Bill the Big), Tim Bell (Plowboy Driver)
---
Plot
It is after civilisation has collapsed. Husband and wife Mark and Nina West make plans to travel from Two Harbors, Minnesota to Milwaukee to visit Nina's mother and see if is she alright due to the fact that radio contact with her has abruptly gone silent. They pack their car with supplies and weaponry and set out. However, the 450 miles between there and Milwaukee is through territories run by various gangs – Sheets, The Nailers, The Plowboys, The Gamblers – and the journey becomes a harsh and grim game of survival.
---
The Domestics was the second film from Mike P. Nelson who had previously made the horror film Summer School (2006) and assorted short films. He subsequently went on to conduct the more high profile and quite good reimagining of Wrong Turn (2021)
The Domestics falls into the genre of post-holocaust or post-apocalyptic films. This hit a peak during the 1980s when everybody was attempting to create action movie copies of Mad Max 2 (1981) and its unique junkyard aesthetic. The post-holocaust film of the 2000s and beyond has become dominated by the bleakness of The Road (2009) and its focus on harsh survivalism, an approach we see echoed in other works like Tooth and Nail (2007), The Book of Eli (2010), The Day (2011), The Survivalist (2015) and Light of My Life (2019).
The Domestics is made with a modest effectiveness. Like the abovementioned films, there is less focus on action and more on survivalism. In this case, the film places a couple and their journey across a hostile terrain at the centre of the story. This makes for a much more character-focused post-holocaust film than we usually get. I have come increasingly to like Kate Bosworth as an actress, especially after her show-stopping turn in Amnesiac (2014), and she is fine in her role here. Tyler Hoechlin – especially in his outing as Superman – impressed only as having been chosen as a handsome face and nothing else but here gets to do some more substantial acting.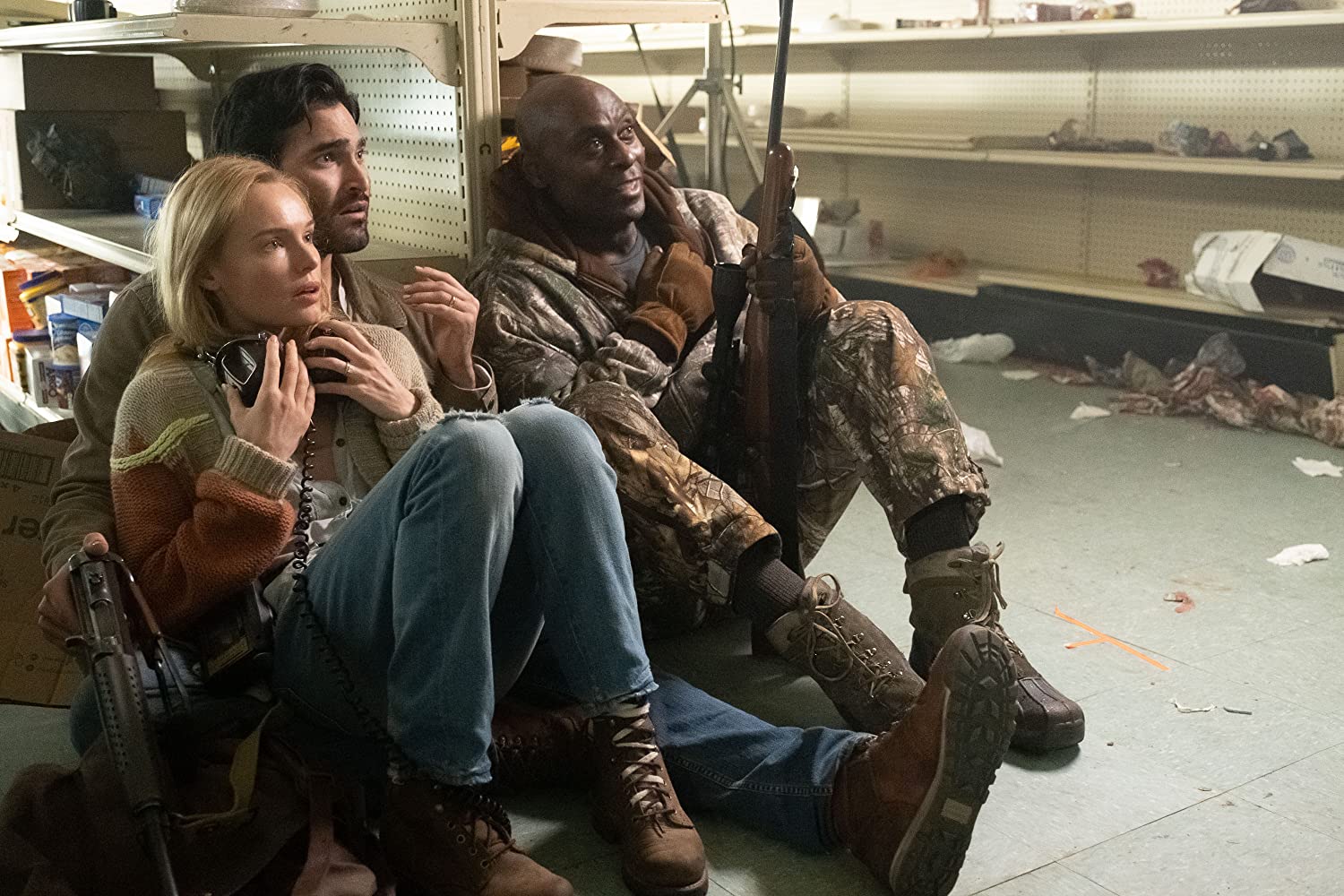 The film is conceived not unlike The Warriors (1979), which involved a journey through the urban territory of various gangs who all operate according to some motif. The same idea of the gangs with motifs is at play here – The Gamblers have a gambling theme, The Sheets wear sheets, The Plowboys drive armoured vehicles, The Nailers wear masks of beaten metal and the like.
Particularly good are the scenes where Tyler Hoechlin and Kate Bosworth are invited home by a friendly Lance Reddick, which suddenly gets turned on its head when Reddick reveals what the source of the dinner they just ate was. The other fine scene is where Tyler Hoechlin and Kate Bosworth are imprisoned by The Gamblers and forced to take place in a game of Russian Roulette with their arms imprisoned inside gloves holding guns aimed at the other..
---
---