---
Estonia/Romania/Latvia/UK/Spain. 2019.
Crew
Director/Screenplay – Miguel Llanso, Photography – Michael Babinec, Erik Pollumaa & Israel Seoane, Music – Atomizador, Bill Dixon, Grosgoroth & Muletrain, Visual Effects – Paddy Eason, Carlos Lesmes & Robeh Rogero. Production Company – Eesti Kultuurkapital/Eesti Film Instituut/Avanpost/Mojo Raiser Production/Alasti Kino/Rook Films/Lanzadera Films.
Cast
Daniel Tadesse (Agent D.T. Gagano), Agustin Mateo (Palmer Eldritch/Batfro), Guillermo Llanso (Stalin/Roy Mascarone/Agent D.T. Gagano (Cartoon Version/Stalin's Assistant), Solomon Tashe (Batfro), Gerda-Anette Allikas (Malin), Lauri Lagle (Commandant Alfons Rebane), Carlo Pironti (Mr. Sophistication), Iveta Pole (CIA Professor), Aris Rozentals (Jiminy Cricket)
---
Plot
CIA agent D.T. Gagano and his partner Palmer Eldritch are called by their superiors and assigned to enter into the Virtual Reality simulation Cyberbook after Agent Tracy is left in a coma by a rogue virus known as Soviet Union. Gagano is wanting to leave the service and start a tae kwon do studio with his wife Malin but agrees to do this one last mission. However, once inside Cyberbook, Gagano touches a toxic substance that leaves his body in a brain dead state outside the simulation. However, his personality lives on inside Virtual Reality. There he must fight the villainous Batfro and his sidekick Stalin in an attempt to find the way back out again.
---
Jesus Shows You the Way to the Highway was the second film from Spanish director Miguel Llanso. After making a series of cryptic short films throughout the 2010s, Llanso made Crumbs (2015), a very offbeat post-apocalyptic film shot in Ethiopia that gained some festival attention.
Miguel Llanso returns with Jesus Shows You the Way to the Highway, his second feature-length directorial outing. He also brings back with him Daniel Tadesse, the Ethiopian dwarf actor who was the star of Crumbs and before that had appeared in Llanso's short films. Jesus Shows You the Way to the Highway was funded by an assortment of international production companies, filmed in various locales (Estonia, Ethiopia, the UK and Spain) and played at various film festivals throughout 2019 and 2020.
I looked forward to Jesus Shows You the Way to the Highway based on a combination of its attention grabbing title and because I had enjoyed Miguel Llanso's Crumbs for its eccentricity and visual inventiveness. Llanso's touch was present some way into the film here with the appealing amusement of a Virtual Reality simulation circa 1990s computing – the opening title is represented by a crude line drawing on an old 286 monitor. When the characters enter the simulation, there is the novel effect of them wearing faces that are simple cutout masks that are photocopies of the faces of Stalin, George Bush Sr and others with moving mouths.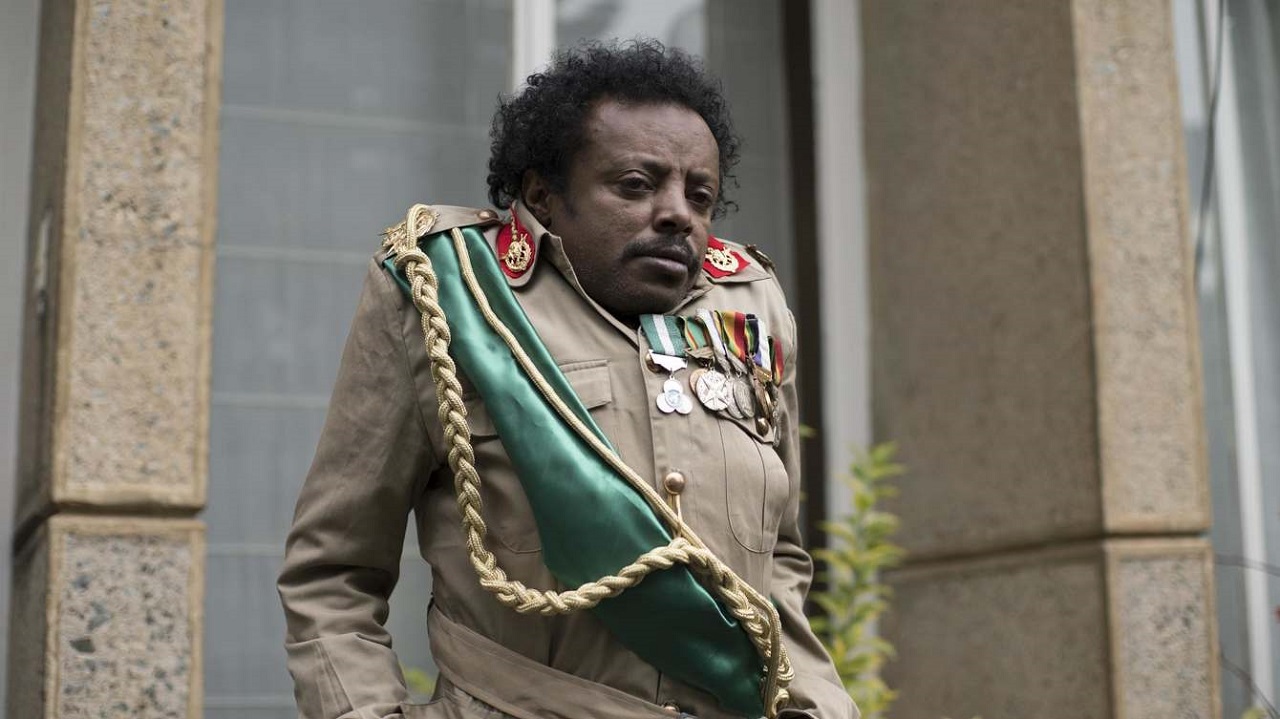 On the other hand, Jesus Shows You the Way to the Highway becomes tedious. It often feels like a film made without any real plot and involves little more than the various characters running around wearing the funny masks or costumes – the principal villain of the show is dressed like Batman out of the Batman (1966-8) tv series. There are assorted shaolin monks who turn up to engage in some not very well choreographed martial arts scenes. For no particular reason, the film names Daniel Tadesse's partner Palmer Eldritch after the hero of Philip K. Dick's novel The Three Stigmata of Palmer Eldritch (1965) about reality-bending drugs.
I have to honestly say I didn't really know what was going on. This need not necessarily be a problem in a film. The recent I'm Thinking of Ending Things (2020) is a good example of a film that leaves you highly confused about what is going on but reveals its depths the more you think about it. On the other hand, there is the other recent example Kuso (2017), which made my Worst of 2017 list, where all that you get is the feeling of watching a student film indulge itself and be weird and surrealistic without any real rhyme or reason for 80 minutes. Jesus Shows You the Way to the Highway falls down on the latter side of the fence. There is no particular creativity to any of it, no hidden message or symbolism that one could detect at play – it's just people running around and doing silly things wearing costumes.
---