---
Crew
Director/Screenplay – Nick Love, Producers – Nick Love, Allan Niblo & James Richardson, Photography – Simon Dennis, Music – Lorne Balfe, Visual Effects Supervisor – Jean-Michel Boublil, Visual Effects – Automatik, Production Design – Forest Fagan. Production Company – Vertigo Films.
Cast
Stephen Dorff (Melvin Hesper), Eddie Griffin (Lucille), Yohance Myles (Lucas), Andrea Cohen (Eileen Hesper), Raeden Greer (Clarice Hesper), King Orba (Jimmy), Luis Da Silva (Lyle), Christopher Berry (Danny), Keena Ferguson (Doreen), Jonathan Billions (Rex), Dominique Perry (Yolanda)
---
Plot
In New Orleans, Melvin Hesper is having difficulties. As a result of his drunken escapades, the court blocks him from custody of his son Rex and orders him to do community service. Melvin spends the rest of his time partying, drinking and doing drugs. Melvin also has the ability to move objects with his mind. After Melvin ends up in hospital, a cop friend asks him why he does not use his abilities to do good. Melvin decides to turn his life around for the sake of Rex and starts training in the use of his powers. After seeing that Rex is being drawn into the company of neighbourhood drug dealers, he decides he must use his abilities to stop them. However, this brings reprisals from the gang.
---
Nick Love is a British director who has gained a name in recent years with a series of hard-edged films, including the likes of the coming of age film Goodbye Charlie Bright (2001), the soccer hooliganism film The Football Factory (2004), the gangster film The Business (2005), the vigilante film Outlaw (2007), a further film about football hooliganism The Firm (2009) and the big screen remake of The Sweeney (2012). In genre material, Love has also produced the serial killer thriller WΔZ (2007), the murderous children film The Children (2008), Gareth Edwards' Monsters (2010) and its sequel Monsters: Dark Continent (2014), the Found Footage horror A Night in the Woods (2011) and the killer robot film Kill Command (2016).
While comic-book superheroes have overridden cinema screens to a point of deluge, American Hero proves a welcome contrast. It could almost be considered the anti-Marvel or DC superhero film. While they are filled with superheroic action, this is low key and realistic. Not so much in a gritty Batman/Punisher-esque way but in the sense of taking place in the real world of working class people amid the poorer areas of New Orleans.
While the MCU features wholesome morally driven heroes, this features a hero who consumes a large amount of drugs and alcohol, is on community service, going through a custody dispute with his ex and for whom deciding to stand up and fight crime is not so much an epiphany as a form of rehab. This is essentially Stan Lee's maxim of superheroes having to deal with real world problems but taken further than Lee ever allowed it to be. If there is any previous superhero film you could point to by comparison, the nearest might be Hancock (2008).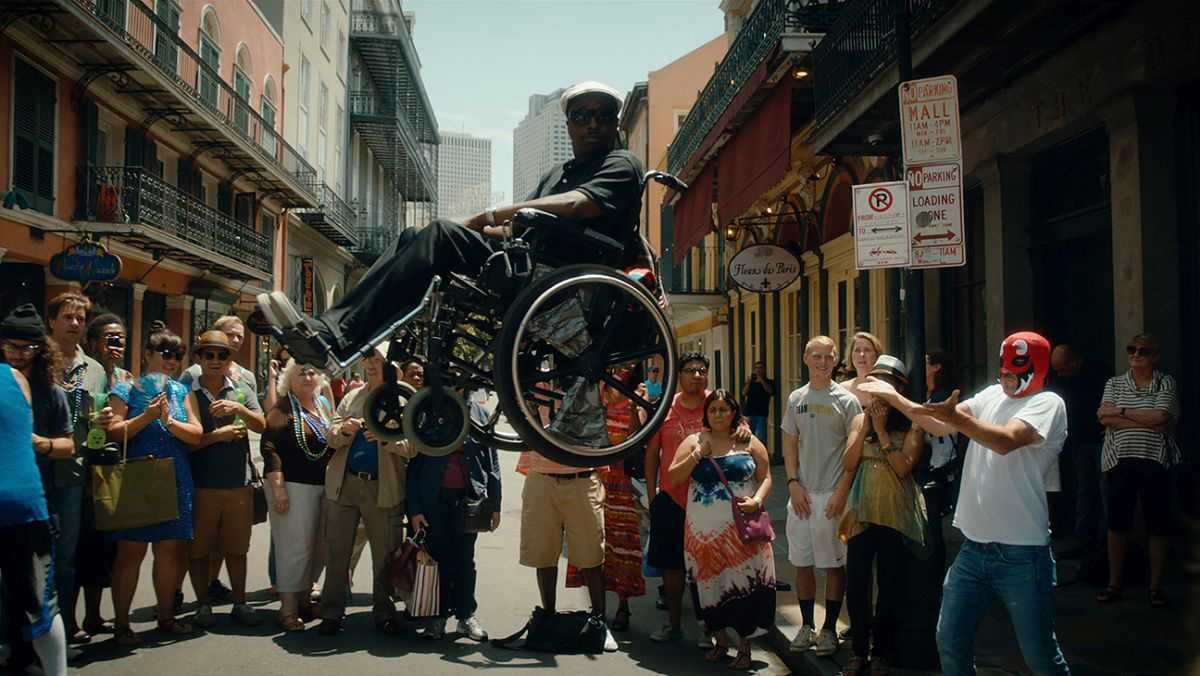 For a British director, Nick Love achieves a strong sense of place and the culture around Stephen Dorff. The setting also allows Love to set the superheroics amid something nonchalantly everyday – Stephen Dorff's family have to call him to bring the furniture down from the ceiling while his sister is yelling at him because his powers have blown out her hairdryer. There are all manner of perfectly nonchalant touches – Dorff sits being interviewed while reading a book and absent-mindedly batting away another that persistently keeps floating over; he walking through a supermarket and summoning items off the shelves into his hands; and a scene where he sits upset while in the background pieces of a house start to fly up in the air and the power lines of the street are wrenched down.
A good deal of the fun of the film comes when Stephen Dorff finally starts to train and then eventually goes into action with his powers. We see him in a junkyard flinging a car door the length of a football field; nearly hitting Yohance Myles with a stop sign and leaving it impaled inches away from his head in the lab whiteboard; halting a knife thrown at him by gang members and stilling a spray of gunfire from a drive-by shooting in mid-air; or dissembling a junked car body and then reassembling it with parts taken from a different car wreck.
The triumph of the film is when he finally wades into the drug dealer's den with psychically flung tires, a car door elevated to shield from gunfire, tossing shooters down off the balconies and then demolishing the entire building as he heads inside. The triumphs of the film though are the simple and emotional uplift that comes in the final scene where he finally gets to spend time with his son again.
---
---