---
Crew
Director – Felix E. Feist, Screenplay – Warren Duff & John F. Goodrich, Based on the Novel by S. Fowler Wright, Producers – Samuel Bischoff, Burt Kelly & William Saal, Photography (b&w) – Norbert Brodine, Art Direction – Ralph M. DeLacey. Production Company – Admiral Productions.
Cast
Sidney Blackmer (Martin Webster), Peggy Shannon (Claire Arlington), Lois Wilson (Helen Webster), Fred Kohler (Jepson), Lane Chandler (Jack), Ralf Harolde (Norwood)
---
Plot
A massive flood strikes, obliterating the entire west coast of the USA and then continuing overland. New York City is wiped out. In the midst of this, Martin Webster is washed away while trying to get his wife Helen and children to safety. Winding up on a shoreline, he takes shelter. Meanwhile, championship swimmer Claire Arlington is found by Jepson and his friend Norwood. She flees after the two men fight over her and Jepson kills Norwood. As Jepson determinedly pursues to make her his, Martin finds Claire and grants her shelter. As Jepson comes searching, raising a whole gang against them, she and Martin find feelings for one another. At the same time, Martin is not aware that Helen and his children are still alive.
---
The name of S. Fowler Wright (1874-1965) is not much recognised today but he was a notable author in early British science-fiction. A measure of Wright's success is that he was regarded as the most popular British SF author of the first half of the 20th Century second only to H.G. Wells. An accountant by day job, Wright began publishing in 1924. He produced a number of works of science-fiction (although just as many murder mysteries).
Deluge (1928) was Wright's third novel and the one he became most recognised for. It became a best-seller, even though Wright was initially forced to pay to print it himself due to the fact he could not get a publisher to pick it up. Prefiguring the work of J.G. Ballard, Wright created a vision of Midlands England deluged and under water. He was against progress in many regards and saw that the destruction of society was a way for humanity to become closer to nature again. The success was such that Wright published a sequel Dawn (1929). The only other S. Fowler Wright work ever adapted to screen was the murder mystery Three Witnesses (1935).
The film rights to the book were picked up by Hollywood. Not too unexpectedly, many aspects have been changed. The location is uplifted from England to the USA. It is not specified where the aftermath is taking place but it is presumably somewhere in the vicinity of New York State. We don 't get the visions of a drowned world that Wright gave us, although there is an impressive one of the flood striking. Much of Wright's social lecturing is gone, although a certain amount does remain.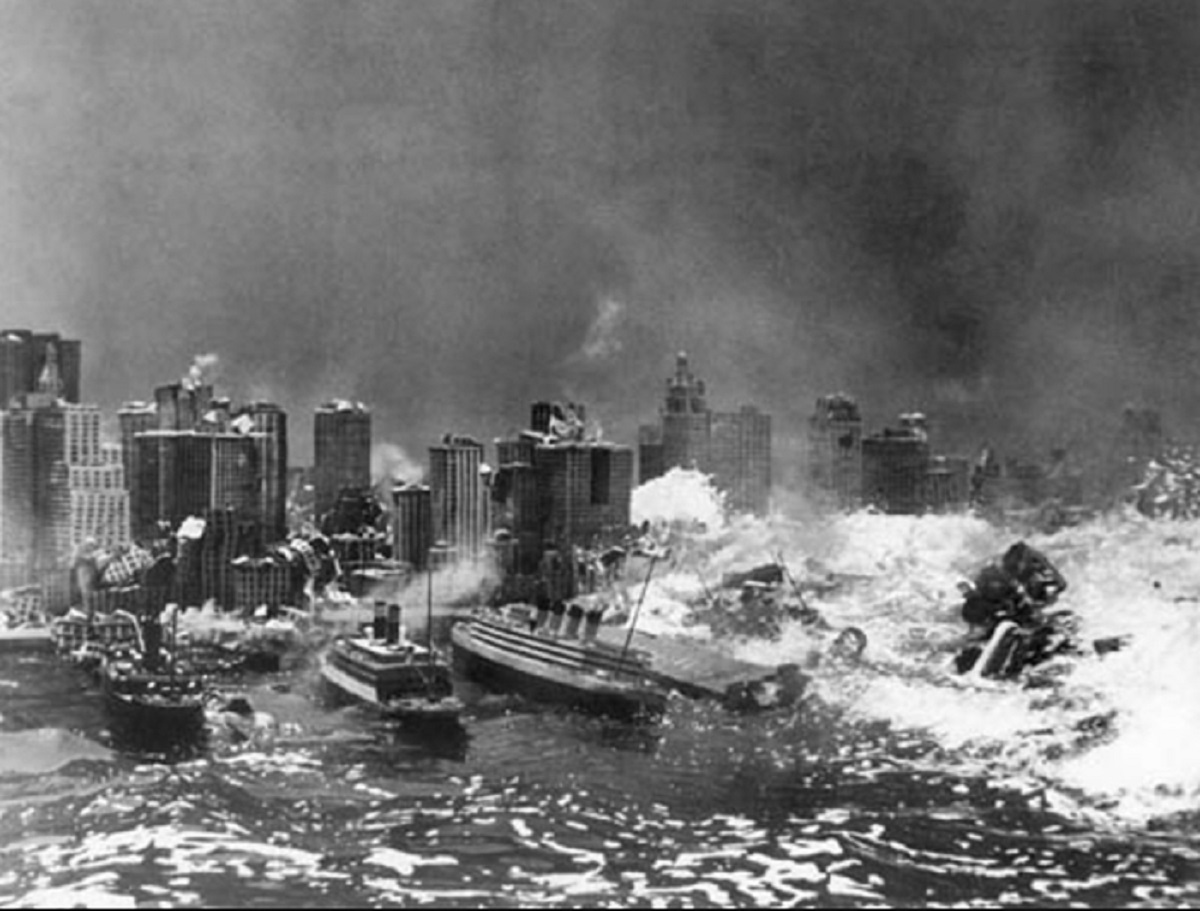 The most egregious change is the ending. In the book, the hero is caught between the two women but the end of the story sees them reconciling their differences and all deciding to settle down in a menage a trois. Clearly, such a radical challenge to the institution of marriage would not do and the film ends on a downbeat note where the other woman Peggy Shannon just decides to swim off into the ocean – where to we never get to know. You do get the impression that this version has been construed in a far more traditionally religious vein than Wright intended it as evidenced by the opening title card: "We the producers present it now purely for your enjoyment, remembering full well God's covenant with Noah."
Deluge can lay claim to being the first ever disaster movie. It is not quite what the disaster movie became in the 1970s – a cathartic spectacle of mass destruction as we watched well-known stars making their way through the wreckage to safety. Certainly, the opening scenes where the West coast of the US is devastated is disappointing as we see only a single building shaking and the rest of the destruction is relayed by radio announcers describing what has happened. That said, the film reserves its' all for the scenes of New York being deluged. Here we see some fantastic scenes of mass destruction with great waves flooding the streets, skyscrapers toppling and crowds running as buildings collapse behind them. The special effects in these scenes, say what you want about how primitive some of them may be by today's standards, were the absolute peak of what cinema had to offer back in the day and are extremely impressive.
The downside is that the film gives us its best scene at the start. The rest of it slips into being a fairly standard post-holocaust and Last People on Earth story. Deluge was not the first of these – the Danish The End of the World (1916) probably holds that claim – but it would probably be among the first few if you counted them on a single hand. The film does not dwell too much on the rebuilding of society, although there are several scenes where Sidney Blackmer turns up, creates a form of economic bartering and is then voted in as mayor.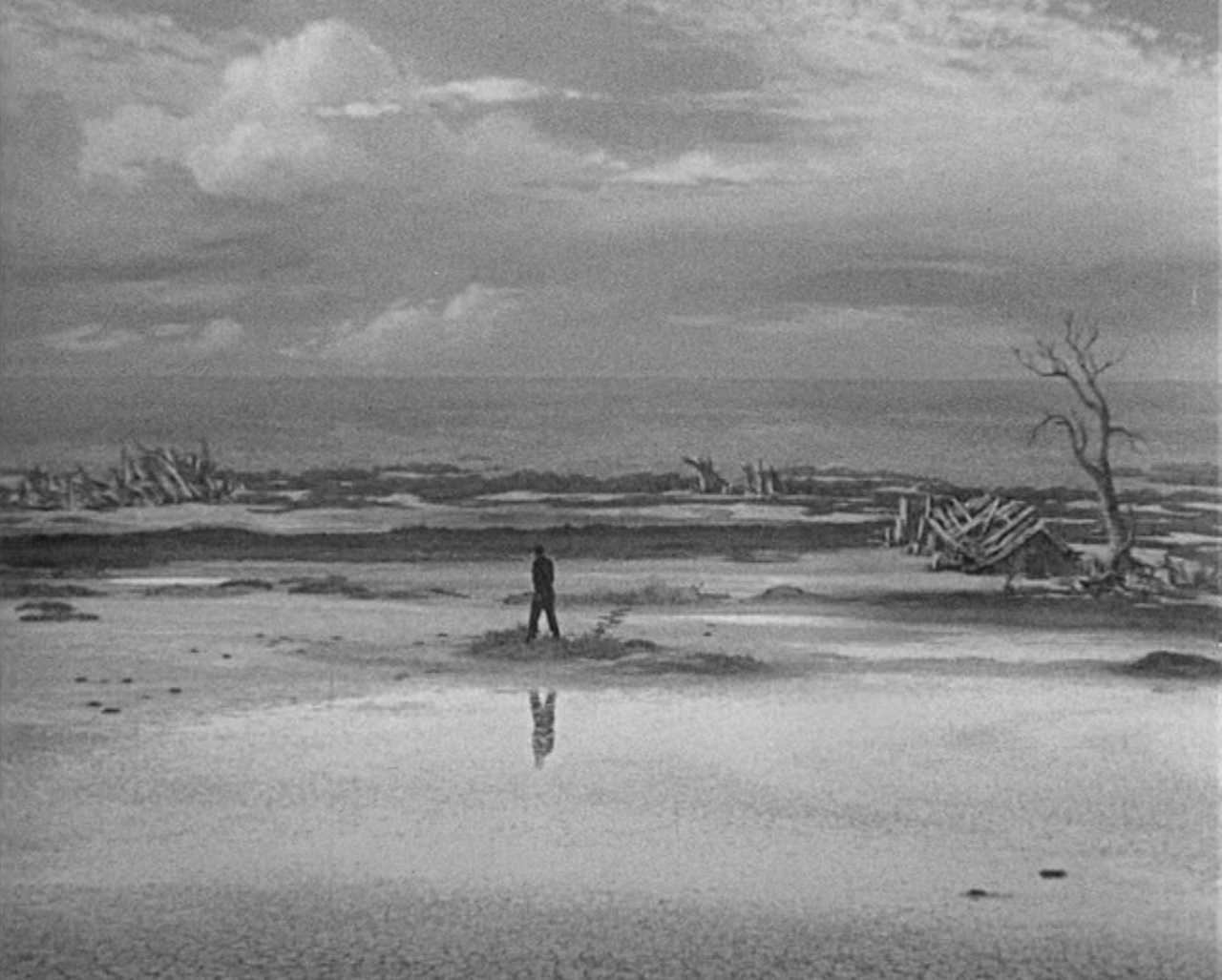 Most of the film is set around the problems Peggy Shannon faces as one of the few remaining women – it is not clear why the deluge creates such a disparity of the sexes as you would think a major natural disaster would claim both sexes equally – who is pursued by a gang and one man in particular who claims her as his own. These scenes are average, nothing particularly standout.
For many years, all prints of Deluge were considered lost until a copy was discovered in Italy in 1988. Thus the only versions of the film now available are dubbed in Italian and have been subtitled back into English. That said, the footage of the flooding of New York was recycled in numerous Hollywood films for several years afterwards including S.O.S. Tidal Wave (1939), Dick Tracy vs Crime Inc (1941) and King of the Rocket Men (1949).
Deluge was the first film directed by Felix E. Feist. Feist made a number of films throughout the 1930s, 40s and 50s, before moving into television in the 1960s. His only other genre contribution was the classic disembodied brain film Donovan's Brain (1953). He was also the stepfather of popular fantasy author Raymond E. Feist.
---
---