---
Crew
Director/Screenplay – Jeffery Lando, Producers – Jeffrey Green, Phillip Roth & Kirk Shaw, Photography – Alexander Krumov, Music – Christopher Nickel, Visual Effects Supervisor – Aleksandar Yochkolovski, Visual Effects – Bufo, Ltd., Special Effects Supervisor – Georgi Kraev, Production Design – Kess Bonnet. Production Company – Bufo, Ltd/Odyssey Media Inc./Reel World Management.
Cast
David Chokachi (Steve "Sunny" Simpson), Ruth Kearney (Angel), Don Michael Paul (Major Nicholas Shaw), Preston James Hillier (Dr Daniel Berg), Steve Hartley (Jack Tanner), Atanas Srebrev (Agent James Bo), Harry Anichkin (Louie)
---
Plot
The US military conduct an experiment using an trial device known as Thor's Hammer in an attempt to weaponise the Jet Stream to direct it against enemy targets but this goes wrong. In Seattle, Steve Simpson is a former meteorological scientist who was tossed out of academia in disgrace for plagiarism. He now works as a tv weatherman where he resents the inane, ratings-driven things he is required to do. Contacted by an anonymous person over the internet, he becomes aware that an unusual Jet Stream convergence is about to occur nearby and persuades his boss to allow him to take a camera truck out to the scene. There he is blasted and the truck obliterated by a micro storm that appears. Recovering in hospital afterwards, Steve discovers that the footage is all over YouTube and he is now famous. He is then contacted by the military who take him to a secret location where he discovers that a former colleague has appropriated his old research to create Thor's Hammer. However, this has gone wrong and the Jet Stream is causing offshoots everywhere with catastrophic results. He is recruited to join the project and given orders to find a way to stop the Jet Stream as it starts causing mass destruction.
---
Jet Stream was another of the cheap disaster movies made for the Syfy Channel. There has been a vast industry of these that include The Black Hole (2006), Meltdown: Days of Destruction (2006) , NYC: Tornado Terror (2008), Lava Storm (2008), Annihilation Earth (2009), Ice Twisters (2009), Megafault (2009), Polar Storm (2009), Arctic Blast (2010), Ice Quake (2010), Meteor Storm (2010), Quantum Apocalypse (2010), Stonehenge Apocalypse (2010), Behemoth (2011), Collision Earth (2011), Earth's Final Hours (2011), Mega Cyclone (2011), Metal Tornado (2011), Seeds of Destruction/The Terror Beneath (2011), Miami Magma (2011), Super Eruption (2011), 2012 Ice Age (2011), Alien Tornado (2012), Seattle Super Storm (2012), 500 MPH Storm (2013), 100° Below 0 (2013), Stonados (2013), Asteroid vs Earth (2014), Christmas Icetastrophe (2014), Crystal Skulls (2014), Firequake (2014), LA Apocalypse (2014), San Andreas Quake (2015), Stormageddon (2015), Geo-Disaster (2017) and Oceans Rising (2017), among others. (I have a more in-depth essay on these here at Disaster Movies).
These Syfy Channel disaster movies have become routinely commonplace. They are filled with cheap digital effects, stock plots and faux pieces of drama. Jet Stream is oddly more likeable than most of its ilk, even if at the end of the day it still remains a formula disaster movie. You have to commend the script for having an undeniable sense of humour. David Chokachi rushes to the aid of a downed soldier and prepares to perform CPR with lines like "I got this. I saw it on Baywatch (1989-2001)." You can hardly dislike a throwaway film like this that comes with a tv cameraman (Harry Anichkin) comparing his work to that of (Academy Aaward-winning cinematographer) Vilmos Zsigmond.
David Chokachi makes for a far more likeable hero than the usual run of former minor name stars that are cast in these films. He has a substantially stronger character arc – the familiar cliche of the discredited/disbelieved scientist who has a crackpot theory that could save the world but added to that he has also been thrown out of the university for plagiarism and is making ends meet working as a tv weatherman resenting being forced into silly ratings-driven stunts before he breaks with orders to cover a story he knows is going to happen and afterwards comes around in hospital to find he is suddenly a YouTube sensation. Not quite the same can be said for Don Michael Paul who comes across as looking like a middle-aging man who has spent far too much time engaging in the drugs and rock'n'roll lifestyle than he does a convincing military general.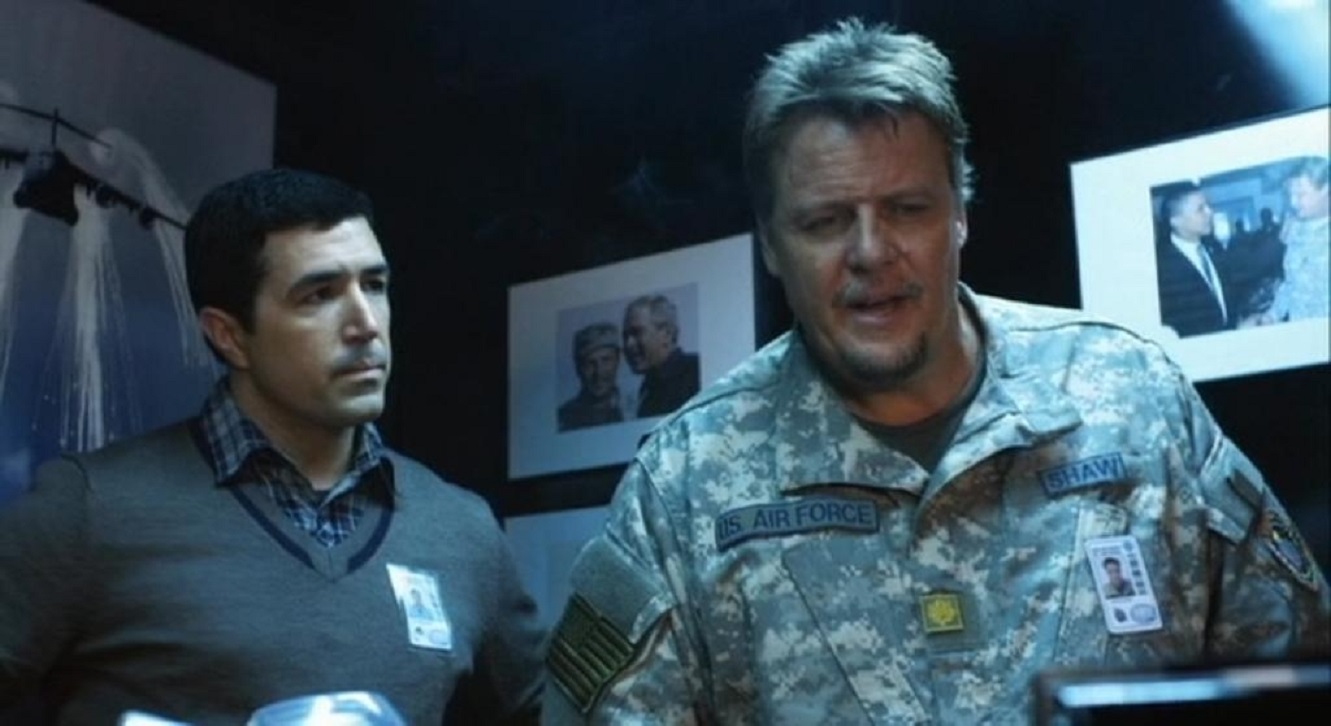 Still, the usual cheapness of these Syfy Channel films comes through. The visual effects are sub-par. The most notable example is when we get a few cheap-looking scenes of the glass ceiling shattering at a mall in Wisconsin and people panicking, before the film cuts to two tv presenters calling it the "worst tornado in history," where what we have just seen seems vastly inadequate in coming near to fulfilling such a description.
There is all the usual formula scenes of sinister military, the hero coming up with a wildly improbable scheme to stop the menace, a climactic fight board an aircraft to save the world. To its credit, the film never bothers with any of the usual B plots cutting away to relatives/loved ones/friends of the heroes as they are caught up in the disaster.
Director Jeffery Lando, often billed as Jeffery Scott Lando, has made a host of other low-budget horror and science-fiction films, including Savage Island (2004), Insecticidal (2005), Alien Incursion (2006), Decoys 2: Alien Seduction (2007), Goblin (2010), House of Bones (2010), Thirst (2010), Super Tanker (2011), Boogeyman (2012), Haunted High (2012), Supercollider (2013), Roboshark (2015), Suspension (2015) and Bad Stepmother (2018).
---
---