---
Crew
Director/Screenplay – Sandra Sciberras, Producer – Grace Luminato, Photography – David LeMay, Music – Christopher Lukins, Visual Effects Supervisors – John Francis & William Gammon, Makeup Effects – Stephanie Davis, Production Design – Cherish Marrington. Production Company – Three Feet of Film.
Cast
Jolene Anderson (Joanne Sharp), Stef Dawson (Samantha Sharp), Richard Davies (Luke), Cassandra McGrath (Angela), Talina Naviede (Michelle), Harry Greenwood (Paul), Ruby Duncan (Ellie), Caleb Scott (Jensen), Ben Mortley (Bill Barter), Ryan Allen (Anthony), Oscar Harris (Dean), Lis Hoffman (Mary), Jackson Lucas (Simon Sharp), Shyla Vivian (Katie), Alexandra Nell (Marsha), John Harvie Morris (Frank Cole), Russell Lambe (Doctor), Chloe Brown (Francis)
---
Plot
A meteorite comes down in a small Australian desert town. In the morning, local police sergeant Joanne Sharp finds the power off around the town. She encounters several locals behaving oddly, moving about and standing in a blank and uncommunicative state. At the school where Joanne's sister Samantha teaches, one of the infected Bill Barter has killed his own daughter. Others kill dogs or snatch children. The geologist Angela discovers a strange dust storm that will not allow anyone to leave town. Gradually they realise that an alien force is controlling the locals. As those remaining seek safety and shelter, the infected mount an attack.
---
The Dustwalker comes from Australian director Sandra Sciberras who had previously made the non-genre dramas Max's Dreaming (2003), Caterpillar Wish (2006) and Surviving Georgia (2011).
The Australian zombie film is a mixed effort. The country did produce one effort back during the 80s fad with Zombie Brigade (1988). The modern era has brought sporadic efforts such as the Spierig Brothers' strangely interesting Undead (2003). Dead Country (2008) and sequel Deader Country (2009), I Am Bish (2009), Theatre of the Dead (2013), Wyrmwood: Road of the Dead (2014) and Plague (2014). One still has the bad memory of Australia's incredibly crass venture into the arena of the zombie comedy with Me and My Mates vs. the Zombie Apocalypse (2005). Although the same year as The Dustwalker came out there was the hilarious Little Monsters (2019).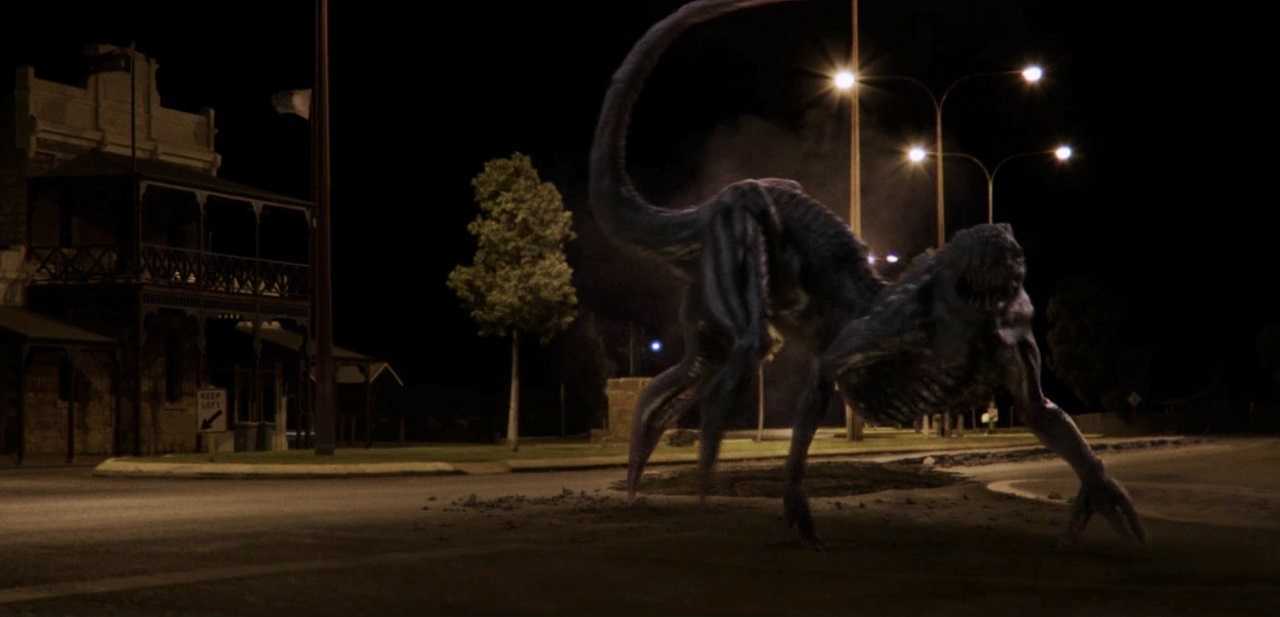 The Dustwalker would seem to be an entry in the Australian zombie fad but one that has an identity disorder. As the film opens with something arrived from space identified as the cause, I was immediately reminded of various science-fiction zombie film such as Invisible Invaders (1959), Plan 9 from Outer Space (1959), The Earth Dies Screaming (1964) or Night of the Comet (1984). On the other hand, it feels like a zombie film that is not wanting to be a zombie film and trying to be something different – there is no resurrected dead, for instance, more a case of the possessed living.
The problem is that in dispensing with any traditional zombies Sandra Sciberras fails to clearly identify what it is that people are fighting against. The menace seems vague and ill-defined. More importantly, the zombies (for want of a better word) seem to spend a lot of the film standing about, occasionally running but never seem to do much to put the central characters at threat.
This threat only emerges in about the last twenty minutes where Sciberras at least generates some tension with the cast running around the streets at night trying to get to safety while pursued. This is followed by the brief emergence of an alien monster. The film reaches an unsatisfactory ending that just peters out.
---