---
Crew
Director – McG, Screenplay – Zack Stentz, Producers – McG, Matt Smith, Susan Solonon-Shapiro & Mary Viola, Photography – Shane Hurlbut, Music – Bear McCreary, Visual Effects Supervisor – Ray McIntyre Jr., Visual Effects Supervisor – Randy Cook, Visual Effects – CVD VFX (Supervisor – Matt Lane), DNeg (Supervisor – Manolo Mantero), Exceptional Minds, Method Studios (Supervisor – Ruslan Borysov), Mind + Machine VFX (Supervisor – Billy Brook), Pixel Magic & Shade VFX (Supervisor – Bryan Godwin), Special Effects Supervisor – John Ziegler, Production Design – Kristen Vallow. Production Company – Wonderland Sound and Vision/Circle of Confusion.
Cast
Jack Gore (Alex), Miya Cech (Zhenzhen), Benjamin Flores Jr. (Dariush), Alessio Scalzotto (Gabriel), Annabeth Gish (Grace), Andrew Bachelor (Logan), Scott MacArthur (Lou), Dean Jagger (Captain Hawking), Lynn Collins (Major Collins), Michael Beach (General Khoury), Tony Cavalero (Conrad)
---
Plot
Nerdy twelve year-old Alex is sent by his mother to the Rim of the World summer camp outside of Los Angeles. However, Alex's anxiety gets in the way of his participating in some of the physical challenges. He and the Chinese orphan girl Zhenzhen wander off. The loudmouth Dariush follows and tries to bully Alex into getting over his fears but Alex is saved by Gabriel who stands up to Dariush. They are interrupted by explosions in the sky. They return to the camp to find it has been evacuated while they were away. They then see Air Force fighters and alien ships shooting in the sky. A space capsule crashes nearby and the wounded Major Collins emerges. Before she dies, the major gives Alex a crypto-key, saying it has to be delivered to Dr Fleming at Jet Propulsion Laboratories to save the Earth from the invasion. They are immediately pursued by an alien creature that is able to regenerate from any damage. Fleeing through the devastation and fighting, all the time pursued by the alien creature, the kids try to make it the sixty miles to JPL in Pasadena and save the Earth.
---
The mix of the Young Adult and the Alien Invasion film has never fared particularly well on screen – think the likes of I Am Number Four (2011) (to some extent), The Host (2013) and The 5th Wave (2016), none of which were box-office successes. I did have quite a liking for The Host, as well as the modest British film Robot Overlords (2014), which went to dvd. There was also the fine British tv series The Tripods (1984-5), which someone should really redo as a big screen YA franchise sometime soon. Rim of the World is no different – even though the film gives all evidence that it was intended for theatrical release, it ended up going straight to Netflix.
McG, or to give him the less pretentious birth name of Joseph McGinty Nichol, emerged as a music video director in the 1990s. He became a hot Hollywood name on the basis of his first film Charlie's Angels (2000), which was a hit but also an empty-headed work that strip-mined a tv series brand name and reconceived it as an action movie built around a series of slick action moves. While the public seemed to like Charlie's Angels, most of them switched off when it came to McG offering more of the same with Charlie's Angels: Full Throttle (2003).
McG subsequently directed the sports film We Are Marshall (2006), Terminator Salvation (2009), the spy romcom This Means War (2012), the spy action/comedy 3 Days to Kill (2014) and the beyond ridiculous horror film The Babysitter (2017) and its sequel The Babysitter: Killer Queen (2020). Indeed, McG seems to have spent more time lending his name as producer to various tv series, including Fastlane (2002-3), The Mountain (2004-5), Human Target (2010-11), Nikita (2010-3), Shadowhunters: The Mortal Instruments (2016-9) and the huge hits of The O.C. (2003-7), Supernatural (2005-20) and Chuck (2007-12), and occasional films such as the absurd videogame horror film Stay Alive (2006) and the Stephen King adaptation Mercy (2014).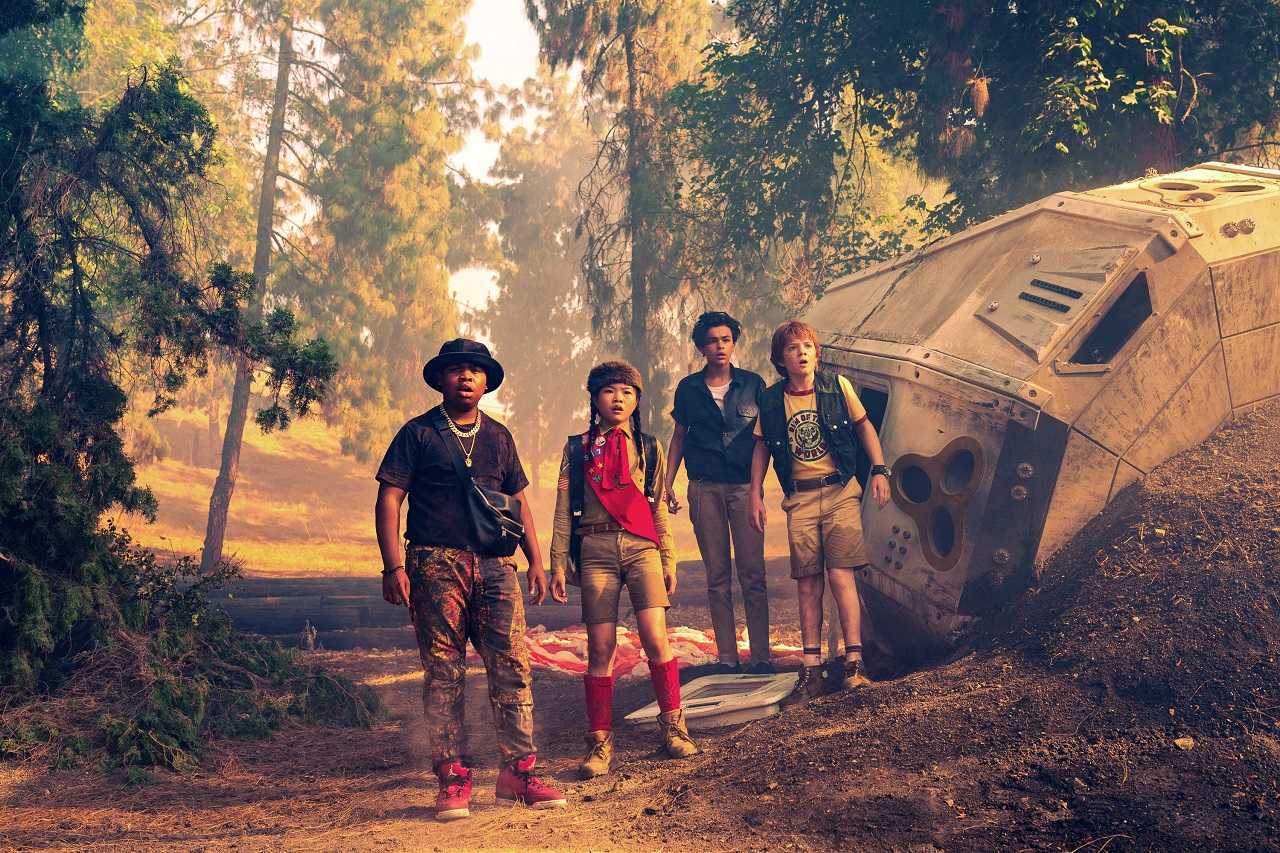 Rim of the World starts in with a grating tone that immediately makes you hate it. The summer camp is depicted in a splashy, determined-to-impress way that feels like no summer camp that ever existed in the real world. The children seem cast more as an exercise in diversity than as characters. Their banter feels inauthentic – in particular, Benjamin Flores Jr. gives a motormouth performance as Dariush that one starts become get tired of five minutes into the film.
Each of the characters comes with a troubled background arc they must conquer throughout. It feels like a textbook case of someone dutifully following their Screenwriting 101 cues – you can almost feel the constructor set of plot cards being wheeled into action. Nevertheless, it does give the characters more depth than the one-dimensional caricatures they seem to be at the outset. All except for Benjamin Flores Jr. who I kept wishing would die in a horrible way. The other amusing thing is how young hero Jack Gore resembles McG himself – do a search for pictures of McG and he could resemble a version of Jack Gore, albeit forty years older.
One of the more annoying things is that the characters are wont to reference everything that happens in terms of other films – variously comparing the situation to Beethoven (1995), Independence Day (1996), Gladiator (2000), The Purge (2013), X-Men's Wolverine and engaging in lightsabre duels, even to Werner Herzog's Grizzly Man (2005). Some of these, especially the Herzog reference, feel more like the screenwriter inserting references to his own favourites or trying to write wry pop culture-savvy one-liners than they seem like films that you could credibly expect a group of twelve-year-old kids to have watched.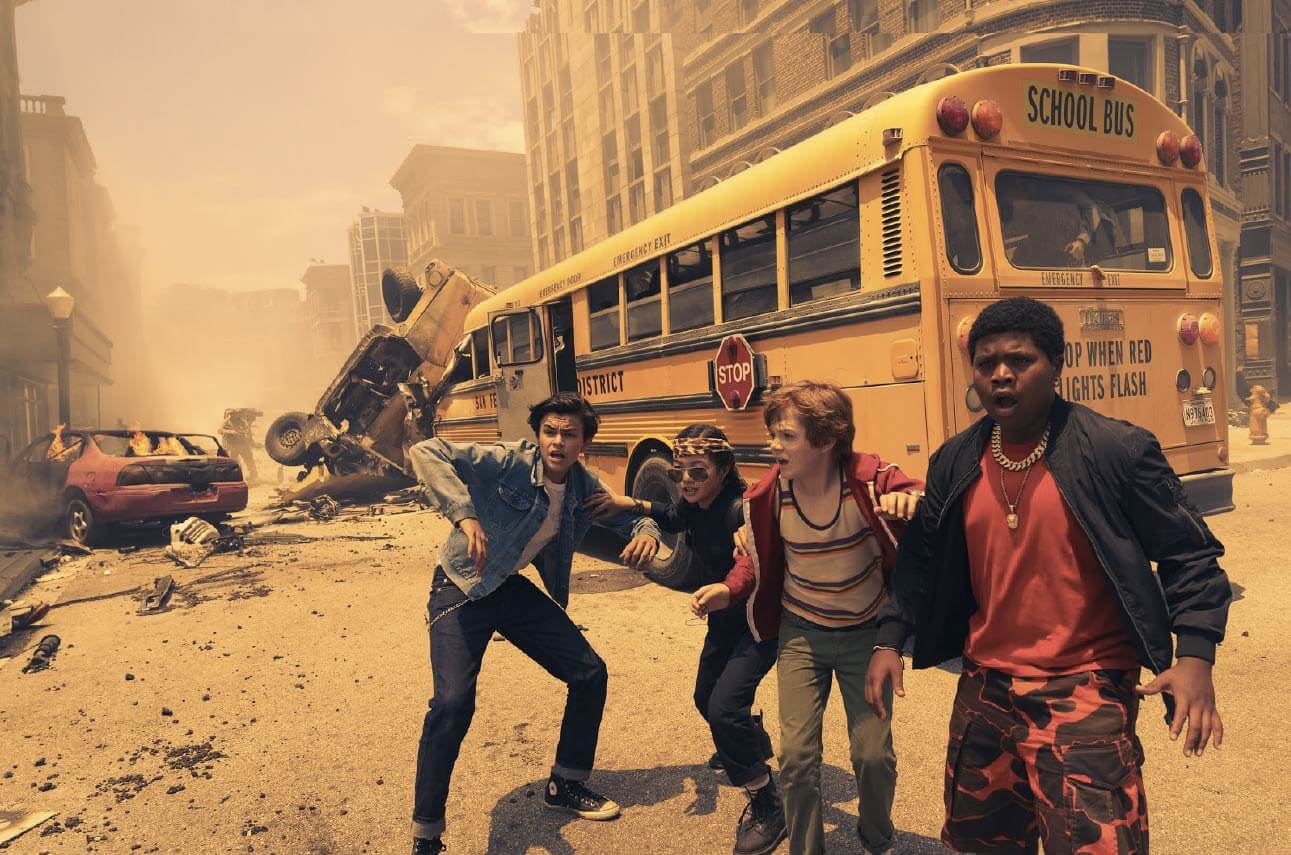 As might be expected, McG provides lots of visual effects action, explosions and flash. There is a big countdown in the midst of peril where only the kids can save the world. There is a monster who has no literally no other purpose in the film than to keep pursuing the kids and regenerating from everything they attack it with. Why it obsessively follows them doesn't seem to ever concern the film.
Increasingly some of this starts to become posed and empty-headed – like the scene where the kids exit from the mall and just happen to find a classic Mustang sitting there waiting – cue scenes with the kids burning rubber and engaged in car stunts, while there is even a mixtape waiting for them in the car's tape deck. Oh and during the mall scenes the kids all get a series of outfits from an Adidas store in one of the worst examples of product placement ever seen in a film.
Screenwriter Zack Stentz is a former journalist who had previously written Agent Cody Banks (2003), Thor (2011) and X: First Class (2011), as well as worked as a regular writer on genre tv series like Andromeda (2000-6), Terminator: The Sarah Connor Chronicles (2008-9), Fringe (2008-13) and The Flash (2014-23).
---
Actors:
Jack Gore, Miya Cech, Benjamin Flores Jr, Alessio Scalzotto, Annabeth Gish, Lynn Collins, Dean Jagger, Michael Beach, Andrew Bachelor, Scott MacArthur, Tony Cavalero