---
Crew
Directors – Nick Kozakis & Kosta Ouzas, Screenplay – Kosta Ouzas, Producer – Alexandros Ouzas, Photography – Tim Metherall, Music – Dream Vault Studios, Makeup Effects – WowFX, Prosthetic Creature Designer – Danielle Ruth, Production Design – Linus Gruszewski. Production Company – Burning Ships Productions.
Cast
Tegan Crowley (Evie), Steven Kennedy (Charlie), Scott Marcus (John), Nick Stribakos (Bob), Don Bridges (Gary), Sarah Ranken (Sammy), Liza Dennis (Marge), Benjamin Rigby (Corporal Davis)
---
Plot
The zombie apocalypse has occurred. A group of people are holed up at a shed on a farm in rural Australia. Evie wants them to wait until her husband John, who was separated from the group, re-joins them. This meets harsh resistance from Bob who argues in favour of moving on. The dispute ends as Bob shoots one person who defends Evie. Evie is abandoned as Bob and the others drive off. John then makes a return. Not long after, they are joined by Charlie, who proves easygoing, friendly and full of practical knowhow when it comes to survival skills. However, Evie soon begins to see a darker side to Charlie.
---
Plague was a feature-length directorial debut for Australian directors Nick Kozakis and Kosta Ouzas. The two conceived and funded the film's $150,000 budget themselves, shooting over a ten-day period in the Victoria region in Southeastern Australia. The film was conceived around the location, although was switched to a woolshed from a farmhouse to avoid too many similarities to Night of the Living Dead (1968).
Australia, a great cauldron of B movies in the past, has been relatively slow to jump on board the Zombie Film fad. The country did produce one effort back during the original Ozploittation fad with Zombie Brigade (1988) but it would be another fifteen years before the Spierig Brothers made the very strange Undead (2003). The modern zombie revival of the 2000s has brought sporadic efforts such as Dead Country (2008) and sequel Deader Country (2009), I Am Bish (2009), Theatre of the Dead (2013), The Dustwalker (2019), the standout Cargo (2017), and the hilarious Little Monsters (2019). Around the same time that Plague came out, there was also the successful Wyrmwood: Road of the Dead (2014) and the extraordinarily crass Me and My Mates vs. the Zombie Apocalypse (2015).
Plague comes with a great opening. There are two initial shots before the credits play that set the scene – one of silhouetted bodies on a hillside devouring something, and another silhouette of a hanged body. We are then introduced to the group, staying in a farm shed and arguing heatedly over whether to go or stay and wait for Tegan Crowley's missing husband. As night comes, the group huddle inside the shed as things – it is never clear what at this point – batter at the corrugated tin walls trying to get in. The debate about whether to go continues the next day before the abrupt and shocking moment where the leading opponent (Nick Stribakos) shoots elderly Don Bridges with the shotgun. We get a shot of Bridges with half his head blown off before Stribakos and the others drive off and leave Tegan there on her own. This sets the dramatics up with a jolting impact.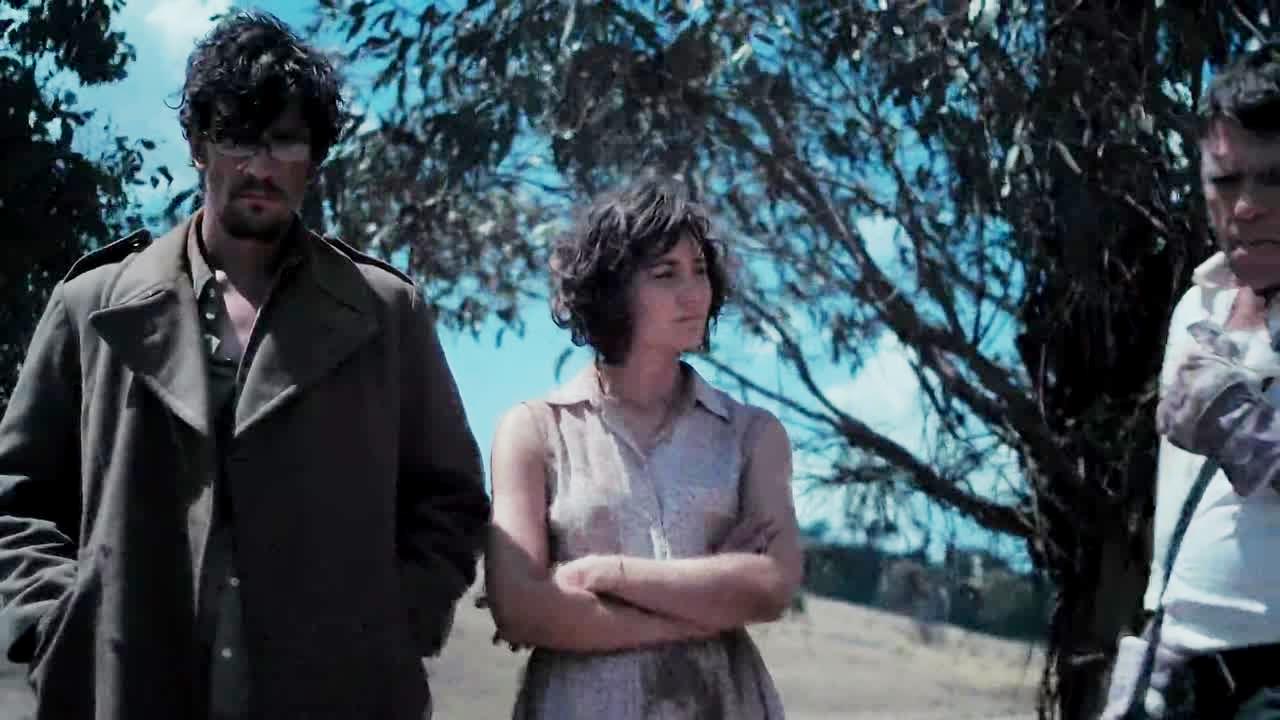 It is also worth noting that it is not until around the 25-minute mark that we actually see any zombies. Indeed, this is a zombie film that is more focused on the tensions between the human survivors than the zombie attacks. Things proceed to spin around with the return of Tegan's husband (Scott Marcus) and then the arrival of the affable Charlie (Steven Kennedy) who soon ingratiates himself into their favour and proves a fount of practical-headed wisdom about how best to survive.
Steven Kennedy plays with an easygoing bonhomie and habit of speaking in simple terms like he was talking to a child. This soon develops a much darker undertow – in particular, as he comes up close to Tegan Crowley and murmurs in her ear "I like you, Evie. I really like you." Her creeped-out reaction to this gets a horrible spin when Scott Marcus suffers an asthma attack and she is forced to give into Steven Kennedy's demands for sex in order for him to go and find an inhaler for Scott.
This is tight, well-told drama made with some fine performances and a script that pushes the characters through some very dark twists. It is a surprisingly good film. The only point I disliked it was misandrist ending where Tegan Crowley abandons Scott Marcus to the zombie horde, seemingly for the crime of wanting to keep on going instead of giving in to defeatism.
---
Trailer here
---