---
Crew
Director – Rachel Talalay, Screenplay – William Davies & William Osborne, Producer – Paul Schiff, Photography – Phil Meheux, Music – Graeme Revell, Visual Effects – VIFX (Supervisor – Richard Hollander), Physical Effects Supervisor – John Richardson, Special Effects Supervisor – Richard L. Thompson, Makeup Effects – Alterian Studios (Supervisor – Tony Gardner), Production Design – James Spencer. Production Company – 20th Century Fox.
Cast
Karen Allen (Terry Munroe), Wil Horneff (Josh Munroe), Chris Mulkey (Bram Walker), Ted Marcoux (Karl Hochman), Jack Lauter (Elliott Miller), Shevonne Durkin (Carol Maibaum), Bradford Quintin Adams (Frazer), Jessica Walter (Elaine Spencer), Richard McKenzie (Frank Mallory)
---
Plot
Solo mother Terry Munroe visits a computer store where she allows a computer salesman to scan a page of her address book as a demonstration of a new desktop organizer. However, she forgets to take the address book when she leaves and it is picked up by store technician Karl Hochman. In actuality, Hochman is a serial killer known as The Address Book Killer who methodically kills his way through stolen address books. As he heads after her, Hochman is caught in a car crash. He is rushed to hospital but as he is being CAT scanned, an electrical storm hits the hospital, causing Hochman's brain pattern to be transferred into the computer system while his body dies. From there Hochman starts infiltrating the computer systems and electrical appliances that surround Terry and killing his way through the names of the people in her address book.
---
Ghost in the Machine is one of the films that quickly jumped in to exploit the success of The Lawnmower Man (1992). It treads unimaginatively in the places that The Lawnmower Man went, mixing in equal amounts of ideas from Shocker (1989) with its serial killer villain able to enter electrical systems and Pulse (1988) with its household of malevolent electrical appliances. The computer animation on display is expectedly good but there is the same problem as there was with all the films that started to use morphing effects after Terminator 2: Judgment Day (1991) – that after one has seen the effects once, as in The Lawnmower Man, they quickly begin to seem passé.
The computer animation is the only reason to see Ghost in the Machine. It has no sophistication beyond that – certainly, not for anyone who has the slightest knowledge about computer technology. The script seems to have been written by people whose entire experience of computer technology has been switching on their word-processors. No distinction is made between information systems and electrical systems, with the cyber-ghost being able to switch between the two with equal ease. The script produces such howlers as the climactic drama where magnetism is treated more-or-less as pressurized air where the killer is lured out of cyberspace by a giant magnet but safely enters a magnetically-shielded control booth where the heroine then manages to wipe him out by shooting a hole in the control booth window and 'allowing' the magnetism in.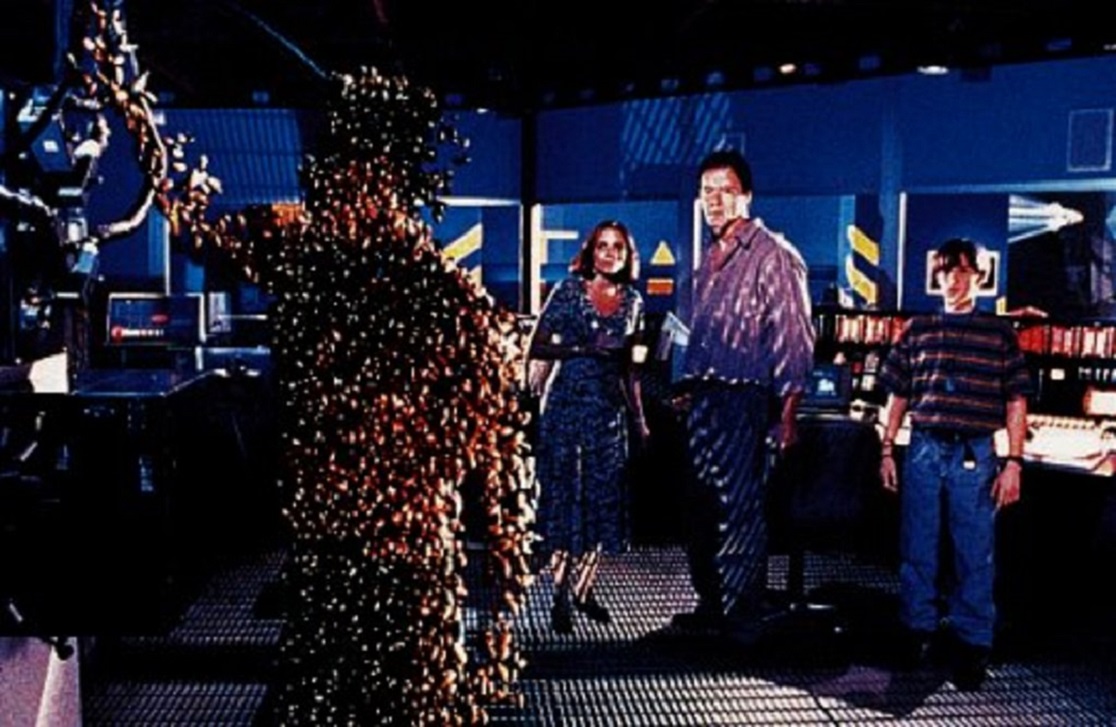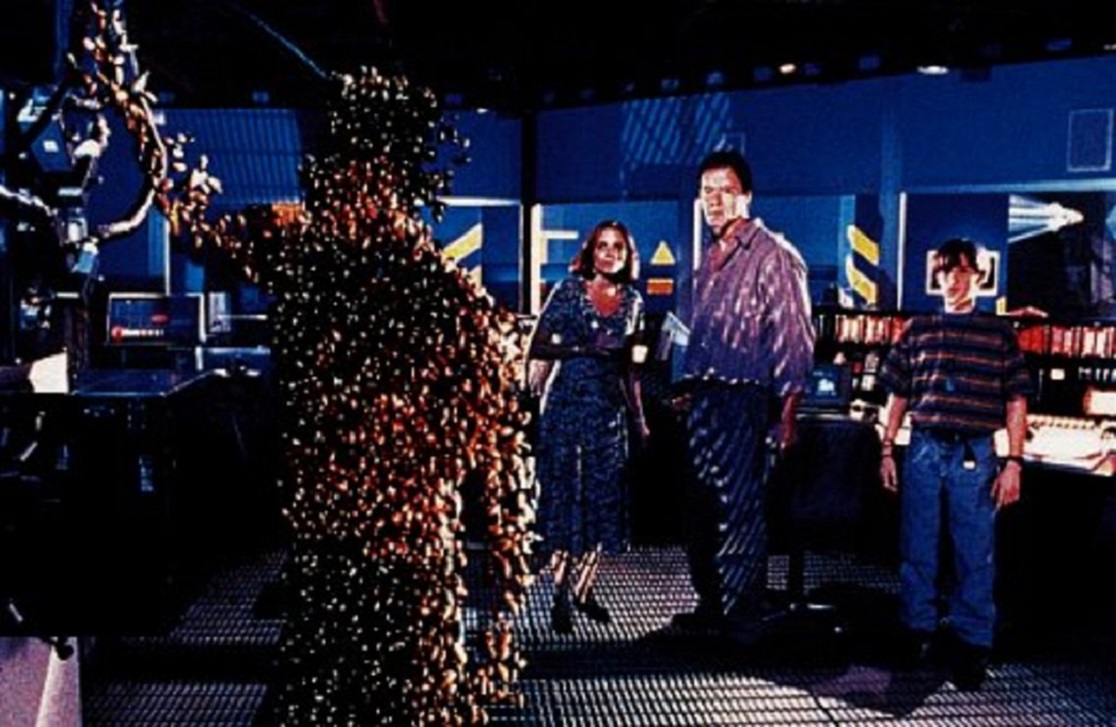 This straight-faced flight in the face of ridicule is fairly much what might be expected with Rachel Talalay at the helm. Talalay, a former producer at New Line Cinema on the Elm Street sequels, made her directorial debut with Freddy's Dead: The Final Nightmare (1991) where whatever minuscule threat the Freddy Krueger character might have left after four sequels was thrown to the wind by Talalay's ludicrously OTT direction.
The slim contrivance of the story here may well have made for a routine video filler but under Rachel Talalay's hand the killings become set-pieces of the laughably absurd. Like the scene where the guy is cooked alive in his own kitchen by an overheated microwave – his skin gruesomely puffing up while on the bench bananas and grapes wither and rot in seconds and popcorn spontaneously pops. And then there are the scenes of the guy being blow-torched by a hand-dryer; the girl who gets electrocuted by a combination of a fused plug and a overflowing dishwasher; the ludicrous funeral sequence where a crematorium furnace fires a coffin back out and a charred corpse goes flying into the audience of mourners; and Will Horneff's race to escape death by automated swimming pool cover.
Rachel Talalay next went onto direct the unexpectedly likable Tank Girl (1995) but has since faded from cinema screens, taking 25 years before made another theatrical film with A Babysitter's Guide to Monster Hunting (2020). She has worked mostly in television and did return to the genre twice as producer of The Borrowers (1997) and as director of the BBC adaptation of The Wind in the Willows (2006).
---
---