---
USA. 1982.
Crew
Director/Screenplay – Steven Lisberger, Story – Steven Lisberger & Bonnie MacBird, Producer – Donald Kushner, Photography – Bruce Logan, Music – Wendy Carlos, Songs – Journey, Visual Effects Supervisors – Harrison Ellenshaw & Richard Taylor, Computer Animation Supervisor – Richard Taylor, Effects Animation Supervisor – Lee Dyer, Mechanical Effects Supervisor – R.J. Spetter, Production Design – Dean Edward Mitzner. Production Company – Disney.
Cast
Jeff Bridges (Kevin Flynn/Clu), David Warner (Dillinger/Sark), Bruce Boxleitner (Alan Bradley/Tron), Cindy Morgan (Lora/Yuri), Barnard Hughes (Dr Walter Gibbs/Dumont)
---
Plot
Dillinger, the head of ENCOM Corporation, finds that the corporation's artificially intelligent Master Control Program has become so powerful that he can no longer stop it taking over. ENCOM employee Lora helps her former boyfriend Kevin Flynn to sneak into the building so he can access a terminal and find evidence of the four programs that Dillinger stole from him and used to make a fortune. However, the MCP discovers Flynn's presence and uses an experimental matter transmitter program to reduce him to data and then transport him inside the computer. Inside, Flynn finds a strange world inhabited by programs that are the alter egos of their creators. The MCP places Flynn into combat on the video-game grid. From there he must escape and find a means of overcoming its control in order to return to the real world.
---
Tron was an astounding, revolutionary film. At the time of its release, public attention was minimal and even today it has not been recognised as the fascinating landmark it was. Most importantly, more than a decade before the likes of Terminator 2: Judgment Day (1991), The Lawnmower Man (1992), Jurassic Park (1993) and Toy Story (1995), it pioneered the art of computer animation and CGI effects on film. Furthermore, it was fascinatingly precognisant of the coming of the World Wide Web and the metaphorical visualization of the inside of a computer as a separate world, well before anybody had devised the term Virtual Reality and William Gibson coined the notion of cyberspace. It was a film that was way before its day.
Tron was a Disney production, made at the time when Disney was just breaking out of being a children's studio and trying to enter the arena of the post-Star Wars (1977) science-fiction blockbuster, albeit with mixed results. Director Steven Lisberger had only directed one film before, the animated Animalympics (1979), which had been designed to tie in with the 1980 Moscow Olympics and flopped when the US boycotted the Olympics over the Russian invasion of Afghanistan. Tron was Steven Lisberger's live-action debut.
The visuals are like nothing ever seen on film before – or, for that matter, since. The film's world of precise geometric shapes, shadowless light and garish, candyapple fluorescent colours is something totally unworldly. The special effects in these scenes are excellent – one never knows where computer animation leaves off and live-action takes over. Some sequences take the breath away. There is an immensely exciting race between motorcycles that leave trails of light behind them and try and block off their opponent's path. The moment the solar-sailer spreads its gossamer-thin sails is an extraordinarily beautiful one.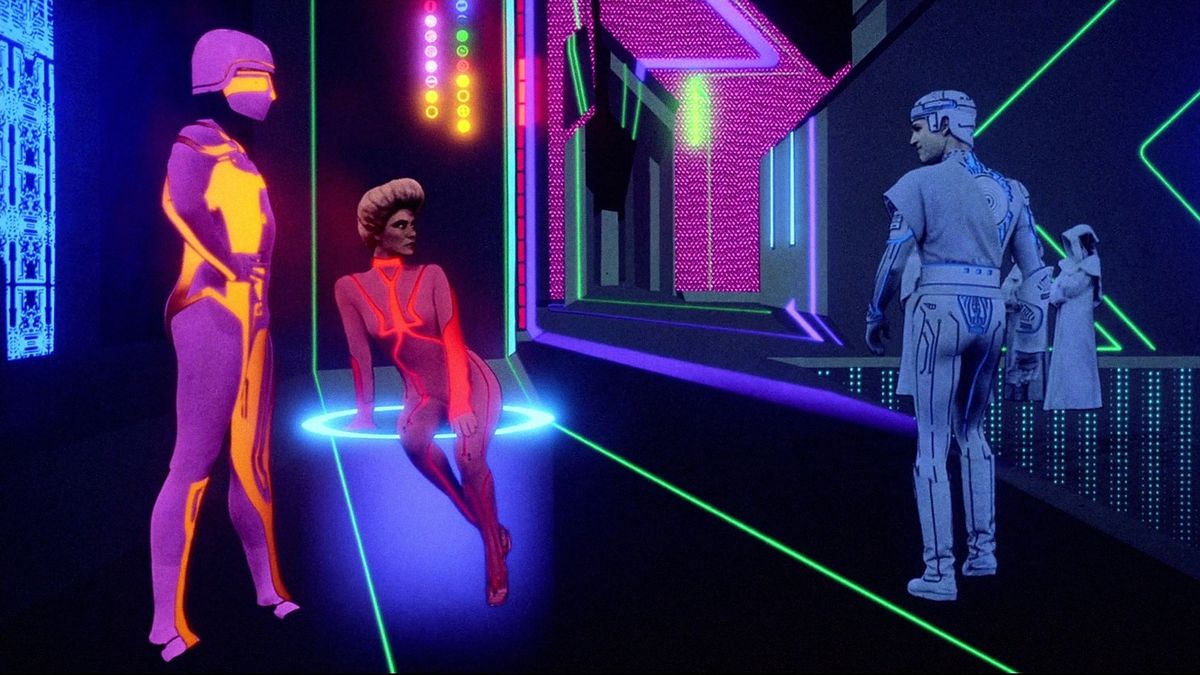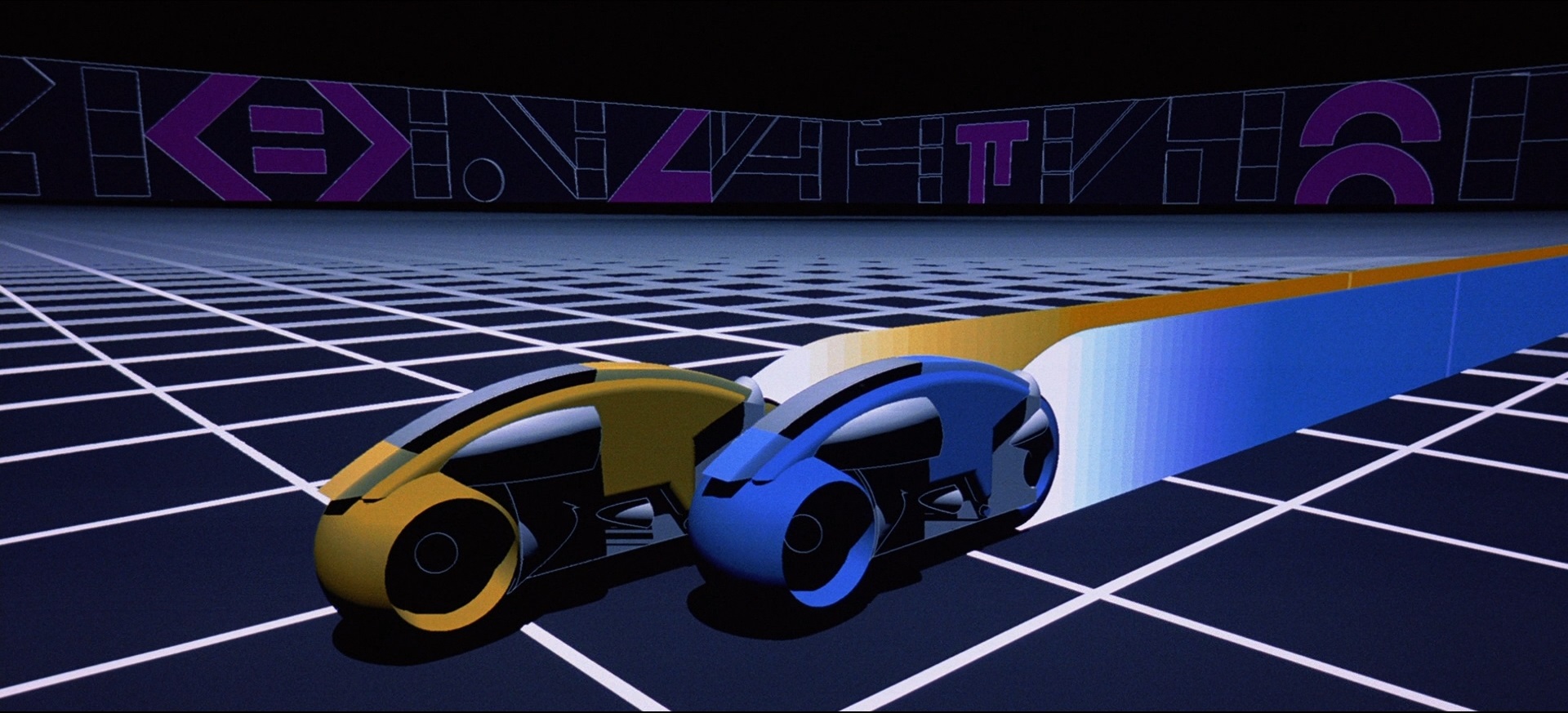 As is often wont in these types of films, the exquisite beauty of the environment tends to leave the human characters behind. Unlike say The Lawnmower Man, which similarly ventured into cyberspace and just ended up being boneheaded, Steven Lisberger's scripting is witty and intelligent. The script comes peppered with a number of sly and witty asides and in-jokes to programmers. The metaphor itself is ingenious – none the more so than the ending where Steven Lisberger pulls back and shows the virtual world momentarily overlaying the real cityscape beyond, a striking image that prefigured the coming of the world wide web.
Sadly, Tron was not a success at the box-office. Steven Lisberger made two other films after Tron – the flop John Cusack comedy Hot Pursuit (1987) before returning to genre territory for the dull post-holocaust film Slipstream (1989). Both of these did even less business than Tron and Lisberger subsequently vanishing from sight. Tron though is a film well overdue reappraisal.
A Tron sequel has been proposed for the better part of a decade, including Steven Lisberger's attempts to do so in the early 00s with a project entitled Tron 2.0, before eventually emerging as Tron Legacy (2010), featuring a return performance from Jeff Bridges. Disney subsequently spun out an animated tv series Tron Uprising (2012-3). The lightcycles subsequently made cameo appearances in Steven Spielberg's Ready Player One (2018) and Ralph Breaks the Internet (2018).
---
---