---
Crew
Director/Screenplay/Music – Hal Hartley, Producers – Steve Hamilton & Hal Hartley, Photography (colour + some scenes b&w) – Sarah Cawley Cabiya, Art Direction – Inbal Weinberg. Production Company – The Monday Company, LLC.
Cast
Bill Sage (Jack), Sabrina Lloyd (Cecile), Tatiana Abracos (The Girl from Monday), Leo Fitzpatrick (William Hendricks), D.J. Mendel (Abercrombie), James Urbaniak (Principal Funk), Juliana Francis (Rita Morales)
---
Plot
Jack is a top advertising executive with the Triple M Corporation that has managed to take over the world. Jack's special campaign has been to turn sex into a commodity that has commercial value and can be ranked on the stock market. Jack is attracted to office assistant Cecile but declines to enter into a relationship with her. After an illicit liaison with another assistant William, Cecile is arrested and sentenced to two years hard labour as a high school teacher. There she and William seek to rebel against the system. Jack meanwhile has discovered a girl whose body has been taken over by a visiting alien from Star 147-X.
---
In the late 1980s and 1990s, Hal Hartley emerged as one of the foremost independent directors in the US with dry and quirky indie films such as The Unbelievable Truth (1989), Trust (1990), Simple Men (1992), Amateur (1994) and Henry Fool (1997). These received a good deal of acclaim but Hartley's output since then has become more erratic and his works fail to hit with the bite they once did. Interestingly, this has also become a period where Hartley has started to experiment with genre cinema in works such as The Book of Life (1998), a droll satire on the Biblical End of the World; No Such Thing (2001), a monster movie with wry postmodern sensibilities; and The Girl from Monday, a combination of satiric social future and alien visitor story. It should also be said that none of these genre experiments have been particular successes for Hartley. Subsequent to this, the 2010s proved no more successful, made up of sporadic original works like Meanwhile (2011) and My America (2014) interspersed with others where Hartley returned to sequelise earlier films with Fay Grim (2006) and Ned Rifle (2014).
The Girl from Monday is clearly intended as a satirical future along the lines of films such as Sleeper (1973), Demolition Man (1993), Existo (1999) or Idiocracy (2006). More than anything, these early sections resemble the classic satiric science-fiction novel The Space Merchants (1953) by Frederik Pohl and Cyril M. Kornbluth about a future dominated by a ruthless advertising industry. There's something alarmingly close to the bone in Hartley depictions of a world where the ad agencies and image makers have taken over and convinced everybody of what they want, amid lines like "disposable income was the chief revolutionary virtue", or of people being arrested and sent to The Moon because they don't have a credit rating.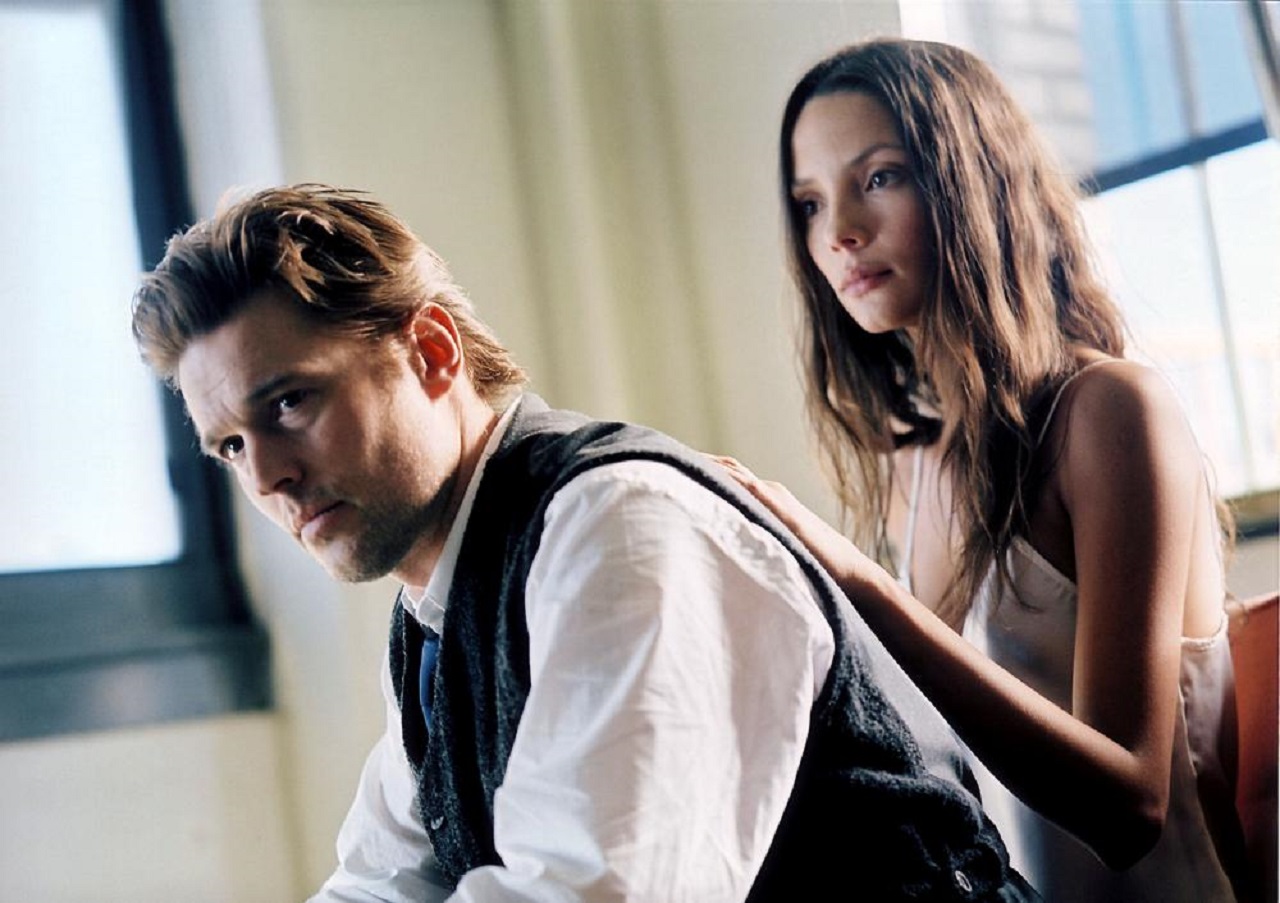 There are amusing throwaway lines like the boardroom discussion about how to make heart surgery seem more appealing whether people want it or not. Things become particularly satiric when we get to the scenes of Bill Sage trying to corporatise sex – these scenes come with characteristically droll Hartley-esque asides "sexual harassment in the workplace could do real damage to your credit rating" or "let's fuck and increase our buying power". There's the highly amusing scene where Sabrina Lloyd is sentenced to jail: "You are sentenced to two years hard labour as a high school teacher" where it is noted "because of the high incidence of violence in high schools, only convicts were assigned teaching positions."
On the other hand, despite the clearly sharpened barbs that Hal Hartley is throwing, The Girl from Monday is loose and rather aimless. It never seems driven by a plot. Certainly, Hartley seems uninterested in following any traditional dystopian scenario and the plot never seems to do anything to engage the hero in any way up against the society the film creates. Hartley seem even less interested in any type of traditional treatment after he introduces the muddled elements about the alien visitors. The title girl (Tatiana Abracos)'s reactions to the society seem of almost no interest to him.
A lot of the film gives the feeling of being without direction. Moreover, a substantial proportion of it seems to take place in blurry slow-motion camera movements, which add an abstract quality, and where what is happening is relayed in terms of voiceover. This produces a film that seems remote and never particularly engaging dramatically, never much more than a quizzical curiosity.
---
Trailer here
---