---
Crew
Director – Karyn Kusama, Screenplay – Phil Hay & Matt Manfredi, Based on the TV Series Created by Peter Chung, Producers – David Gale, Greg Goodman, Martha Griffin, Gale Anne Hurd & Gary Lucchesi, Photography – Stuart Dryburgh, Music – Graeme Revell, Visual Effects – Digital Domain (Supervisors – Jonathan Egstad & David Prescott) & The Orphanage Inc (Supervisor – Jonathan Rothbart), Additional Visual Effects – Hyd*drau*lx (Supervisors – Colin & Greg Strause), Miniatures – New Deal Studios, Special Effects – Nefzer Babelsberg, Makeup Effects – Kevin Yagher Productions Inc (Supervisor – Kevin Yagher), Production Design – Andrew McAlpine. Production Company – Valhalla Motion Pictures/MTV Films.
Cast
Charlize Theron (Aeon Flux), Marton Csokas (Trevor Goodchild), Sophie Okonedo (Sithandra), Jonny Lee Miller (Oren Goodchild), Caroline Chikezie (Freya), Pete Postlethwaite (The Keeper), Frances McDormand (The Handler), Amelia Warner (Una Flux), Paterson Joseph (Girou), Nicholas Kinski (Claudius)
---
Plot
The year 2451. 400 years earlier, the scientist Trevor Goodchild created an antidote to a virus that had wiped out 90% of the world's population. Subsequently, Goodchild established the city of Bregna where he and the survivors now live in Utopian peace and Trevor is ruler. Within Bregna a rebel underground known as The Monicans has emerged. Aeon Flux is one of the top Monican operatives. When soldiers kill Aeon's sister Una, thinking her to be a Monican, Aeon takes on the mission of personally killing Trevor. Passing through the deadly traps that guard Trevor's inner sanctum, she comes face to face with Trevor, only for him to call her Catherine. As he does so, Aeon is subject to a series of inexplicable flashbacks and finds herself unable to kill him. Turning her back on The Monicans, Aeon determines to solve this mystery. Becoming Trevor's lover, she discovers the secret of Bregna – that Trevor has endlessly cloned the entire populace for the last 400 years. Now However, Trevor's brother Oren is seeking to sabotage this and overthrow Trevor.
---
Aeon Flux was an animated tv series that developed a cult following. The creation of expatriate South Korean animator Peter Chung, Aeon Flux first appeared as part of the MTV series Liquid Television (1991-4), a compilation show that featured all manner of avant garde animation and also launched several other series including Beavis and Butt-head (1993-7), The Maxx (1995) and Daria (1997-2001). The Liquid Television version of Aeon Flux consisted of two seasons totalling 11 episodes in total, each running only 2-5 minutes. One of the peculiar features of each of the Aeon Flux episodes on Liquid Television is that they have no dialogue, there is no continuity between each story and each episode ends with Aeon's death.
The show was then launched as its own MTV series Aeon Flux (1995), which consisted of 10 episodes of 30 minutes apiece. Here dialogue was used and continuity developed out into a backstory. Aeon Flux herself is a lithe, spidery assassin who wears exotic costumes. She is an agent of the free country of Monica and throughout every episode engages in an ongoing attempt to sabotage Trevor Goodchild, the dictator of the neighbouring country of Bregna. This is often an ambiguous relationship, as Aeon and Trevor seems to have a relationship that is as much love as it is hate. The series is noted for its supremely weird, violent and frequently fetishistic visuals. Peter Chung later allowed Aeon Flux to be spun off in varying comic books, even as a Pepsi commercial.
This is the big-budget film spinoff of Aeon Flux. The film is produced by Gale Anne Hurd, the former producer/wife of James Cameron on films like The Terminator (1984), Aliens (1986) and The Abyss (1989) and then as an independent producer of various big-budget action and science-fiction films with her Valhalla Motion Pictures production company. The director's chair has been given to Karyn Kusama, whose only previous film was the acclaimed chick-boxing film Girlfight (2000). The script adaptation was handled by Phil Hay and Matt Manfredi, who had previously come from writing Crazy/Beautiful (2001) and the story for the dire Jackie Chan comedy The Tuxedo (2002). They went on to Ride Along (2014), the remake of Clash of the Titans (2010) and R.I.P.D. (2013), and together wrote/directed the indie comedy Bug (2002). (Phil Hay also married Karyn Kusama in 2006 and has been credited as a producer on all her films since).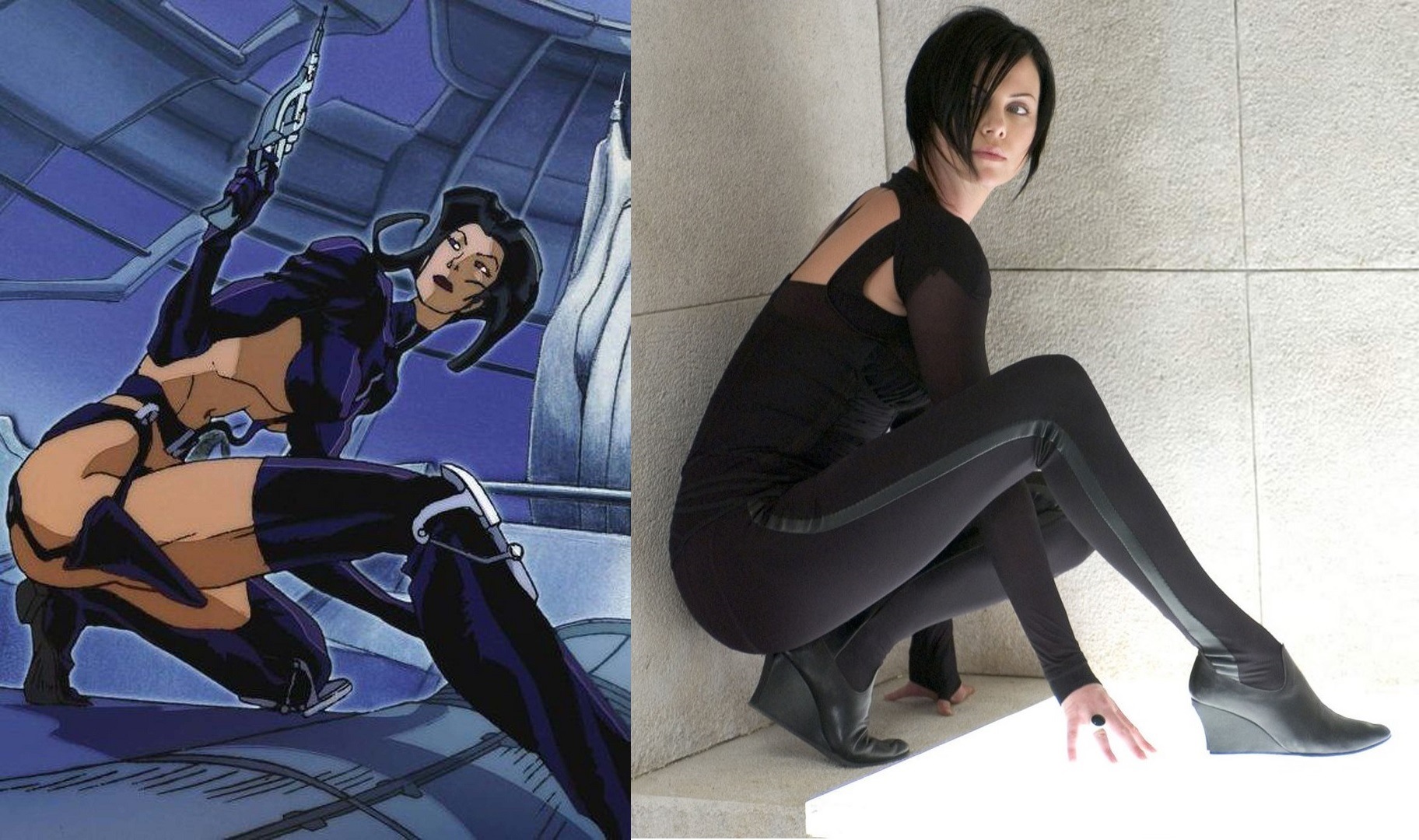 Aeon Flux was greeted with a poor reception. The studio created ill feeling when they previewed the film for critics only two hours before it opened theatrically. This resulted in a spate of bad reviews, which was followed by an equally scathing reception from the fans of the animated series, with some people even going so far as to call Aeon Flux the worst movie of the year. Aeon Flux was considered a box-office flop, earning only some $25 million is US rentals against a $55 million budget.
Pretty much as one expects, the film has watered Aeon Flux down into a formula Hollywood action movie. There are a great many changes to Peter Chung's original vision. Bregna and Monica are not two different countries, separated only by a wall; rather here Bregna is a self-contained city and Monica the name given to the rebels within its midst. Most crucially, Trevor Goodchild is no longer the antagonist of the show. Here Trevor ostensibly starts out as the dictator of the future but the film then shows him to be acting in the best interest of the society, while the real villainy has now been displaced onto the new character of Trevor's brother Oren. The Aeon-Trevor love-hate relationship is there but it is no more than a standard Hollywood action movie love story, while the explanation about the society of the future being cloned and Aeon having been Trevor's wife in the past is entirely invented by the film.
Ironically, while in the tv series, Aeon is a rebel fighting against Trevor's society for purposes not always entirely clear, in the film she ends up supporting it, the complete antithesis of Peter Chung's vision. Indeed here, Bregna is not even a dystopia, only a utopia that has become slightly misguided. The Relical is an artifact taken from the graphic novel Aeon Flux: The Herodotus File (1995), where it was launched by The Monicans containing information that proved that the two countries were originally one, while here it has become the repository of the population's DNA records.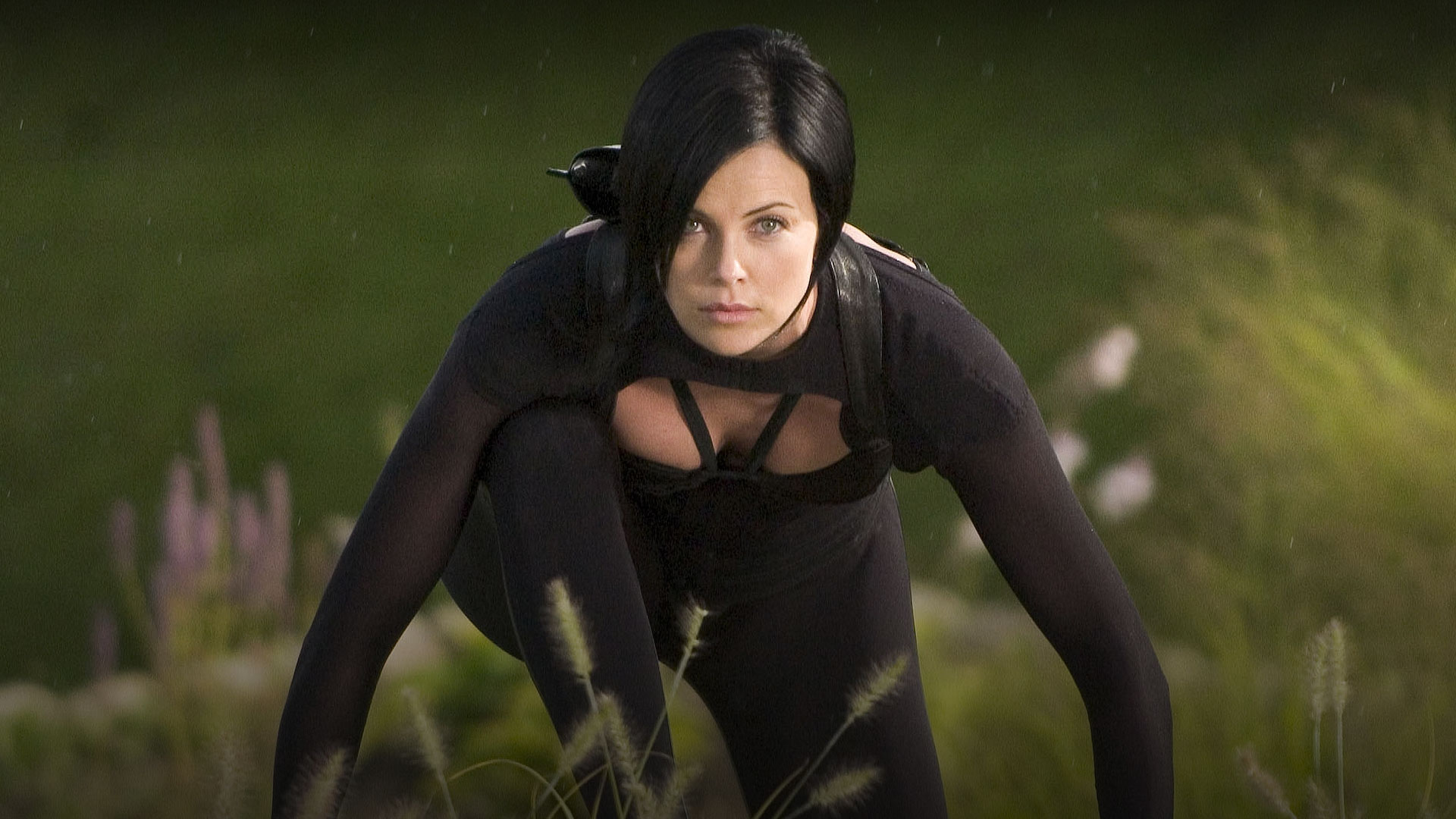 Peter Chung was scathing about the film adaptation, saying: "the movie is a travesty … [The movie is about] someone named Catherine Goodchild – who only thinks she is Aeon. Ms. Flux does not actually appear in the movie … They [the filmmakers] claim to love the original version; yet they do not extend that faith to their audience … The argument for the Catherine Goodchild movie is that an accurate live-action version of Aeon Flux would have been too inaccessible for a mainstream audience. It would not have made money, ergo there's no impetus for the studio to make it. It's a circular argument which attempts to shift responsibility away from the individuals who make the film to the presumed audience." [Taken from an interview with Peter Chung on The Monican Spies message board].
Certainly, Aeon Flux starts out promisingly. Karyn Kusama directs the early scenes with an abstract cool. The sets are all flowing curves and modernist spaces. And the film a triumph of the costume design department – Charlize Theron goes through an amazing wardrobe, everything from a slightly more modest version of Aeon's familiar black jumpsuit to gauze face-masked cat-suits and sleepwear that consists of little more than a couple of strips. Karyn Kusama conducts some energetic action sequences – notably the climactic showdown between various snipers; the smashdown fight with Carolyn Chikezie while teleporting between two locations; and Charlize Theron's jump from the tower to The Relical. The best of these sequences is Charlize Theron and Sophie Okonedo's venture through the traps guarding Trevor's sanctum, they leaping and rolling across various gardened islands, fighting off lethally bladed grass and clawing trees whose pods spit deadly seeds, a sequence that one could easily imagine taking place in the animated series.
There is also a wonderful array of gadgets, many being taken direct from the series – Aeon's collection of remote-controlled explosive balls; scanning devices planted in her eyes; telephones embedded in the ear; secret messages hidden inside the chemicals in glasses of water that one must drink to decipher; Sophie Okonedo who has had her feet surgically replaced with hands; the sophistication of a scene where a secret transmitter is transferred between mouths in a kiss, which then opens up inside Aeon's body, creating a virtual courtroom of sorts where The Monicans receive their assignments. All of this emerges as a promising film that comes with a stylish and offbeat cool, even if it never fully reaches the sublime weirdness and kinkiness of the animated series.
Eventually though, by about the halfway point, the film starts to fall down. Karyn Kusama's abstract cool dissolves into action movie formula. While Charlize Theron has some nice poses, Aeon's stunts eventually seem not much more than standard post-Matrix (1999) twirling and acrobatics, while not all of the sequences fully engage.
The plot is the most disappointing aspect, holding nothing more sophisticated than a standard dystopian future – two lovers on the run, the big climactic decision to bring a corrupt system down etc etc. Peter Chung's battles of ambiguous ideals have been stripped down to no more than the black-and-white divides and simplistic choices of an action movie hero. The cloning theme offers up a somewhat interesting idea but this seems not particularly well thought out – why, for instance, do some clones retain perfect memories of their pasts and others not? Charlize Theron, Academy Award winner that she is, poses lithely, gives a few Aeon-like spidery scuttles, but rarely presents Aeon as a character of depth or even idealistic strength. Indeed, all that we have here is not much more than Lara Croft, Tomb Raider (2001) does Zardoz (1974).
Karyn Kusama subsequently went onto make the wittily amusing possessed cheerleader black comedy Jennifer's Body (2009) and The Invitation (2015) about a sinister dinner party and the Her Only Living Son episode of the all-woman horror anthology XX (2017), followed by the underrated crime film Destroyer (2018). She has also produced Leap of Faith: William Friedkin on The Exorcist (2019) and the tv series Yellowjackets (2021- ).
(Nominee for Best Production Design at this site's Best of 2005 Awards).
---
---