---
Crew
Director/Music – Woody Allen, Screenplay – Woody Allen & Marshall Brickman, Producers – Charles H. Joffe & Jack Rollins, Photography – David M. Walsh, Special Effects – Gerald Ender, A.D. Flowers & Ralph Rosenblum, Production Design – Dale Hennesy. Production Company – A Charles H. Joffe & Jack Rollins Production.
Cast
Woody Allen (Miles Monroe), Diane Keaton (Luna Schlosser), John Beck (Erno Windt)
---
Plot
It is the year 2173. Three doctors from the rebel underground revive the body of health food store owner Miles Monroe who was cryogenically frozen after complications during a minor operation in 1973. The rebels want to use Miles to infiltrate the security systems of the totalitarian state that rules the world because he is not registered on any of the computers. However, things rapidly go wrong and Miles is forced to disguise himself as a robot waiter and then go on the run with the flaky poet Luna.
---
Woody Allen is probably one of the fantasy genre's least recognized directors. At current count however, Allen has made more directorial ventures into fantasy than either James Cameron or George Lucas. (See below for Allen's other genre titles). Sleeper is one of Woody Allen's earlier films. It comes before his work began to either (depending on one's liking of Allen) mature or descend into weightier self-analysis with the likes of Annie Hall (1977), Manhattan (1979) and Stardust Memories (1980). Sleeper features Allen in a slapstick state of mind. This, Take the Money and Run (1969) and Everything You Always Wanted to Know About Sex * But Were Afraid to Ask (1972) feature Woody Allen at his slapstick heights.
Woody Allen has a love of the zany and surreal. There are some particularly hilarious scenes here with him disguised as a robot waiter having to pass an aphrodisiac ball during a party and trying to remain unaffected but instead becoming a paralytic mess; or having to fight off a giant instant dessert with a broomstick. There is the ever-so-delirious moment where a nose – all that remains of the great dictator of the future – is abducted from a cloning operation with Allen holding a Magnum pointed at it: "Hold it or I'll blow the nose away."
There are some wonderfully nutty Keystone Kops chase sequences involving gyro-copters, inflatable suits and giant items of fruit (it being one of those films, Allen introduces a giant banana peel and then promptly has himself slip on it). In fact, Sleeper almost wants to be a silent movie, often being shot in undercranked camera with a raucous ragtime accompaniment. The screenplay is not so much a plot as an unguent for the gags – when the ends comes, it is not so much a dramatic resolution as an arbitrary fadeout.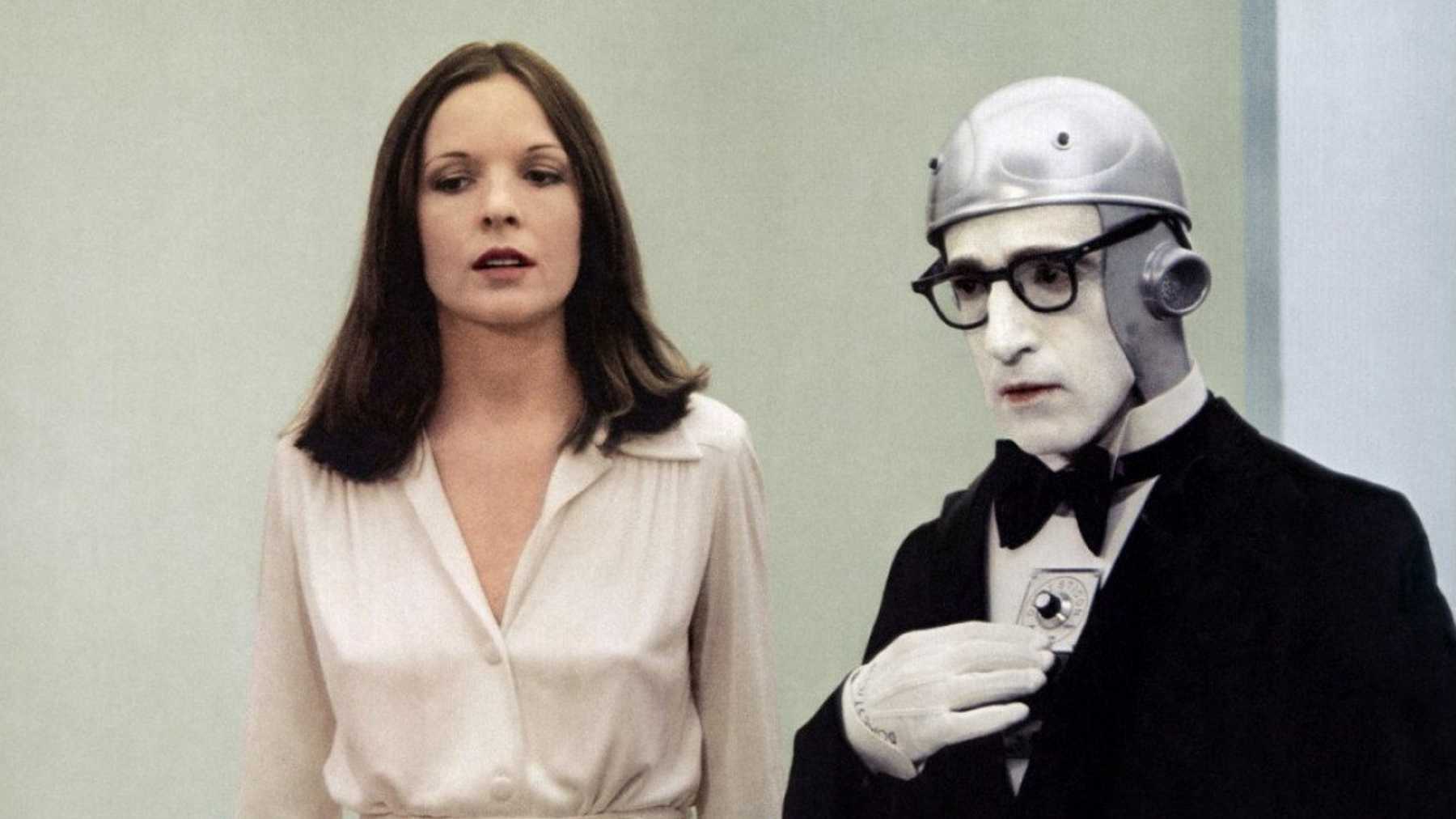 Some of the gags are now dated 1970s topical in-jokes, and there are one or two inane moments like a bizarre reenactment of A Streetcar Named Desire (1951) with Woody Allen in the woman's role and Diane Keaton doing Brando, or a scene where Allen is brainwashed into entering a beauty contest.
Far better, the film works as an often knowing satire on the conventions of science-fiction. (Woody Allen even employed science-fiction writer Ben Bova, then editor of Analog magazine, to make sure that he got what he was talking about right). The basic set-up gently skewers H.G. Wells's When the Sleeper Wakes (1899) and Allen has considerable fun satirising dystopian futurism and the 1970s presumption of future hedonism, and in particular George Lucas's THX 1138 (1971). There are a number of slyly knowing science-fiction gags like the dust-encrusted Volkswagen found in a cave that starts up the first time in 200 years or seeing the McDonalds of the future that proudly proclaims 9 billion served.
Woody Allen's other genre films are:– Everything You Always Wanted to Know About Sex * But Were Afraid to Ask (1972), Play It Again Sam (1972), Love and Death (1975), A Midsummer Night's Sex Comedy (1982), Zelig (1983), The Purple Rose of Cairo (1985), New York Stories (1989), Alice (1990), Shadows and Fog (1991), Mighty Aphrodite (1995), Everyone Says I Love You (1996), Deconstructing Harry (1997), Match Point (2005), Scoop (2006), Midnight in Paris (2011), To Rome with Love (2012) and Magic in the Moonlight (2014).
Allen's co-writer Marshall Brickman also went onto to become a minor genre director of his own with the Allen-esque science-fiction film Simon (1980) about a fake alien visitor; Lovesick (1983) about a psychologist aided by Freud's ghost; and The Manhattan Project/Deadly Game (1986) about a teenager who builds a nuclear weapon as a class science project. More recently, Brickman is known as co-writer of the hit musical Jersey Boys (2005).
---
---