---
Crew
Director/Screenplay – Hal Hartley, Producers – Thierry Cagianut & Matthew Myers, Photography (colour + some scenes b&w) – Jim Denault, Computer Graphics – Walkabout Visualization Resources. Production Company – Le Sept Arte/Haut et Corte/True Fiction Pictures.
Cast
Martin Donovan (Jesus Christ), Thomas Jay Ryan (Satan), P.J. Harvey (Magdalena), Dave Simonds (Dave), Miko Nikaido (Edie), D.J. Mendel (Lawyer), Katreen Hardt (Receptionist)
---
Plot
Jesus Christ, accompanied by Mary Magdalene, makes his return to Earth in Manhattan on December 31, 1999. He has come to open the seals on the Book of Life and unleash the Apocalypse. However, Jesus has lost the Almighty's taste for wrathful retribution and wants to forgive everybody. This serves to make the lawyers angry. Meanwhile, Satan tries to use the time remaining to claim his last souls in a downtown bar, convincing a compulsive gambler into selling the soul of the woman who loves him in return for winning lottery numbers.
---
In the 1990s, Hal Hartley became a cult director with films like The Unbelievable Truth (1990), Trust (1991), Amateur (1994) and Henry Fool (1997). In a country like America where all tv humour comes with canned laughter as signposts to tell audiences when to laugh and an affirmative moral wrapup where everybody goes away happy, it is easy to see why Hal Hartley, whose films lack any easy cues as to whether one should be laughing or taking them seriously and are filled with a darkly ironic gallows humour, have become cult films.
The Book of Life is part of the 2000 Seen By … series of films funded by French production companies Le Sept Arte and Haut et Court wherein various international directors were each asked to offer their vision of the millennium. Others in this series include Canada's Last Night (1998), Taiwan's The Hole (1998), Brazil's Midnight (1998), Spain's The First Night of My Life (1998), Belgium's The Wall (1998) and Life on Earth (1998) from Mali. Intriguingly, Hal Hartley was chosen as the American voice over a number of other more high profile directors.
Hartley's offering is a dark and witty take on the Second Coming. Hartley regular Martin Donovan, whose face always seems to radiate troubles too deeply bottled to ever be expressed, walks through with a serene impassiveness that seems to carry the whole weight of the world inside. In Hartley's sardonic interpretation, Martin Donovan's Jesus throws a spanner in divine works by having second thoughts about opening the seals on the Book of Life (which is represented by a Mac Power Book) and deciding he wants to forgive everybody. At contrast is Thomas Jay Ryan's thuggish Satan – who seems modelled on and a dead ringer for Mickey Rourke in Barfly (1987) – determined to pick up the last few souls before Judgement Day by offering winning lottery numbers to a patron in a bar.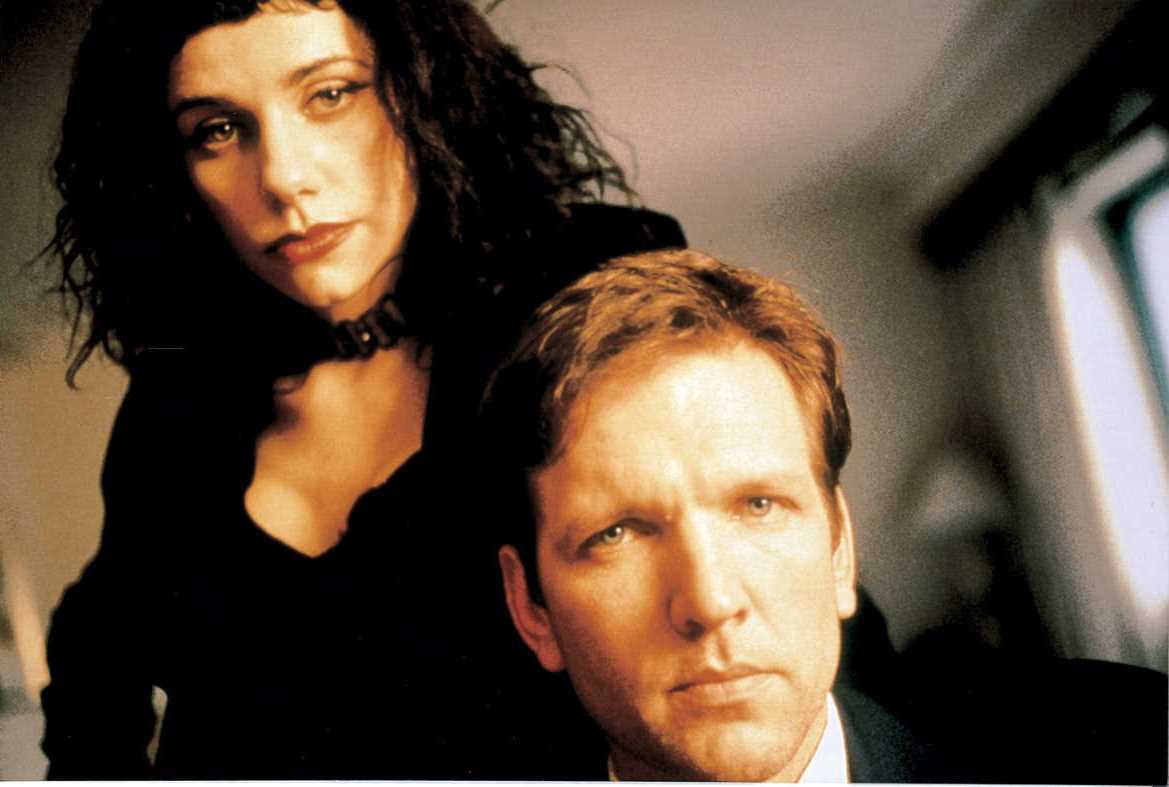 The Book of Life is not one of Hal Hartley's best – although a weak Hartley film is far better than many other director's best. The film is made on the cheap – it has grainy almost monochrome photography and a lot of blurred motion camerawork as though it had been quickly shot on video and transferred to film – and only reigns in at 63 minutes in length.
Nevertheless, there are the characteristically droll Hartley throwaway lines packed away in the background that make for hilarious viewing. "We should never have brought amateurs in," the lawyers curse as Jesus upsets Judgement Day, while their secretary answers the phone: "Armageddon, Armageddon and Jehosophat – how may I direct your call?" Or Mary's greeting Satan with an irritated "Get your feet off the bedspread … Well now that you're here, you may as well make yourself useful and open the champagne." The film ends with a voiceover that shows Hartley, of all people, on a surprisingly Utopian note about the millennium stretching ahead.
In the 00s, Hal Hartley has made several other ventures into genre cinema with the eccentric monster movie No Such Thing (2001) and the satiric future SF film The Girl from Monday (2005).
---
---