---
Crew
Director – Matt Osterman, Screenplay – Cleopatra Coleman, Producers – Claire Haley & Travis Stevens, Photography – Stuart Brereton & Needham B. Smith III, Music – Wojciech Golczewski, Visual Effects Supervisors – Eli Dorsey & Zechariah Thormsodsgaard, Special Effects Supervisor – David Nami, Makeup Effects – Marcus Koch, Production Design – Danica Vallone & Robert Wise. Production Company – Snowfort Pictures/Syfy Films.
Cast
Cleopatra Coleman (Claudia), Shane Coffey (Isaiah), Craig Mums Grant (John Everett), Beth Grant (Joanna), Fabianne Therese (Tania), Leo Fitzpatrick (Jason), Andre Starks (Victor Smith), Rhoda Griffis (Anna Cook), Rhonda Johnson Dents (Helen Smith), MacArthur Hewitt (Abner Smith)
---
Plot
It is some time in the future. Claudia works for the Transitions corporation and travels into the countryside with her co-worker John to peacefully euthanize the dying. She now discovers that she is pregnant by her married boss Jason. John is then killed by a drone that appears in his apartment. As Claudia takes on a new partner, she finds she is being followed and that some of her clients' families are being killed by drone strikes. As she delves deeper, she discovers that this may be due to the sinister activities of the Vastgrow corporation who are eliminating those affected by Vastgrow's genetic modifications to the crops in the area.
---
Cleopatra Coleman is a new name to me. Born of Jamaican and Australian parents, she grew up in Australia, obtained a regular part on the country's long-running soap Neighbours (1985– ) and then gained a foothold in the US with Step-Up Revolution (2012), became a regular on the tv series The Last Man on Earth (2015-8) and went on to other subsequent work, giving fine performances in In the Shadow of the Moon (2019) and James vs. His Future Self (2019). She not only plays the lead in Hover but also writes the script and co-produces.
The title Hover gives you a mistaken impression what the film is about. You get the instant impression of a futuristic action piece about hoverboards, although that is not the case. A reading of its capsule synopsis gives you the impression it is a film about drones – since their prevalence both as military hardware and as regular commercial toys, even appliances for cinematography, there has been a number of films set around drones with the likes of Good Kill (2014), Eye in the Sky (2015) and Drone (2017). Even the poster, which gives a drone more prominence than the actors and comes with the legend 'Fear What Flies', seems to make this out to be the case, while the trailer has prominently been edited out of all the footage featuring drones. However, all of this gives a misleading impression – while some drones are present in the film, they have minor importance in the background and no central relevance until the end scenes. People are said to be killed by drone strikes but the only one of these we actually see is Craig Mums Grant early in the film.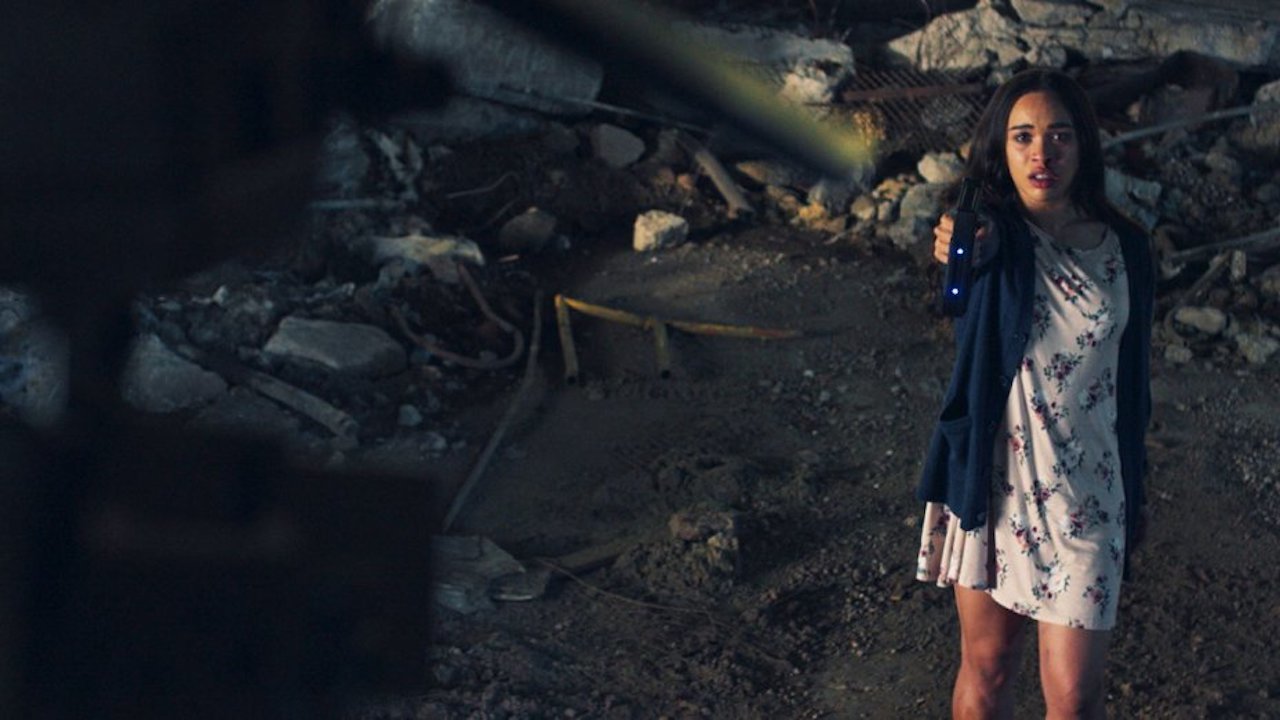 Far more interestingly, Hover gives us a setting at some point in the not-too-far-future where euthanasia has become accepted by society and the heroine travels about dispensing deaths to citizenry with the polite detachment of a corporate lackey, telling them in blandly upbeat terms that it is a good thing they do. This would nominally put Hover into the same realm as other euthanized future films such as Soylent Green (1973) or Logan's Run (1976) but Cleopatra Coleman's script seems disinterested in tackling that. Oddly for one of these euthanized future films, there is no point when Cleopatra comes to regard what she does as wrong and takes a stance against it, which is almost a mandatory plot arc for the lead character in a dystopian film. Certainly, she takes a stance against other things that her bosses and the corporation are doing but never the commercial business of killing people.
Equally, you feel as though Cleopatra Coleman has boiler-plated a bunch of other contemporary issues onto her script – the increasing prevalence of drones used by military and security forces; the stance against GMO foods; self-driving cars; corporate agri-business. The script never has much to say about these, merely leaves them as part of its backdrop and the general sense that these are a bad thing.
Director Matt Osterman, who had previously made the science-fiction films Phasma Ex Machina (2010) and 400 Days (2013), makes a very sedate film. The script lacks much impetus and drive. Cleopatra Coleman discovers a corporate conspiracy but it never seems particularly interesting – she happens into it more than ever seem a character driven by finding/exposing the truth. This is perhaps why the film needs to throw in a drone attack sequence towards the end but even then Matt Osterman fails to get the action moving much above a placid stroll.
---
---