---
USA. 1966.
Crew
Director – Frank Tashlin, Screenplay – Everett Freeman, Producers – Everett Freeman & Martin Melcher, Photography – Leon Shamroy, Music – Frank De Vol, Songs – Jerome Howard & Joe Lublin, Visual Effects – J. McMillan Johnson & Carroll L. Sheppard, Art Direction – Edward Carfagno & George W. Davis. Production Company – MGM.
Cast
Doris Day (Jenny Nelson), Rod Taylor (Bruce Templeton), Paul Lynde (Homer Cripps), Edward Andrews (General Horace Bleaker), Eric Fleming (Edgar Hill), Dom de Luise (Julius Pritter), Arthur Godfrey (Axel Nordstrom), George Tobias (Mr Fenimore), Alice Pearce (Mrs Fenimore)
---
Plot
Widow Jenny Nelson works as a secretary at an aerospace design laboratory and moonlights on weekends with a job that involves her swimming by under her father's glass-bottom boat tour of Catalina Harbor wearing a mermaid tail. Jenny is then embarrassed when her mermaid tail is hooked on the fishing line of her boss Bruce Templeton. This starts a romance between the two. However, considerable chaos is caused when Jenny accidentally fouls up some of Bruce's hi-tech gadgetry and his overzealous military contractors mistake her eccentric behaviour for that of a spy.
---
The Glass Bottom Boat is a light comedy that appears to have been slung together as a Doris Day vehicle, jumping on the then fashionable interest in the Space Race. Most of the comics of the era eventually made at least one trip into space – Abbott and Costello in Abbott and Costello Go to Mars (1953), The Three Stooges in Have Rocket — Will Travel (1959) and The Three Stooges in Orbit (1962), Norman Wisdom in The Bulldog Breed (1960), Bob Hope and Bing Crosby in The Road to Hong Kong (1962), Frankie Avalon in Sergeant Deadhead (1965), Jerry Lewis in Way … Way Out (1966) and Don Knotts in The Reluctant Astronaut (1967).
The film itself washes into virtually instantaneous forgettability. Director Frank Tashlin was a former Warner Brothers animator and had previously directed eight Jerry Lewis films, including Cinderfella (1960) and It's Only Money (1962). You cannot help but feel that The Glass Bottom Boat is a Jerry Lewis vehicle in all but name that just happens to have been cast with Doris Day.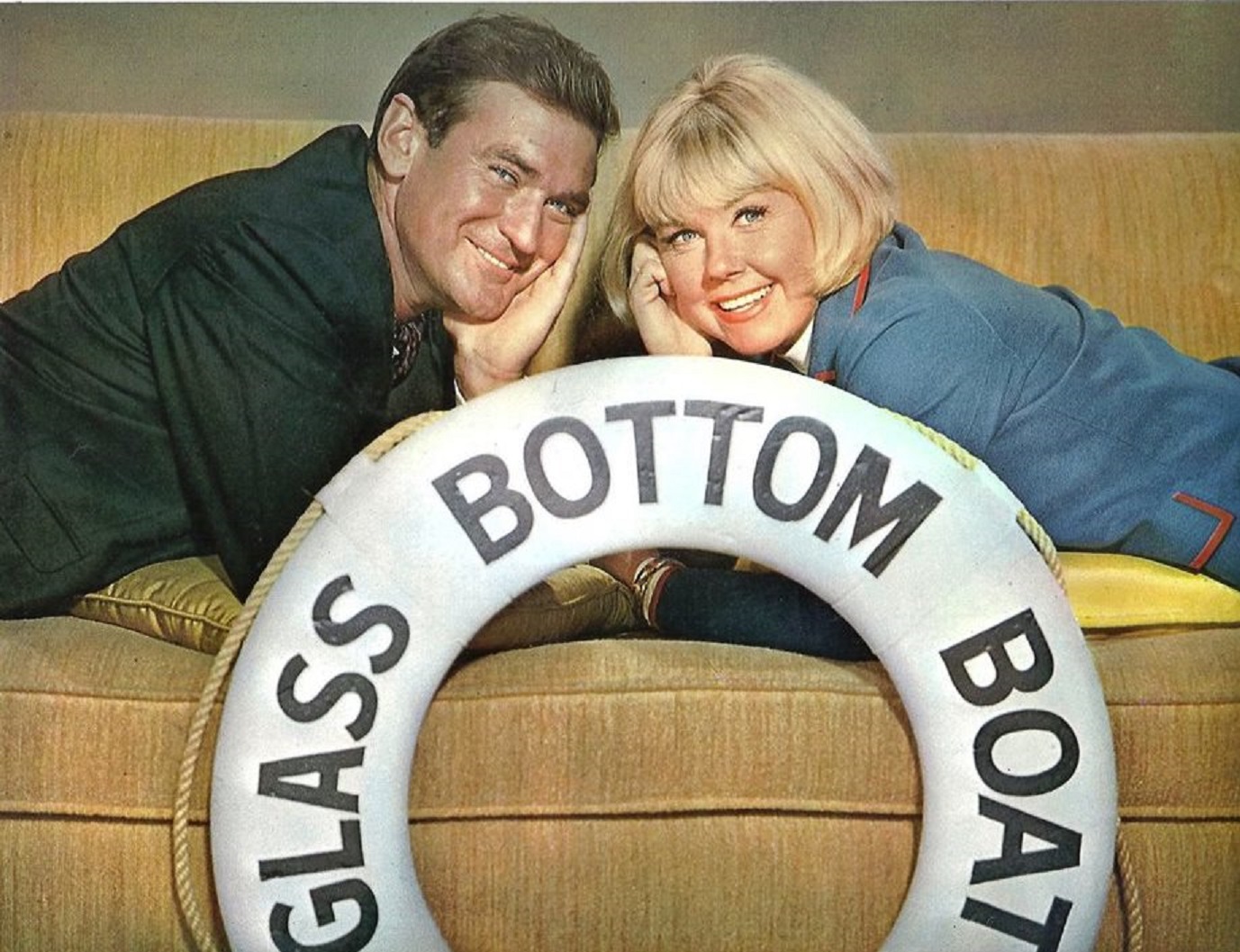 There is not a whole lot more to The Glass Bottom Boat than a series of slapstick set-pieces – Doris Day getting her mermaid tail hooked in Rod Taylor's fishing line, her heel caught in a vibrating platform, Dom de Luise and cream cakes. Some of these are occasionally inspired, like the foot in the trash can gag, the scenes with Doris Day and an out-of-control speedboat, and a kitchen amok piece that prefigures Woody Allen's Sleeper (1973). However, there is a shapelessness to the film overall. The latter half dissolves into inane slapstick chaos and some tiresome chases centred around the confusion over Doris Day being a spy. Moreover, Doris Day fails to give the slapstick scenes the enlivening presence that you can imagine Jerry Lewis would have brought. There is a minor science-fiction content to the film – automated kitchens, remote-controlled speedboats. Mostly the backdrop of NASA and the Space Age has been appropriated for slapstick purposes.
Doris Day is far too scatter-brained in her performance but Rod Taylor is present and brings the warm, geniality he did to all his roles. Both Paul Lynde and Dom de Luise are typecast in the familiar one-dimensional buffoon roles they made careers out of.
---
Trailer here
---