---
Crew
Director/Producer – Mel Brooks, Screenplay – Mel Brooks, Ronny Graham & Thomas Meehan, Photography – Nick McLean, Music – John Morris, Visual Effects – Apogee (Supervisor – Peter Donen), Industrial Light and Magic & Albert Whitlock, Production Design – Terence Marsh. Production Company – Brooksfilm.
Cast
Bill Pullman (Lone Starr), Daphne Zuniga (Princess Vespa), Rick Moranis (Lord Dark Helmet), John Candy (Barf), Mel Brooks (President Skroob/Yogurt), Joan Rivers (Voice of Dot Matrix), Lorene Yarnell (Dot Matrix), George Wyner (Colonel Sandurz), Dick Van Patten (King Roland), Jim J. Bullock (Prince Valium), Richard Karron (Pizza the Hut), Dom de Luise (Voice of Pizza the Hut)
---
Plot
The planet Spaceball is running out of fresh air so President Skroob dispatches the villainous Lord Dark Helmet to raid the planet Druidia. However, Druidia is protected by an airlock defence shield that prevents Dark Helmet from getting in. The king's daughter Princess Vespa is about to go to the altar in an arranged marriage ceremony but finds her betrothed so dreary that she decides to flee instead. Dark Helmet tries to capture Vespa in order to force the king to give him the combination to the airlock. It is up to hero-for-hire Lone Starr and his trusty Mog (half-man, half-dog) sidekick Barf to come to the princess's rescue.
---
Mel Brooks used to be a wild and crazy guy. Brooks made such side-splittingly funny works as The Producers (1968), Blazing Saddles (1974) and Young Frankenstein (1974). Alas, 1974 seemed to be Brooks's peak. All the films he has made since then have slipped into an amiably raucous banality but he has never surpassed either Blazing Saddles or Young Frankenstein in terms of comedic creativity (or box-office success).
All of Brooks's films regurgitate other popular cinematic genres amid a series of often-vulgar fast-fire gags that tend to hit as often as they miss. Silent Movie (1976) sent up the self-explanatory, while Brooks took on Hitchcock with High Anxiety (1977), the historical spectacle in The History of the World Part I (1981), the Robin Hood swashbuckler in Robin Hood: Men in Tights (1993) and the Dracula movie in Dracula: Dead and Loving It (1995).
Here Mel Brooks sends up the Star Wars (1997) cycle. Brooks made Spaceballs with George Lucas's blessing. In truth though, the film came out five years too late to find any topicality. Brooks conducts a series of jokes that poke fun at everything from the merchandising to John Williams' scores to the opening narration (which trails off into the phrase "If you can read this, you don't need glasses"). At the film's most amusing, Brooks turns the Jawas into a Seven Dwarves routine and reveals Daphne Zuniga's Princess Leia sidebuns to be a Walkman. However, it is all tried and familiar Mel Brooks territory – which means a surfeit of schoolboyish flatulence, sex and four-letter word jokes.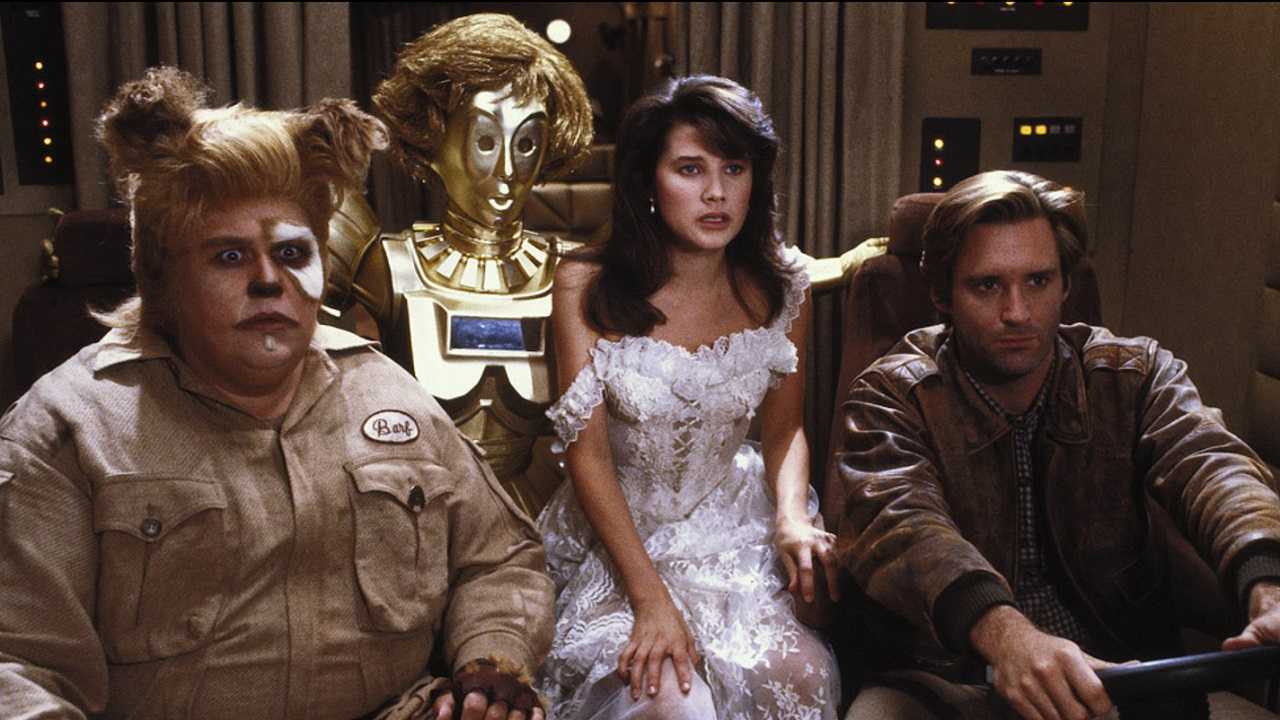 Most of the gags are wearyingly dumb – having a bridge crew all named 'Asshole' should give one an idea of the film's level. Some gags – the interruptions to the wedding ceremony, an incredibly juvenile sketch with Rick Moranis playing with toy dolls, the use of Police Academy (1986)'s Michael Winslow as a radar operator who performs his own sound effects – should have been left on the cutting room floor. There are punning sight gags on phrases like "Jam the radar" and "Comb the desert." Occasionally there are those gags that are genuinely funny, particularly John Hurt's cameo appearance replaying his famous Alien (1979) role and crying "Oh no, not again," as the chestburster gets up and does a song-and-dance routine.
There are typical Brooks jokes poking at the self-consciousness of the medium – the villains are able to find where the heroes are by watching the video of the film, Yogurt sells the film's merchandise and bids farewell, "Goodbye – and we'll meet again in Spaceballs II – The Search for More Money" (which Brooks was rumouredly thinking seriously about at one point) and during a chase sequence the heroes get away when the guards capture their stunt doubles instead.
Rick Moranis, George Wyner and Brooks himself play with typical Brooks-ian stage effect, yelling dialogue while standing eyeball to eyeball, with aghast eyes and stage whispers to the audience. Bill Pullman and the snooty Daphne Zuniga seem miscast but at least work okay together. John Candy and Rick Moranis seems to be competing to see who gives the worst performance but this is a competition that is won hands down by Joan Rivers, whose voicing of the robot Dot Matrix is awful.
Mel Brooks never made his sequel but later spun the premise out into an animated tv series Spaceballs: The Animated Series (2008), which lasted for thirteen episodes and featured Daphne Zuniga, Mel Brooks and Joan Rivers returning to voice their original roles.
Aside from the aforementioned works he has directed, Mel Brooks has also produced a number of other films through his Brooksfilm production company. including David Lynch's The Elephant Man (1980), the Burke and Hare film The Doctor and the Devils (1985), David Cronenberg's The Fly (1986), the post-holocaust teen sports film Solarbabies (1986) and the horror black comedy The Vagrant (1992).
---
---