---
Crew
Director/Screenplay – Frank Tashlin, Producer – Jerry Lewis, Photography – Haskell Boggs, Music – Walter Scharf, New Songs – Jack Brooks & Harry Warren, Musical Numbers Staged by Nick Castle, Special Photographic Effects – John P. Fulton, Process Photography – Farciot Edouart, Makeup Supervisor – Wally Westmore, Art Direction – Henry Bumstead & Hal Pereira. Production Company – Jerry Lewis Productions/Paramount.
Cast
Jerry Lewis (Fella), Ed Wynn (Fairy Godfather/Mother), Judith Anderson (Stepmother Emily), Henry Silva (Maximilian), Robert Hutton (Rupert), Anna Maria Alberghetti (Princess Charmaine)
---
Plot
After the death of his father, the idiotic Fella is forced to live with his stepmother and two stepbrothers Rupert and Maximilian in the Bel-Air family mansion. There he is made to act as their servant. They want to get their hands on the fortune left by his father whose ghost keeps appearing in Fella's dreams trying to show him where it is. Fella's Fairy Godfather then appears, inspiring him to ready himself for the visit of Princess Charmaine of Monrovia, whose hand both Rupert and Maximilian are also determined to win.
---
Cinderella has the distinction, according to The Guinness Book of Film Facts and Feats (1985), of being the story that has been filmed the most number of times. This novelty variant spins the title pun out as an amusing sex change variant. At first glance, Cinderfella gives the impression of being a drag version – indeed, it is a surprise that the modern drag film genre that has flourished in the 1990s has not conducted some variation on Cinderella. However, aside from making Cinderella a guy, turning the evil stepsisters into stepbrothers and putting the Fairy Godmother into drag, the sex change notion ends about there.
Rather Cinderfella is sort of Cinderella reinterpreted by way of Richie Rich and relocated to Beverly Hills. Largely it is a vehicle centred around Jerry Lewis. Lewis was at the height of his popularity at the point he made Cinderfella, having made hits like The Delicate Delinquent (1957), The Sad Sack (1957), The Geisha Boy (1958), The Bellboy (1960) and Visit to a Small Planet (1960). Here the fairytale has been very much tailored specifically to Jerry Lewis's screen persona – try and imagine the Cinderella he plays here cast as a standard fairytale heroine where she would be a total idiot bordering on the imbecilic and the entire story played as a comedy.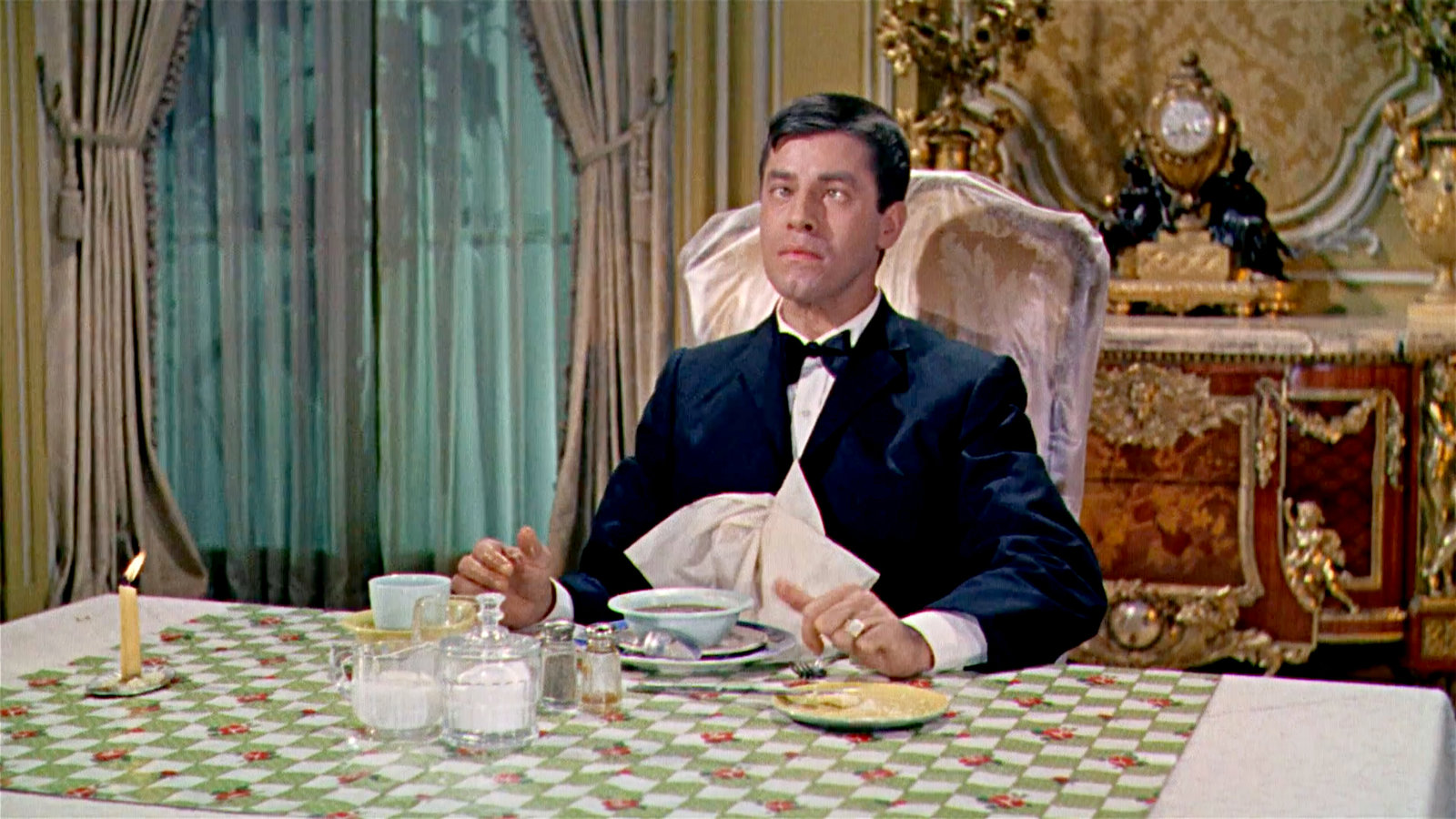 Like Jim Carrey and Pee-Wee Herman, Jerry Lewis is a comedian who polarises audiences between either amiable mirth or extreme dislike. Lewis's eye-rolling, gibbering idiocy can be very much an acquired taste. Among Jerry Lewis's body of films, Cinderfella is strictly average. There are some occasionally amusing scenes – there is one good sequence with Lewis forced to sit down at the opposite end of a 60 foot dining table from his stepmother and stepbrothers and having to alternate between dining and acting as servant, he having to stop eating, change from his dinner suit to his waiter's jacket, walk all the way up to the other end of the table, light a cigarette, return, change jackets, resume eating again, then change jackets, return and put sugar in a cup of coffee and so on. Other scenes fooling around the kitchen with Lewis playing Air Jazz tend to slow down and drag things out – they prevent all of the nonsense bubbling with the lightness that makes Lewis's other films more enjoyable.
As with Lewis's undisputed classic, The Nutty Professor (1963), the film seems to embody an underlying fantasy of transformation upon Lewis's part, with both films climaxing in a sequence where Lewis the nerd makes the transformation into super-cool.
---
Clip from the film here
Clip of the Air Jazz scene here:-
---