aka Flying High II: The Sequel
---
Crew
Director/Screenplay – Ken Finkleman, Producer – Howard W. Koch, Photography – Joseph Biroc, Music – Elmer Bernstein, Visual Effects – Phillip C. Kellison & Joseph Rayner, Production Design – William Sandell. Production Company – Paramount.
Cast
Robert Hays (Ted Striker), Julie Hagerty (Elaine Dickinson), William Shatner (Buck Murdock), Chad Everett (Simon Kurtz), Lloyd Bridges (Captain Steve McCrosky), Peter Graves (Clarence Oveur), Sonny Bono (The Bomber), Rip Torn (Bud Kruger), Chuck Connors (Sarge), Oliver Robbins (Jimmy)
---
Plot
Pilot Ted Striker has been committed to an asylum after his fiancee, air-stewardess Elaine Dickinson, abandoned him. Ted now makes an escape from the asylum. He follows Elaine aboard the Mayflower 1 space shuttle, to whose pilot she is now engaged, as it leaves for its maiden flight. However, once the shuttle is in orbit things start to go awry – there is a mad bomber aboard who wants to blow the shuttle up to get the life insurance money (not realising he has only taken out an auto insurance policy); the ship's computer goes crazy, jamming the shuttle on a course for the sun; while the kitchen has run out of coffee.
---
Jim Abrahams and brothers David and Jerry Zucker had a big hit with Airplane (1980), known internationally as Flying High. In Airplane, the three conducted an extremely funny parody of the 1970s Airport airborne disaster movies. The three seemed to have borrowed their inspiration from the movie parodies conducted by Mad Magazine and packed the film with zany sight gags occurring in the fore– and background of every frame.
Airplane was influential, inspiring a host, indeed several series of, parodies of other films – The Naked Gun: From the Files of Police Squad (1988) and sequels, which sent up cop shows; Hot Shots! (1991) and sequel, which parodied Top Gun (1986); Repossessed (1990) parodying The Exorcist (1973); Fatal Instinct (1993) parodying psycho-thrillers; National Lampoon's Loaded Weapon I (1993) parodying buddy cop action films; Spy Hard (1996), which parodied the James Bond films; Wrongfully Accused (1998) spoofing The Fugitive (1993); and then the Scary Movie series and Jason Friedberg and Aaron Seltzer's execrable excuses for parodies – Date Movie (2006), Epic Movie (2007), Meet the Spartans (2008), Disaster Movie (2008) and Vampires Suck (2010).
This was a sequel to Airplane, which was non-genre but this time some science-fiction parodies are added to the mix. There is the Star Wars (1977)-styled opening on a narrative scroll, which turns into a piece of lurid pulp fiction as it progresses. The Star Wars and Battlestar Galactica (1978-9) themes play as the shuttle is about to lift off; Japanese tv has news bulletins about giant monsters; and the ship computer is a parody of HAL 9000 from 2001: A Space Odyssey (1968).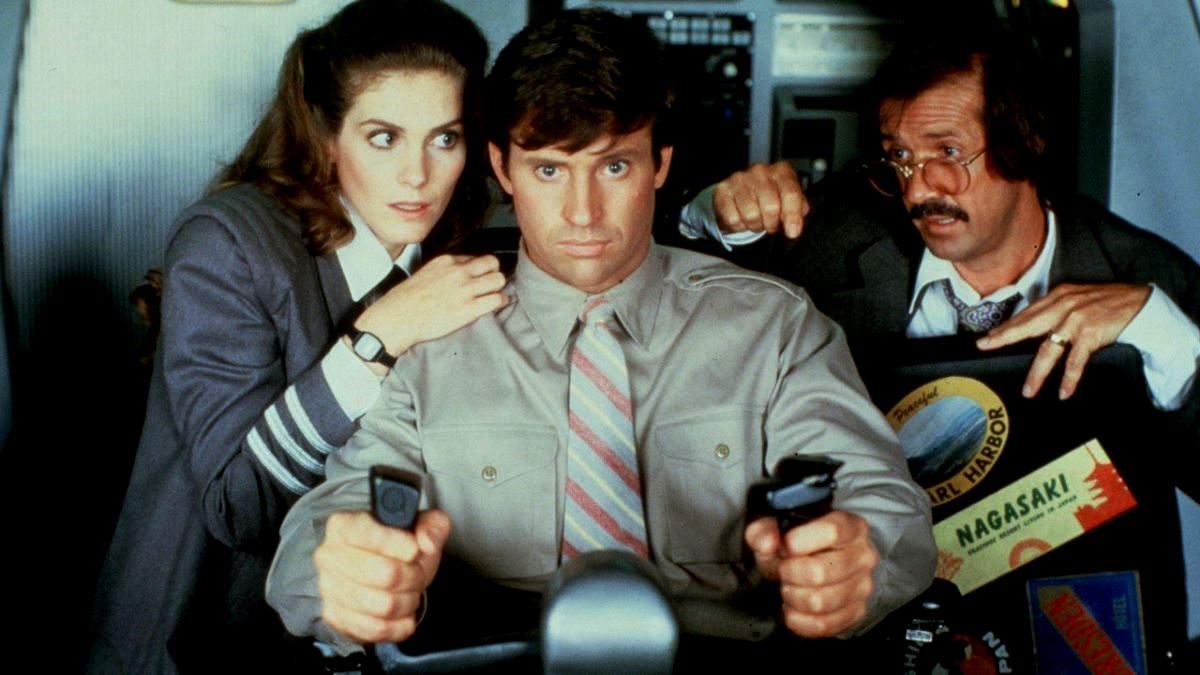 There is a witty gag where the airport paging system announces "E.T. – please phone home," whereupon a three-fingered hand answers and is told to "Please insert six billion dollars for three minutes." There are numerous jokes about Star Trek (1966-9) swishing doors, while William Shatner mugs his way through an amusing parody of Captain Kirk in an appearance as a moonbase commander.
On the other hand, as Julie Hagerty says at one point, "I've a funny feeling we've been through this before" – and we have. Everything is a re-run of Airplane, with all the same scenes with people committing suicide as Robert Hays tries to tell his life story, the subtitled jive talk, Peter Graves making amorous advances on little boys, the Dunn, Under and Over jokes and so on.
There are a few amusing original gags – the nurse topping up a patient's IV and then putting a dipstick in his mouth; the line-up for Transcendental Airlines, which is run by Hare Krishnas. At least Airplane II: The Sequel comes at the same automatic serving machine pace of the original and arrives often enough and oblivious of its own failings to be sufficiently entertaining.
---
---