---
Canada/Croatia/Hungary. 2023.
Crew
Director/Screenplay – Brandon Cronenberg, Producers – Andrew Cividino, Rob Cotterill, Jonathan Hapleryn, Karen Harnisch, Anita Juka, Daniel Kresmery, Christina Piovesan & Noah Segal, Photography – Karim Hussain, Music – Tim Hecker, Visual Effects – Andy Robinson, Special Effects Supervisor – Paul Stephenson, Makeup & Figurative Effects – Dan Martin, Production Design – Zosia MacKenzie. Production Company – Film Forge/Elevation Pictures/4Film/Hero Squared/Telefilm Canada/Eurimages/Hrvatski Audiovizualni Centar (Croatin Audiovisual Centre)/Celluloid Dreams.
Cast
Alexander Skarsgård (James Foster), Mia Goth (Gabi Bauer), Cleopatra Coleman (Em Foster), Jalil Lespert (Alban Bauer), Thomas Krestchmann (Detective Thresh), John Ralston (Dr Bob Modan), Amanda Brugel (Jennifer), Jeffrey Ricketts (Charles), Charlotte Boulton (Bex)
---
Plot
James Foster and his wife Em are on holiday at a luxury resort in the country of La Tolqa. James is a writer who produced a novel six years earlier but is struggling to come up with a second. The resort is in a compound where they are advised not to go out beyond the gates where the locals live in impoverished surrounds. At the compound, they are befriended by Gabi Bauer, who has read and loves James's book. She and her husband Alban persuade James and Em to leave the compound and go to a beach in a borrowed car. With the others drunk, James takes the wheel driving back that evening. However, the headlights falter and he does not see as he hits and kills a farmer on the road ahead. They flee the scene but are arrested in the morning. Detective Thresh comes and explains to James that according to local law, the eldest son is allowed to kill the person who murdered his father. However, for a fee, they can create a clone copy of James and have the copy killed in his place. James consents to this and is forced to watch as his double is killed. Em decides to leave but James cannot because his passport is missing. Alban, Gabi and the others at the resort draw James into their group where he discovers they have all been convicted of crimes and had to watch their doubles killed. James lets himself be drawn into their underworld of drug-fuelled orgies where, with the knowledge that they can conduct any crime with impunity, all becomes permissible.
---
The name of Brandon Cronenberg has emerged to quite reasonable acclaim in the last couple of years. The son of legendary Canadian genre director David Cronenberg, Brandon first appeared as director with Antiviral (2012), a conceptually challenging SF film that received mixed reviews at the time. Brandon received considerable praise with his follow-up, the body-hopping assassin film Possessor (2020). Infinity Pool was his third feature-length film.
Brandon gained a considerable buzz with Possessor and Infinity Pool builds on that, especially in having a much more expansive scope and a better-known cast. Moreover, it shows Brandon going from strength to strength, pushing ideas that have an original moral complexity and moving out of the shadow of just being the promising son of his more famous father.
Infinity Pool very much resembles a J.G. Ballard film. There is something of Ballard's most well-known novels turned into films, including by David Cronenberg with Crash (1996) and Ben Wheatley's High-Rise (2015) – that feature secret worlds of orgies and perverse pleasures, of bored elites partying and divided into social stratas as society collapses. In particular, the film very much resembles something of Ballard's later books Cocaine Nights (1996), Super-Cannes (2000) and to a lesser extent Millennium People (2003) about the lives of the bored and wealthy in gated resort enclaves.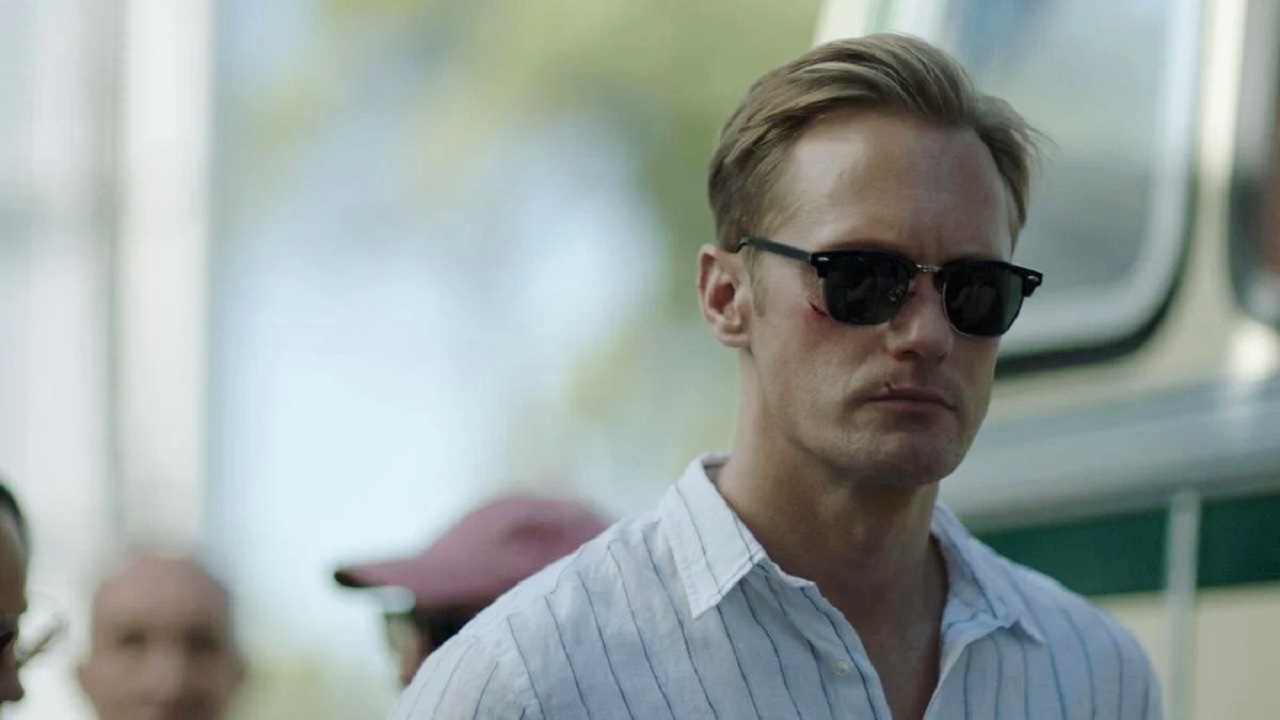 To this, Brandon adds a Fictional Country setting, the country of La Tolqa. It is deliberately not specified where La Tolqa is – you assume some sort of East European setting, while the script of the language resembles something like Arabic. (In actuality, the film was shot in Hungary and Croatia, in particular the Croatian resort of Amadina Park). Cronenberg's depiction of Westerners in their luxury resort with a guarded compound beyond which the locals live in a state of poverty hits home with a cutting social commentary that seems highly relevant in 2023.
Added to this is an element about Cloning where the country has perfected the process where a clone can be created of the individual (even down to replicating their same age and hairstyle apparently!) and they are killed in lieu of the original due to the laws of this country which legalise the revenge killing by the eldest child of a murdered parent (or apparently execution for all manner of other crimes).
I do have some questions about the plausibility of this set-up. For example, would not news of the dangers that tourists face get out and travel warnings be issued such as those that go out against countries where you can be arrested for not wearing head covering or for public displays of licentiousness? Furthermore, if such a successful cloning process been completed, it is hard to believe that news would not have gotten out to the rest of the world and much wider applications of the process have been readily sought.
That said, Brandon Cronenberg displays no faults whatsoever in his presentation of the material. The sense of nightmare that Alexander Skarsgård finds himself in following his arrest as everything is explained by the police detective (a nicely understated performance from Thomas Kretschmann) comes with a grim chill. The growing sense of being dragged into a dark underworld where all the rules of regular society have been shot out is depicted with great effect. It allows Brandon Cronenberg, cinematographer Karim Hussain and his editor to go to work with some dazzling psychedelic drug trip scenes.
Throughout, Alexander Skarsgård maintains the grim, little-speaking role he nailed to perfection by now where he seems almost cowered by his 6'4½" height. The star of the show gets to be Mia Goth. I have championed Goth for some years and she finally seems to be receiving wider acclaim following the duo of films X (2022) and Pearl (2022), released just before Infinity Pool. Here she is again a luminous presence, at turns seductive and teasing, while her scenes in the latter sections of the film switch over to something dangerously malicious.
---
Trailer here
---