---
Crew
Director/Screenplay – Brandon Cronenberg, Producer – Niv Fichman, Photography – Karim Hussain, Music – E.C. Woodley, Visual Effects – Invisible Pictures Inc. (Supervisor – Noel Hooper), Special Effects Supervisor – Brock Joliffe, Production Design – Arvinder Grewal. Production Company – Rhombus Media.
Cast
Caleb Landry Jones (Syd March), Sarah Gadon (Hannah Geist), Joe Pingue (Arvid), Malcolm McDowell (Dr Adendroth), Nicholas Campbell (Dorian Lucas), Douglas Smith (Edward Porris), Wendy Crewson (Myra Tesser), Reid Morgan (Derek Lessing), Sheila McCarthy (Dev Harvey)
---
Plot
In the near future, celebrity culture has so overwhelmed the world that people pay to have viruses that celebrities have been infected with injected into their own bodies. Syd March is a salesperson at The Lucas Clinic, one of the top companies specialising in celebrity viruses. Syd also makes illicit sales to an underground market by smuggling viruses out in his own body and then erasing the copy protection coding. Lucas's top-seller, actress Hannah Geist, becomes infected with a mysterious virus. Syd is sent to obtain a sample from her but injects it into himself. He then starts to become extremely ill. Not long after, it is announced than Hannah has died. Syd discovers that the virus has been engineered by a rival company. Moreover, with Hannah's death, this makes the surviving samples inside him greatly sought after.
---
Antiviral became a word of mouth hit after premiering at Cannes and making the rounds of a slew of other film festivals. As almost any article/review about the film notes, it was the directorial debut of Brandon Cronenberg. Brandon's more famous father is David Cronenberg, the cult director of films like The Brood (1979), Scanners (1981), The Fly (1986), Dead Ringers (1988), A History of Violence (2005), A Very Dangerous Method (2011) and Cosmopolis (2012). Brandon had previously worked as a special effects assistant on his father's eXistenZ (1999) and directed two short films before making his debut feature here.
During a Q&A sessions after a screening at the Vancouver International Film Festival, Brandon Cronenberg was philosophical about his parentage and influences, citing that he didn't feel he had a particular need to replicate his father's themes but at the same time felt he did not have to go in the opposite direction to divorce himself from them in order to prove a point. He seemed unsure to what extent that he was actually influenced, stating equally that his father's films were an indelible part of his family's history. Certainly, having in effect the middle name "son of David Cronenberg," gave him an intrigue value that was enough to open doors and get him into pitch meetings.
Looking at Antiviral, Cronenberg pere and frere certainly seem to be cut from the same cloth. Antiviral seems to be set in the same coolly detached world of early David Cronenberg – the future scenario undeniably reminds of David's somewhat more surreal Crimes of the Future (1970), while similar depersonalised modernistic surroundings were used by David in Shivers/They Came from Within (1975). There are also the recurring theme of people pursuing festishistic fascinations – here having celebrity viruses placed into their own bodies or eating steaks cultivated from celebrity cells, which is similar to the fetishistic mindsets of the characters in films like Shivers, Dead Ringers and Crash (1996).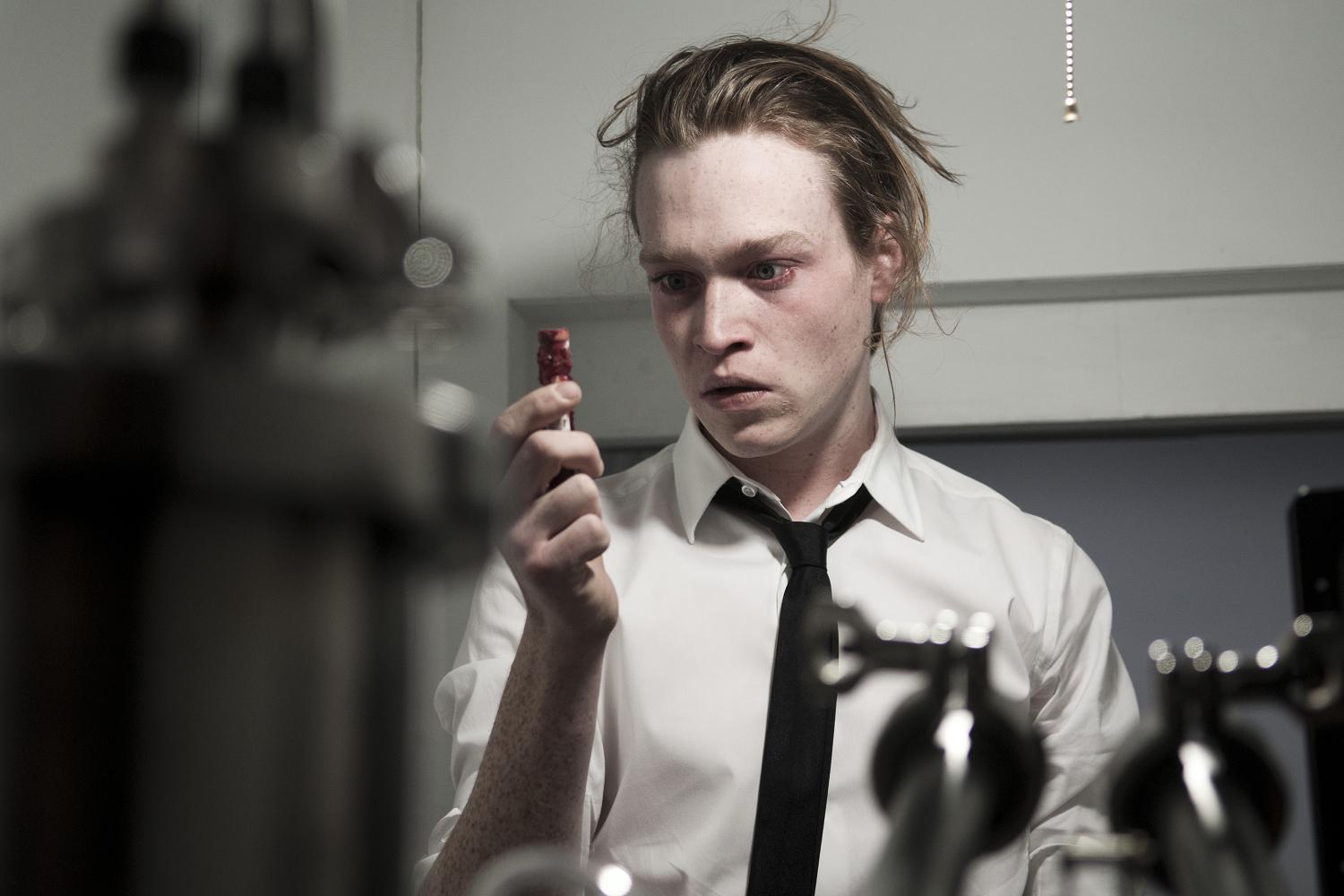 Characters are wont to voice cryptically oblique pieces of dialogue – "celebrities are not people, they are group hallucinations", "from the perspective of the virus, the human being is irrelevant" – that you could easily attribute to Brian O'Blivion of Videodrome (1983) fame or some of the writing in the recent Cosmopolis (which also shared lead actress Sarah Gadon). Brandon also shares his father's trait of giving his characters names that sit unusually on the tongue. And of course there is the same shared fascination with medical experiments and embracing of perverse forms of body modification/mutation that runs through all of David Cronenberg's films from the 1970s to the 1990s. In that David Cronenberg has from the 1990s onwards given up any type of easy pigeonholing as a genre director, you could perhaps see Brandon as returning to his father's roots and rediscovering/upholding the body of ideas that gained David Cronenberg his cult name.
That said, Antiviral has sufficient originality of conception to stand entirely on its own. If anything, it reminds of the science-fiction films of Andrew Niccol – Gattaca (1997), In Time (2011), Anon (2018) and to some extent The Truman Show (1998) – which posit a future extrapolated from one central concept, an idea that has been conceptually elaborated to see how such a world would operate, the rules of the society, the things people would take for granted and so forth.
There is a cool fascination with which we see the world of celebrity viruses being presented – the advertising, the smoothness of Caleb Landry Jones's sales pitch to clients. In this world, the next logical step becomes the idea of companies genetically tampering with the viruses in order to copy protect them, then of rival companies trying to reverse engineer the protection to steal samples and engaging in industrial espionage by infecting stars with lethal viruses of their own design. This also leads to a black market in stolen cells, even restaurants the sell steaks made up of cells cultivated from stars. Elsewhere, doctor Malcolm McDowell displays a series of skin graft patches from stars and describes the joy of having them attached to his body as akin to something religious.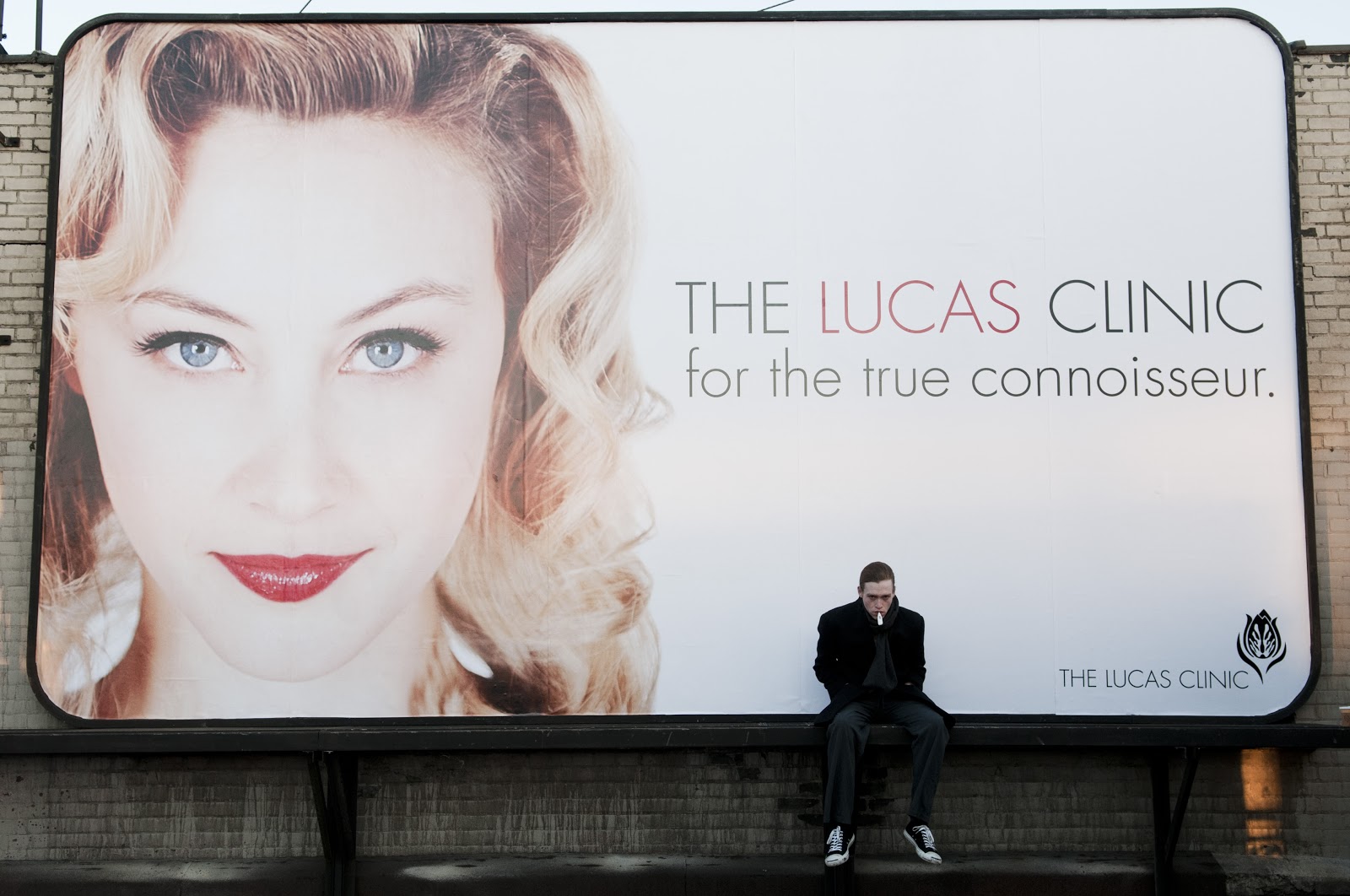 The contemporary fascination with celebrity news is parodied with a darkly satirical bite – where celebrity sex tapes become headline items and other news pieces speculate about various celebrities' misshapen vulvas and anal blockages. The end that the film reaches takes everything to a savage conclusion.
I had a good deal of liking for Antiviral. It shows Brandon Cronenberg as a director of undeniable promise – both in terms of imprinting his own style on a film and equally in creating an original idea and pushing it through a series of fascinating logical contortions with considerable ingenuity. It is much the same as one suspects audiences would have reacted to seeing David Cronenberg's Shivers for the first time back in 1975 and trying to wrap their heads around the richness of the metaphorical subtext that it held. Antiviral is a highly impressive debut and I am greatly in interested to see what Brandon Cronenberg is capable of next.
Brandon Cronenberg next went on to direct Possessor (2020) about bodyswapping assassins.
(Nominee for Best Original Screenplay at this site's Best of 2012 Awards).
---
---