---
Crew
Director – Ben Wheatley, Screenplay – Amy Jump, Based on the Novel by J.G. Ballard, Producer – Jeremy Thomas, Photography – Laurie Rose, Music – Clint Mansell, Visual Effects Supervisors – Murray Barber & Ronald Grauer, Visual Effects – Benuts & Milk, Special Effects Supervisor – Steve Templeton, Makeup Designer – Wakana Yoshihara, Production Design – Mark Tildesley. Production Company – Hanway Films/Recorded Picture Company/BFI/Film 4/S Films/Northern Ireland Screen/Ingenious Media/Scope Invest Producteurs.
Cast
Tom Hiddleston (Dr Robert Laing), Jeremy Irons (Anthony Royal), Luke Evans (Richard Wilder), Sienna Miller (Charlotte Melville), James Purefoy (Pangbourne), Elisabeth Moss (Helen Wilder), Louis Suc (Toby Melville), Dan Renton Skinner (Simmons), Keeley Hawes (Ann Royal), Sienna Guillory (Jane Sheridan), Enzo Cilenti (Adrian Talbot), Peter Ferdinado (Cosgrove), Augustus Prew (Munrow), Reece Shearsmith (Nathan Steele)
---
Plot
Pathologist Robert Laing moves into an apartment in a newly constructed high-rise tower. There he observes the social hierarchy that exists between those on the upper and lower floors. He engages in a casual sexual liaison with Charlotte Melville, the woman on the floor above him. Laing is befriended by Anthony Royal, the building's architect, who lives in palatial splendour on the rooftop apartment. However, facilities start to break down in the building – the power keeps going off, trash builds up. As this occurs, social cohesion begins to collapse, resulting in fighting between the floors, vandalism and then a clawing for whatever food that people can find.
---
J.G. Ballard (1930-2009) is one of the few science-fiction writers to have enjoyed mainstream acclaim, having both been nominated for the prestigious Man Booker Prize and winning the SF community's Nebula Award. Ballard emerged in the 1960s and became one of the central writers of the so-called British New Wave movement that turned away from the hardware and space opera of pulp science-fiction to focus on inner space with works that were often influenced by surrealism and pop art. His best work, in this author's opinion at least, comes at short story length in collections such as The Terminal Beach (1964), The Disaster Area (1967), The Atrocity Exhibition (1970), Vermilion Sands (1971), Low Flying Aircraft (1976), Myths of the Near Future (1982) and Memories of the Space Age (1988). Ballard's early novels are centred around apocalyptic catastrophes with the likes of The Wind from Nowhere (1962), The Drowned World (1962), The Burning World/The Drought (1964) and The Crystal World (1966) but in Ballard's works you felt less the sense of humanity fighting to overcome catastrophic forces than you do an author who loves the beauty of decayed, alienated landscapes and of characters who gain a cathartic transformation as a result of the apocalypse.
Ballard's key genre works were the thematic trilogy consisting of Crash (1973), Concrete Island (1974) and High-Rise (1975) in which his desolate worlds are replaced with contemporary urban landscapes where protagonists find their catharsis by travelling beyond social taboo lines. Ballard's mainstream fame came with the autobiographical Empire of the Sun (1984) about growing up in a Japanese Prisoner of War camp. Even in later mainstream novels such as Cocaine Nights (1996), Super-Cannes (2000) and Millennium People (2003), Ballard repeatedly returns to the central image we have in High-Rise of small enclaves of people (usually rich elites) and the dark forces that lie not far beneath the civil surfaces they maintain.
Ballard's work has attained sporadic attention from filmmakers. Ballard was purportedly involved in Hammer's prehistoric drama When Dinosaurs Ruled the Earth (1970), although receives no credit on the finished film. Ballard's work gained major attention with Steven Spielberg's high profile but crucially non-science-fiction adaptation of Empire of the Sun (1987). This was followed by David Cronenberg's adaptation of Crash (1996), a film that caused considerable controversy over its depiction of a small group of people who are sexually aroused by car crashes. Subsequent to Crash, we saw a number of other Ballard film adaptations, The Atrocity Exhibition (1998), the Portuguese Low Flying Aircraft (2002) and the British tv adaptation of Home (2003), although none of these were widely seen.
High-Rise was mentioned as an adaptation for some time. For much of the 2000s, there was a rumoured production from Vincenzo Natali, the Canadian director of Cube (1997), Cypher (2002), Nothing (2003), Splice (2010) and Haunter (2013). It would have been absolutely fascinating to see how Natali's High-Rise would have stacked up against this version – I expect to read an article on the net detailing this any day.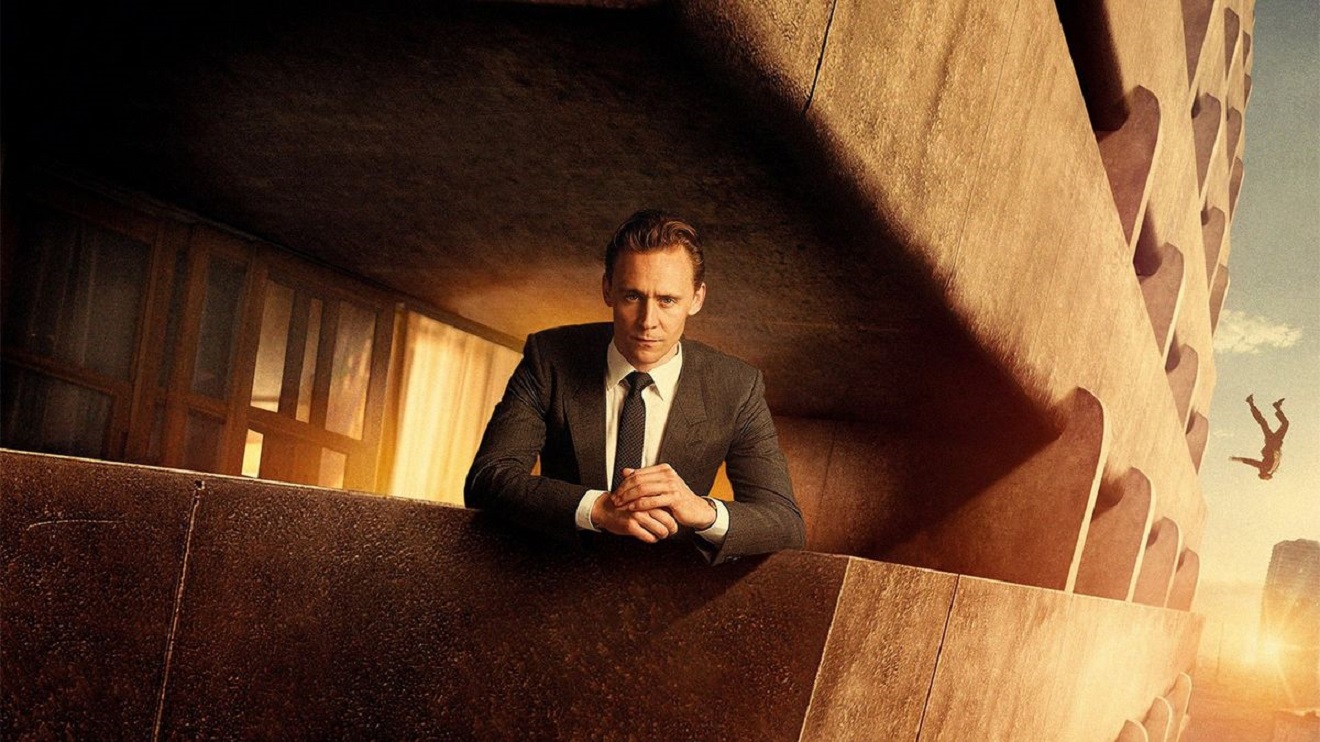 The book eventually ended in the hands of British director Ben Wheatley. Wheatley first appeared with a series of viral videos and then made his directorial debut with the crime drama Down Terrace (2009). Wheatley gained a To Watch name with Kill List (2011), ostensibly a work about hitmen that suddenly conducts a left field turn into horror territory, which gave the film a muchly talked about buzz. Wheatley has had a workaholic regimen since then turning out Sightseers (2012), a black comedy about murderous tourists, and the unfathomably tripped-out historical film A Field in England (2013). He has had his fingers in a number of other pies, including directing the U is for Unearthed segment of The ABCs of Death (2012) and episodes of Doctor Who (2015– ) and subsequent to this Free Fire (2016) about a shootout in a warehouse, the remake of Rebecca (2020), the Folk Horror film In the Earth (2021) and the big-budget killer shark film Meg 2: The Trench (2023), as well as producing The Duke of Burgundy (2014), Aaaaaaaah! (2015), The Ghoul (2016), The Greasy Strangler (2016) and In Fabric (2018)..
High-Rise strikes you from the opening scene (a perfect replication of the one that the book opens on) with Tom Hiddleston on the balcony of the building wearing a shirt and a loosened tie tending a barbecue, before he turns and we see his apron is bloodied and he has kitchen knives strapped to his side and what is roasting on the spit of the barbecue is the leg of a dog. No image in the film more aptly pinpoints Ballard's mix of the collapse of civilised order and of the tenants clinging to the sense of an obsolete custom than of Tom Hiddleston still in shirt and tie in the midst of this.
Ben Wheatley makes the interesting choice to set the film in the 1970s era that the book was published. (Ballard set the book in a slightly near future setting). This may well be due to the sense that the story might have had difficulty working in today's hyper-televised, internet and cctv surveillance society. (Part of you, for instance, cannot help but keep wondering why nobody just calls the civil authorities to restore order in the building). Or it may just be that he was being slavishly faithful to the original.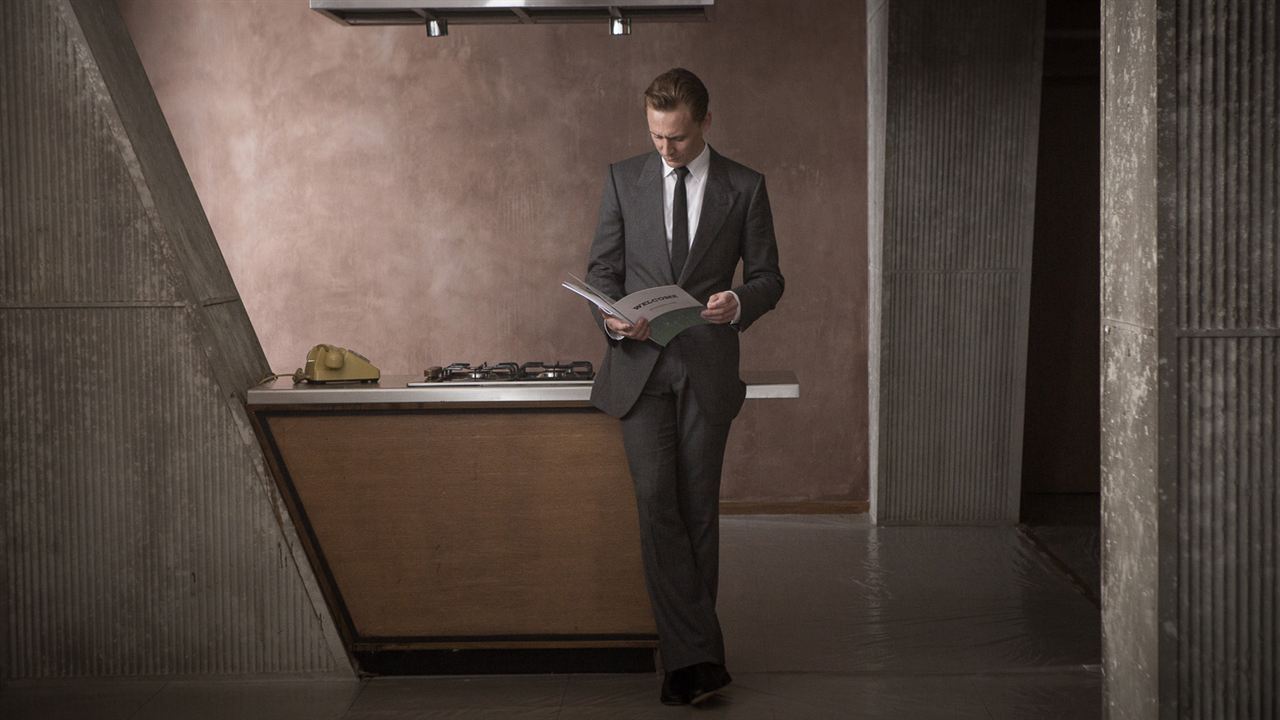 On the other hand, this does allow Wheatley to add a sardonic coda to the story where Louis Suc sits on an edge of the building listening to a radio broadcast by Margaret Thatcher. This subtly politicises the story, wields Ballard's class disparity to the growing rich-poor divide that Thatcher created in the country with her neo-liberalist market reforms only four years after Ballard published the book.
The 1970s setting also leads to a striking production design scheme where the building is constructed as all harsh brutalist concrete blocks that seem to dwarf the humans inside them, which is exactly what you feel J.G. Ballard would have imagined. The set dressers have a field day coming up with retro-period stereos, tvs, cars and garish modernist drapes and furnishings.
High-Rise was essentially J.G. Ballard commenting on contemporary (1970s) British society. The floors of the building act as literal class warfare – from the proles at the bottom, the middle-class on the intermediate floors and Jeremy Irons in palatial splendour on the penthouse apartment (Ballard named his character Royal in what you have to construe as a dig at the Windsors sitting atop the ladder of British society). J.G. Ballard grew up in the Lunghwa Japanese Prisoner of War camp during World War II and saw a literal vision of the class structure of British society coming apart and people reduced to desperately trying to survive on what they could scavenge – see his autobiographical Empire of the Sun (1984) – and this feels exactly like a mirror held up to such a world.
Ballard was also writing High-Rise at a time just after the Love Generation and its rebellion against middle-class mores and when biting works like William Golding's Lord of the Flies (1954) – see the film version Lord of the Flies (1963) and the US bastardisation Lord of the Flies (1990) – about a classroom of prep school boys gleefully abandoning civilisation for barbarism was one of the most influential literary works of the era.
Thus High-Rise has a savage agitprop feel to it, of someone lighting the fuse of a gunpowder keg (albeit in the safety of sitting behind a typewriter) and wishing to see the whole rigidly stratified class system go up in flames. What Ballard seems to be saying in essence is that this class system is really an invisible one where the dividing lines only exist in people's heads and when the constraints that hold it all together fall apart then people are reduced to primitive survival instinct.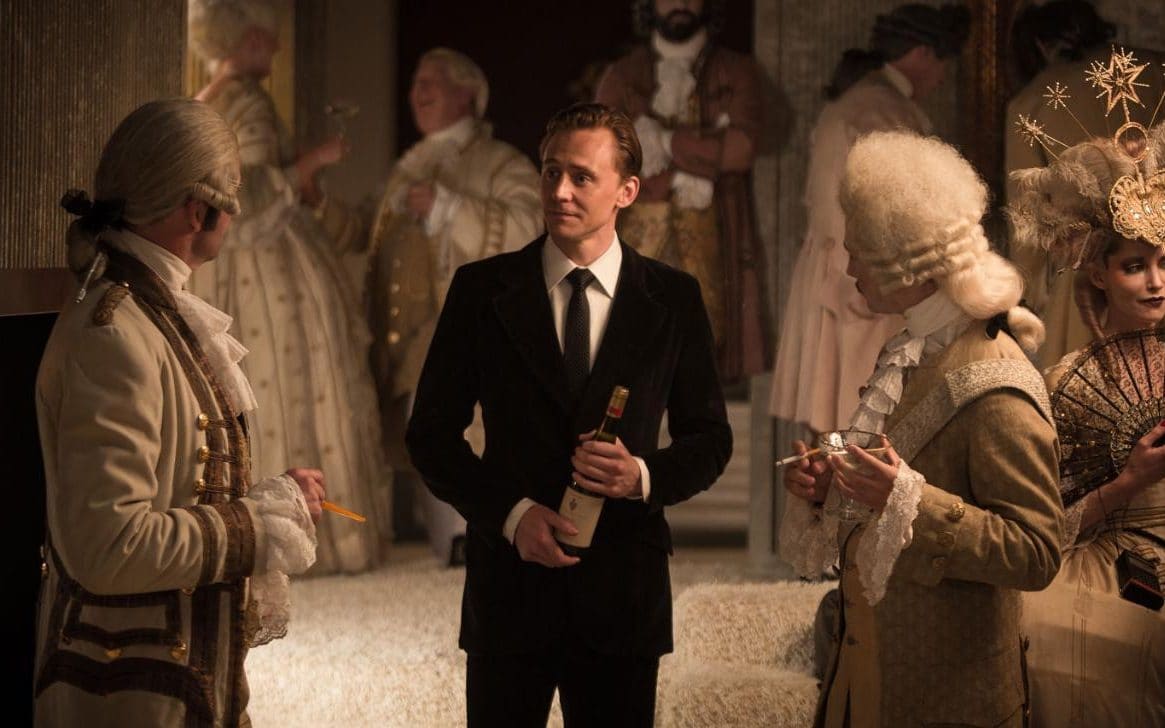 On the other hand, you wonder how well all of that plays in 2015. There is ever the sense, no matter how accomplished High-Rise is, that much of this has been said before. The collapse of society theme has been trodden in a number of other films – such as The Divide (2011) and, in particular, Blindness (2008), while the basic premise of High-Rise was even ripped off in the Doctor Who episode Paradise Towers (1987). The impression I got, talking with others after the screening, was never the sense of shock at watching the class system collapse but more of a catharsis of spectacle. It does, after all, seem somewhat perverse of Ben Wheatley to offer up the collapse of civilised order in such a beautifully photographed manner.
It may well also be that the sense of rigidified social order as British society operated on in the 1970s is no longer as cohesive and feels much more fluid than it was back then. Or else that this is not something that translates as much internationally to countries that are not constitutional monarchies. Certainly, in comparison to Crash, the themes and allegories here do not leave one as enervated as Cronenberg made us feel. That said, there is no more effective a scene of the disparity of class differences than when Tom Hiddleston turns up at an upper-floor soiree and discovers that, though he has sharply dressed in suit and tie, nobody informed him that it was a Louis XIV costume party and when he leaves, feeling out of place, the bottle of wine he brought is dismissively tossed in the garbage by the manservant.
Ben Wheatley has never been more is control of a film than he is here. The spectacle of social decay is rendered in beautifully sharp vignettes – the 1970s decor overrun by seething orgies, the trash slowly piling up in the hallways, rotting fruit on display in the supermarket, the tenants upstairs making sport of pelting the cars in the parking lot with junk, Reece Shearsmith diving off a balcony and onto the hood of a car and nobody seeming terribly perturbed, the pool that is fought over eventually littered with trash and becoming the resting place for dead bodies. It is an arresting spectacle.
The complaint one might make is that the film seems detached from the characters – except maybe for Luke Evans in 70s tv action hero severe sideburns and 'stache who rages through the complex with working class anger. Tom Hiddleston's hero seems an observer that drifts through the story but never engages – but then that is also an aspect from the story and is purely Ballardian. Remember Crash and the remote and mechanically detached sex scenes. (Ben Wheatley seems to be homaging some of that too in the deadpan scenes between Tom Hiddleston and Sienna Miller). Visually and in all areas, High-Rise feels like Ben Wheatley's most accomplished film yet. It certainly looks his best-budgeted and he has managed to reign in some top names in the casting department.
(Winner in this site's Top 10 Films of 2015 list. Nominee for Best Director (Ben Wheatley) and Best Adapted Screenplay at this site's Best of 2015 Awards).
---
---