---
Crew
Director/Story – Bong Joon Ho, Screenplay – Bong Joon Ho & Jon Rnson, Producers – Bong Joon Ho, Doohoo Choi, Dede Gardner, Lewis Taewan Kim, Jeremy Kleiner, Ted Sarandos & Woo Sik Seo, Photography – Darius Khondji, Music – Jaeil Jung, Visual Effects Supervisors – Erik-Jan De Boer & Lee Jeon Hyoung, Creature Supervisor – Erik-Jan De Boer, Visual Effects – 4th Creative Party (Supervisor – Joon Hyung Kim) & Method Studios, Special Effects Supervisor – Kyoung Soo Park, Production Design – Lee Ha Jun & Kevin Thompson. Production Company – Netflix/Plan B/Lewis Pictures/Kate Street Picture Company
Cast
An Seo Hyun (Joo Mija), Tilda Swinton (Lucy Mirando/Nancy Mirando), Paul Dano (Jay), Jake Gyllenhaal (Johnny Wilcox), Giancarlo Esposito (Frank Dawson), Byun Heebong (Joo Hee Bong), Shirley Henderson (Jennifer), Steven Yeun (K), Lily Collins (Red), Devon Bostick (Silver), Daniel Henshall (Blond), Yoon Je Moon (Mundo Park)
---
Plot
In 2007, Lucy Mirando, the CEO of Mirando Corporation, announces that they have found the solution to world hunger problems – the breeding of a genetically-engineered super-pig. Twenty-six of the pigs have been sent to farmers around the world to raise via traditional methods but they plan will not be ready for ten years. In the present-day, young Mija lives with her grandfather in the South Korean countryside where they tend one of the super-pigs. She calls it Okja and regards it as her best friend. She is devastated when Mirando employees arrive to take Okja away to be part of a super-pig festival in New York. She heads to Seoul, determined to stop Okja being taken away. At the same time, members of the Animal Liberation Front break Okja out of Mirando custody. The leader Jay explains to Mija that they want her to allow Okja to be recaptured but with a hidden camera on its body so that they can broadcast the conditions inside Mirando headquarters. When footage goes viral of Okja rampaging through a mall during the liberation attempt, Lucy decides that she can exploit this by bringing Mija to New York to be publicly reunited with Okja, creating a friendly face to hide the fact that they are preparing to slaughter the pigs.
---
South Korea's Bong Joon-Ho has become a name to reckon with on the international stage. Bong gained some festival play with his first two films Barking Dogs Never Bite (2000) and Memories of Murder (2003) based on a true-life Korean serial killer investigation. His next, the monster movie The Host (2006), became a sensation and accolades continued to pour in with Mother (2009). These reached a peak with the science-fiction film Snowpiercer (2013) and subsequently the Academy Award-winning success of Parasite (2019). Okja, which has been shot in equal parts English and Korean, comes produced by Brad Pitt's Plan B production company. It received its premiere at Cannes and played several international film festivals before being released to Netflix.
Okja is essentially Boon Jong Ho's equivalent of E.T. – The Extra-Terrestrial (1982), albeit where E.T. is a giant pig about the size of an SUV. Oh and an E.T. that could have been made essentially a commercial for the militant vegetarian lobby. At the centre of both films is the relationship between a child and a non-human creature (that possibly has intelligence) and how the child endeavours to save the creature from exploitation by an evil corporation (as opposed to the military in E.T.). On the other hand, while Steven Spielberg made E.T. as an unabashed family-friendly film, it is a hard stretch to think of Okja and Boon Jong Ho's oddball sense of humour as being anything that would be enjoyed a young age group.
Boon Jong Ho has a very eccentric sense of humour. On one level, the film engages you with the tenderness of the relationship between An Seo Hyun and the creature, the struggle to get her pet back. At the same time, you are constantly being drawn to watch the eccentric characters around the edge of the film, particularly during the wacky boardroom scene. The funniest scenes are the ones with the animal rights activists who conduct their heist while going out of their way to calm down and assure the Mirando security people they are not going to hurt them or where one of the cohorts is collapsing because he is trying to reduce his carbon footprint by eating less.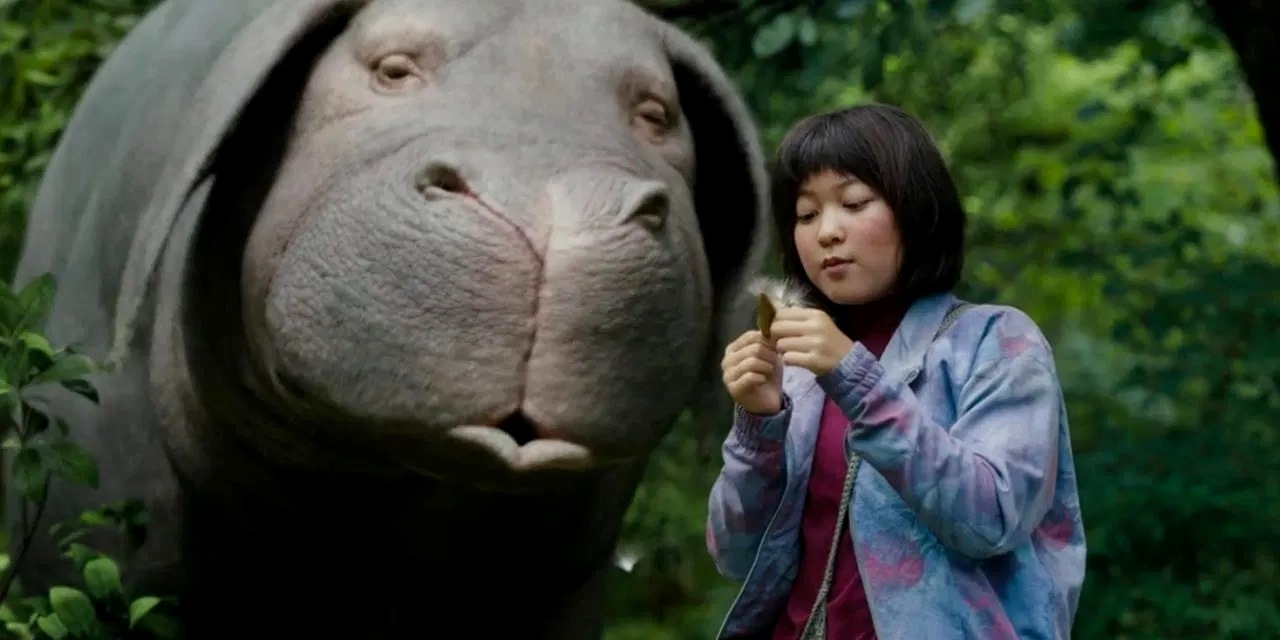 Boon has encouraged all of his principals to give strange performances. Tilda Swinton plays Lucy Mirando and twin sister and, as seems to be the mandate she received in Snowpiercer, appears to have modelled her performance on Margaret Thatcher, albeit a more feminine version with toothsome overbite. The most eccentric performance comes from Jake Gyllenhaal as a has-been tv zoologist where Gyllenhaal has chosen to hide his features behind a Groucho Mark glasses and mustache and gives what would have to be his most over-the-top and silliest performance. Shirley Henderson plays strange and weird but as that is the same for every role I've seen her in it is hard to tell if that is her being over-the-top or not.
By the time the film gets to New York, you can see that Boon Jong Ho has been playing a long game. The eccentric scenes at the boardroom have been a distraction (and indeed, you suspect that they would have been cut in any Spielberg-modelled Hollywood film). The real emotional impact of the film comes during the scenes where An Seo Hyun tries to rescue Okja from the Mirando processing plant. Boon Jong Ho holds nothing back in the shock scenes of the pigs that we have regarded as cute throughout being slaughtered with bolts through the head and their carcasses being gutted and swung through the factory floor on pulleys. The scene where An Seo Hyun pleads with Tilda Swinton not to kill Okja is heart-rendering. It makes for a film that could hardly be a better commercial for the anti-meat eating lobby.
One must also mention how Okja is brought to life with some exceptional creature effects. The Method Studios team do a flawless job in breathtaking detail such that you can easily forget you are watching a CGI creation. Okja will almost certainly be overlooked come awards season but Method's work deserves not to be. The oddest aspect of the film is how pronunciation of the title creature seems to change depending on which language is being spoken – the Koreans refer to it as "ok-eea" as in Nokia, whereas the English-speakers refer to it as "ock-jar".
---
---