---
Crew
Director/Screenplay – Boots Riley, Producers – Nina Yang Bongiovi, Jonathan Duffy, Charles D. King, George Rush, Forest Whitaker & Kelly Williams, Photography – Doug Emmett, Music – Nate Brenner & Merrill Garbus, Soundtrack – The Coup, Visual Effects – Allied/Beast (Supervisor – Darren Orr), Stop Motion Animation – Ri Crawford & David Lauer, Special Effects Supervisor – Andrew Lewis, Makeup Effects – Margaret Caragan, Creature Effects – Alec Gillis & Tom Woodruff, Jr., Production Design – Jason Kisvarday. Production Company – Significant Productions/MMM Creative/Macro/Cinereach/The Space Program.
Cast
Lakeith Stanfield (Cassius Green), Tessa Thompson (Detroit), Jermaine Fowler (Salvador), Omari Hardwick (Mr. ______), Arnie Hammer (Steve Lift), Steven Yeun (Squeeze), Danny Glover (Langston), Terry Crews (Sergio), Michael X. Sommers (Johnny), Kate Berlant (Diana DeBauchery), Robert Longstreet (Anderson), David Cross (Cassius's White Voice), Patton Oswalt (Mr. ______'s White Voice), Forest Whitaker (First Equisapien/Demarius)
---
Plot
Cassius Green is living in his uncle's garage in Oakland with his artist girlfriend Detroit. Desperate for money, he takes a job with a telemarketing company. He gets nowhere until co-worker Langston suggests that Cassius channel his inner 'white voice' – to speak like someone who doesn't have a care in the world. After doing so, Cassius has great success. At the same time, co-worker Squeeze organises the other employees to go on strike for better pay. Due to his success, Cassius is offered the job of a Power Seller – one of the elite sales team. He decides to cross the picket line and part ways with Detroit to accept the position. He finds that he is selling on behalf of WorryFree, a conglomerate that is offering workers free accommodation and meals while hiring their services out, and are being accused of slave labour. Invited to a WorryFree party, Cassius discovers that WorryFree's CEO Steve Lift is planning to create more efficient workers by genetically reengineering them as horse hybrids that he calls Equisapiens.
---
Sorry to Bother You was a directorial debut for Boots Riley. Riley is better known as a rapper with the group The Coup who have recorded a number of successful albums since the 1990s (and deliver the soundtrack for the film). Riley wrote the screenplay based on his own experiences as a telemarketer while living in Oakland. The film premiered at Sundance and toured various international film festivals receiving great word of mouth.
Sorry to Bother You is a work of satire that kind of takes you back. It is Boots Riley delving into the world of telemarketing and by extensions taking in the whole world of disposable minimum wage labour a la Walmart, Amazon and Uber. It is also Boots Riley taking on race relations – a scene where Lakeith Stanfield is asked to rap before a white audience and under pressure gets up and chants "nigger shit" over and over to great applause holds a pungently nasty bite that is also hilariously funny.
Sorry to Bother You announces Boots Riley as a major new filmmaker. It is a film that comes with a great deal of creativity packed into almost every corner of it. If I had to come up with a capsule description I'd call the film something of Spike Lee around the point of Do the Right Thing (1989) interbred with the absurdist satire of a Kurt Vonnegut.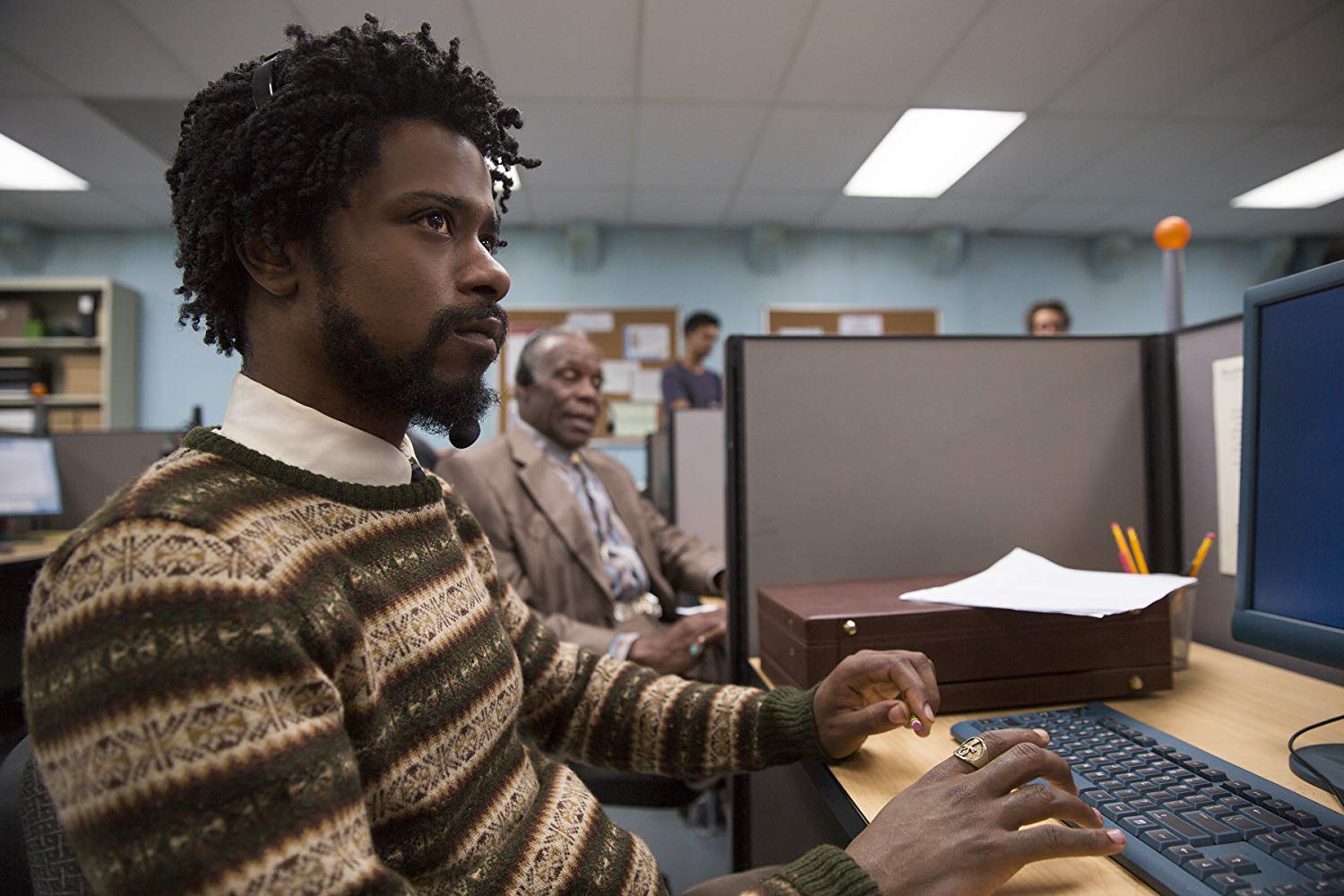 It is packed with side-splitting pieces – Danny Glover has an hilarious scene introducing Lakeith Stanfield to his 'inner white voice' (whereupon Lakeith's lines are dubbed by David Cross) and the whole white voice gag keeps playing throughout the film. Arnie Hammer gives a wonderfully entertaining and mad performance as the WorryFree CEO and manages to steal the last quarter of the show. By the point of the introduction of the Equisapiens (human-horse hybrids designed to be better workers), the film enters the mind-bendingly surreal.
Boots Riley has brought together an impressive cast for what is an ingenue effort (the film is even produced by Forest Whitaker who turns up as one of the Equisapiens). Lakeith Stanfield shows much promise and one expects to hear a good many more things from him. Tessa Thompson seems an actress on the rise in the last couple of years with roles in Creed (2015), Valkyrie in the MCU and Men in Black: International (2019). Here is the first occasion I've noticed her as anything other than a face where she gives an amusing performance as Lakeith's girlfriend – her highlight is a piece of performance art wearing a bra and panties that resemble hands grasping her boobs and crotch while reciting a line of dialogue from The Last Dragon (1985) as people pelt her with cellphones, bullet casings and balloons of sheep's blood. Not to mention she gets to wear an amazingly creative array of earrings throughout the film.
(Nominee for Best Original Screenplay at this site's Best of 2018 Awards).
---
---