---
Crew
Director/Story – Bong Joon Ho, Screenplay – Bong Joon Ho & Kelly Masterson, Based on the Graphic Novel Le Transperceneige by Benjamin Legrand, Jacques Lob & Jean-Marc Rochette, Producers – Jeong Tae-sung, Lee Tae-hun, Steven Nam & Park Chan-wook, Photography – Hong Kyung Po, Music – Marco Beltrami, Visual Effects Supervisor – Eric Durst, Visual Effects – 4th Creative Party (Supervisor – Lee Jeon Hyoung), Method Studios (Supervisor – Mark Breakspear), Scanline VFX (Supervisor – Michael Miekle), UPP (Supervisor – Viktor Müller), Special Effects Supervisor – Pavel Sagner, Special Effects – Flash Barrandov Special Effects Ltd., Makeup Design – Jeremy Woodhead, Production Design – Ondrej Nekvasil. Production Company – CJ Entertainment/Moho Film/Opus Pictures.
Cast
Chris Evans (Curtis Everett), Song Kang Ho (Namgoong Minsoo), Tilda Swinton (Minister Mason), Ed Harris (Wilford), John Hurt (Gilliam), Jamie Bell (Edgar), Ko Asung (Yona), Octavia Spencer (Tanya), Ewen Bremner (Andrew), Alison Pill (Teacher), Marcanthonee Jon Reis (Tim), Luke Pasqualino (Grey), Emma Levie (Claude)
---
Plot
It is the year 2031. Seventeen years ago, the atmosphere was sprayed with CW-7 in an attempt to hold back global warming, only for this to have catastrophic effects that caused the entire world to be buried under an ice age. The last survivors of humanity live inside Snowpiercer, a train that is its own self-contained environment and perpetually circles the frozen globe. The train is divided into classes with those in the tail section living in squalor and being fed a mere subsistence diet of protein bars, while those in the forward compartments, including the train's godlike designer, live in luxury where their regime is supported by armed guards. Aided by secret messages sent from the forward sections, Curtis starts a revolution and overthrows the guards after realising that they have run out of bullets. He and his revolutionaries make their way forward, intending to get to the front section and commandeer the train. For all of them, the journey beyond the doors they have been locked out of becomes the discovery of an entire new world.
---
South Korea's Bong Joon-Ho has become a name to reckon with on the international stage. Bong gained some festival play with his first film Barking Dogs Never Bite (2000) and much more notice with his second Memories of Murder (2003) based on a true-life Korean serial killer investigation. His next, the monster movie The Host (2006), became a sensation and accolades continued to pour in with Mother (2009) and the Academy Award-winning success of Parasite (2019).
Snowpiercer was Bong Joon-Ho's fifth film, his first made in English language and with an international name cast. The film is based on the French graphic novel Le Transperceneige (1982), which Bong adapts liberally. The film is co-produced by Park Chan-wook, the one other contemporary directorial sensation to emerge from South Korea in the 00s with the likes of Oldboy (2003) and Thirst (2009). Snowpiercer underwent some release problems with US distributor Harvey Weinstein demanding the cutting of twenty minutes of scenes and the addition of voiceover narration. Bong Joon-ho refused and so the film remained in limbo for more than a year, before being released in mid-2014 where Weinstein punished Bong by only giving Snowpiercer a minor release to arthouse theatres. Despite this, the film was a considerable success and a rave critical and audience hit, forcing Weinstein to have to expand it to a wider release.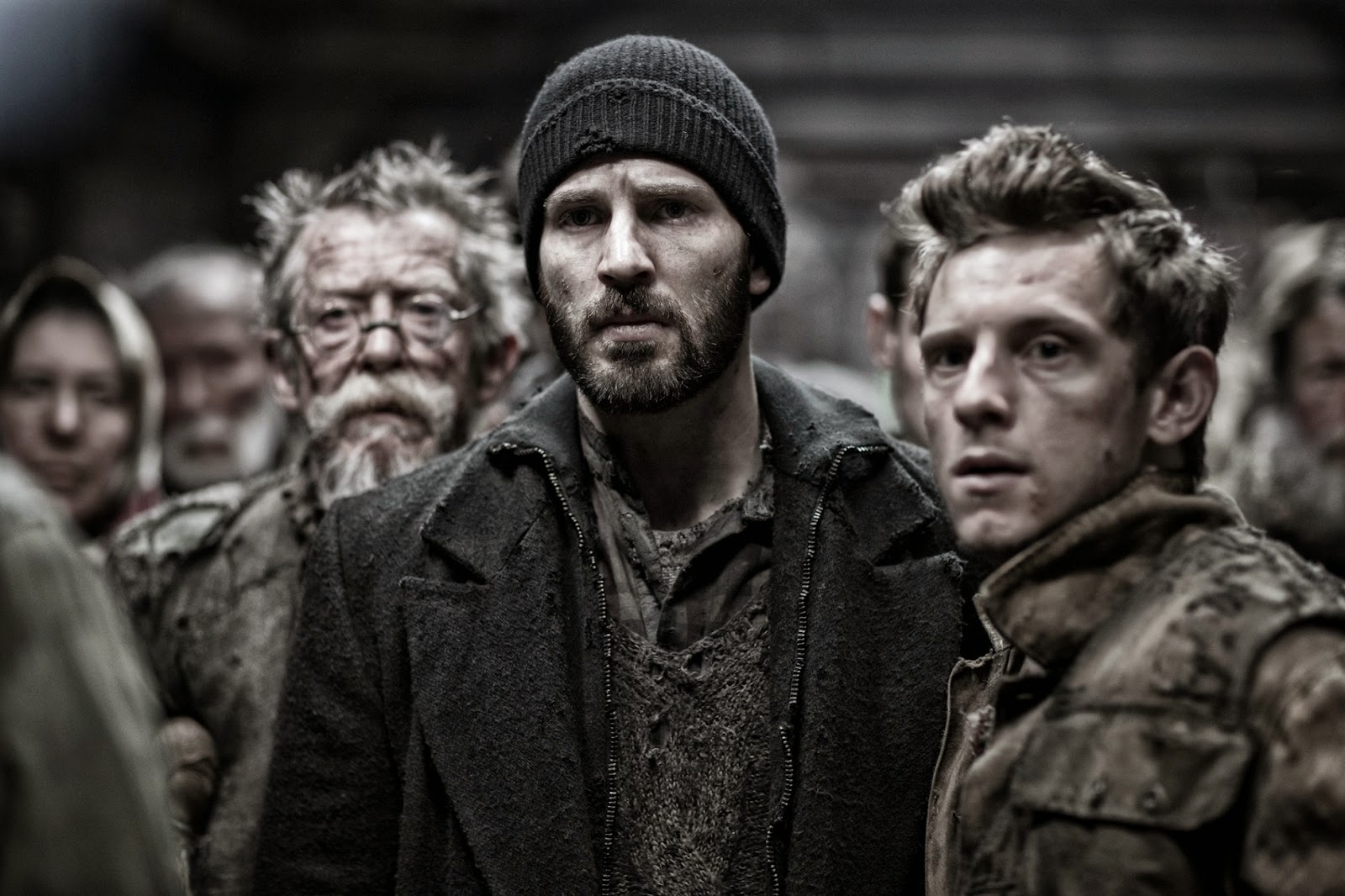 It is a compulsively fascinating world that Bong Joon-ho throws us into the midst of. There are all manner of casual throwaway lines – Song Kang Ho is brought out of cryosleep and lights up before the awed revolutionaries: "I don't believe it – Marlboro Lights." "Cigarettes have been extinct for ten years now" – that show how very different this world is. The film kicks in in a big way when it comes to the scenes where Ewen Bremner is punished for throwing a shoe at Tilda Swinton by having a porthole opened, his arm stuck through it for seven minutes whereupon the frozen arm is then brought in and shattered with a sledgehammer. Both the fiendishness of the act and the wildness of the world it shows that we are in seems outlandish.
Snowpiercer is a conceptual breakthrough film. Conceptual Breakthrough is the form of storytelling (usually in science-fiction) where the protagonist makes a discovery that changes everything about or makes sense of the true nature of the world they live in. You could look to examples such as Open Your Eyes (1997), Dark City (1998), The Truman Show (1998), The Matrix (1999), Moon (2009) and Oblivion (2013), although perhaps the most famous example is the ending of The Sixth Sense (1999). In Snowpiercer, the journey through the various sections of the train becomes a growing understanding about the way the protagonists see the world they have lived in their whole lives. Here the train becomes a unique social allegory where forward movement through compartments is equated with class.
The Occupy movement may have been failed but its ideas have filtered throw into a surprising number of films. I was startled how much of a Marxist diatribe that the mainstream The Hunger Games: Catching Fire (2013) was, for instance, and Snowpiercer is an even more extreme example – where the entire thrust of the plot is based around the idea of a downtrodden underclass rebelling to bring down a social system that grants privilege to the few that govern by force. Bong Joon-ho makes the protagonists' growing awareness as they move through the carriages into something wondrous – where they are introduced to schools, hydroponic gardens and taste sushi for the first time, before Chris Evans makes it to meet with the godlike designer (played by Ed Harris).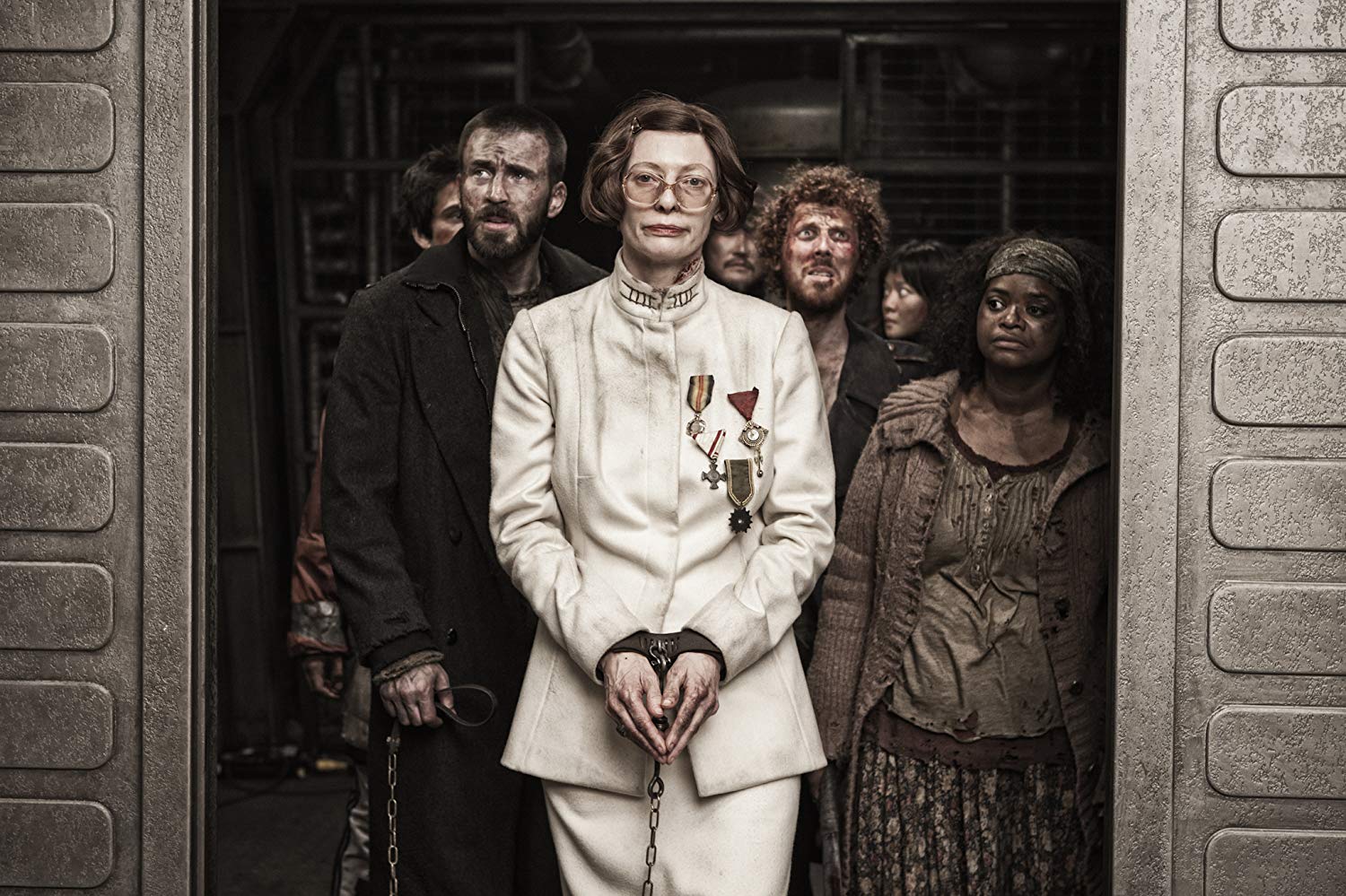 Snowpiercer has a number of enthralling action sequences – especially the attack on the rioters that takes place with a horde of goons wearing infra-red goggles and wielding axes in total darkness – although it is far more of a conceptual film than it is an action film. It is more akin to the philosophical train action film that we had with Runaway Train (1985), albeit mixed with a science-fictional conceptual breakthrough story and a Marxist parable about revolution. Although the one thing that does strike you about the action scenes is that for all that the film concerns itself with the last people on Earth, there does seem a furious effort to exterminate the few survivors of the human species – not to mention a vast outlay of firepower given that bullets appear to be nearly extinct too.
Chris Evans is all the leading man handsome he has managed to turn into a surprising number of performances in genre films without quite spilling over into mainstream leading man status yet. There is solid support from almost everybody in the film, the standout being Tilda Swinton who gives a rather alarming performance as the minister, all Cockney accent, toothsome overbite and a shrill shrewishness, a performance that Swinton says that she based on Margaret Thatcher.
Bong Joon-Ho subsequently went on to make Okja (2017) about the friendship between a girl and a giant genetically-engineered pig.
The film was later adapted into a tv series Snowpiercer (2020-3) with Bong Joon-Ho as producer.
(Winner in this site's Top 10 Films of 2013 list. Winner for Best Supporting Actress (Tilda Swinton), Nominee for Best Adapted Screenplay at this site's Best of 2013 Awards).
---
---