(Salinui Chueok)
---
South Korea. 2003.
Crew
Director – Bong Joon-ho, Screenplay – Bong Joon-ho, Kim Kwang-rim & Shim Sung-bo, Story – Kim Kwang-ii, Producer – Cha Seoung-Jae, Photography – Kim Hyeong-gyu, Music – Iwashiro Taroh, Production Design – Yiu Seong-hie. Production Company – Sidus.
Cast
Song Kang-ho (Park Du-man), Kim Sang-kyung (Suh Tae-yoon), Kim Roe-ha (Jo Yong-gu), Byeon Hie-bong (Commander Gu), Park No-shik (Baek Kwang-ho), Park Hae-il (Park Hyeon-gu), Ko Seo-hie (Kwon Gui-ok)
---
Plot
Rural South Korea, 1986. A small town is rocked by a series of serial killings where women are left strangled and with their panties placed over their heads. The investigating detective Park is getting nowhere in his investigation. He is joined by Suh, a detective from Seoul, who disapproves of Park and his partner Jo's methods of beating and even torturing suspects to get confessions. They believe they have found a suspect in the intellectually handicapped Kwang-ho. Park forces a confession out of him but Suh proves that Kwang-ho could not have done it, much to the department's embarrassment. Meanwhile, the killings continue. They find further suspects, only to end up being left at a point of inconclusive frustration every time.
---
In recent years, South Korea has started to become a filmmaking industry to be reckoned with on the international stage. Memories of Murder is a South Korean serial killer thriller. Although it is quite a different Serial Killer Thriller from other works like The Silence of the Lambs (1991) and Se7en (1995), or even the previous Korean entry Tell Me Something (1999). The difference here is that Memories of Murder is based on a real incident.
True-life serial killer stories generally tend not to specialise in the tightly wound thriller plotting and jolt revelations that most other serial killer thrillers do. Secondly, in an unusual move, the film is based on a real life incident that still remains unsolved, a series of ten still unsolved murders that occurred in the Hwaseong area between 1986 and 1991. Thus the film does not arrive at a standard serial killer thriller-type ending wherein the killer's identity is revealed and they are killed/arrested. In terms of pacing, the film is certainly a whole lot more laidback in comparison to a standard genre serial killer thriller. Not that it is not thrilling either – scenes like the pursuit of the red panty man through the streets and plant are quite gripping, while the continual frustrations faced are as suspenseful as any artificially contrived twists.
What is alarming about Memories of Murder, if it in any way accurately represents a true incident, is the brutality of police methods in South Korea. While just about every single American cop show has installed a knowledge of the Miranda Rights in audiences to the point that even non-Americans can recite them by heart, seeing Korean detectives routinely beating and kicking suspects, even threatening to bury them alive and at one point hanging a suspect upside down from their feet, comes as a shock. Moreover, while shows like CSI: Crime Scene Investigation (2000-15) has raised forensic science to an artform, seeing the primitiveness of Korean forensics here – where even a DNA sample has to be sent all the way to America – comes as a considerable contrast.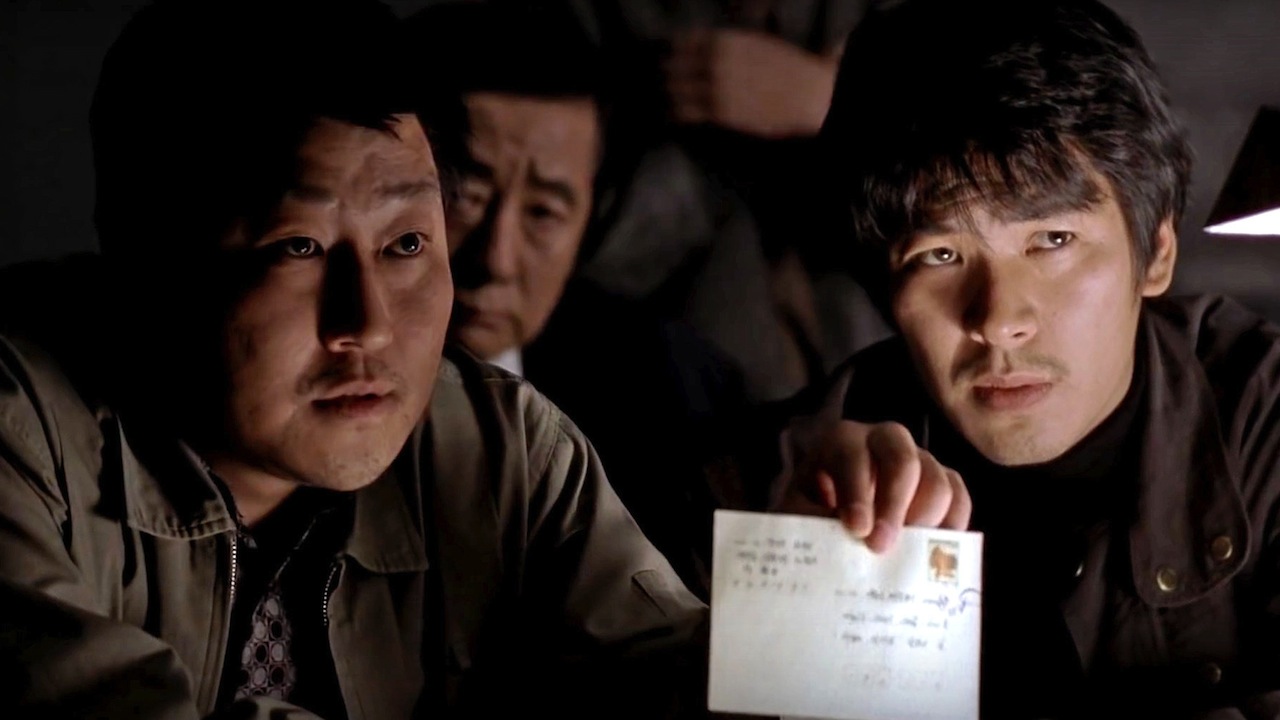 There are two fine central performances – from Song Kang-ho as the rural detective who operates by instinct and insists on looking into each suspect's eyes as a means of knowing whether they are telling the truth, and Kim Sang-hyung's coolly intelligent city detective. While Memories of Murder reaches no resolution in terms of the killings, the scene where Kim Sang-hyung is so overcome by his anger that he is prepared to shoot an innocent suspect makes a strong crossover. There is also a haunting coda set in the present-day with Song Kang-ho revisiting the scene of the first murder, which emphasises the frustrating intangibility of the solution of the case.
Memories of Murder was the second film of promising South Korean director Bong Joon-ho. Bong Joon-ho subsequently went onto make the monster movie The Host (2006), the Shaking Tokyo segment of the anthology Tokyo! (2008), the English-language science-fiction film Snowpiercer (2013) and Okja (2017) about the friendship between a girl and a giant genetically-engineered pig, followed by the Academy Award-winning success of Parasite (2019).
---
Trailer here
---