---
UK/Romania/France. 2013.
Crew
Director – Terry Gilliam, Screenplay – Pat Rushin, Producers – Nicholas Chartier & Dean Zanuck, Photography – Nicola Pecorini, Music – George Fenton, Visual Effects – Bold Turtle, Chimney Pot (Supervisor – Fredrik Nord), Cinnamon, D.J.B. (Supervisor – Boris Nawratil), Haymaker, Lenscare FX, Mediapro Magic (Supervisor – Felician Lepadatu), Special Effects Supervisor – Nick Allder, Makeup Design – Kristin Chalmers, Production Design – David Warren. Production Company – Asia & Europe/Zanuck Independent/Zephyr Films/Mediapro Pictures/Le Pacte/Wild Side Films/Picture Perfect Corporation/Film Capital Europe Funds S.A.
Cast
Christoph Waltz (Qohen Leth), Melanie Thierry (Bainsley), David Thewlis (Joby), Lucas Hedges (Bob), Matt Damon (Management), Tilda Swinton (Dr Shrink-Rom), Emil Hostina (Slim Clone), Pavlic Nemes (Chubs Clone), Sanjeev Bhaskar, Peter Stormare & Ben Whishaw (Doctors)
---
Plot
Qohen Leth is a top data processor for the all-powerful Mancom corporation. He requests that he be able to work from home on the grounds that he is waiting for a phone call. He received the call once, knowing that it would give the meaning of his life but accidentally hung up before he could hear the answer and has been waiting for the return call ever since. After being granted a rare audience with Management, his request is granted. Qohen is given the task of solving the heretofore unsolvable Zero Theorem, which will make order out of the chaos of the universe, but has driven all who have worked on it before crazy. After months of work on the theorem with no results, Qohen starts being driven crazy too. Into his life comes the enchanting Bainsley who offers an appealing distraction.
---
It is rare when a director with a distinctive voice manages to maintain it despite the commercial vicissitudes of the movie-making world. Terry Gilliam is one of these. Originally a member of the Monty Python troupe, Gilliam co-directed Monty Python and the Holy Grail (1975) and then flourished on his own with the likes of Jabberwocky (1977), Time Bandits (1981), The Crimson Permanent Assurance segment of Monty Python's The Meaning of Life (1983), Brazil (1985), The Adventures of Baron Munchausen (1989), The Fisher King (1991), Twelve Monkeys (1995), Fear and Loathing in Las Vegas (1998), The Brothers Grimm (2005), Tideland (2005), The Imaginarium of Doctor Parnassus (2009) and subsequent to this The Man Who Killed Don Quixote (2018).
Gilliam's films are works of fantasy and occasionally science-fiction where the mythological and fantastic sits alongside flawed humanity. Gilliam creates comically eccentric worlds filled with protagonists who are often life's failures or frequently fail at the business of heroism that is thrust onto their shoulders. Gilliam's films are rent with grandiose visions of the fantastique, ones that often feel that they come with an abundance of creativity that overflows the ability to easily keep them grounded inside the limitations of narrative.
That such extravagant visions perpetually seem to run into money problems or just plain bad luck – there is an entire documentary Lost in La Mancha (2002) dedicated to one such disaster – is, one supposes, the price to be paid for such creativity. At least what you have to say about Terry Gilliam is that his films remain distinctive, always watchable and they haven't collapsed into the tedious stylistic self-mimicry that Gilliam's nearest contemporary Tim Burton's films have since the year 2000.
One of Terry Gilliam's best films is Brazil, a black comedy about dream and impossible desires set in a parody of an Orwellian future. The Zero Theorem could almost be a sequel to Brazil that takes place thirty years on. There is the same broodingly dystopian future, which has now become a satire on a corporate-run future and takes place in a world that looks like a Japan's Ginza district colliding with the sets for Pee-Wee's Playhouse (1986-91). There are the typical Gilliam-esque asides – pedal-power workstations, snide news ticker headlines that are worth freeze-framing for, the appealing idea of 'The Church of Batman the Redeemer'.
Christoph Waltz, a long way from the grandiloquent award-winning performances he gave in Quentin Tarantino's Inglourious Basterds (2009) and Django Unchained (2012), plays unrecognisably bald and introverted, another of Gilliam's heroes who is socially awkward seeming to verge on mentally ill a la Jeff Bridges and Robin William in The Fisher King and Bruce Willis in Twelve Monkeys. Melanie Thierry is another of Gilliam's impossible objects of desire – a la Kim Griest in Brazil, Uma Thurman in Baron Munchausen and Amanda Plummer in The Fisher King – who seems to exist more in dream than she does in reality.
There are name stars in offbeat cameos – Matt Damon looking about sixty as the corporate CEO, Tilda Swinton still in Snowpiercer (2013) mode and experimenting with strange British accents as a computer-generated therapist who even gets to rap at one point, as well as Sanjeev Bhaskar and Peter Stormare as a panel of doctors. There is cosmic mystery, the meaning of it all, cluttered design, eccentric costuming, fisheye camera lenses and much freneticism – everything that makes a Terry Gilliam film.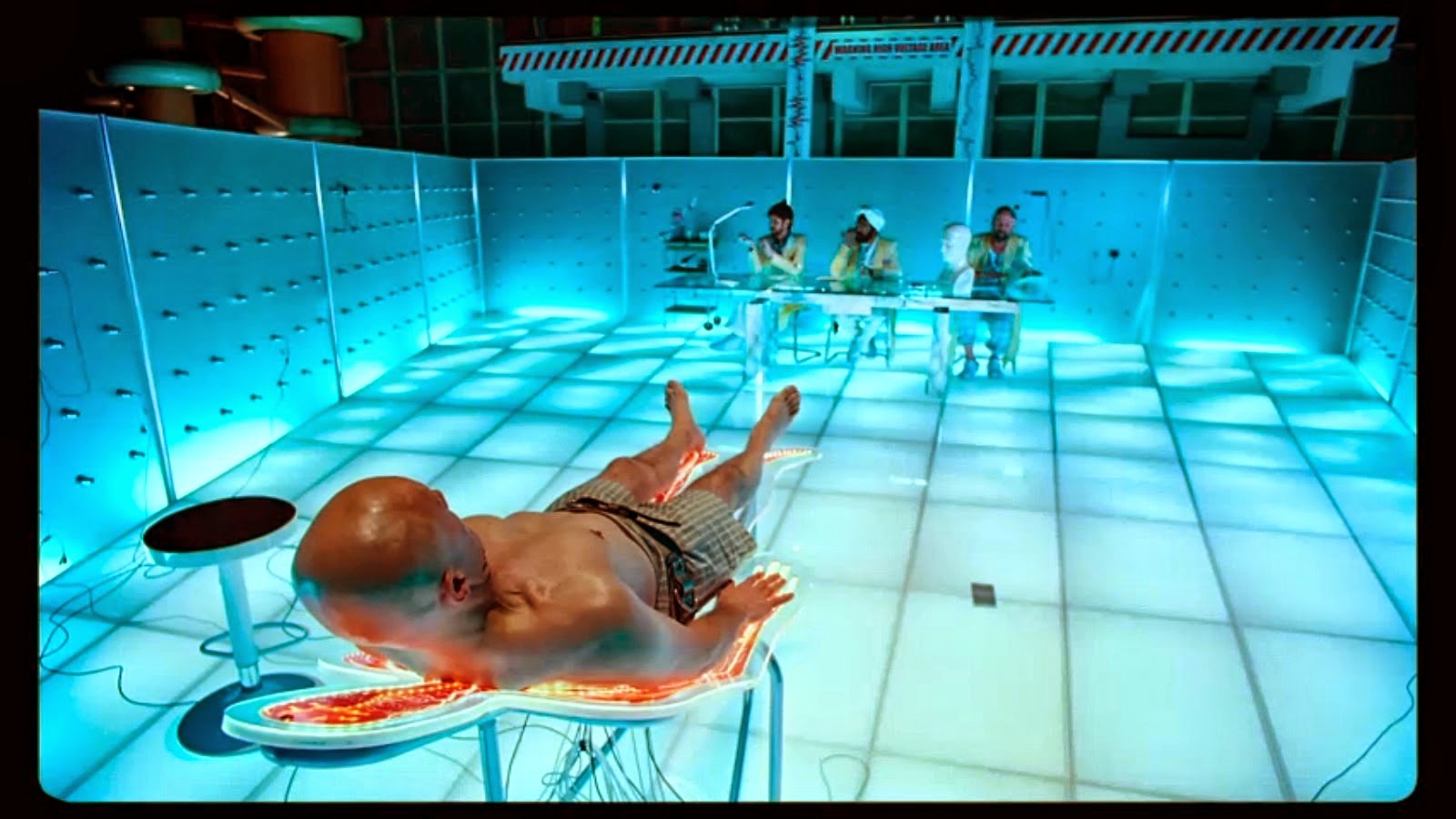 Whereas Brazil was Terry Gilliam's take on Orwell and arguably Thatcherism, The Zero Theorem feels like Gilliam has attempted to update that somewhat. The world is less a state-controlled one than a very 21st Century one where corporations rule every facet of life. Brazil came at the very dawn of the PC revolution and The Zero Theorem feels like Gilliam's attempts to catch up with the changes since. This could be a Brazil reworked to take on board the massive changes of the internet and accompanying aspects like hackers, Virtual Reality and cybersex, all of which are shown with Gilliam's comically exaggerated stylism. Certainly, this does give The Zero Theorem a certain datedness – the turning of Brazil's birdman dreams into a cheap Virtual Reality sequence feels like the sort of scenario that would have been cutting edge in 1995 but is old hat today.
In the end, The Zero Theorem feels like a lesser Terry Gilliam film. It has all the fidgety visual excess, the messy clutter, the cartoonish absurdity we expect. The script stretches for dark social satire and cosmic meaning but the film reaches an ending without really finding anything to say about any of it. [PLOT SPOILERS] Christoph Waltz never solves the unsolvable Zero Theorem, never receives the phone call that gives his life meaning, rejects dream girl Melanie Thierry and finally at the end settles into a Virtual Reality illusion on a beach all alone (again not dissimilar to the ending of Brazil). This is something that manages to be quite a negative downer of an ending even as Terry Gilliam frequently pessimistic films go.
---
---