---
Crew
Director – Christopher Menaul, Screenplay – Mary Gallagher & Howard Korder, Based on the Book by Barbara Branden, Producers – Peter Crane & Linda Curran Wexelblatt, Photography – Ron Orieux, Music – Jeff Beal, Special Effects – Performance Solutions, Production Design – Lindsey Hermer-Bell. Production Company – Producers Entertainment Group.
Cast
Helen Mirren (Ayn Rand), Eric Stoltz (Nathaniel Branden), Julie Delpy (Barbara Wideman Branden), Peter Fonda (Frank O'Connor), Sybil Temchen (Caroline Kelly), Tom McCamus (Richard Folger)
---
Plot
In 1951, young students Nathaniel Branden and Barbara Wideman go to Los Angeles to visit author Ayn Rand, promoter of a philosophy of enlightened self-interest. Ayn encourages them to marry and comes to see Nathaniel as her intellectual successor. As the two find problems in their marriage, it becomes apparent to Barbara that Nathaniel is attracted to Ayn, despite her being 25 years older than he is. The two then announce their desire to embark upon an affair and do so with the grudging approval of their mutual spouses. Through Ayn's attachment to Nathaniel, Barbara begins to see first-hand the gulf between the rational philosophies the two of them espouse and the way that they behave in actuality.
---
Ayn Rand (1905-82) is an author who has gained an almost cult-like popularity. Rand coined the philosophy of Objectivism – of enlightened self-interest – and despised altruism (selflessness and regard for others). Rand grew up in Russia during the 1917 Revolution that formed the Soviet Union. She emigrated to the USA in the 1920s and it can be seen that a good deal of her philosophy grew out of her loathing of Communism and going to an extreme the other way to embrace capitalism and American-styled democracy with a near-religious fervour.
Ayn Rand published her philosophies widely during the 1940s and proved to be a prodigious intellect, if one that has widely divided critics. She is discussed on this site because she delivered two polemic works of literary science-fiction – Anthem (1938) and Atlas Shrugged (1957) – that are often cited as influential dystopian works. It is claimed that her books are best-sellers still some two decades after her death. (See below for other films about and adapted from Ayn Rand).
The Passion of Ayn Rand is based on a 1986 book of the same name published by Barbara Wideman Branden. In real life, Barbara Wideman, played in the film by Julie Delpy, married Nathaniel Branden, the man that Ayn Rand designated as her intellectual heir and whom, as the film recounts, Rand embarked on an affair with with the full agreement of both their respective spouses, despite Branden being 25 years younger than Rand. All three formed a business, The Nathaniel Branden Institute, that lectured in Ayn Rand's philosophies and published a magazine The Objectivist. After Nathaniel dumped her for another woman, Ayn Rand later publicly castigated the Brandens and cut off all ties with them. The book and film gives Barbara's side of the affair. Nathaniel Branden later recounted his version of the story in a book My Years with Ayn Rand (1989).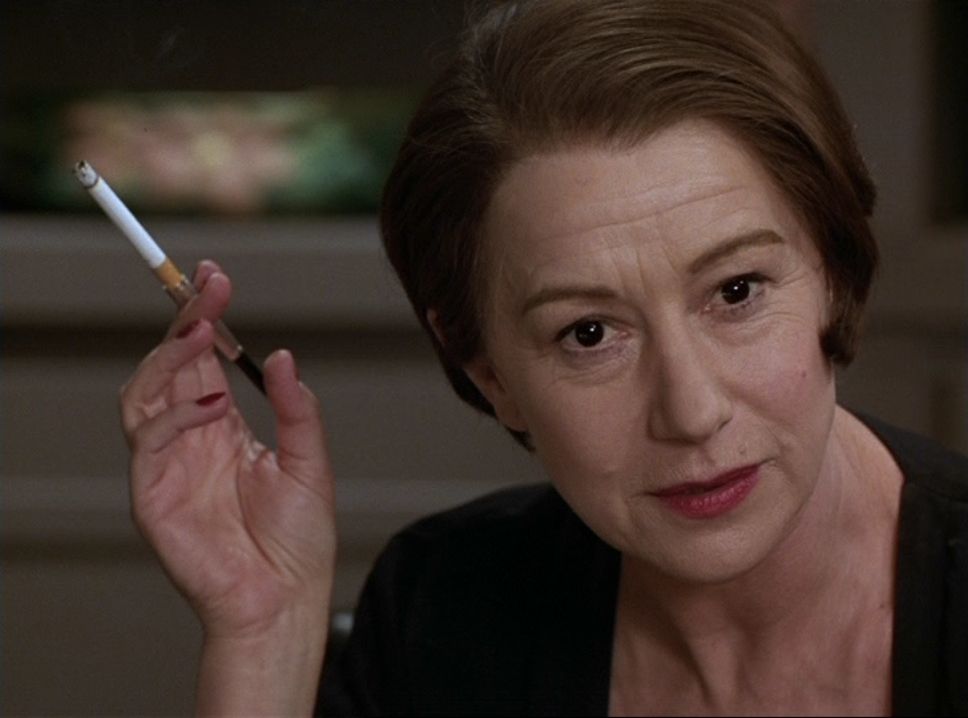 Some of the opening statements in the film are a little scary – Julie Delpy's voiceover: "Most of those people would have said she'd have changed their lives … It was the first day of my life that actually mattered." It smacks of the cult that was said to surround Ayn Rand, which deified her as one of the few intellectually enlightened people on Earth. In truth though, when it settles down, The Passion of Ayn Rand is highly critical of Rand. Indeed, when one compares it alongside the other film about Ayn Rand, the abovementioned Ayn Rand: A Sense of Life, A Sense of Life seemed sycophantic to the point of avoiding any criticism whatsoever in its deification of Rand, while The Passion of Ayn Rand seems made with the specific intent of depicting the gap between Rand's philosophy and the way that her ethic of self-interest directly affected those around her. Indeed, unless one comes to The Passion of Ayn Rand with some knowledge of Ayn Rand's philosophy, the film actually tells us little about what she believed.
To this extent, The Passion of Ayn Rand is a skewed film. Clearly, it is one that comes with an agenda that is critical of Ayn Rand. Her philosophy is seen as flawed, yet the film offers no particular critique of any of her ideas – we are not even sure where the Barbara character's views eventually come to stand. Instead, the film merely offers a portrait of the flaws in Ayn Rand's passions – both Helen Mirren as Rand and Eric Stoltz as Nathaniel Branden are portrayed as rational and cold, while by comparison Julie Delpy's Barbara is seen as human and compassionate. This is a contrast where we are clearly meant to place our sympathies with the Barbara character.
However, in that the entire film is based a work by Nathaniel Branden's ex-wife, one feels that in writing Barbara maybe had just the odd axe to grind. Indeed, for all the film/book's title – The Passion of Ayn Rand – it is not a story that is so much about the passions of Ayn Rand herself, as it is a work about the affairs of Nathaniel Branden. In actuality, it is a story that comes out and blames a single man for two unhappy marriages, placing the fault at the door of his moral failings. That this might seem a work of one woman's acrimony does seem ever so slightly probable.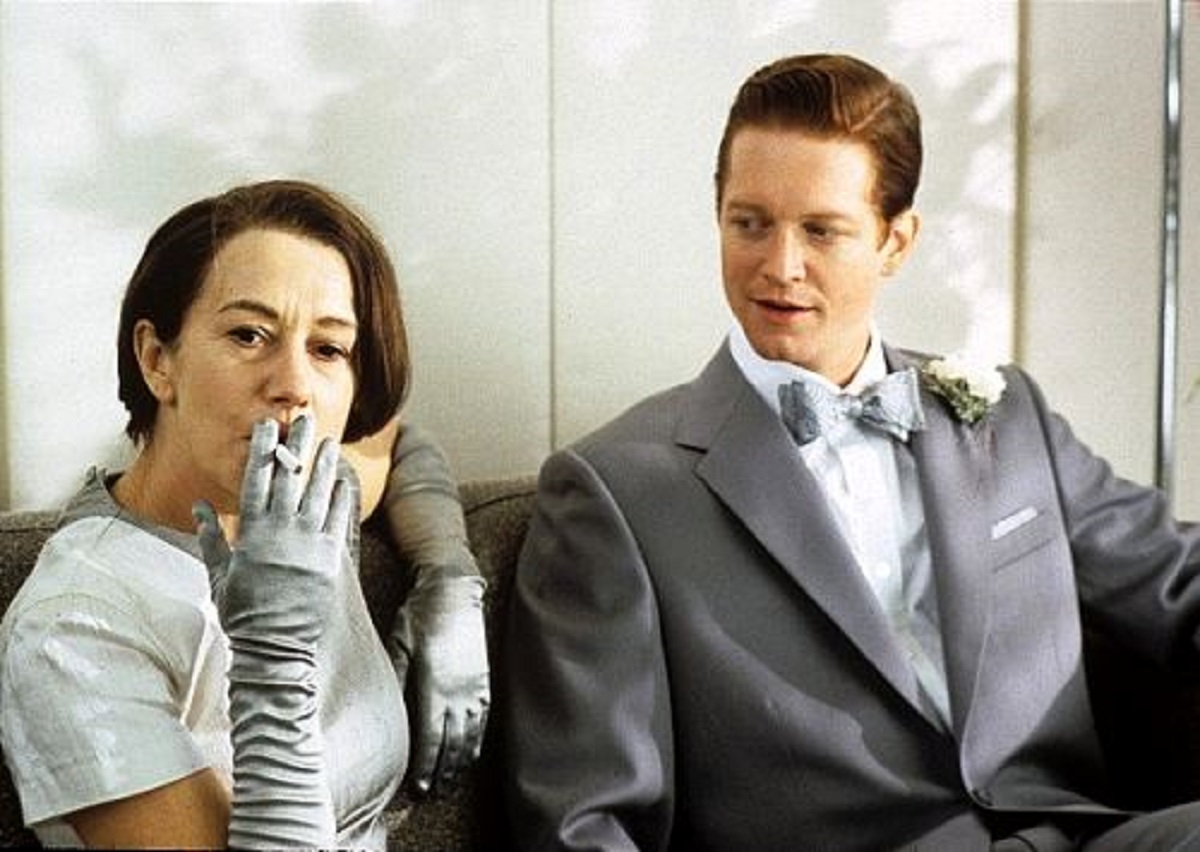 Cast as Ayn Rand, Helen Mirren is a good foot taller than Rand herself was, but at least she gets a fine grasp of the fierce harpy predatoriness of Rand's intellect. Julie Delpy makes a decent effort in her first leading role as an American woman. The one who comes out of it the best is Eric Stoltz. Stoltz plays this particular type of role – youthful intelligence and charm – well and does an excellent job in conveying the moral ambiguities and eventual weakness of the Nathaniel character.
Ayn Rand has also been the subject of several other films – the documentaries Ayn Rand: A Sense of Life (1997) and Ayn Rand and the Prophecy of Atlas Shrugged (2011). Elsewhere, Rand wrote two other screenplays Love Letters (1945) and You Came Along (1945), while the films Night of January 16th (1941) and Ideal (2004) were based on her murder-mystery plays; her classic novel has been made into a three-part adaptation Atlas Shrugged (2011), Atlas Shrugged II: The Strike (2012) and Atlas Shrugged III: Who is John Galt? (2014); and two films versions were made of her anti-Communist diatribe We the Living, an unofficial two-part Italian version in 1942 and the modern remake We the Living (1986).
Christopher Menaul has been a regular director in British tv since the 1970s, mostly known for the acclaimed British mini-series Prime Suspect (1991) and Killing Jesus (2015). He has occasionally touched on other genre material such as the alternate history film Fatherland (1994), the stalker mini-series Secret Smile (2005) and the true-crime mini-series See No Evil: The Moors Murders (2006).
---