---
Crew
Directors/Screenplay – Eric Bress & J. Mackye Gruber, Producers – Chris Bender, A.J. Dix, Anthony Rhulen & J.C. Spink, Photography – Matthew F. Leonetti, Music – Michael Suby, Music Supervisor – Kevin J. Edelman, Visual Effects – Command Post/Toybox – Vancouver, Special Effects Supervisor – Corbin Fox, Makeup Effects – Schminken Studio, Production Design – Douglas Higgins. Production Company – Benderspink/Filmengine/Katalyst.
Cast
Ashton Kutcher (Evan Treborn), Amy Smart (Kayleigh Miller), John Patrick Amedori (Evan Age 13), Melora Walters (Andrea Treborn), Eric Stoltz (George Miller), Ethan Suplee (Thumper), Elden Henson (Lenny Kagan), Irene Gorovaia (Kayleigh Age 13), Kevin G. Schmidt (Lenny Age 13), Jesse James (Tommy Age 13), Nathaniel DeVeaux (Dr Redfield), William Lee Scott (Tommy Miller), Kevin Durand (Carlos), Callum Keith Rennie (Jason Treborn), Logan Lerman (Evan Age 7), Sarah Widdows (Kayleigh Age 7), Cameron Bright (Tommy Age 7), John B. Lowe (Professor Carter)
---
Plot
Evan Treborn has a troubled childhood – his father is locked away in a psychiatric institution, while he experiences traumatic incidents wherein he and his friend Kayleigh are forced to perform in a child porn video by her father, where a prank with a firecracker blows up a mother and child, and where Kayleigh's disturbed brother Tommy sets a dog alight. Throughout all of these remains Evan's love for Kayleigh. In many of these incidents, Evan experiences blackouts and cannot remember what happened. Now a psychology student, he attempts to find out what happened. However, when he goes to visit the now adult Kayleigh, working as a smalltown waitress, his dredging up memories causes her to commit suicide. As he reads his journals and relives the incidents, Evan finds that he has the ability to travel back in time and get his younger self to change events during the blackouts. The first time he does so he finds he is now is in an alternate timeline where he and Kayleigh are college students happily in love. Things go wrong when Tommy comes after him and Evan, forced to defend himself, murders Tommy. In jail, he tries to goes back and change things again but successive alterations to the timeline end up with versions of events where Kayleigh has become a drug-addicted prostitute, where Evan is a paraplegic and his mother is dying of lung cancer, and where he has been locked in a psychiatric institution for life.
---
As the Western cult of celebrity grows to astonishing proportions and celebrity comes to eclipse such minimal requirements as even having any acting ability, it is inevitable that films are reviewed on the basis of their celebrities rather than the performances they give. 2003 saw Gigli (2003) turn into a Golden Turkey laughfest when its star duo Ben Affleck and Jennifer Lopez's private lives reached a point of media overkill. The same happened with The Butterfly Effect, which received some incredibly bad reviews on the basis of its star Ashton Kutcher.
Excepting perhaps the entirely talent-free Paris Hilton, Ashton Kutcher is one of most notorious current examples of someone being famous solely because of their private lives rather than actually doing anything outstanding. Ashton Kutcher's celebrity rose, not through any of his forgettable acting roles – as a regular on tv's That 70s Show (1998-2006) and films like Dude, Where's My Car? (2000) and Just Married (2003), but rather because he (aged only 25) bonked Demi Moore, a woman sixteen years older than him, and then later by becoming a superstar on Twitter. Reviewers of The Butterfly Effect reacted to Kutcher's seemingly unearned celebrity by widely decrying his lack of talent and calling the film a shallow romantic drama.
However, such could not be further from the truth. The Butterfly Effect is far from being a shallow romantic drama. One expected it to be no more than a glib alternate timelines romance, a shallower variant on the spate of alternate life pathway films that came out around 1998-2000 – Run Lola Run (1998), Sliding Doors (1998), Twice Upon a Yesterday (1998), Me Myself I (1999), The Family Man (2000) and Possible Loves (2001). In fact, The Butterfly Effect makes a much more substantial use of alternate timeline themes than all of these others do.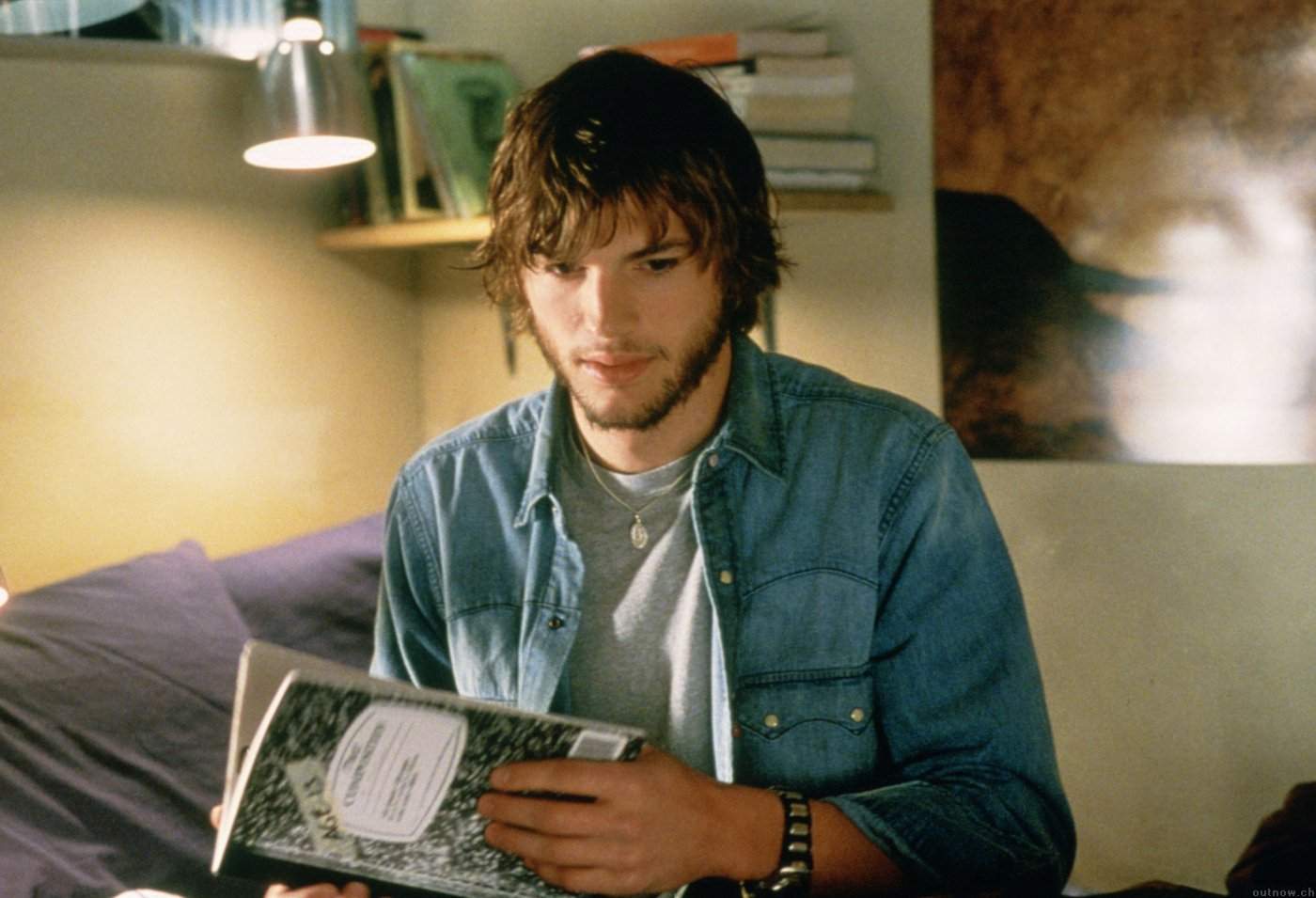 Furthermore, defying the talentless pretty boy he was dismissed as being, Ashton Kutcher was canny enough to see the potential in the script, which languished unproduced for several years, and pushed to get it produced (taking an executive producer role). Moreover, he gives a reasonable performance too – it is nothing particularly standout, yet on the other hand he doesn't embarrass himself or sink the film either. (The standout performance comes from Amy Smart, who is required throughout the length of the film to move all the way from prom queen to working class waitress and a crack whore).
The Butterfly Effect is very well written. It easily leaves behind the romantic fluff of Sliding Doors et al and instead places the emphasis on the shifting subtleties of each change in the timeline. Sliding Doors et al concerned themselves with little more than the protagonist finding a timeline that held the apotheosis of romantic/domestic fulfilment. The Butterfly Effect, while keeping the romantic element in the background, is a much more mature variation and concerns itself with darker emotions. In fact, it offers up a portrait of a dark and troubled childhood that is far removed from anything that Hollywood films usually touch on. The film's emphasis is not on finding the man/woman of the central character's dreams but rather on how each subtle attempt to set something right ends up having drastic unexpected results.
In fact, rather than Sliding Doors etc, the film The Butterfly Effect perhaps comes closest to might be a more serious version of Bedazzled (1967), a film where the protagonist's perpetual attempts to choose a wish that allowed him to get with the girl of his dreams always ended up having disastrously unforeseen consequences. Pointedly, the culmination of The Butterfly Effect is not the hero getting together with the girl from his dreams but seeing that this is the centre of his problem timelines and turning away and denying it. It is a mature and intelligent piece of writing. The hows and whys of Ashton Kutcher's time travel and the memory blackouts are not explained much, but this is not too big a problem.
There have been two sequels The Butterfly Effect 2 (2006) and The Butterfly Effect: Revelations (2009).
Directors/co-writers Eric Bress and J. Mackye Gruber had previously written Final Destination 2 (2003). The two also created the tv series Kyle XY (2006-2009). Bress on his own went on to write The Final Destination (2009) and direct the horror film Ghosts of War (2020).
(Nominee for Best Original Screenplay at this site's Best of 2004 Awards).
---
---