aka Austin Powers 2
---
USA. 1999.
Crew
Director – Jay Roach, Screenplay – Mike Myers & Michael McCullers, Producers – Mike Myers, John S. Lyons, Eric McLeod, Demi Moore & Jennifer & Suzanne Todd, Photography – Ueli Steiger, Music – George S. Clinton, Music Supervisor – John Houlihan, Visual Effects Supervisor – David D. Johnson, Special Effects Supervisor – Mike Meinardes, Makeup Effects – Michele Burke & Stan Winston Studio (Supervisor – Stan Winston), Production Design – Rusty Smith. Production Company – New Line Cinema/Eric's Boy/Moving Pictures/Team Todd.
Cast
Mike Myers (Austin Powers/Dr Evil/Fat Bastard), Heather Graham (Felicity Shagwell), Verne Troyer (Mini-Me), Seth Green (Seth Evil), Mindy Sterling (Frau Frabissina), Michael York (Basil Exposition), Rob Lowe (Young No 2), Kristen Johnson (Ivana Humpalot), Will Ferrell (Mustafa), Jerry Springer (Himself), Gia Carides (Robin Swallows), Robert Wagner (No 2), Elizabeth Hurley (Vanessa), Tim Robbins (President of the USA)
---
Plot
Austin Powers discovers that his beloved Vanessa has been replaced by a fembot created by Dr Evil, which self-destructs on their honeymoon. Austin is distraught although this does allow him to return to a life of free shagging. Meanwhile, Dr Evil, along with Mini-Me, a one-eighth size clone of himself, launches a plan to stop Austin, using a time machine to return to 1969 to steal the 'mojo' from the cryogenically frozen Austin, which causes the present-day Austin's sex drive to wilt. And so Austin returns through time to 1969 to prevent this. Joined by beautiful CIA agent Felicity Shagwell, Austin sets out, despite the impediment of his deflated sex drive, to stop Dr Evil who is planning to attack Washington D.C. with a giant laser from his moonbase unless the country pays a one hundred million dollar ransom.
---
Austin Powers, International Man of Mystery (1997) was an amazing sleeper hit. Construed as an Airplane/Naked Gun/Hot Shots!-styled parody on the James Bond films, its cultish humour and sly take on the Swinging Sixties hit a chord with audiences and it found a life on video well beyond its initial cinema screening. Although it fell into too much of a silly adolescent smuttiness at times, there was a good deal of cleverness to its humour and the film had a habit of growing on you with successive viewings.
This sequel inevitably followed. Certainly, Austin Powers: The Spy Who Shagged Me gave more hope than most quickdash exploitation sequels in that all of the principal actors from the original have returned, as well as the same director. As a result, The Spy Who Shagged Me emerges as a rare sequel that captures some the essence of the original.
The main complaint about the sequel would be that it lacks the satiric focus of the original. This time the plot is not making such a pointed parodistic attack on the outmodedness of the James Bond Swinging Superstud image in the 1990s and so its humour tends to be stretched between a handful of individual set-pieces that are funny in themselves but not thematically connected.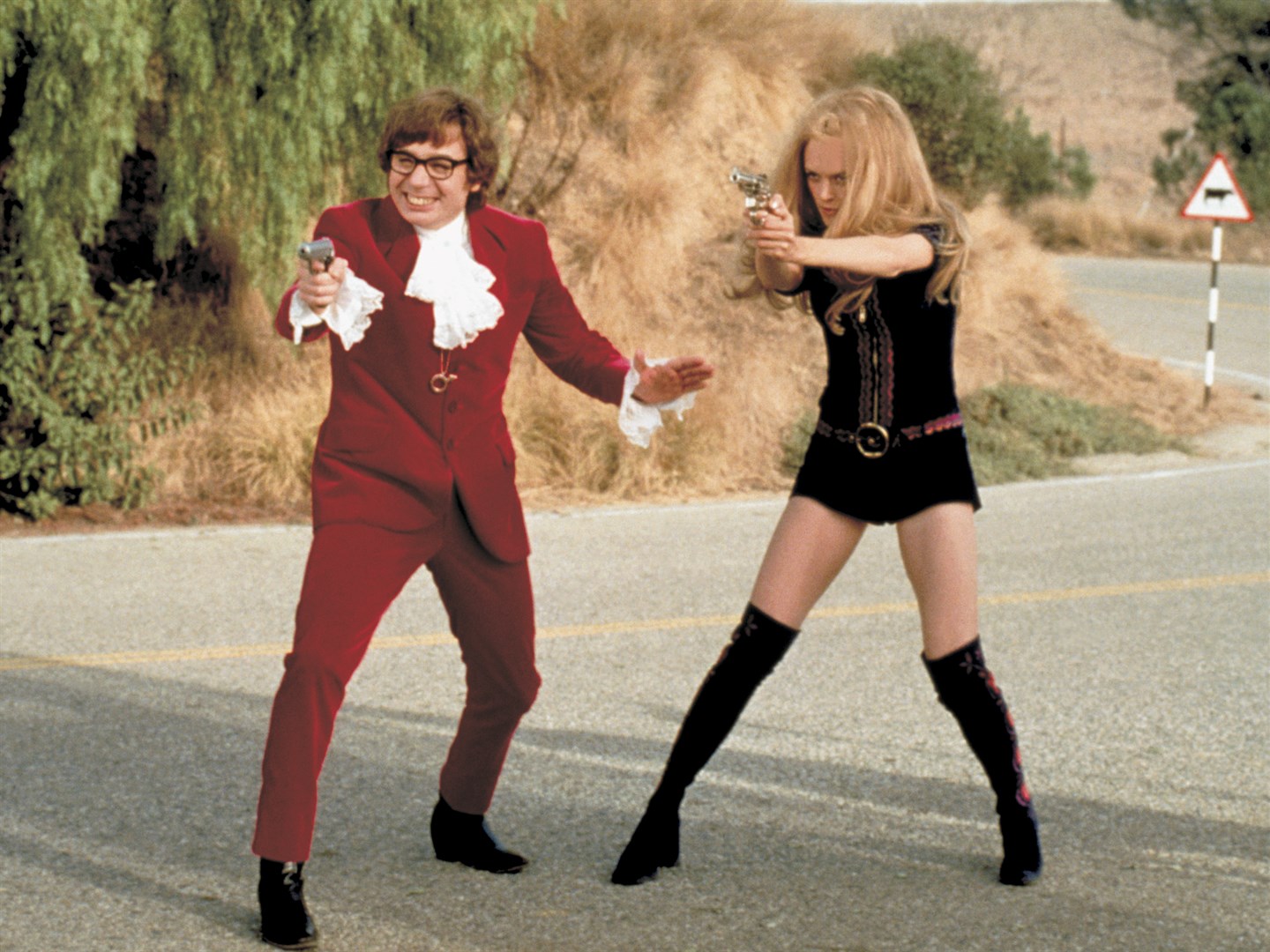 The joke of Dr Evil using modern colloquialisms in the past is far less funny than the gag of using 1960s colloquialisms in the present was in the first film. The jokes referring to the Death Star, the Alan Parsons Project and involving scenes from Independence Day (1996) fall flat because we have had films doing the cultural in-references thing to the point that it has become tedious. The relationship between Dr Evil and his son, with the son sarcastically deflating the father's grandiose world-conquering schemes, was one of the most amusing satiric aspects of the original but is not as sharply honed a gag this time around – although, there is a witty gag with the son turning up on an episode of The Jerry Springer Show entitled "Parents Who Want to Conquer the World".
Nevertheless, the film does compensate with a number of amusingly original gags of its own. A substantial part of the show is stolen by the two new characters – Verne Troyer as a demented dwarf clone of Dr Evil and Mike Myers, who besides playing both Austin Powers and Dr Evil again, turns up as a 400+ pound Scottish cannibal.
There is a terribly adolescent but nevertheless highly funny gag with silhouettes on a tent wall and another gag (which continues on after the credits have finished) with an assassin who falls over a cliff. There are also a number of satirical gags aimed at everything from Star Wars (1977), The Empire Strikes Back (1980) to Back to the Future (1985) and of course the Bond films once again – the theme song is a witty satire of Shirley Bassey's title track for Goldfinger (1964); there is an amusing cross-dressing take on Ursula Andress's famous bikini-clad entrance on the beach from Dr No (1962); while the assassin on the cliff gag reminds of For Your Eyes Only (1981).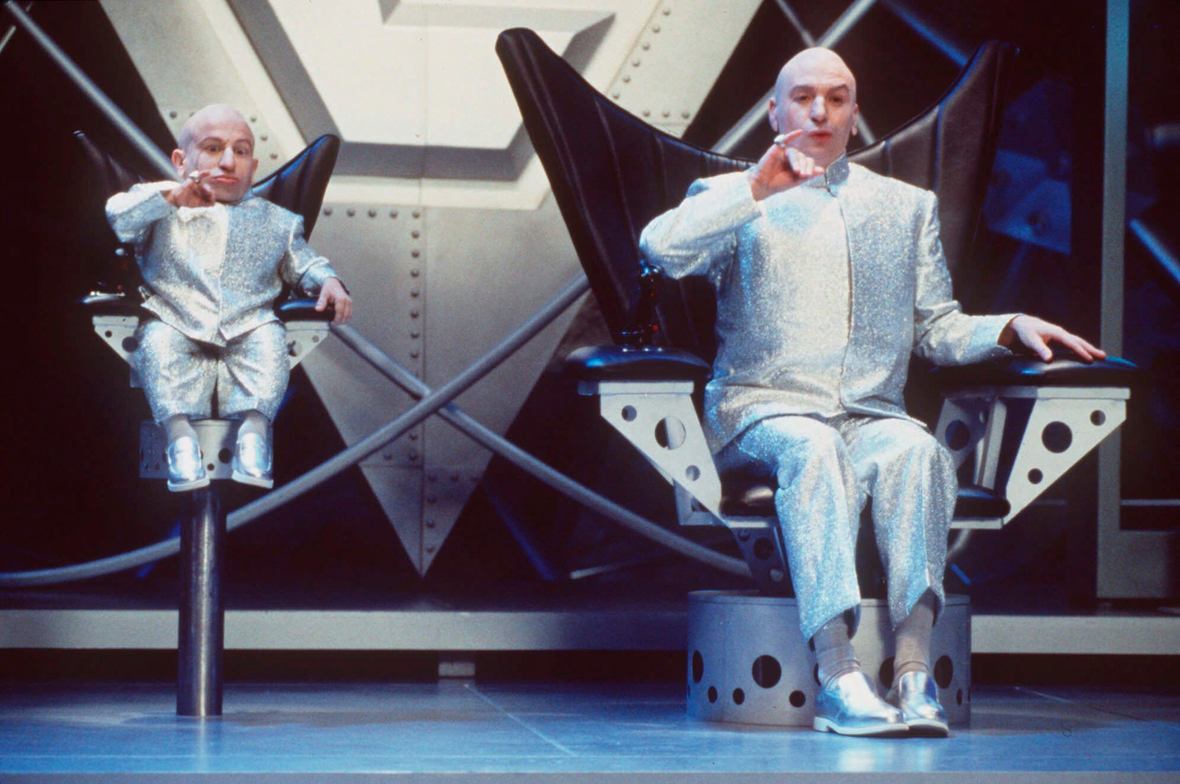 There are times the gags do get a little precious. When Austin is about to travel back in time and starts to question the temporal continuity problems and Michael York replies with an "I suggest you don't let it worry you," before turning direct to the camera and telling the audience "And that you don't either," where it becomes a gag whose meta-fictional obviousness is solely being used to sweep plot complexities under the carpet.
One of the most amusing aspects of the film was its trailer, which opened on a Death Star-lookalike sequence and the line "If you see one film this summer – go and see Star Wars. However, if you see two movies this summer, see Austin Powers: The Spy Who Shagged Me." The great irony of this is that, while it was an ad campaign that clearly expected that The Spy Who Shagged Me would be sitting in the shadow of the vast box-office attendance that everybody expected Star Wars Episode I: The Phantom Menace (1999) would take up that summer, it in fact has emerged the other way around with Austin Powers having knocked The Phantom Menace from its No 1 spot in the week it opened.
Austin Powers: The Spy Who Shagged Me was followed by Austin Powers in Goldmember (2002), by which time the original's charms were starting to wear thin.
(Winner for Best Actor (Mike Myers) at this site's Best of 1999 Awards. No. 4 on the SF, Horror & Fantasy Box-Office Top 10 of 1999 list).
---
---