aka Invasion!
---
Crew
Director – John Paizs, Screenplay – Phil Bedard & Larry Lalonde, Producer – Suzanne Berger, Photography – Bill Wong, Music – David Krystal, Visual Effects – Sundog Films Inc, Special Effects – Brock Jolliffe, Makeup Effects – Paul Jones Makeup Effects Studio (Supervisor – Paul J. Jones), Production Design – Rupert Lazarus. Production Company – Victor Film Co/Bedard-Lalonde Amusements/Upstart Pictures.
Cast
Campbell Scott (Dr Karel Lamonte), Fiona Loewi (Sandy Fawkes), Tom Everett Scott (Guy Fawkes), Hardee T. Lineham (Officer Gayle), Nigel Bennett (Michel O'Shay), Elissa Moolecherry (Chris Marlowe), Bernard Behrens (Mayor Clare)
---
Plot
Famous atomic scientist Dr Karel Lamonte arrives in the small town of Exceptional Vista. His arrival comes much to the delight of motelier Sandy Fawkes and much to the regret of both her brother Guy and the local law enforcement Officer Gayle who has designs on Sandy. At the same time, the strange vacuum salesman Michel O'Shay and banjo saleswoman Chris Marlowe also arrive in town. Shortly thereafter, locals start turning up dead, their remains devoured by something with between 200 and 202 teeth. Lamonte realizes they are dealing with aliens who have come to sample humanity as fast food.
---
The science-fiction parody is something that has been done to death in the last decade. Be it the obsessive genre quoting of directors like Joe Dante, Fred Olen Ray and Jim Wynorski; Mystery Science Theater 3000 (1988-99, 2017-8) and its insertion of one-liners over old B films; remakes of B movies like Attack of the 50 Ft. Woman (1993), Not Of This Earth (1988) and sequels like Plan 10 from Outer Space (1994); to films like The Revenge of the Teenage Vixens from Outer Space (1986), Slave Girls from Beyond (1987), Amazon Women on the Moon (1987), Lobster Man from Mars (1989), Strangest Dreams: Invasion of the Space Preachers (1990), Mars Attacks! (1996) and Pterodactyl Woman from Beverly Hills (1994) that set out to be deliberately bad sf movies.
Most of these have little merit and consist only of B movies cynically trying to make fun of the foibles of a less technically sophisticated era or disguising their own impoverished cheesiness by celebrating being a bad film in quotation marks, while also injecting scenes with girls in little or no clothing. There can be no greater dead-end a subgenre than making films that are entirely construed as stylistic parodies of bad Z-budget movies. One strains to think of many bad movie parodies that has been in any way memorable or even worthwhile – The Rocky Horror Picture Show (1975), Big Meat Eater (1982) and some of the works of Larry Blamire, especially The Lost Skeleton of Cadavra (2001) and Trail of the Screaming Forehead (2007) – but little else.
Top of the Food Chain enters a field that has been well and truly worked to death, although less by repetition than it has by unimaginative handling. Top of the Food Chain reminds considerably of the aforementioned Big Meat Eater – it is, like Big Meat Eater, a Canadian film and a cod science-fiction genre spoof wherein various heroic poses and cliché absurdities from bad science-fiction movies are played in exaggerated deadpan. The plot of aliens invading a small town and the same giddy kitsch style is almost identical to Big Meat Eater, although director John Paizs assures me he has not seen the former film.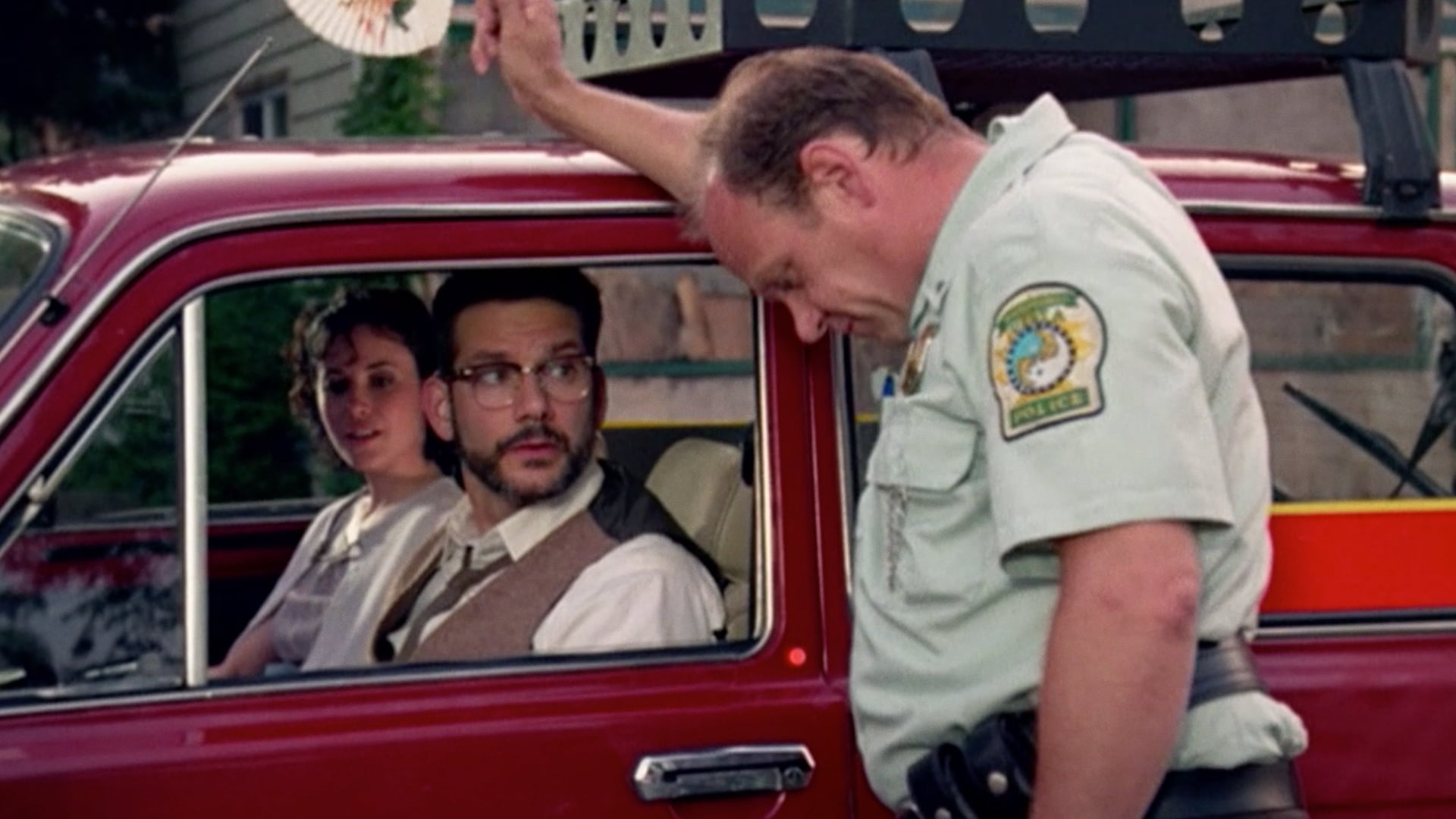 To Top of the Food Chain's favour, it emerges from more of a comedy background than it does from an exploitation background. It is an incredibly silly film – wilfully so. If anything, it reminds one of a Monty Python skit where people talk in falsetto voices and go on about the Man with the Silly Walk from the Ministry of Silly Walks. All the resolute deadpan and people in faux dramatic poses mouthing cliché dialogue sits just between being genuinely funny and so frenetically silly it wearies. Eventually though, enough of it hits that Top of the Food Chain comes out on the side of the agreeably funny.
Certainly, Top of the Food Chain is a well made film. Even though its budget was not substantially higher than most of the abovementioned deliberately bad films, it looks a good deal more professionally polished. The effects of the aliens and the surprisingly convincing gore is conducted with an enterprising ingenuity. The film also brings in a professional cast – notably Campbell Scott who has a good line in deadpan heroic posturing. However, the show is fairly much stolen by Fiona Loewi who does all the breathless, eyelid-batting expected of her with exuberant elan.
Canadian director John Paizs had previously made Crime Wave (1985), a parody of 1950s crime movies, and went onto make Marker (2005) about a town where women grow horns.
---
---