---
USA. 1972.
Crew
Director – George C. Scott, Screenplay – Philip Friedman & Dan Kleinman, Producer – Fred Weintraub, Photography – Fred Koenekamp, Music – Lalo Schifrin, Special Effects – Joe Lombardi & Paul Lombardi, Art Direction – Frank Sylos. Production Company – Getty & Fromkess Picture Corp.
Cast
George C. Scott (Dan Logan), Martin Sheen (Major Holliford), Richard Basehart (Dr Roy Cardwell), Barnard Hughes (Dr Spencer), Nicolas Beauvy (Chris Logan), Kenneth Tobey (Colonel Alan A. Nickerson)
---
Plot
Rancher Dan Logan and his son Chris go out camping overnight in the Medicine Creek area. In the morning, Dan wakes to find Chris delirious and convulsing. Elsewhere, the military convene an emergency team, announcing that an accident has occurred and that the MX3 chemical aerosol was accidentally released in the air over Medicine Creek. Dan and Chris are admitted to hospital as the military starts issuing official denials on television. When Chris dies and Logan finds the military have been keeping the truth from him, he breaks out of quarantine. Buying guns and dynamite, Logan begins a one-man vendetta, demanding that the truth be told and determined to take revenge against those responsible.
---
George C. Scott emerged as an actor in the late 1950s and found fame during the 1960s with classic roles in films like The Hustler (1961), The List of Adrian Messenger (1963), Dr Strangelove or, How I Learned to Stop Worrying and Love the Bomb (1964), The Flim-Flam Man (1967) and Patton (1970). He was nominated for an Academy Award twice during this period and won with his role as General Patton. Scott made his directorial debut with the tv movie The Andersonville Trial (1970) and his cinematic debut with Rage here, although would only make one other film as director with The Savage is Loose (1974) about the tensions between a family on a desert island.
George C. Scott was never an actor afraid of speaking his mind or getting political. This is certainly the case when it came to his directorial outings. The Andersonville Trial was a work about true-life war crimes during the American Civil War and with Rage Scott gets loose with a full flight of anger against military cover-up and conspiracy. The film was based on a real-life incident in 1968 where samples of VX nerve agents from a US Army testing ground in Dugway, Utah were accidentally released and killed 6000 sheep. (In an interesting trivia note, the same incident also inspired Stephen King with the novel The Stand (1978) wherein most of the world is killed off following an accidental biospill).
While the military paranoia themes are familiar today, one must remember they were not when Rage was made – this was after all the time of the Vietnam War protests. Scott (who himself served in the Marines during the 1940s) is clearly angry about the culture of military cover-up during this era and makes a classic Lone Angry Man film. Being a post-Night of the Living Dead (1968) era, there are no happy endings to be found.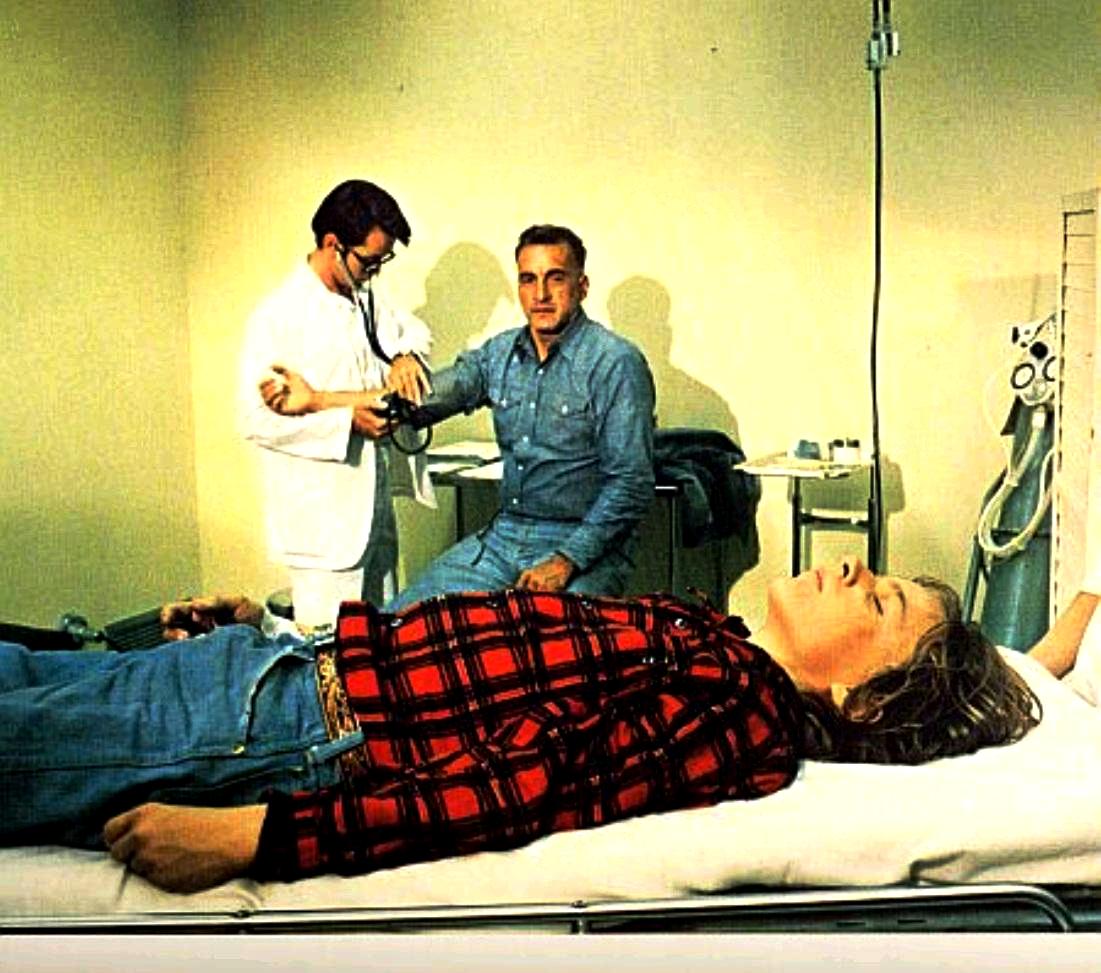 On the other hand, Rage does not fully work. Mostly the film dawdles, happy to found itself amid the cliches of the genre. It is never a film that grips intensively – certainly, George C. Scott's revenge plans never kick in with the red-blooded viscerality of something like his contemporary Charles Bronson in Death Wish (1974) two years later.
However, Scott proves an unexpectedly stylish director. He has a particular knack of setting up these clever moving pans that cut from one scene to the next in the space of a single camera move – there is one lovely shot panning past Scott's pick-up starting up the hill to arrive at the tent already erected at the top; or Nicholas Beauvy's hand with a yo-yo in it falling as the truck door is opened and then dropping inside the hospital. The film is filled with odd, dreamy slow-motion camera effects – which may not actually add anything but at least contribute an unusual atmosphere.
This is certainly more than George C. Scott the actor with granite-carved bullet head and eyebrows longer than the length of his hair has to offer. If the title refers to the character's principal emotion, then going by George C. Scott's countenance surely the more appropriate title would have been 'Stoicism'.
---
---