aka Spiders 3D
---
Crew
Director – Tibor Takacs, Screenplay – Joseph Farrugia & Tibor Takacs, Story – Boaz Davidson & Dustin Warburton, Producers – Boaz Davidson & Israel Ringel, Photography (3D) – Lorenzo Senatore, Music – Joseph Conlan, Visual Effects – Worldwide FX Shreveport, Louisiana & Worldwide FX Sofia, Bulgaria (Supervisor – Vesselina Georgieva), Special Effects Supervisor – Ivo Jivkov, Production Design – Kess Bonnet. Production Company – Nu Image
Cast
Patrick Muldoon (Jason Cole), Christa Campbell (Rachel Cole), William Hope (Colonel Jenkins), Sydney Sweeney (Emily Cole), Pete-Lee Wilson (Dr Nicky Barnoff), Shelly Varod (Phoebe), Christian Contreras (Pete), Atanis Shrebev (Jimmy), Vincenzo Nikoli (Caz)
---
Plot
An old Russian space station is destroyed by a meteor. The debris comes down over New York City where it impacts into a subway tunnel. Transit authority supervisor Jason Cole sends a workman down to investigate but the man is then found dead. Jason is puzzled when the autopsy reports that he has been killed by spider venom. They discover that mutant spiders are taking over the subway tunnels and are growing in size. Military under the command of Colonel Jenkins move in and quickly cordon the area off, putting out a fabricated story about a viral quarantine. Both Jason and his estranged wife Rachel find themselves listed as wanted fugitives as Jenkins then seeks to eliminate all witnesses. Jenkins is wanting to obtain the queen spider, one of a variety that was crossbred with alien DNA by the Russians during the 1980s. However, the spiders grow to giant size and now emerge to overrun the city.
---
During the 1990s, the US company Nu Image emerged, specialising in action films with the likes of Cyborg Cop, Operation Delta Force films. In more recent years, Nu Image have ventured into cinematically released films usually based on pre-existing properties with the likes of Rambo (2008), The Bad Lieutenant – Port of Call: New Orleans (2009), Conan the Barbarian (2011), The Mechanic (2011), Texas Chainsaw (2013) and Hellboy (2019).
Nu Image have also made a number of entries into the genre of the low-budget CGI monster movie. Their efforts here have included Shark Attack (1999) and sequels, Crocodile (2000), Octopus (2000), Rats (2003), Larva (2005), Mansquito (2005), The Snake King (2005), Kraken: Tentacles of the Deep (2006), Gryphon (2007), Mega Snake (2007), Flu Bird Horror (2008) and Shark in Venice (2008). They had previously also made a film called Spiders (2000) about mutant spiders come back to Earth in a space shuttle crash, which led to a sequel Spiders II: Breeding Ground (2001), although neither of these appear to be related to this film despite the similarity of plots and titles.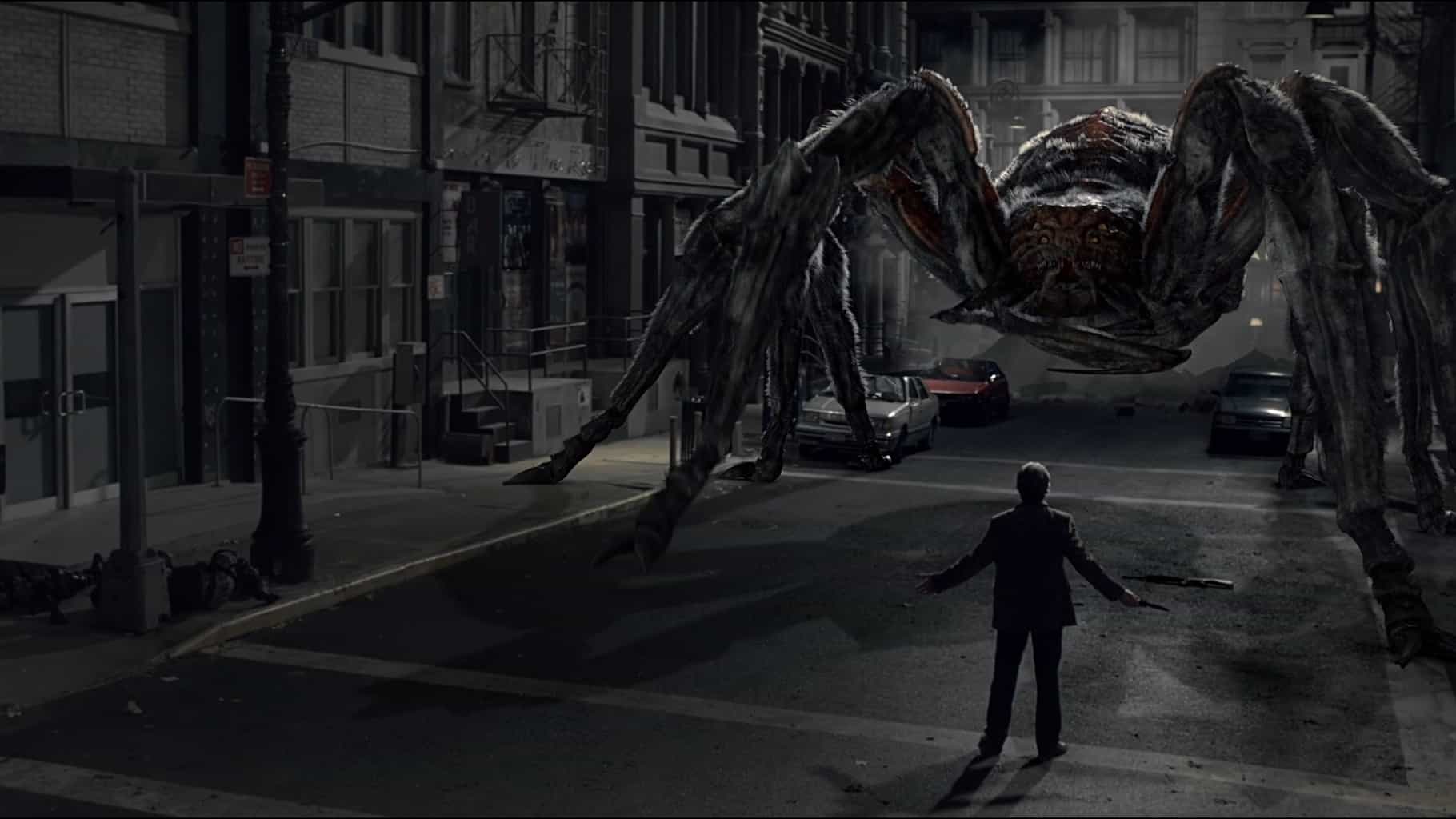 Spiders has been handed to Tibor Takacs, a Hungarian director resident in Canada. Takacs has made a good number of low-budget genre films over the years with the likes of the obscure Metal Messiah (1978) about a futuristic rock star; The Gate (1987) and its even better sequel Gate II (1990) about children unlocking a demonic gateway; I, Madman/Hardcover (1989) about a madman emerged from a book; Redline/Deathline (1997) set in a near-future Russia; the bizarre Nostradamus (2000) about a time-travelling occult war and the attempt to reincarnate the title character; the Christmas films Once Upon a Christmas (2000) and Twice Upon a Christmas (2001) about Santa's daughter; the monster movies Rats (2003), Mansquito (2005), Kraken: Tentacles of the Deep (2006), Ice Spiders (2007) and Mega Snake (2007); The Black Hole (2006) about an amok black hole and monster; and the disaster films Meteor Storm (2010) and Destruction Los Angeles (2017).
You wonder why Nu Image chose to make the film as Spiders 3D. The 3D aspect implies an intended cinematic release whereas in reality Spiders' true destination is dvd and cable channel outlets. It is no different in feel and look from a cluster of other B movies on the subject of giant spiders – Tarantula (1955), Earth vs the Spider (1958), The Giant Spider Invasion (1975), Arachnid (2001), Webs (2003), Ice Spiders (2007), Camel Spiders (2011) and Big Ass Spider! (2013). Spiders perhaps has its closest resemblance to Eight Legged Freaks (2002), another B-movie that ended up on the big screen, where the giant spider film was redressed with CGI effects, although that at least had a budget that made it feel like it belonged there.
For a film like Spiders to end up on cinema screens makes it feel like a poor man in shabby clothes invited to a celebrity ball. The 3D is at least well employed for the most part. There is a particularly good opening shot, which looks impressive in 3D as we pull back from the Earth seen from space with a spider looking on down through a window where the camera keeps on going back through a space station filled with floating junk to exit through the structure as a meteor appears and obliterates the station.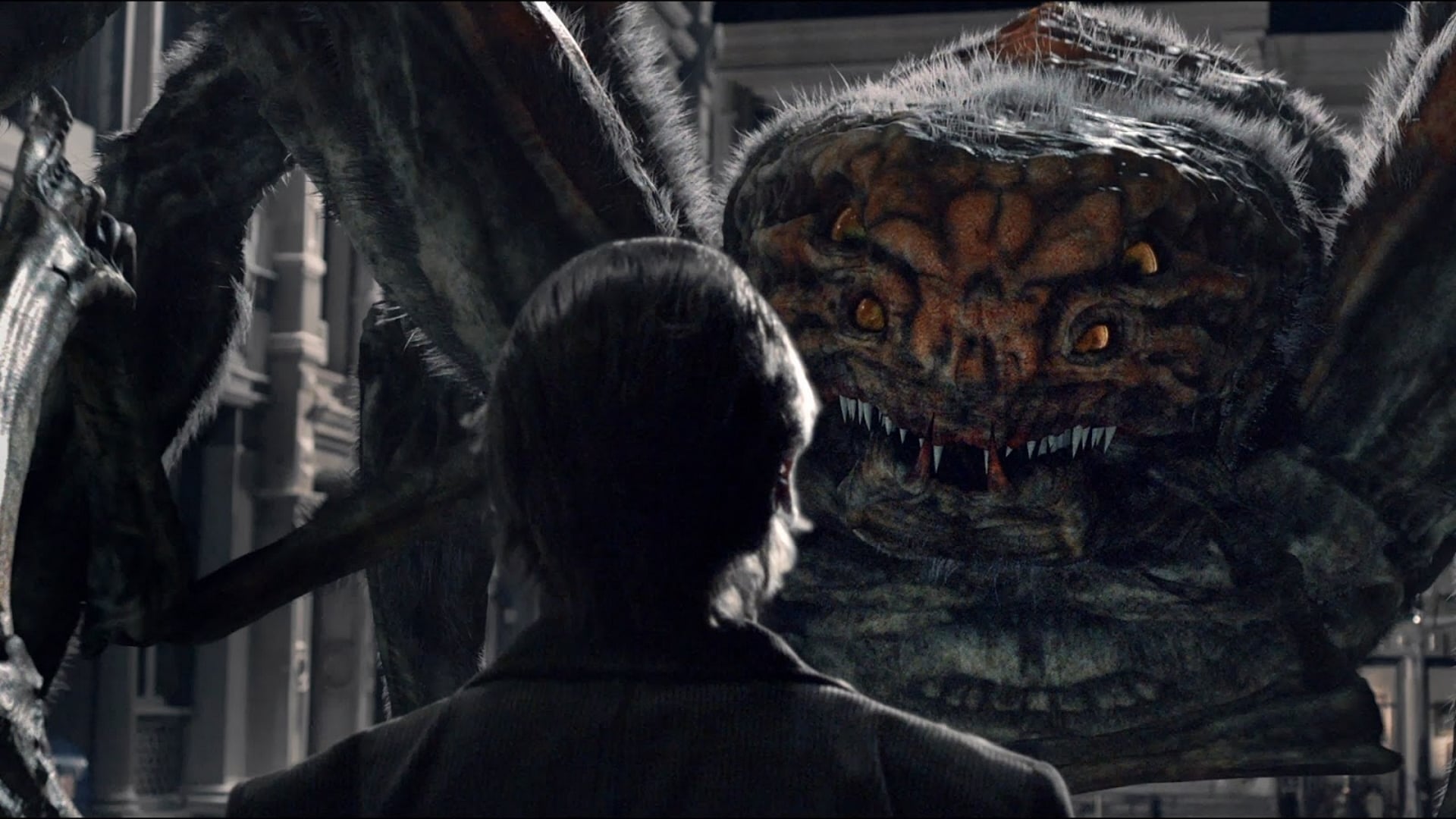 Spiders is a film where it is useless to expect anything of it other than exactly what it promises to be. When one does so, it proves absurdly entertaining. The biggest disappointment is how as soon as it gets the ball rolling the film slows right down and detracts off onto a tedious military conspiracy angle. This seems run by cliches the entire way. William Hope's general is a stock figure who employs ruthless methods to obtain the spiders for reasons that are never made clear; the hero and his ex-wife are the only ones with knowledge of what is happening as they are forced to go on the run. The script also expends very little – no more than a couple of lines – attempting to explain the Russian experiments crossbreeding the spiders with alien DNA and even less offering any credible reason as to why the spiders had to be placed aboard a space station in the first place.
You have to sit through 50 minutes of this before getting to the promised giant spiders. Here Tibor Takacs and the visual effects team throw in some highly entertaining scenes – spiders firing webbing around Patrick Muldoon's leg and trying to reel him in as he climbs through a window; Muldoon fighting to eliminate a spider using a forklift; spiders scuttling up the sides of buildings; bodily pouncing on soldiers as they try to hold them off; the climactic emergence of the queen who is the size of a multi-story building.
The visual effects here are surprisingly good. The main complaint might be that the film's low-budget (typical location shooting in Nu Image's preferred location of Bulgaria) gives the impression that the entire film is taking place on a single block of recreated New York street.
---
---