---
Crew
Director – Andy Muschietti, Screenplay – Christina Hodson, Screen Story – John Frances Daley, Jonathan Goldstein & Joby Harold, Based on the DC Comics Character Created by Gardner Fox & Harry Lambert and the Barry Allen Version Created by Robert Kanigher & Carmine Infantino, Producers – Michael Disco & Barbara Muschietti, Photography – Henry Braham, Music – Benjamin Wallfisch, Visual Effects Supervisor – John "DJ" Desjardin, Visual Effects – Barnstorm, Crafty Apes, Cubica VFX, DNeg (Supervisor – Andrew Lockley), One of Us, Rising Sun Pictures (Supervisors – Dan Bethell, Julian Hutchens & Guido Wolter), Scanline VFX (Supervisors – Curtis Carlson & Jan Krupp), Visual Effects/Animation – Weta FX Ltd (Supervisor – Kevin Andrew Smith, Animation Supervisors – David Clayton & Simeon Duncombe), Special Effects Supervisor – Dominic Tuohy, Production Design – Paul Denham Austerberry. Production Company – Warner Brothers/Double Dream/Disco Factory.
Cast
Ezra Miller (The Flash/Barry Allen), Michael Keaton (Batman/Bruce Wayne), Sasha Calle (Supergirl/Kara Zor-el), Ron Livingston (Henry Allen), Maribel Verdu (Nora Allen), Kiersey Clemons (Iris West), Michael Shannon (General Zod), Jeremy Irons (Alfred Pennyworth), Antje Traue (Faora-Ul), Kieran Hodgson (Sandwih Guy), Ian Loh (Kid Barry), Saoirse-Monica Jackson (Patty), Rudy Mancuso (Albert), [uncredited] Ben Affleck (Batman/Bruce Wayne), Temuera Morrison (Thomas Curry), Sanjeev Bhaskar (David Singh), Sean Rogers (Gary), [uncredited] Gal Gadot (Wonder Woman), [uncredited] Jason Momoa (Arthur Curry), [uncredited] George Clooney (Bruce Wayne), [uncredited] Nicolas Cage (Superman)
---
Plot
Barry Allen is called in to action as The Flash to aid Batman in Gotham City. Afterwards, Barry is given cause to think back to his childhood when his father was wrongly accused of murdering his mother and jailed where he still languishes despite Barry's efforts to clear his name. Barry decides to enter the Speed Force and travel back in time to change things. He arrives before the murder and enters the supermarket to place an extra can of tomatoes in his mother's shopping trolley, meaning that his father will not have to go out to get more at the time when the murder occurred. He returns to the present to find a different timeline where he his mother is alive and his father free, only to then encounter his more nerdy self in this timeline. Realising that this is the day when he gets his powers, he breaks in to the lab to make sure the alternate Barry is sitting at the desk when the lightning storm hits and spills the chemicals, only for the lightning bolt to transfer his powers to the alternate Barry and leave him powerless. At the same time, General Zod's ship has appeared. Barry realises that he needs to recruit the Justice League to fight Zod but none of them appear to exist in this timeline. He and his other self track down the Bruce Wayne of this world, finding him an old reclusive man but persuade him to don the Batsuit again. They search for this world's Superman and find that his ship and its passenger was captured in Russia. They stage a break-in to rescue the prisoner and find that this was not Kal-el/Superman but his cousin Kara Zor-el. She joins them as they set out to stop General Zod.
---
The Flash is one of DC Comics' top superheroes. The Flash first appeared in 1940 in Flash Comics from All-American Publications, which would merge to become DC Comics in 1944. The original Flash was very different to the one we know today. The Flash's original incarnation was university student Jay Garrick who wore a food strainer-shaped helmet with golden Hermes-like wings on it and a red top and boots but blue pants but no mask. Garrick originally gained his powers after smoking in the chemistry laboratory but this was soon changed to him inhaling heavy water vapours. Garrick's Flash was cancelled in 1949 but the character was later revived by DC Comics to become the Barry Allen Flash we all know today. In 1961, Jay Garrick was brought back from retirement and made one of the 1940s era superheroes in the alternate timeline known as Earth II.
The Flash has sporadically appeared on film and tv. His first screen appearance was in episodes of the animated Challenge of the Superfriends (1978-9) and then in live-action in the tv series The Flash (1990-1) played by John Wesley Shipp. He has made regular appearances in the animated Justice League (2001-4) and on film in The Lego Movie (2014), The Lego Batman Movie (2017) and various of the animated Justice League films. Most recently, there was the enormous popularity of the tv series The Flash (2014-2022) starring Gustin in the title role.
A Flash film had been planned going back to the early 2000s with directors like Shawn Levy, David Dobkin, Seth Grahame-Smith and David S. Goyer attached at various points. This version we have here emerged from the DCEU, colloquially nicknamed the Snyderverse that was created by Zack Snyder with Man of Steel (2013). This was followed by Batman V Superman: Dawn of Justice (2016) where Warner Brothers sought to build a shared universe in an effort to replicate the success that Marvel was having with the MCU. Ezra Miller made a brief appearance as The Flash in Dawn of Justice and more substantially in Justice League (2017). It was intended that the Snyderverse give birth to a whole slate of interwoven DC Comics adaptations. These came about with the subsequent likes of Suicide Squad (2016), Wonder Woman (2017), Aquaman (2018), Shazam! (2019), Black Adam (2022) and Blue Beetle (2023) and various sequels to these, along with others that never came to pass such as planned Cyborg, Deathstroke, New Gods and Zatanna films and the Batgirl film that was shelved by Warner Brothers after filming.
The Flash has been given over to director Andres (or Andy) Muschietti. The Argentinian-born Muschietti appeared with the short film Mama (2008), which inspired Guillermo Del Toro sufficiently to bring Muschietti to the US to direct a big screen version of the film with Mama (2013). I was not much of a fan of Mama but others have given it the label of a modern horror classic. Muschietti subsequently went on to direct the Stephen King adapted It (2017) and It: Chapter Two (2019), which was a huge box-office hit, although I stand in the camp of the naysayers on that one, as well as to produce the tv series Locke & Key (2020-2).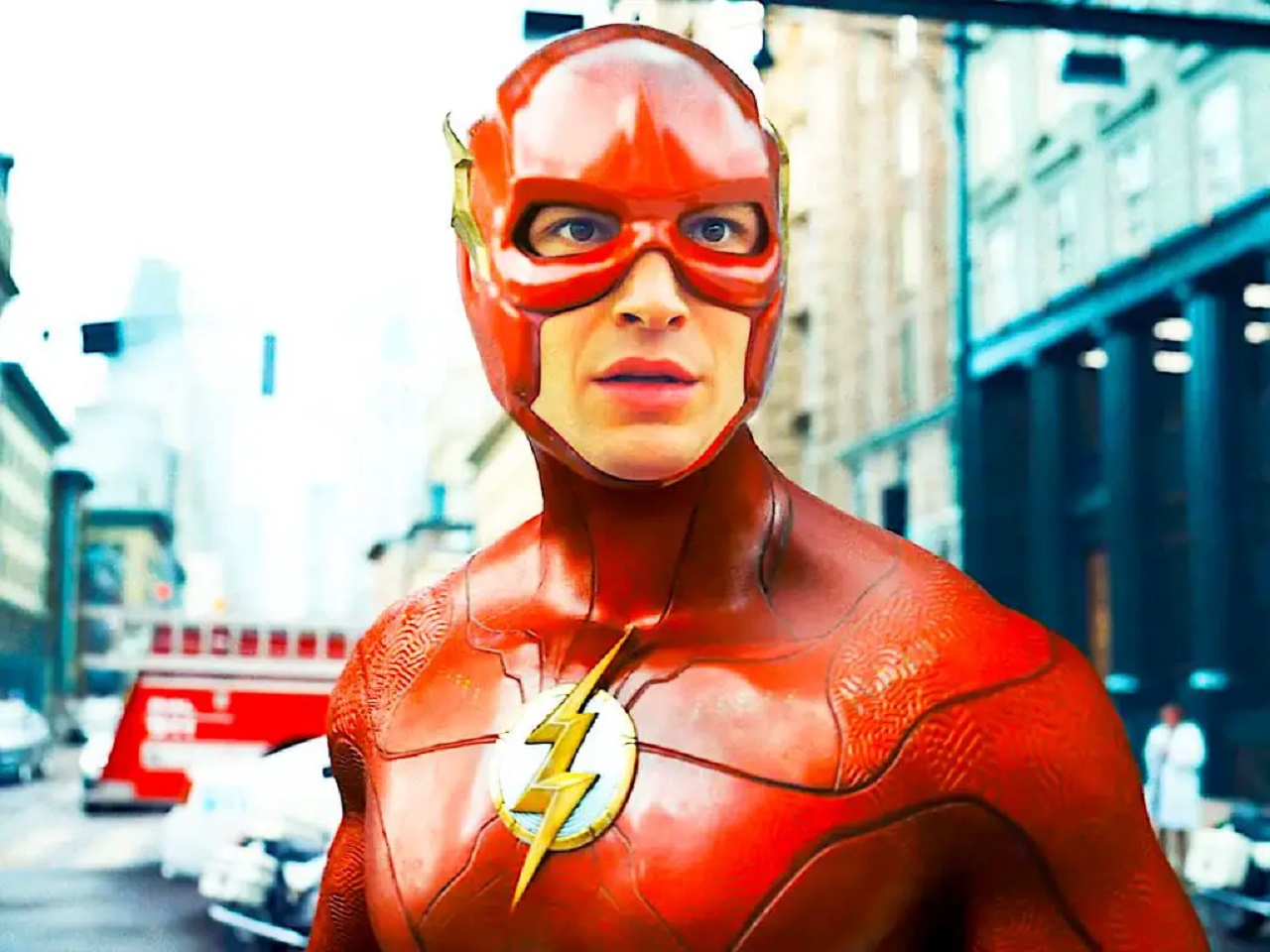 The Snyderverse kind of came unstuck. By the time The Flash was released, it was already deemed obsolete to be superseded by the James Gunn overseen reboot of the franchise. The most recent Snyderverse outings – Black Adam and Shazam! Fury of the Gods (2023) performed well below expectations. And then there were the problems with Ezra Miller who has been up on a series of assault, disorderly conduct, harassment, burglary and drug possession charges throughout the 2020s, culminating in a bizarre incident that played out across social media in April 2022 where Miller appeared to either abduct or give shelter to a woman and her children while leaving guns out in front of the children. For more detail see this Wikpedia article, which makes for bizarre reading. Whether this factored into The Flash's reception is a big question – unlike other high-profile scandals of recent, Warner Brothers bravely ignored this, and merely shunted Miller to a backseat during promotion for the film. The film was released to poor box-office, earning $107 million in the US and $268 million worldwide. When you factor in a budget around the $200 million mark plus promotion costs, Warner Brothers seem set to lose an estimated $200 million, making The Flash one of the biggest box-office flops of all time.
I didn't have high hopes for The Flash because I had liked none of Andy Muschietti's films to date, nor what Christina Hodson had done with DC Comics continuity with her script for Birds of Prey and the Fantabulous Emancipation of One Harley Quinn (2020). Or John Frances Daley and Jonathan Goldstein, the duo of comedy writers who had previously responsible directed Dungeons & Dragons: Honor Among Thieves (2023). There was also the mixed critical and poor box-office response the film received. So with expectations lowered, I sat down to watch … and was pleasantly surprised by The Flash.
The film starts with a slam-bang opening that drops us into the midst of everything. There is the appealing humour to the scenes of Barry, the fastest man alive, caught up in the slowness of waiting for the sandwich order at his favourite coffee outlet as emergency calls start coming in. The action begins with some dazzling effects sequences with Miller's Flash racing off to Gotham City and then having to rescue people from a collapsing hospital, including an alternately hilarious and stunning sequence where he must deal with a 'baby shower' – babies from a maternity ward falling down the side of a building and get them and the nurse to safety in between needing to stop in mid-fall and eat from a vending machine. In the midst of this, we also get a tie-in to the rest of the DCEU with the call coming from Jeremy Irons cameoing as Alfred and Batman going into action in a street race on the Batbike (the best use of the Batbike on screen to date) and then the appearance of an uncredited Gal Gadot as Wonder Woman. It balances humour, connection to the DCEU, exciting action and dazzling effects sequences all in one fourteen minute sequence.
The Flash loosely adapts Flashpoint (2011), a five issue comic-book series (although it spilled over into some 56 other DC comic-book titles) in which The Flash travels back in time to prevent his mother's murder only to find he has created a very different timeline when he returns to the present. Flashpoint proved one of the most popular DC Comics storylines of the 2010s. A more faithful adaptation of Flashpoint was conducted in the animated film Justice League: The Flashpoint Paradox (2013), while some aspects were loosely adapted in the third season of the 2014 The Flash tv series.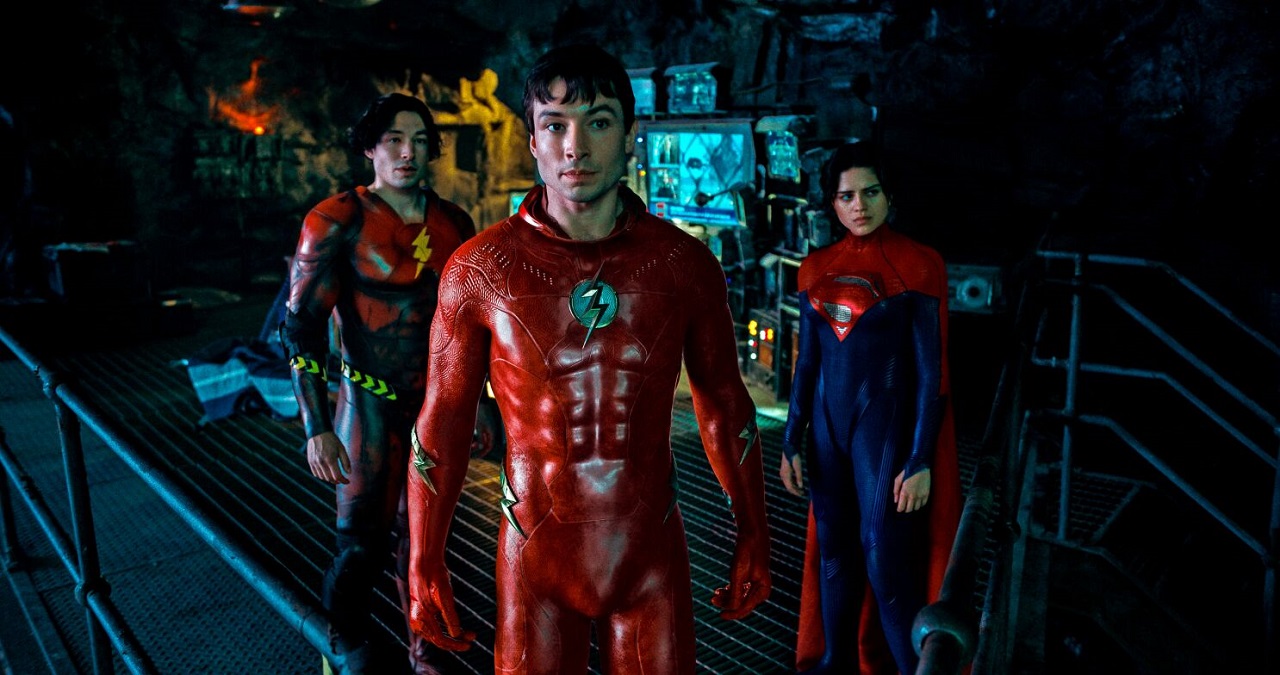 The point that seems to escape a good many people about Flashpoint is that it was largely intended to serve as a DC continuity reset that led into The New 52 in 2011 where all of DC's ongoing titles were harmonised into a new interconnected continuity and variant versions eliminated. So it seems odd when Flashpoint has been continually mentioned as a basis for a film as the idea of an alternate history and continuity reboot as the basis of a film makes little sense if there is no prior continuity established to be reset or for the alternate world to be shown in contrast to.
A film based around a continuity reset makes little sense. On the other hand, Flashpoint makes perfect grist for a Multiverse film. The idea of the comic-book multiverse where we encounter alternate versions of familiar characters took off in a big way with the hit of the animated Spider-Man: Into the Spider-Verse (2018). This was followed by the massive hit of Spider-Man: No Way Home (2021) where the idea was expanded to bring back the actors playing Spider-Man and the super-villains from the previous films. Similar things have started to be introduced into the MCU with Doctor Strange in the Multiverse of Madness (2022) and Ant-Man and the Wasp: Quantumania (2023). It should be pointed out that with all the focus on Into the Spider-Verse and its popularising of multiverse themes that the 2014 tv The Flash was doing it first with multiple seasons where changes were made in the timeline or the characters visited alternate timelines in the Arrowverse. As far as I am aware, the first comic-book use of the multiverse on screen goes back to the animated Justice League: Crisis on Two Earths (2010).
The Flash only very loosely adapts Flashpoint. There is still the same central idea of Barry going back in time to save his mother and returning to a changed timeline. On the other hand, there are a considerable number of differences. One of these is that in Flashpoint, the timeline that Barry changed showed familiar superheroes in a very different light – a war between Themyscira and Atlantis; Captain Cold as the superhero of Central City; Hal Jordan being killed and so on – whereas in The Flash there are no superheroes at all. There are one or two scenes in the film taken from Flashpoint – the scenes with a powerless Barry trying to recreate the original experiment to regain his powers (although there is no younger version of himself in the comic). The Batman of the Flashpoint timeline was Bruce Wayne's aging father Thomas, whereas here we get an aging Bruce who has retired the Batsuit and lives as a recluse. The most direct point that The Flash resembles Flashpoint is where we find that Superman has been held a prisoner after his ship was impounded by the US government – this changes things slightly, where the ship was impounded by Russia (which still appears to be the Soviet union in this timeline) and that it is not Superman imprisoned but Supergirl.
The MCU realised there was a great deal of audience appeal that can be found in bringing their superheroic characters together on screen. As the makers of No Way Home then realised, there is even more of an appeal to be found in bringing together past and present versions of characters. To this extent, one of the big appeals of The Flash was it bringing Michael Keaton, who had played Batman in Tim Burton's Batman (1989) and Batman Returns (1992), back out of mothballs to play Batman again at the age of 71. The filmmakers have a good deal of fun with the concept, not only bringing back appearances from Ben Affleck, Batman in the Snyderverse's Batman V Superman: Dawn of Justice and Justice League, as well as an uncredited Gal Gadot as Wonder Woman, Michael Shannon as General Zod and Antje Traue as his sidekick from Man of Steel, along with a post-credits scene featuring an uncredited Jason Momoa as an Arthur Curry who hasn't become Aquaman yet, plus an earlier scene with Temuera Morrison as his father.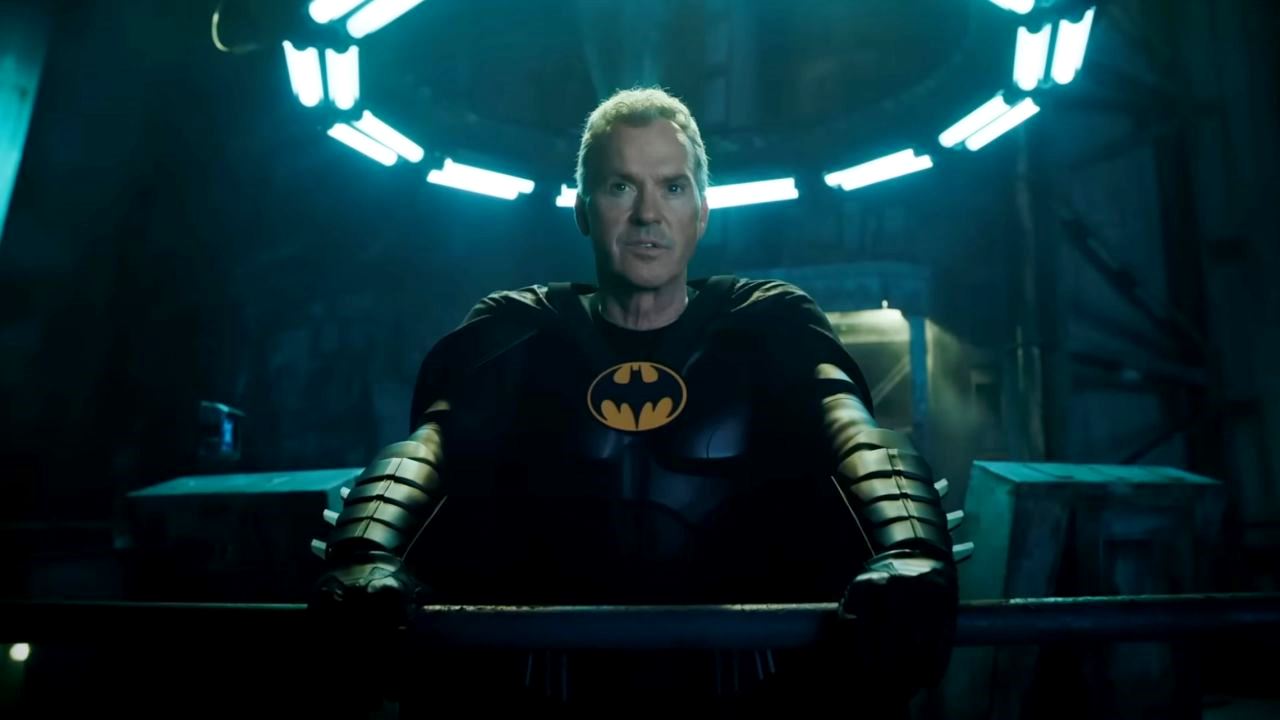 Furthermore, the last scene before the credits roll is an uncredited cameo from George Clooney, who appeared as Batman in Batman & Robin (1997). In addition, Ezra Miller's journey through the multiverse contains vignettes where we see a digitised version of Christopher Reeve and Helen Slater, respectively Superman and Supergirl from the 1970s/80s films; Nicolas Cage as Superman from the unmade Tim Burton Superman Lives project; a version of the original Jay Garrick conception of The Flash; and somewhere in there that I missed seeing apparently George Reeves, Superman from The Adventures of Superman (1953-8), and Adam West, Batman from tv's Batman (1966-8). The film has fun with the alternate timeline aspect, in particular the ongoing gag about Eric Stoltz being the star of Back to the Future (1985). In fact, I would go so far to say that The Flash makes a far more satisfying use of the alternate timeline aspect than Spider-Man: No Way Home did.
Ezra Miller gives a surprisingly good performance. In terms of portrayals of The Flash, Grant Gustin certainly made a more charismatic and friendly version in the 2014 tv series, whereas Miller portrays Barry as more of a socially awkward, friendless nerd. On the other hand, when we get to the alternate timeline and have two versions of Miller interacting with himself, you can see just what a good performance it is that Miller is giving. It is good to see Michael Keaton back as Batman. On the other hand, I had more mixed feelings about Colombian-American actress Sasha Calle as Supergirl. I had recent memories of Melissa Benoist's wonderfully sunny portrayal of Supergirl in tv's Supergirl (2015-21) and by contrast to Benoist, Calle seems far too humourless and serious.
The Flash surprised me. Indeed, I have been more consistently enjoying the DCEU's films more than I have most of the films released by the MCU during the same period. The balance of writing and humour is well done; the multiverse aspect far better integrated storywise than the MCU has done to date; and the effects throughout are of a far higher quality than anything in the recent MCU films all put together.
---
Trailer here
---