---
Crew
Director/Screenplay – Kerry Conran, Producers – Jon Avnet, Brooke Breton, Sadie Frost, Jude Law & Marsha Oglesby, Photography – Eric Adkins, Music – Edward Shearmur, Photographic Effects Supervisor – Stephen Lawes, Visual Effects Supervisor – Darrin Hollings, Additional Visual Effects Supervisor – Steven F. Yamamoto, Animation Supervisor – Robert Dressel, Additional Visual Effects – Cafe FX (Supervisor – David Ebner), Gray Matter FX (Supervisor – Gray Marshall), Hybride (Supervisors – Thierry Delartre & Richard Martin), Industrial Light and Magic (Supervisor – Tim Alexander), Luma Pictures (Supervisor – Payam Shohadi), The Orphanage Inc (Supervisor – Jonathan Rothbart), Pacific Title and Digital (Supervisor – Mark Freund), Pixel Liberation Front (Supervisor – Kent Seki), R!ot (Supervisor – Kenneth Nakada), Ring of Fire/Engine Room, Rising Sun Pictures (Supervisors – Tony Clark & Tim Crosbie), SW Digital (Supervisor – Andre Bustanoby), Special Effects Supervisor – Trevor Wood, Production Design – Kevin Conran. Production Company – Brooklyn Films/Rorschach-Blue Flower Productions/Riff Raff Films/Filmauro S.R.L.
Cast
Jude Law (Captain Joseph Sullivan), Gwyneth Paltrow (Polly Perkins), Giovanni Ribisi (Dex), Angelina Jolie (Commander Frankie Cook), Omid Djalili (Kaji), Trevor Baxter (Dr Walter Jennings), Bai Ling (Mysterious Woman), Michael Gambon (Paley), Julian Curry (Dr Jorge Vargas)
---
Plot
New York City, 1939. Polly Perkins, a reporter for The Chronicle, is asked to secretly meet scientist Walter Jennings who tells her that a mysterious German named Totenkopf is eliminating a list of scientists. Immediately after, giant robots attack New York City. The city calls upon the help of Joe Sullivan, who flies with his own air force as Sky Captain. Joe is successful in bringing down one of the robots. Polly goes to Sky Captain's base where they renew a prickly past relationship and then team up as the robots attack the airfield. The two of them follow a trail of clues to a mythic valley in the snowy mountains of Nepal and then to Totenkopf's island base where they uncover his plan to destroy all life on Earth.
---
A few years ago, I read the William Gibson short story The Gernsback Continuum (1981) and thought that it had the germ of a marvellous idea for a film – an alternate world where the future was like something that appeared in one of editor Hugo Gernsback's science-fiction pulps (Amazing Stories, Air Wonder Stories, Science Wonder Stories) as drawn by Frank R. Paul or Kelly Freas, where people of the future lived in amazing techno-topias, ate food that came in pills and flew finned rocket cars. This world was later borrowed by comic-strips like Buck Rogers and spoofed in tv's The Jetsons (1962-3) and has since been given the genre nickname of Raygun Gothic.
Sky Captain and the World of Tomorrow is a literalisation of that idea, a film made with a love of both Gernsbackian art deco futures and of serial-type adventures. A few films previously had stabbed in the general direction of this. Both Star Wars (1977) and Raiders of the Lost Ark (1981) drew stylistically and nostalgically upon their creators' love of 1930s adventure serials – indeed, the third Indiana Jones film Indiana Jones and the Last Crusade (1989) went in not dissimilar directions to Sky Captain in its mix of serial-styled adventure, Germans and airships. The Star Trek: Voyager episode Bride of Chaotica (1999) did a superb job of deconstructing the style, clichés and technology of 1930s science-fiction serials. Although, the two films that perhaps come the closest to Sky Captain are Rocketeer (1991) with its stylistic recreation of the 1930s era and flyer adventures and Hayao Miyazaki's anime Laputa: Castle in the Sky (1986), which likewise created an alternate world out of airships, Germans, retro flying technology and fabulous aerial cities.
Like Star Wars and Raiders of the Lost Ark, Sky Captain and the World of Tomorrow feels like a journey back through a shared childhood of matinee thrills. Jude Law's Sky Captain and his aerial exploits are like the perfect embodiment of Captain W.E. Johns' Biggles and the air adventure heroes in serials such as Tailspin Tommy (1934), Ace Drummond (1936), Captain Midnight (1942) and Blackhawk (1952) – but given the budget the serials never had. Gwyneth Paltrow is the perfect incarnation of sassy and too-nosy-for-their-own-good girl reporters like Lois Lane and Brenda Starr.
There are numerous filmic references throughout:– the locations include a visit to Shangri-La of Lost Horizon (1937); the villain's hideout could easily have come from a colorised version of Metropolis (1927), while the scientists have the hairdos and makeup out of German silents; the giant killer robots are reported to have been based on designs from Max Fleischer's Superman cartoon Mechanical Monsters (1941); the journey across the villain's island and in particular the tree bridge sequence reminds a good deal of King Kong (1933); the robots rayguns have the same sound effects as the Martian war machines in The War of the Worlds (1953); a shot of the Empire State building reveals a silhouette of Kong climbing it and the Japanese paper in the news montage at the beginning shows a silhouetted Godzilla attacking; while the villain himself is even played by the late Laurence Olivier in digitised footage.
Conceptually and visually, Sky Captain and the World of Tomorrow is one of the most remarkable films of the year. While a great deal of attention around the time focused on The Polar Express (2004) and its pioneering of feature-length motion-capture animation, the way that Sky Captain was made proved just as incredible. Director/screenwriter Kerry Conran had previously made a six-minute reel of the robot attack on the city, which he had animated on a home Macintosh. Conran was then given the opportunity by producer Jon Avnet to expand the idea out on a feature-film budget, despite having no prior track record as a director.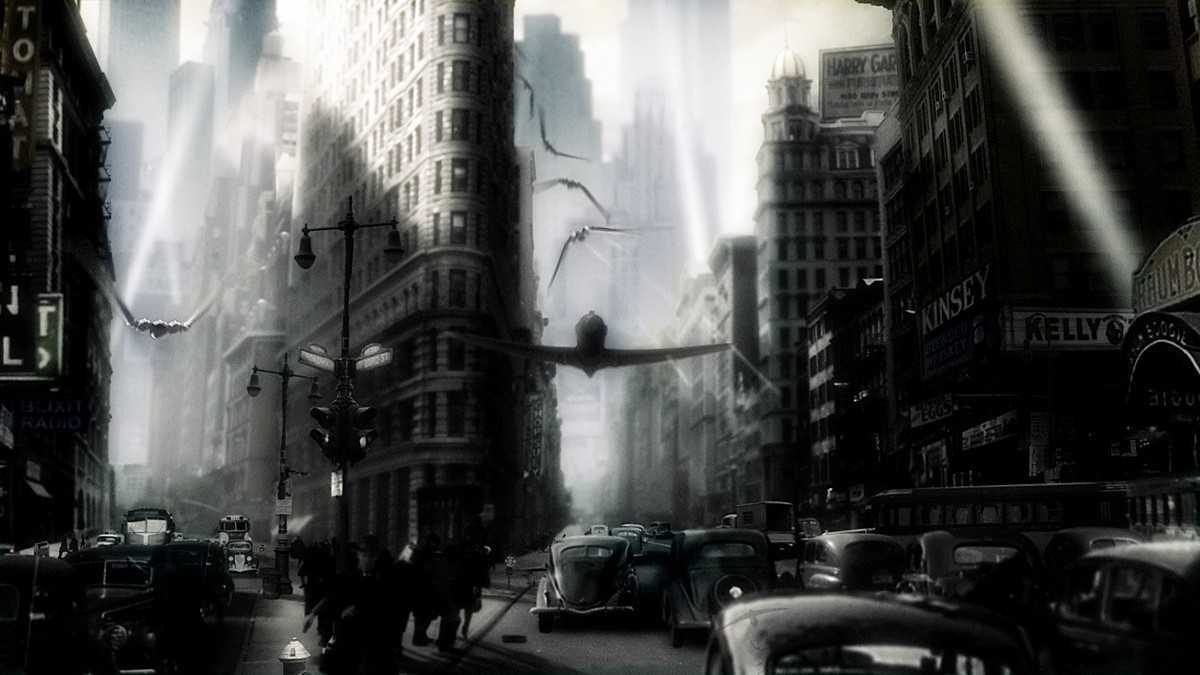 Most remarkable was the way that the film was made. No sets were built but rather all the actors were filmed on high-definition video against a blue screen and the sets, backgrounds, vehicles, robots and many of the props were later created inside a computer and digitally inserted. Even the extras were digitally manipulated into the background.
The result is a film that, though made as a live-action production, exists entirely inside a computer just as much as the digital world of The Polar Express does. The promise that this offered for science-fiction and fantasy in terms of being able to create remarkable visualisations of imaginary worlds in heretofore unimagined detail is simply extraordinary. Most of the actors present were so excited about Kerry Conran's idea that they leapt onboard – with Jude Law and his then-wife Sadie Frost both taking producer roles and Gwyneth Paltrow signing up for next-to-nothing.
Sky Captain and the World of Tomorrow proves intensely exciting from the very opening images of a zeppelin mooring atop the Empire State Building, followed by the marvellous scenes of the robots marching through the streets of New York and Jude Law flying into action in his plane as Gwyneth Paltrow scurries to avoid being crushed by robot feet. The effects work and the conception and editing of the scenes is enthralling.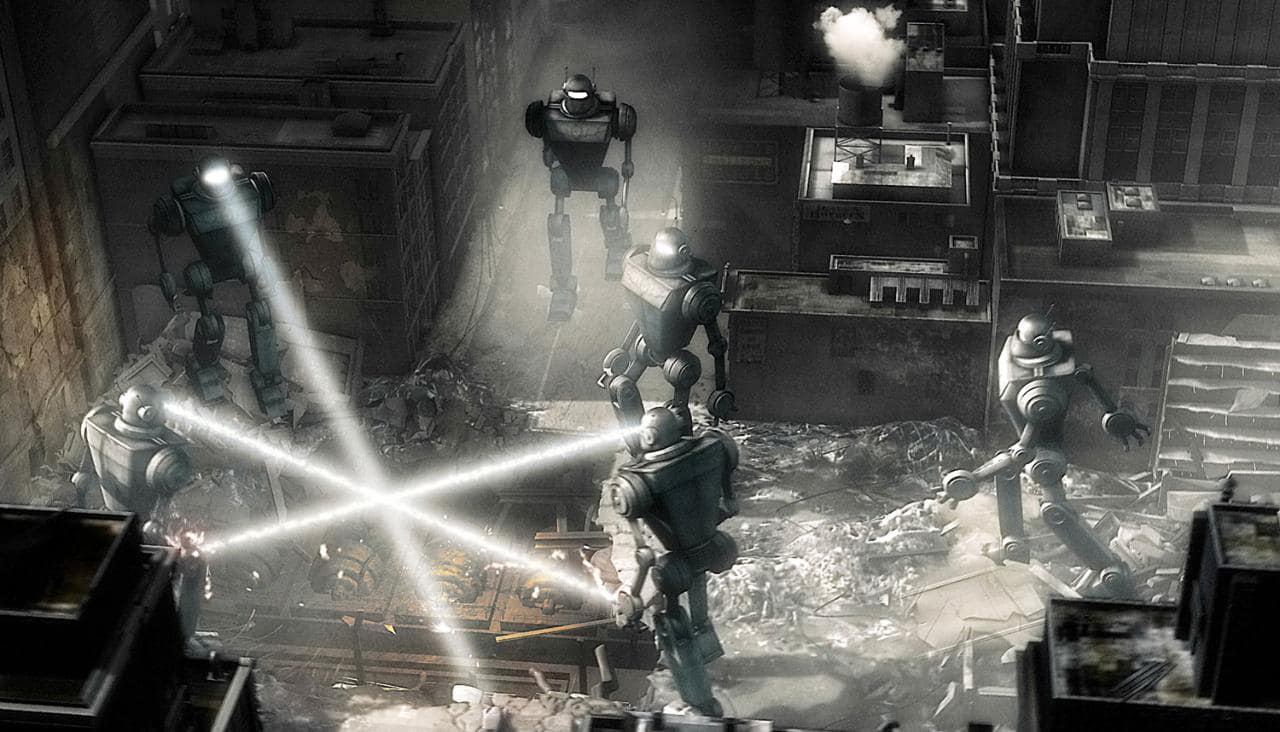 The film is filled with dazzling scenes of retro-wonderment – vast hangars and airfields with fleets of zeppelins moored outside; the attacks on the city and Sky Captain's airfield by a flotilla of sleek fighter planes with wings that flap like birds; Buck Rogers rayguns; a high-speed aerial chase through the streets of New York; genetically-engineered dinosaurs; a vast rocket base and a climactic sequence aboard a giant space ark; a dazzling flying platform/aircraft carrier; and a wonderful sequence with a fleet of planes diving into the ocean, converting to submarines and ducking in between sunken freighters and taking on seagoing killer robots that look like ambulatory heating units. (Although, one did have a small problem with the physics involved in this – I fail to believe that during the scene where Jude Law comes out of a high-speed dive by converting his plane to a submarine that the force of the impact with the water would not have ended up sheering his wings off).
The design, the superb sense of period mood and retro technology, and the thrills are more exciting than one could possibly imagine. I loved Sky Captain and the World of Tomorrow. The great shame is that a painstaking tribute to a bygone era of thrills like this proved to be such a creative folly that it was lost on today's audiences and the film failed to be a success. Someone should give Kerry Conran money to make more films. He was briefly attached to what eventually emerged as John Carter (2012) but was replaced and that is the last we have heard of Conran to date.
(Winner in this site's Top 10 Films of 2004 list. Winner for Best Production Design, Nominee for Best Special Effects at this site's Best of 2004 Awards).
---
Trailer here
The original short film version can be found here:-
---