---
Crew
Director – Bob Spiers, Screenplay – Kim Fuller, Based on an Idea by Kim Fuller & The Spice Girls, Additional Material – Jamie Curtis, Producers – Uri Fruchtmann & Barnaby Thompson, Photography – Clive Tickner, Music – Paul Hardcastle, Special Effects Supervisor – Stuart Brisdon, Production Design – Grenville Horner. Production Company – Fragile Films.
Cast
Melanie Brown (Herself), Emma Bunton (Herself), Melanie Chisholm (Herself), Geri Haliwell (Herself), Victoria Adams (Herself), Richard E. Grant (Clifford), Claire Rushbrook (Deborah), Alan Cumming (Piers Cuthbertson-Fyffe), Roger Moore (Chief), Naoko Mori (Nicola), George Wendt (Film Producer), Barry Humphries (Kevin McMaxford), Meat Loaf (Dennis), Richard O'Brien (Damian)
---
Plot
The Spice Girls are in rehearsal for a concert that will be broadcast around the world. They travel about London in their converted double-decker bus followed by the self-important Piers Cuthbertson-Fyffe who is trying to make a documentary about them. The girls become tired of their uptight manager Clifford and plot to get away and have some fun. Meanwhile, newspaper baron Kevin McMaxford determines to devise a headline that will trash the Spice Girls and hires paparazzi to follow them.
---
The Spice Girls – consisting of Mel B/Scary Spice (Melanie Brown), Baby Spice (Emma Bunton), Mel C/Sporty Spice (Melanie Chisholm), Ginger Spice (Geri Halliwell) and Posh Spice (Victoria Adams, later Victoria Beckham) – were one of the iconic pop culture facets of the 1990s. Formed from out of a casting call, the group was judiciously marketed and became the top-selling girl group of all time, despite only putting out three albums between 1996 and their breakup in 2001. During that period, they became the in-thing, from an aggressive self-merchandising campaign to hob-nobbing with international figures to setting fashion styles. Spice World – also the title of their second album released at the same time as this film – was part of the Spice Girls' multi-media blitz.
Spice World is the sort of film that critics save their most scathing and acidic barbs for – and indeed, it featured heavily among that year's Golden Raspberry Awards, winning Worst Actress collectively for the five girls, and has been revived in the 2010s for screening as a camp classic. Sadly to report, Spice World refuses to be as bad as one expects it to. Like The Spice Girls' songs themselves, Spice World is professionally put together and likeable while at the same time effectively remaining almost entirely content free.
The model for Spice World clearly appears to have been The Beatles' A Hard Day's Night (1964), a mini-gem that consisted largely of a camera being aimed at The Fab Four while they clowned about. Similarly, there is no real plot to Spice World, just a series of disconnected comic escapades as the Spice Girls variously sing, dance and party. Like A Hard Day's Night there is the expectation that the girls' natural energy and star appeal will be enough on its own to carry the show. Unfortunately, unlike The Beatles, The Spice Girls lack a natural talent for on-camera clowning. The effect is more of being suddenly mobbed all at once by five girls with incomprehensible West End accents. The script throws a number of one-liners at them but the girls clearly aren't actors and most of these fall completely flat upon delivery.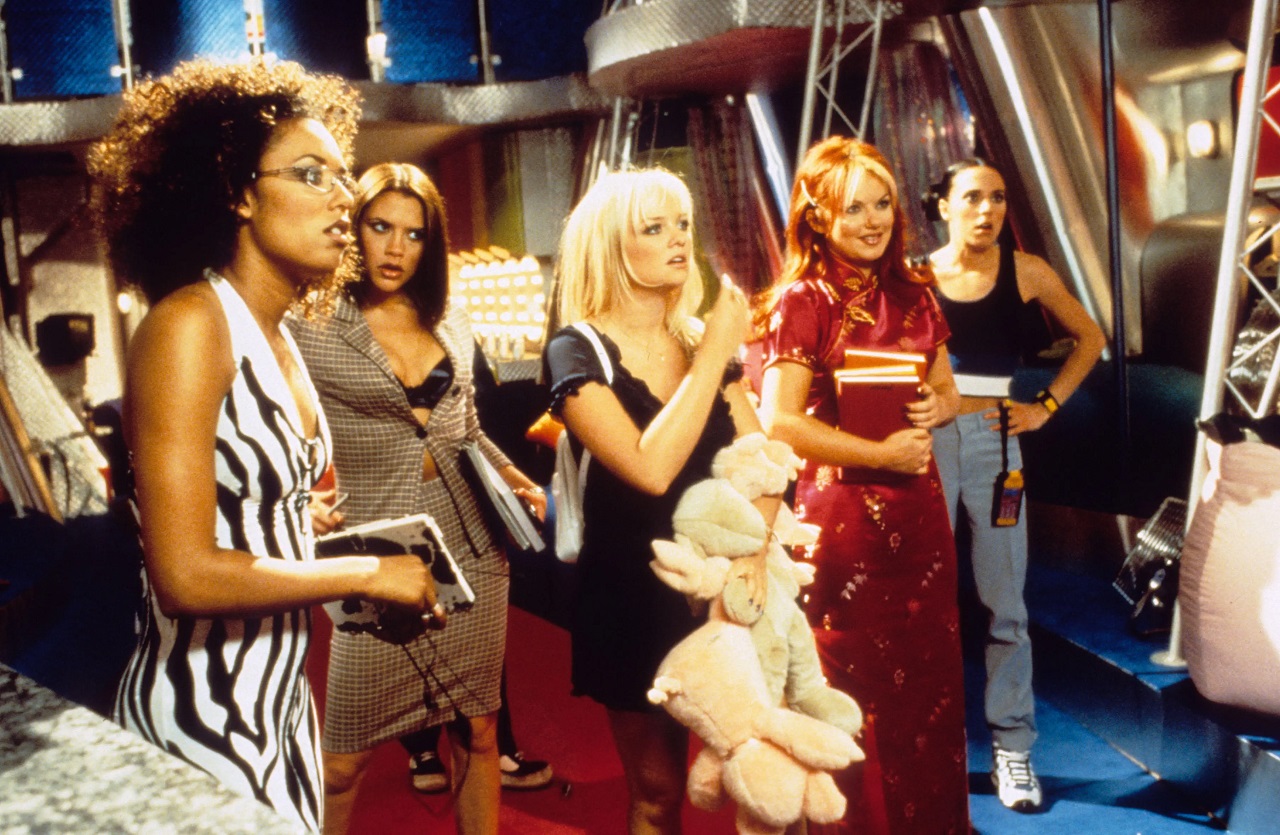 Not even Bob Spiers, a veteran director who has worked on just about every British comedy series from the 1960s to the present – from Dad's Army (1968-77) through The Goodies (1970-81), Fawlty Towers (1975-9), Are You Being Served? (1980-1), French and Saunders (1987-2017) and Absolutely Fabulous (1992-2012) – is able to pump much life into the material. Equally, Spice World is just a little too polished in terms of production values to ever suggest the same free-wheeling spontaneity of A Hard Day's Night – indeed, more than A Hard Day's Night, the film suggests The Beatles' Help! (1965) where the wacky charms demonstrated in A Hard Day's Night ran aground when actually applied to a plot.
Spice World is better less when it is trying to be funny than when it just points the camera and allows the Spice Girls to have fun. Although here the idea clearly outstrips the execution – a sequence with the Girls dressing up as Charlie's Angels, Diana Ross, Wonder Woman and each other sounds amusing but never develops beyond having them trip over their high heels. You can hardly take the film seriously – not that it particularly wants you to. At one point, the Girls are complaining about being caricatured but then the film spins half its humour out of caricatures like Posh Spice being too snobby to get dirty and Baby Spice's smile winning everybody over. At another point, the film tries to make some comment about sexual exploitation by having the Girls refuse to take part in an Italian MTV clip with male strippers, although you cannot help but wonder if the gender roles were reversed how some of the scenes in the film with the girls pinching the stripper's chests or chasing dancing instructor Michael Barrymore away would only seem juvenile and sexist.
The Spice Girls coined the phrase Girl Power, a term that seems as devoid of any real meaning as any of their music. For them it seems to represent a post-feminist feminism – a bolshie, aggro Party Girl attitude. There is a certain refreshing in-yer-face quality when the Spices get loose on screen, although you cannot help feeling that if it were a group of guys at the centre of the film they would be slammed for being offensive – look at the Spice Girls' contemporaries Oasis who attracted a good deal of bad press for fairly much doing the same thing.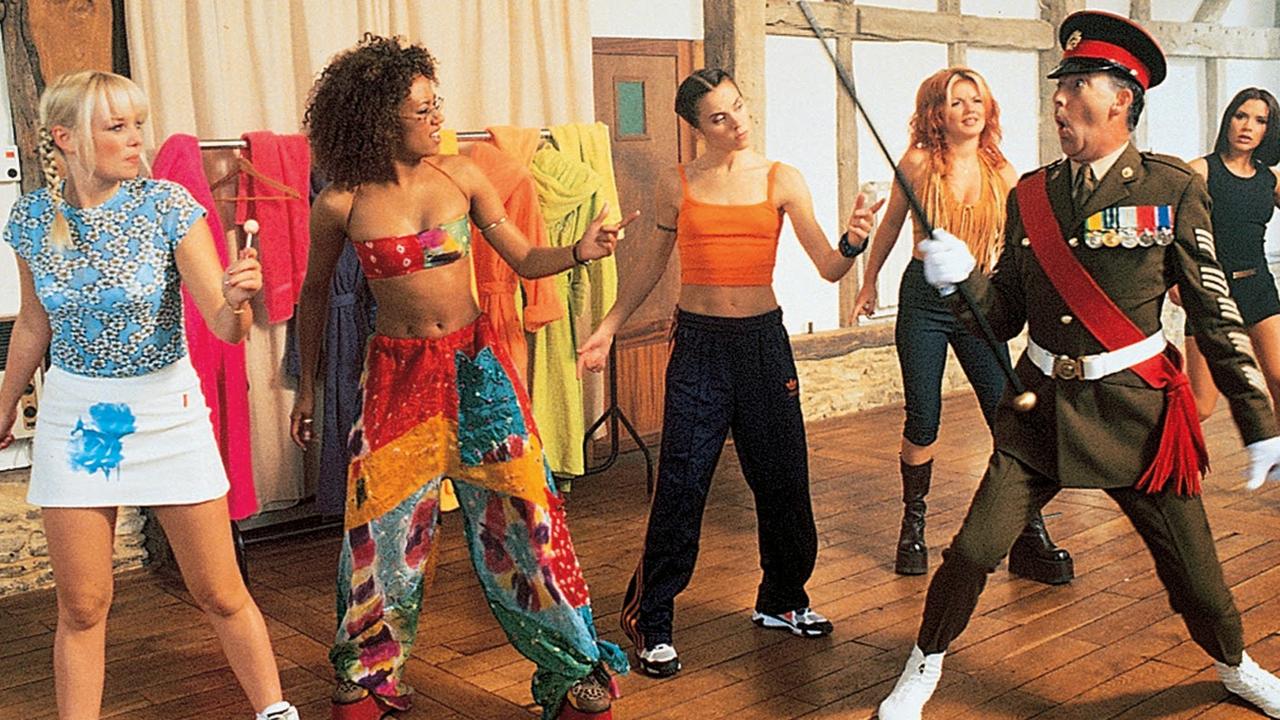 Nevertheless, the attitude is rather amusing. The Spice Girls never seem to do anything except party. There is a tightass manager and a tightass documentary director set up as stock fall guys for the purpose of allowing the Party Girl attitude to win over. You cannot help but find it funny when the Spice Girls seem to spend their time throughout the film doing nothing but partying and then complain that their manager is working them too hard. If only some of us had life so hard …
The film is filled with a large number of celebrity cameos – Roger Moore, Barry Humphries, Michael Barrymore, Meat Loaf, Jools Holland, Stephen Fry, Richard Briers, Elvis Costello, Bob Geldof, Elton John, Hugh Laurie, Alan Cumming and Jennifer Saunders. The funniest of these is a fantasy sequence that imagines the Spice Girls as a crack action team and Geri Halliwell as a disguise expert who turns into Bob Hoskins who emerges from a phone booth and says "Girl Power" in Geri's voice.
Spice World gets included here for a minor sequence where the girls' tour bus stops in the woods and they are visited by a UFO full of alien fans wanting autographs.
---
---