---
Crew
Directors – John Mitchell & Jeremy Kipp Walker, Screenplay – John Mitchell, Producers – Jon Bulette, Andrew Goldman, Smokey Nelson & Jeremy Kipp Walker, Photography – Martin Matiasek, Music – Future Folk & Tim Williams, Production Design – Anu Schwartz. Production Company – Maida Vale Films/Dig It Audio/Beach House Music.
Cast
Nils d'Aulaire (Bill Hunt), Jay Klaitz (Kevin), Julie Ann Emery (Holly Hunt), April L. Hernandez (Officer Carmen Chavez), Onata Aprile (Wren Hunt), Dee Snider (Larry)
---
Plot
Bill Hunt lives in New York City with his wife Holly and daughter Wren, while working as a groundsman at the Cradle of Aviation Museum. He also appears on stage in a bar, dressed in a red suit and helmet, singing and playing banjo, telling people he is General Trius from the planet Hondo. He tells Wren the story of how Trius came to Earth and was swayed from his mission by the discovery of music. One day in the street, Bill encounters another man dressed in an identical red suit and captures him. When Bill's family return and find the other man tied up in the shed, they call the police. Bill claims that it is his friend but Holly walks out on him when he asks her to lie to the police about this. Bill plays banjo for the other man Kevin who is overwhelmed at the discovery of music. Bill explains he is General Trius who came to Earth from Hondo to unleash a virus to eliminate humanity so that the people of Hondo can colonise the planet when theirs is destroyed by an oncoming comet, however he was seduced by music and abandoned the mission. Kevin makes an escape but returns and joins Bill onstage. The two of them form a band Future Folk, which gains a following. However, a bust by the police has led Holly to discover that Bill's claims about his past have all been invented. Bill has a plan that could save Hondo from the comet but his people have now sent an assassin to eliminate him and Kevin.
---
Future Folk is a musical duo act that consists of Nils d'Aulaire and Jay Klaitz. The two live in New York City where they have careers as actors – both had previously created/produced/starred in the stage production Who is Wilford Brimley? The Musical (2004). They been performing as Future Folk, a mock bad science-fiction bluegrass act for the better part of ten years. The same year as they made this film, the group also put out their first cd Future Folk, Vol 1 (2012), which contains many of the tracks that appear in the film.
The History of Future Folk is essentially a film that has been spun out around the duo, telling a fanciful account of how they came to Earth. The film ended up being an audience favourite at Vancouver's 2012 Rio Grind Festival and various other film festivals but my own feelings were mixed. Like Future Folk's music, the film is a parody of a certain type of B movie. This led to certain expectations of what we are watching.
The film homages a certain type of low-budgeted B film – the alien invaders wear red jumpsuits and buckets over their head; the control panels from Trius's ship look like cheesy blinking lights and cardboard sets out of a children's 'sci-fi' show. It feels like this can go several different ways – it could be a film that ends up parodying B movie cliches and filled with corny deadpan dialogue like Lobster Man from Mars (1989), Top of the Food Chain (1999) or Larry Blamire's films like The Lost Skeleton of Cadavra (2001) and Trail of the Screaming Forehead (2007). (See Deliberately Bad Films).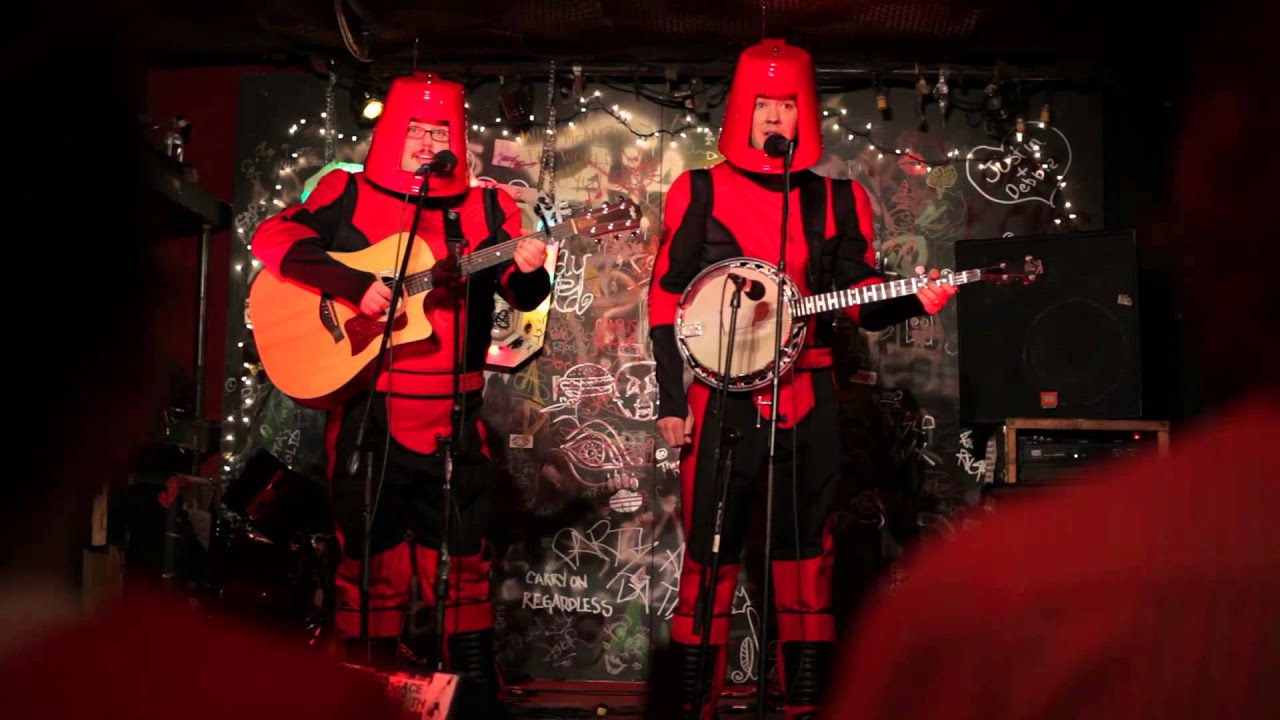 Another direction might have been along the lines of a culture clash comedy like The Brother from Another Planet (1984), My Stepmother is an Alien (1988), Coneheads (1993) or Evil Alien Conquerors (2003) about the comic travails of aliens on Earth. The bad movie parody and the alien culture clash comedy has even been combined with the music before in respectively Voyage of the Rock Aliens (1984), Earth Girls Are Easy (1989) and The Rocky Horror Picture Show (1975).
Oddly though, The History of Future Folks ends up being none of these things. The film's promotional premise – "aliens come to Earth and form a bluegrass band" – seemed to be far wackier than the way the film plays out. Though it seems to be a comic bad movie, it takes itself seriously for the most part. Not unexpectedly, this produced a scratch of the head as you try to get a grip on where it is coming from. The film plays out as a comedy of sorts – people's reactions to the duo's deadpan announcement that they are aliens; Nils d'Aulaire dealing with toughened criminals in a jail cell; Jay Klaitz's obsession with a lady cop (April L. Hernandez) – but it is more vague amusement type of comedy than any outright belly laughs.
It is a film that eventually warms you with its character arcs – Nils d'Aulaire reconciling with his wife and especially seeing the improbable romance between nerdy Jay Klaitz and lady cop April L. Hernandez come off. Still, the likeability that The History of Future Folk earns comes in the way it works as a low-key indie film. As a science-fiction film however, it is a more dubious prospect – one that seems to unevenly tiptoe between the territory of deliberately cheesy bad movie and taking itself seriously without ever being one or the other.
---
---