---
Crew
Director/Producer – Paul Bunnell, Screenplay – Steve Bingen, Paul Bunnell, Mark D. Murphy & George Wagner, Photography (b&w) – Francisco Bulgarelli, Music – Ego Plum, Songs – Scott Martin, Visual Effects – Area 51, Makeup Effects – Sota Effects (Supervisor – Roy Knyrim), Production Design – Lawrence Kim. Production Company – Ottermole Moving Picture Company.
Cast
Will Keenan (Johnny 'Johnny X' Xavier), Creed Bratton (Mickey O'Flynn), Reggie Bannister (King Clayton), De'Ana Joy Brooks (Bliss), Les Williams (Chip), Jed Rowen (Sluggo), Heather Provost (Lily Raquel), Kate Maberly (Dandi Conners), Paul Williams (Cousin Quilty), Kevin McCarthy (The Grand Inquisitor), Katherine Giaquinto (Bobbi Socks), Morris Everett (Paul), David Slaughter (Marty), Rebecca Burchett (Hope), Sara Grigsby (Annette), Caroline Macey (Miss Robin), Christine Romeo (Queen Betty)
---
Plot
Johnny Xavier and his band of rebel misfits are exiled to Earth from an alien planet. Bliss arrives at a diner in the Arizona desert. She persuades the soda jerk Chip to come away with her for an adventure. Chip cannot believe his luck and they flee just as Johnny X and his gang The Ghastly Ones arrive. Johnny regards Bliss as his girlfriend and wants her back. Johnny visits the show business promoter King Clayton whose client the aging rock star Mickey O'Flynn has gone missing. Clayton takes Johnny and shows him Mickey's corpse. Mickey is Johnny's father and Johnny now uses his Resurrection Suit to restore the corpse to life so that Mickey can play the big concert that Clayton has all his money riding on.
---
The Ghastly Love of Johnny X was the second film from Paul Bunnell. Bunnell had made a series of short films before making his feature-length debut with That Little Monster (1994), while he has also made minor, usually uncredited acting appearances in other films. Bunnell apparently made the film over a ten-year period, recruiting various minor name actors – Reggie Bannister, Paul Williams and Kevin McCarthy who died in 2010 making this his final performance.
The Ghastly Love of Johnny X feels like one of several films that came out in the aftermath of Grindhouse (2007) and sought to reference/parody the style of various eras of exploitation film. The name of the gang The Ghastly Ones would, for instance, seem to be intended as homage to the Andy Milligan film The Ghastly Ones (1968). As such, the film feels like a mashup that resembles something like Faster, Pussycat Kill! Kill! (1965) or a 1950s rock'n'roll film with all kinds of madcap elements thrown into the mix ranging from rock stars resurrected from the dead, aliens and UFOs.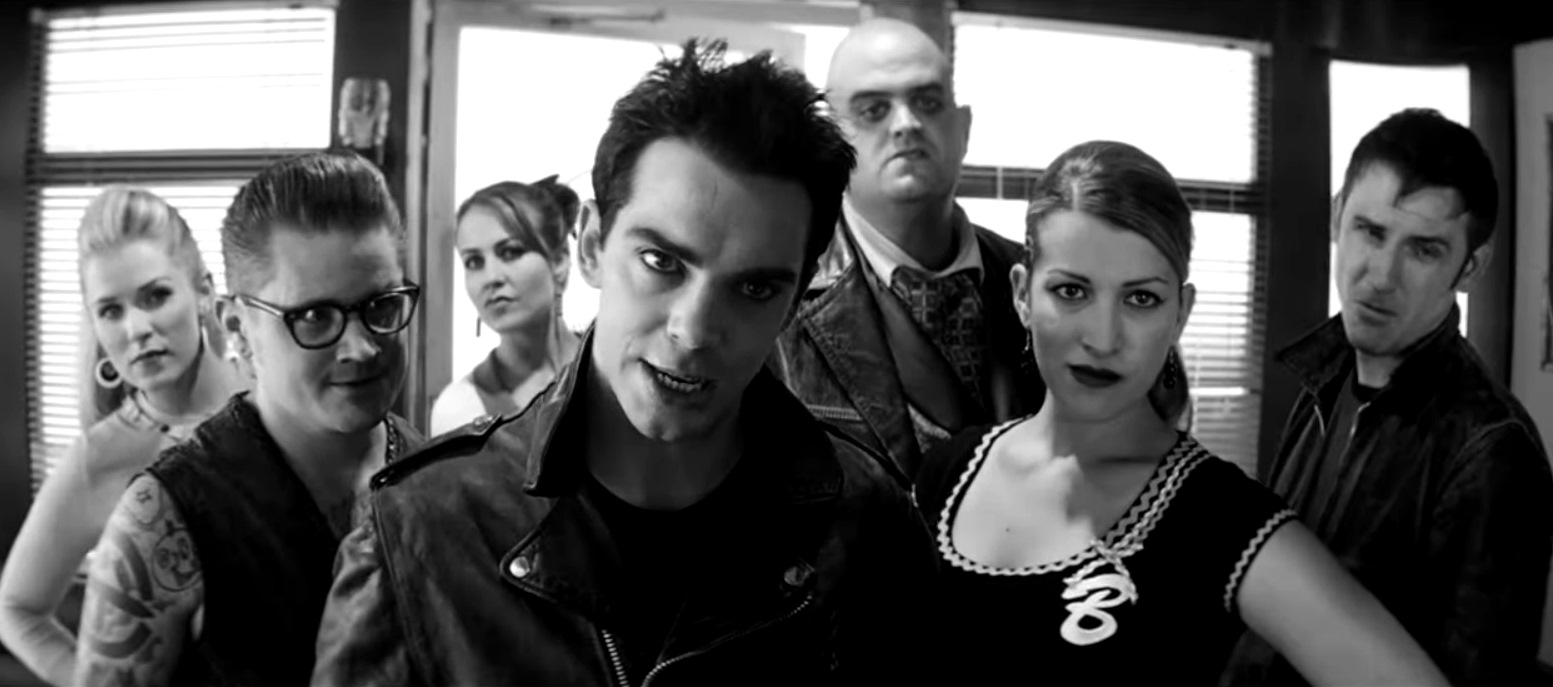 The tone of the film is Gonzo, making a virtue of the plays of filmic styles and mix of elements. You are reminded of some of the films of John Michael McCarthy – in particular the bizarre kitchen sink mix of exploitation elements that was The Sore Losers (1997). The wilfully absurd mix of elements all shot in black-and-white reminds you of the tone of films like Forbidden Zone (1982) and The American Astronaut (2001).
The film gets off a great start with the Ghastly Ones invading a 1950s diner in the desert before femme fatale De'Ana Joy Brooks runs off with gawky soda jerk Les Williams in an open-top coupe. All before the Ghastly Ones break into a song on a stylised set. The photography is shot in crisply beautiful contrasts – indeed it is the black-and-white photography that makes the film more than anything else. The plot contorts through a series of bizarrely quizzical happenings and silliness before almost reaching the point where all the stylistic affect wears out its welcome.
(Nominee for Best Cinematography at this site's Best of 2012 Awards).
---
Trailer here
---