---
Crew
Director/Screenplay/Producer – J. Michael McCarthy, Photography – Darin Ipema, Digital Effects Coordinator – Steve Buckley, Special Effects – Joe Riley. Production Company – Bigbroadguerillamonster
Cast
Jack Oblivian (Blackie), Kerine Elkins (Kerine), Mike Maker (Mike Maker), D'lana Tunnell (Goliatha/D'lana Tunnell), Hugh R. Brooks (Toothpick), Ghetty Chasun (Kerine's Mother), Guitar Wolf (Men in Black), David F. Friedman (The Elder), Jim Townsend (Kerine's Father), Mary Wills (Malt Liquor Angel), Lydia Martin (Nurse McComb)
---
Plot
Blackie, an alien from the Lo-Fi Frequency Dimension, returns to Earth. In 1954, he was sent to Earth and allowed to kill twelve people but was imprisoned after exceeding the number. If he can kill three more now, he can earn the right to go home. Driving to Memphis, he picks up his old friend, the psychotic comic-book fan Mike Maker, as well as Kerine, just released from jail and having discovered the pleasure of killing hippies. Kerine kills her parents but Blackie learns that her murders will count as his own unless he kills someone of The Elder's choosing. The Elder chooses Mike's girlfriend, the country-fair motorcycle-lifting amazon Goliatha, D'lana Tunnell. As Mike plans to kill her, D'lana is sentenced to the electric chair for murder. Further problems are caused by the pursuing Asian Men in Black, an angel, and an out-of-control Kerine who is threatening to bump the number of victims up further.
---
Memphis-based filmmaker John Michael McCarthy makes cod-1950s exploitation films. His earlier works included the likes of Damselvis, Daughter of Helvis (1994) and Teenage Tupelo (1995). They are films filled with McCarthy's love of rock'n'roll and garage bands, horror comics, juvenile delinquent cinema and bimbos of ambiguous gender. McCarthy's films are also totally gonzo experiences. A clear hero of McCarthy's is Russ Meyer and his world of trashy softcore exploitation delivered in a mockingly campy tongue-in-cheek tone.
The Sore Losers is a film that boggles the mind in trying to come up with an adequate description. One supposes they could aliken it to a remake of Natural Born Killers (1994) as by Russ Meyer. The plot is almost indescribable and never something that happens in a particularly linear or coherent line. Not that that particularly matters.
This is a film that has a little of everything, almost as though McCarthy is trying to see how many Psychotronic audience niches he can appeal to at the same time – UFOs, juvenile delinquent spree killers, topless women, rock'n'roll, comic books, zombies, motorcycles, rednecks, Asian Men in Black, hippie killings, ambiguous angels, Women in Prison, lesbian sex, catfights that take place in an electric chair, strippers, and some hilariously surreal deadpan dialogue. What more could any good lover of exploitation cinema ask for? This is a film that feels like one is channel-surfing among a dozen exploitation theatres all at once – while stoned.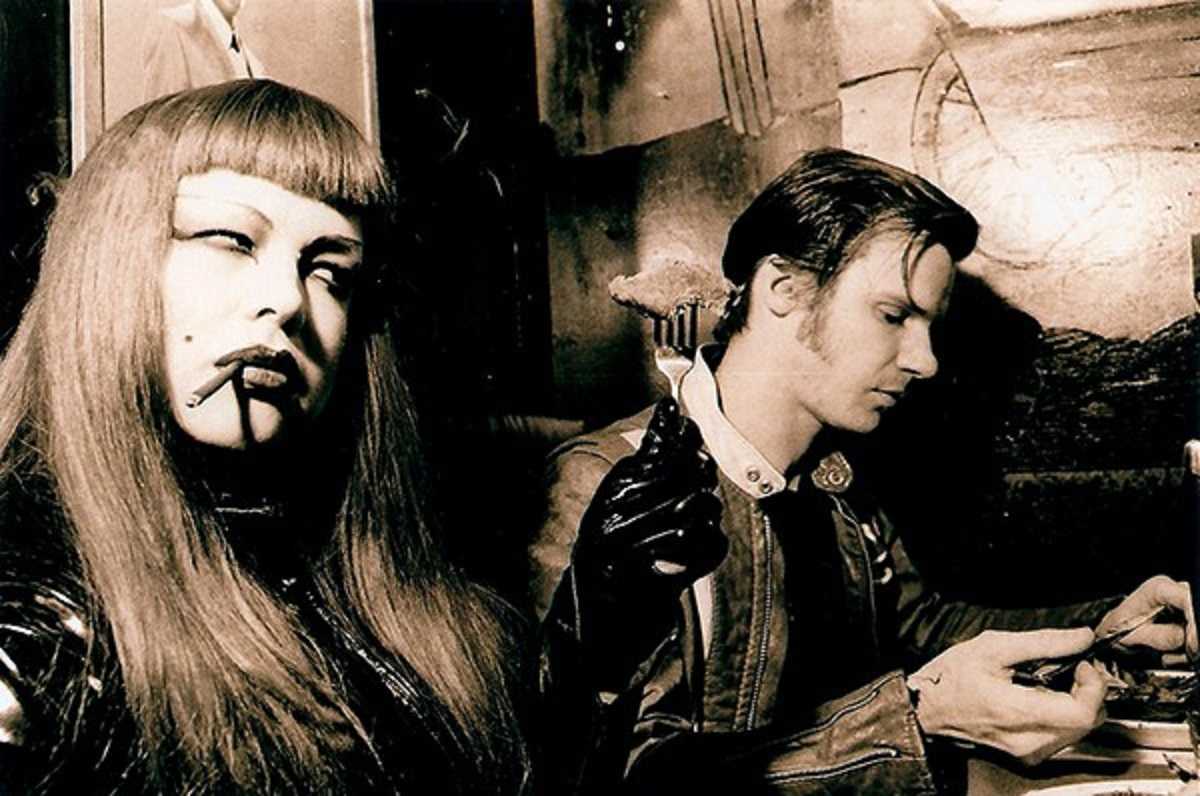 McCarthy recruits most of his cast from various garage bands – the Men in Black are played by a Japanese punk band Guitar Wolf, for instance. The alien Elder is played by no less than famed 1960s exploitation producer David F. Friedman. In the central role, Jack Oblivian, who looks like a crosshatch of Beck and a rawer, rougher Elvis, has a wonderfully brash anti-authoritarianism.
Although the one who steals the show is Kerine Elkins. With her pudgy build, scarlet red dyed hair, trash makeup, black vinyl bodysuit and mean-attitude, a seeming combination of Divine and Shirley Stohler from The Honeymoon Killers (1970), she has a truly scary presence in the film. One is certain – put her up against Juliette Lewis who essayed the equivalent role in Natural Born Killers, and you could bet that she would tear Juliette's throat out hands down.
J. Michael McCarthy later went onto make the equally gonzo post-holocaust film Superstarlet A.D. (2000) and Cigarette Girl (2009) about a smoking female serial killer in a future where smoking is ostracised.
---
Trailer here
Full film available here
---