---
Crew
Director – Don Michael Paul, Screenplay – M.A. Deuce, Woodrow Truesmith & John Whelpley, Story – M.A. Deuce, C.J. Strebor & Woodrow Truesmith, Producer – Ogden Gavanski, Photography – Michael Swan, Music – Frederik Wiedmann, Visual Effects Supervisor – Gary Oldroyd, Visual Effects – Cinemotion, Special Effects Supervisor – Kevin Bitters, Prosthetics & Creature Supervisor – Jaco Snyman, Production Design – Shane Bunce. Production Company – Universal 1440 Entertainment.
Cast
Michael Gross (Burt Gummer), Jamie Kennedy (Travis B. Welker), Pearl Thusi (Dr Nandi Montabu), Rea Rangaka (Baruti), Daniel Janks (Erich Van Wyk), Brandon Auret (Johan Dreyer), Ian Roberts (Den Bravers), Nolitha Zulu (Amahle Montabu), Lawrence Joffe (Basson), Natalie Becker (Lucia), Emmanuel Castsi (Dr Michael Swan), Ernest Ndlovu (Ndebele Chieftain)
---
Plot
Burt Gummer is struggling to produce a series of videos marketing himself as a survivalist. The job of cameraman is taken over by the hotshot Travis B. Welker. At the same time, Burt is approached by Erich Van Wyk from the South African Wildlife Ministry who asks him to come to South Africa and deal with a reported outbreak of Ass Blasters. Travis intervenes to negotiate a deal and insists on coming too. They travel into the area known as Cradle of Civilisation where Burt and the locals are soon knee-deep in fighting Graboids. However, Burt has the additional problem in that his collection of weapons has been confiscated by customs.
---
Tremors (1990) was a highly enjoyable monster movie that managed to get the balance of thrills and laughs just right. Thereafter it was spun out as a series of sequels with Tremors II: Aftershocks (1996), Tremors 3: Back to Perfection (2001) and Tremors 4: The Legend Begins (2004), as well as a tv series Tremors (2003) that lasted for only thirteen episodes. All of the sequels were written and directed by the first film's screenwriters Brent Maddock and S.S. Wilson and featured Michael Gross as a continuing character. What surprises one about the Tremors series is how it has managed to get so much out of such a slim premise – underground burrowing monsters terrorising a tiny nowhere town with a population in the low double digits – and to remain consistently enjoyable.
Tremors 5: Bloodlines comes over a decade since we saw the last entry in the franchise. Now Maddock and Wilson are nowhere to be found – apparently the new production team decided they were not interested in their involvement despite their having written every single one of the other films. This does not bode well for Bloodlines, which gives all impression that it has been resurrected by people who bought up the copyright and churned out another effort simply because they believed the franchise still had brand recognition factor. The only mainstay from the original films is Michael Gross who started off as a comic relief supporting actor and gradually became the main character of the series. He goes through his gun nut thing again and gives it all the effort he has.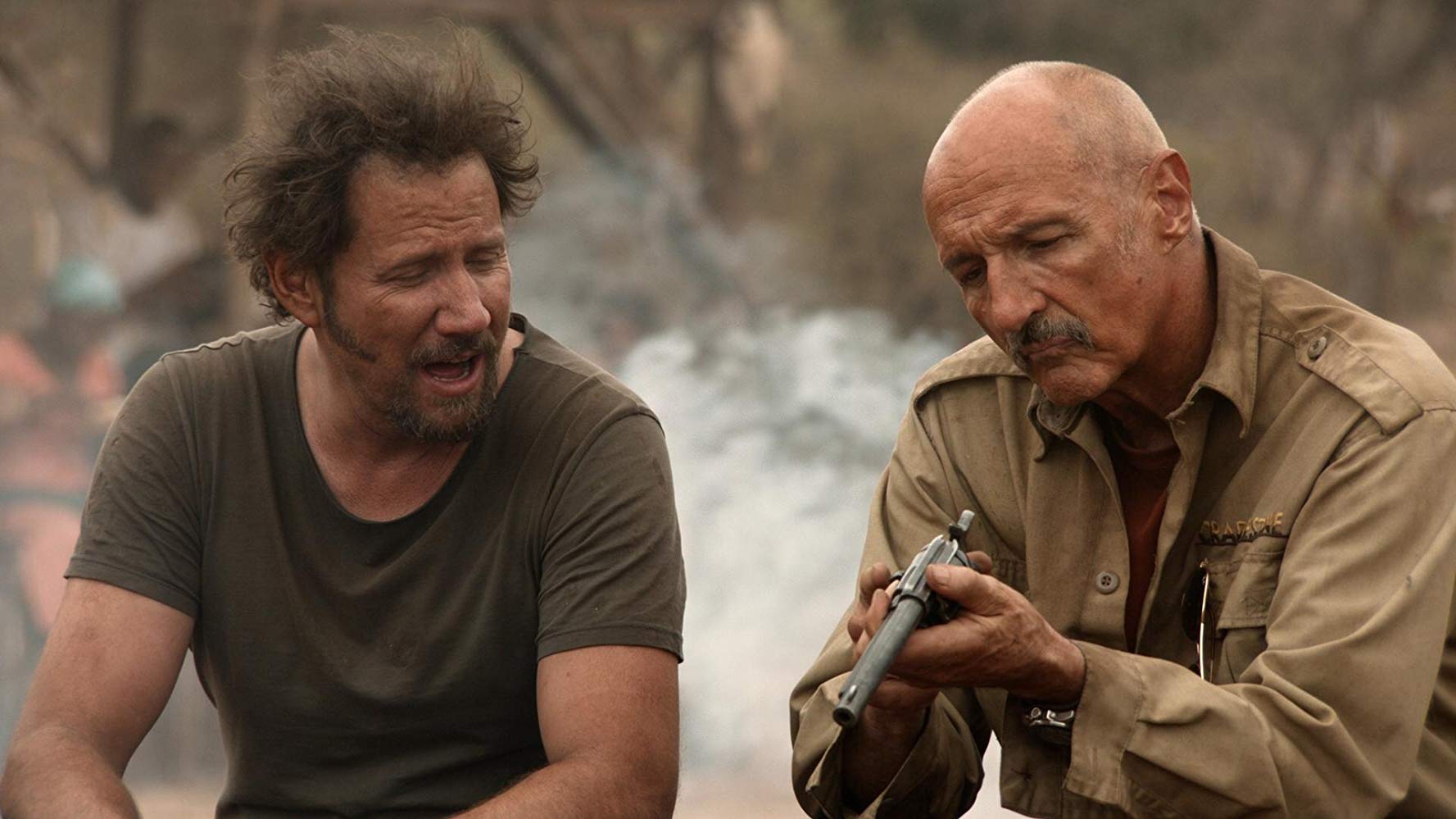 This new sequel comes from Don Michael Paul who also has a career as an actor. Paul debuted as director of the Steven Seagal film Half Past Dead (2002) and has a made a handful of dvd-released action films, mostly sequels to other people's films. These include the likes of Company of Heroes (2013), Jarhead 2: Field of Fire (2014), Sniper: Legacy (2014), Kindergarten Cop 2 (2016), Sniper: Ghost Shooter (2016), Jarhead: Law of Return (2019) and Bulletproof 2 (2020). Paul has dabbled in genre material on several occasions with the horror film The Garden (2006) and Lake Placid: The Final Chapter (2012), Death Race: Beyond Anarchy (2018) and Scorpion King: Book of Souls (2018), as well as written the future-set biker film Harley Davidson and the Marlboro Man (1991). The novelty this effort offers is that it has gone on location to South Africa (somewhere that has become a cheap location for films to shoot in recent years). We essentially have the same plot as the foregoing films but where the new locale adds more in the way of colour, culture and scenery to the basics.
The promise for Tremors 5: Bloodlines did not look very positive. I have to say though that the film emerges far more enjoyably than I expected it to. The Graboids have been reworked with a much bigger effects budget and seem to have become about three times the size and a whole lot more ferocious than the originals. Don Michael Paul does not do too badly when we arrive at the meat of the action. He has clearly studied the foregoing films and emulates their balance of thrills and humour effectively for the most part. Michael Gross proves the reliable stalwart of the series as always, even if you feel that there is not too much new left to bring to the part. That said, the montage of scenes where he is locked in the tiger cage are side-splitting. The major downside is that Gross is paired with Jamie Kennedy as his sidekick – someone who has been fairly much MIA since the Scream films and has come back looking a lot chubbier and seemingly channelling Dane Cook in annoyingly ingratiating performance.
Don Michael Paul and Michael Gross returned with two further sequels Tremors: A Cold Day in Hell (2018) and Tremors: Shrieker Island (2020).
---
---