---
Crew
Director/Story – Adam Massey, Screenplay – Thomas Michael, Producers – Adam Massey & Nicholas D. Tabarrok, Photography – Miroslaw Baszak, Music – John Rowley, Visual Effects & Creature Design – Smith. (Supervisor – Daniel J. Kelly), Art Direction – Len Rydahl. Production Company – Darius Films/Clark Stanley Inc..
Cast
Chris Diamantopoulos (Doug Woods), Drew Nelson (Terry Woods), Alex Karzis (Duncan), Kelly Fanson (Angie), Michael Cram (Bill), Kate Ziegler (Jo Woods)
---
Plot
Doug Woods is the star of Woods Vs., a small time Canadian reality tv show in which he goes on solo survival expeditions in the wilderness. He travels with his crew into the remote wilds of The Great Canadian Shield to shoot his latest episode. He leaves the crew and heads off to survive on his own for five days while filming everything that happens. As Doug settles in, he becomes aware that there is something else out there, playing a series of malevolent games, stealing his food and equipment, and then taunting him.
---
Man Vs. was the third film for Canadian director Adam Massey. Massey had earlier made A Lobster Tale (2006), a film set in a small nowhere fishing town where Colm Meaney finds a healing moss, and the haunted house film The Intruders (2015).
Man Vs. has the amusing idea of taking the basic set-up of a man in the wilderness tv reality show – the title specifically references the Bear Grylls tv show Man vs. Wild (2006-20) – and mixing it up with a monster movie. Chris Diamantopoulos's reality tv hero is the only character on screen for 95% of the show. Diamantopoulos presents a likeable screen presence and even imparts what feel like some common sense wilderness survival tips. The film is not shot Found Footage, although we frequently have regular dramatic camerawork alternating with Diamantopoulos using a handheld camera.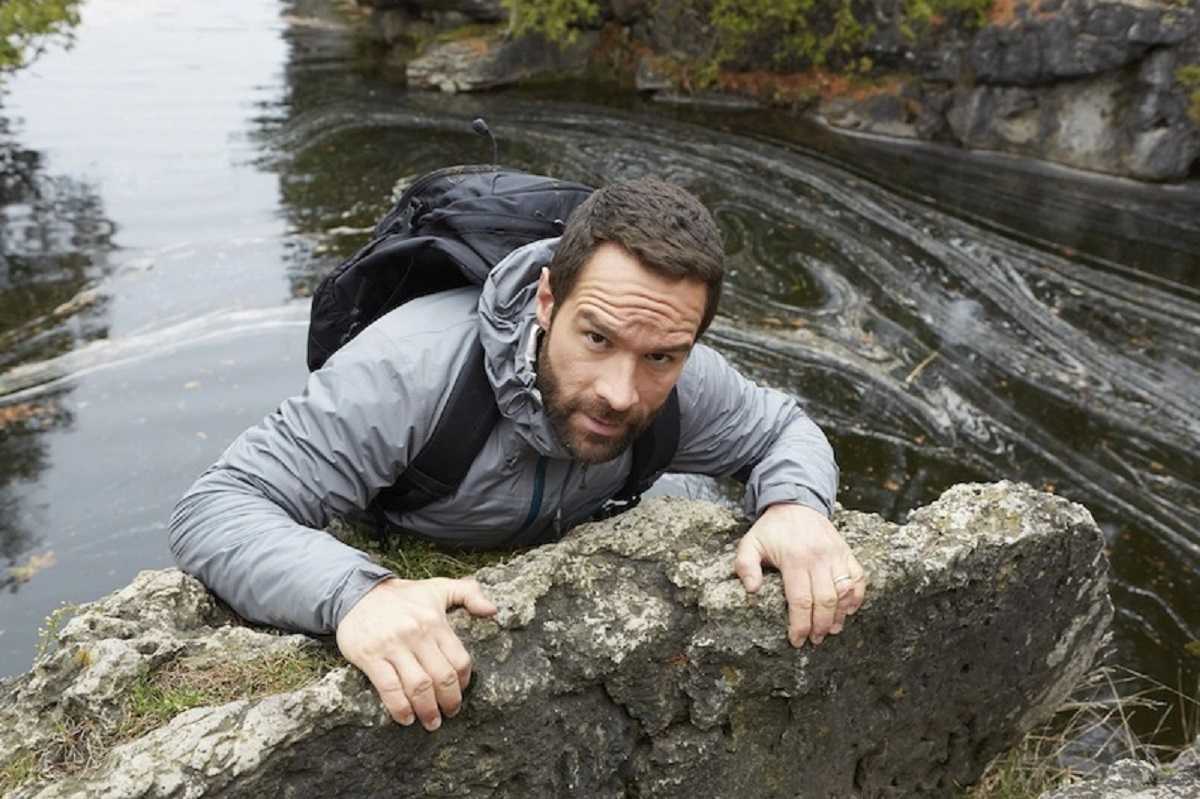 Amid this mimicry of a wilderness survival reality tv show, Adam Massey slips in a monster movie. Once we get into the wild, Adam Massey does a rather good job of creating tension. He is a student of the school of monster movie-making patented by people like Val Lewton and Ridley Scott in Alien (1979) in suggesting something present rather than actually showing it. He does so with quite reasonable effect in scenes where we see something in the foreground of a shot winching down the rabbit carcass tied on a rope up in a tree, or shapes briefly flitting amid the trees in the background. Or else where the creature plays games, stealing and smashing equipment and in the most amusing moment completing Chris Diamantopoulos's chess moves.
We eventually do get to see the creature at the 1:07 mark. It is at this point that the film reveals the monster as an alien creature – the film becomes something akin to a Bear Grylls wilderness survival show crossbred with Predator (1987). The alien is represented by some okay visual effects but the very revelation of it takes away from what had otherwise been a fine and subtle build-up by suggestion. The concluding scenes where we find that we are in the midst of an alien invasion likewise are something the film didn't need. It worked much better just as the title suggests – one man vs … something where we didn't quite know what it was.
---