---
Crew
Director/Screenplay – Don Mancini, Producers – Ogden Gavanski & David Kirschner, Photography – Michael Marshall, Music – Joseph LoDuca, Visual Effects – Grid-VFX (Supervisor – Laurens Bekaert), Special Effects Supervisor – Marc Reichel, Makeup Effects – Morot FX Studio (Designer – Adrien Morot, Supervisor – Kathy Tse), Animatronic Effects – Alterian, Inc. (Supervisor – Tony Gardner), Production Design – Craig Sandells. Production Company – Universal 1440.
Cast
Fiona Dourif (Nica Davies), Brad Dourif (Voice of Chucky), Michael Therriault (Dr Foley), Alex Vincent (Andy Barclay), Adam Hurtig (Michael), Elisabeth Rosen (Madeline), Zak Santiago (Nurse Carlos), Grace Lynn Kung (Claire), Jennifer Tilly (Tiffany), Marina Stephenson Kerr (Angela), Ali Tataryn (Nurse Ashley), Allison-Dawn Doiron (Rachel)
---
Plot
Believed responsible for the Chucky killings, Nica Davies is transferred to the Harrogate psychiatric institution. There Dr Foley tries to demonstrate that Chucky does not exist by bringing a Chucky doll along to therapy sessions. This is taken by Madeline, one of the patients, who treats it as her own dead child. However, other Chucky dolls start to arrive. As Chucky then appears to be killing patients and staff alike, Nica is not sure if Chucky has returned or it is all in her head.
---
The killer doll film Child's Play (1988) was a modest hit when it came out, doing okay business in theatres but finding most of its afterlife on video. Chucky subsequently became a major horror icon where the sequels Child's Play 2 (1990) and Child's Play 3 (1991) turned Chucky into a one-liner quipping bad-ass monster modeled on Freddy Krueger. Since then, the series has turned out an entry every few years with Bride of Chucky (1998), Seed of Chucky (2004) and Curse of Chucky (2013). Throughout the 2000s, there was talk of a remake of the original, which eventually emerged with Child's Play (2019), and this was followed by the tv series Chucky (2021- ). .
I wasn't much of a fan of the original Child's Play films – that is Child's Play through Child's Play 3 – but find the modern series – all of those with Chucky's name in the title to be far more enjoyable, especially those that are directed by the original screenwriter Don Mancini – Seed of Chucky through to the present. Mancini's films are much more playful – they go beyond killer doll sagas to become homages to the earlier films or meta-fictionally wrap around on themselves with highly entertaining regard.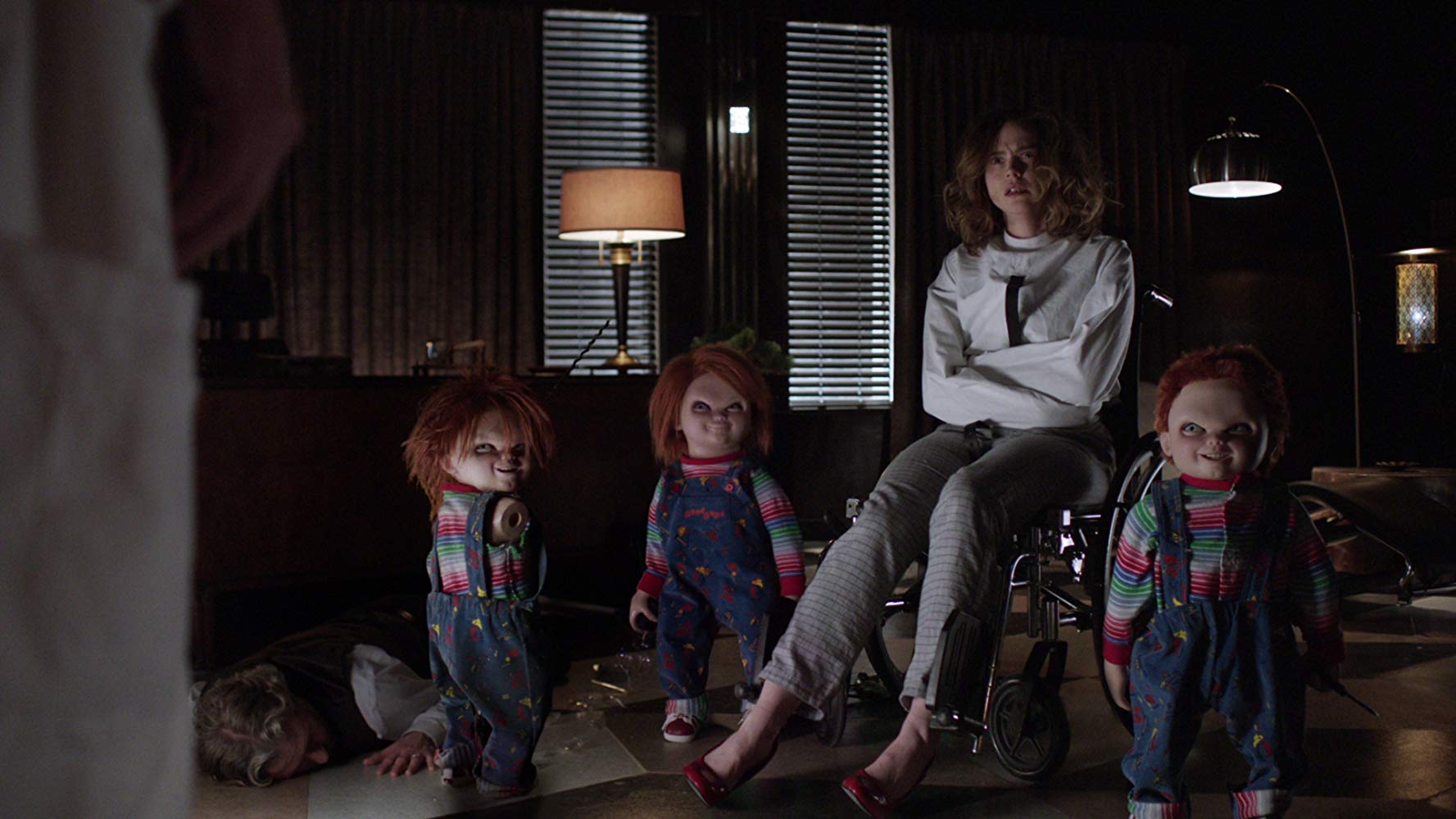 The more recent Child's Play films have started being made for the fans and come with clever and witty nods back to the other films in the series. This is even more so in Cult of Chucky than in any of the other films. We get a return performance from Fiona Dourif, the daughter of Brad Dourif (who has voiced Chucky in all of the films), playing Charles Lee Ray's daughter again. The adult Alex Vincent, who made a cameo as Andy Barclay at the end of Curse of Chucky, is now given a major role throughout. He is wittily introduced out on a first date with Allison-Dawn Doiron who has looked up his history, leaving him having to defend his Second Amendment right to own an arsenal of guns, at the same time as trying to voice responsible gun ownership.
There are lots of cute little jokes throughout – we see a graduation certificate from the Kent University on Andy's wall in a nod back to the military school setting of Child's Play 3. There is also a return appearance of Jennifer Tilly and in a nod back to the delirious meta-fiction that was Seed of Chucky where she is told "You look like Jennifer Tilly" and replies "I get that a lot. As a matter of fact, I'm no longer even sure myself." The film also comes with an end credits cameo where Christine Elise, the now grown-up girl from Child's Play 2, breaks in to steal the severed head of Chucky.
Much of the film here cleverly vies between whether what is happening is really Chucky or is all taking place in Fiona Dourif's imagination. Of course being the film it is, the outcome is predictable. The script also never exactly explains how we get so many Chucky copies running around – or for that matter provides any chucky cult as promised by the title. It's fun, the in-jokes are clever and both Brad Dourif and Don Mancini get into the Chucky scenes with dark relish. It is only the end of the film that feels a little hurried in its wrap-up of all the competing story threads.
---
---