---
Crew
Director – Mike Mendez, Screenplay – Neil Elman, Mike Mendez & Ashley O'Neil, Producer – Anthony Fankhauser, Photography – Richard Vialet, Music – Chris Ridenhour, Visual Effects/Animation – Dreamdust VFX, Ice Animation, Lawson Digital Effects & Roninfilm, Production Design – Allison Schenker. Production Company – Cinetel Films.
Cast
Steve Guttenberg (Colton West), Nia Peeples (Olivia West), Noah Hunt (Wyatt West), Patrick Renna (Chris), Michael Winslow (Marty), Marion Ramsey (Teddie), Diana Hopper (Jordan), Ralph Garman (Pirate Jack), Time Winters (Dr Erik Von Struebel), Zac Goodspeed (Travis), Danny Woodburn (Arnie), Leslie Easterbrook (Doris), Leigh Whannell (Director Darren)
---
Plot
Former 1990s action star Colton West walks off the set of a film after finding his agent has signed him up for a giant cockroach picture. On the way home, he is witness as a freak volcanic eruption causes large fire-breathing spiders to emerge from the ground. Nicknamed lavalantulas, the spiders quickly run amok across Los Angeles. Colton urges his wife Olivia to flee while he sets out across the city to rescue his son Wyatt who is skateboarding with friends. As the lavalantula menace grows in size and severity, Colton is forced to become a real-life action hero to save the day.
---
Mike Mendez is a name who has been rising through the genre ranks over the last few years. Mendez first appeared as director of the horror film Killers (1996) and went onto other genre works such as Bimbo Movie Bash (1997), The Convent (2000), the horror documentary Masters of Horror (2002), The Gravedancers (2006), Don't Kill It (2016) and The Last Heist (2016), as well as producing the horror anthologies Tales of Halloween (2015) and Satanic Hispanics (2022) and directing various episodes, plus producing Unnatural (2016), Against the Night (2017), Snake Outta Compton (2018) and The Shed (2019). Mendez had previously made Big Ass Spider! (2013), a similar venture into the modern tongue-in-cheek creature feature – viz Sharknado (2013) et al – but that never quite came off. Lavalantula proves to be a far more successful effort in the same vein.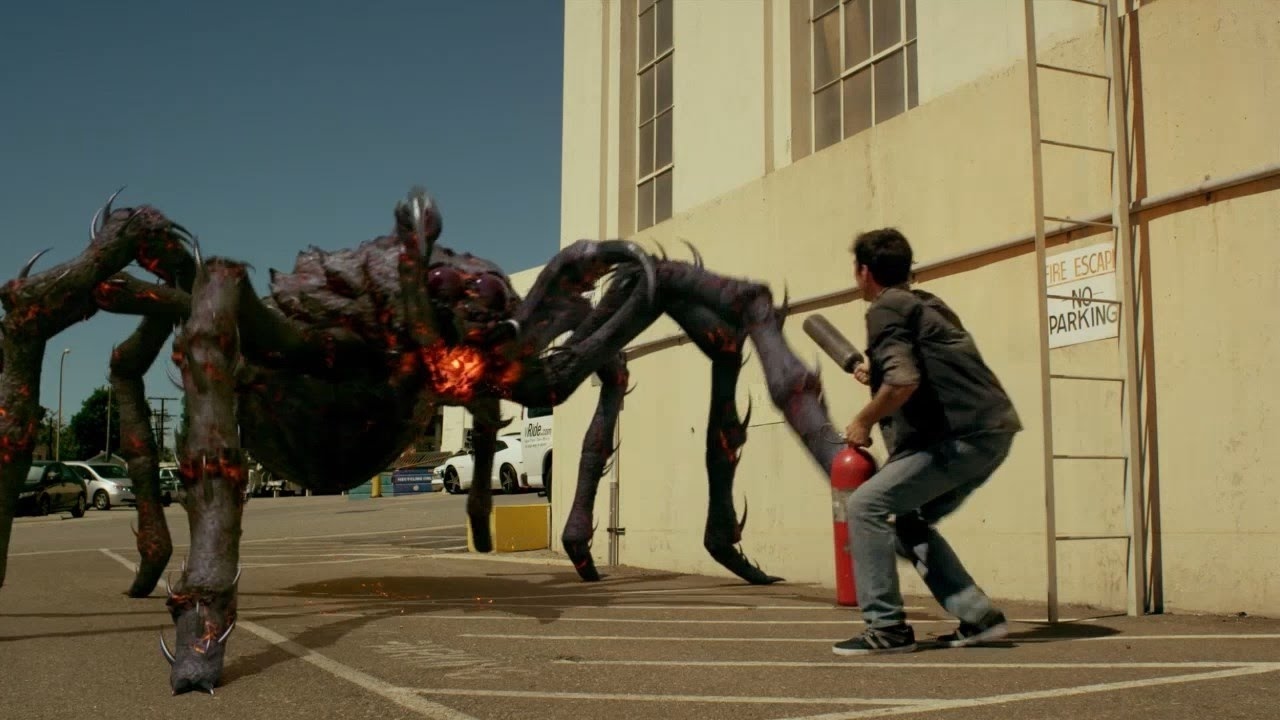 As seems almost mandatory with the modern gonzo monster movie, the film headlines a fading former name star. In this case, the film brings out of mothballs Steve Guttenberg, the actor who was popular principally in comedy roles in the 1980s but never much went beyond. Rather amusingly, Guttenberg gets to play a former action movie actor who is being reduced to "taking parts in [giant] cockroach pictures."
Mike Mendez or someone involved with the production is clearly a fan of Police Academy (1984) and its interminable sequels and the cast list features a number of mainstays of the series, including Guttenberg, Leslie Easterbrook, Marion Ramsey and Michael Winslow. Much of the climactic scenes have been set up to allow Winslow to do his famous voice impersonations as they go into action. Paired up against Guttenberg is Nia Peeples, an actress who had a minor name in mostly tv roles, and is now into her fifties and looks just a little too old to be going into action wearing a crop top.
Mendez plays the comedy element well – the early scenes snappily whip back and forward between the menace of the spiders, Nia Peeples finding out about Guttenberg's arrest on the tv news and him on the phone to his agent refusing to do the giant cockroach picture, which throw us into a monster movie with a considerably more engaging sense of humour than we are used to. (The film is constantly making sly digs at Hollywood – all the standard tv reports, for instance, seem to be being delivered via an entertainment gossip channel). Especially amusing are the scenes where Steve Guttenberg hijacks the bus, trying to convince them of the urgency of the threat they face as the driver only wants to pose for a selfie, and Guttenberg fighting off spiders as they drive, which ends up being cheered on by the tourists aboard the bus thinking it is part of a film.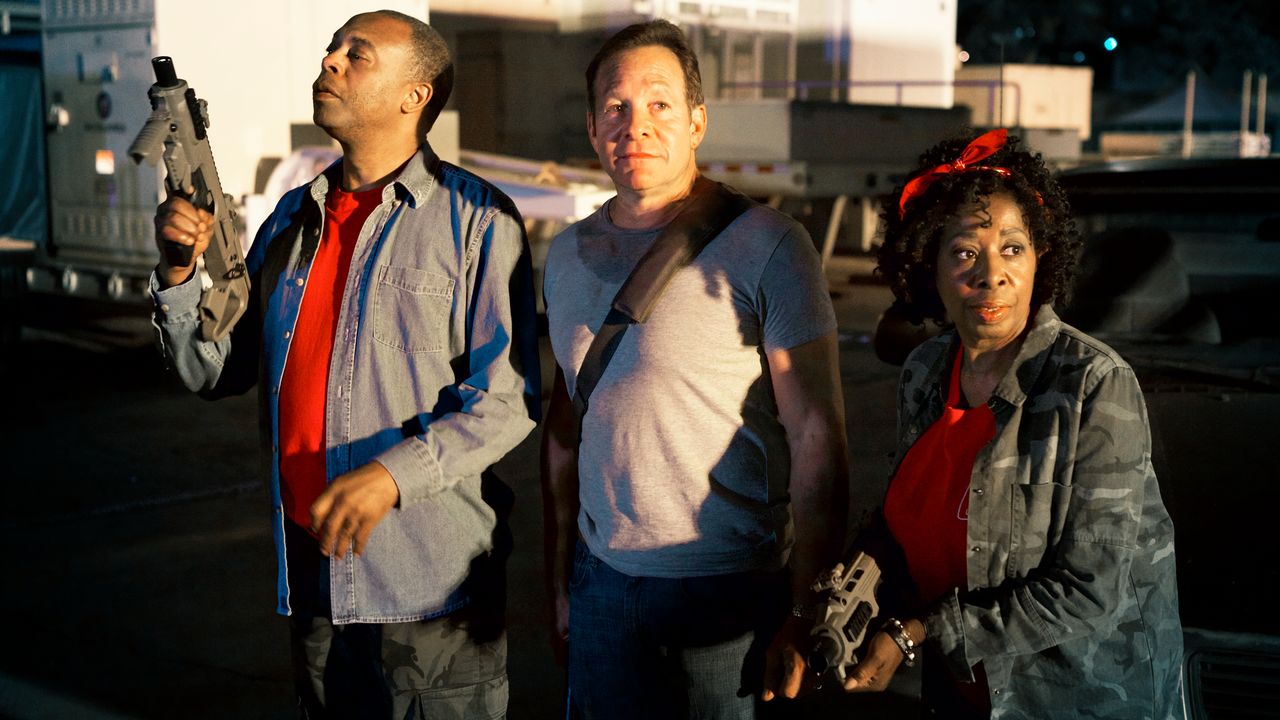 It does get a little silly in the middle of the film with Guttenberg and Patrick Renna wandering around downtown Hollywood and various celebrity impersonators fleeing the menace, including a sequence that has been set up for an Indiana Jones-lookalike to be running from an imitation boulder. In another scene, Steve Guttenberg runs into Ian Ziering, star of Sharknado series, who curtly snaps "I'm having enough problems of my own with sharks." [After Ziering made an appearance here, Steve Guttenberg made a similar cameo in the subsequent Sharknado: The 4th Awakens (2016)]. In the way that Guttenberg eventually inspires the film crew to stand up and fight, we can see that the film often serves as a love poem of sorts to Mendez's hometown of Los Angeles.
The film also has some more than reasonable effects for the Syfy Channel and dvd release destination that it has clearly been intended – of spiders blasting victim's heads off with jets of flame, climbing the sides of buildings, attacking people and vehicles and so forth. The only failing in the effects department is when it comes to some of the more dodgy clearly optically overlaid explosions.
The sequel was 2 Lava 2 Lantula (2016), featuring return appearances from Steve Guttenberg, Michael Winslow, Marion Ramsey and Noah Hunt, although not Mike Mendez
---
Trailer here
---