---
Crew
Director – Don Michael Paul, Screenplay – John Whelpley, Producer – Mike Elliott, Photography – Hein De Vos, Music – Frederik Wiedmann, Visual Effects – Cinemotion (Supervisor – Victor Trichkov), Inspired Minority (Supervisor – Wicus Labuschagne) & Motif Studios, Special Effects Supervisor – Paul Pieterse, Creature Effects Designer – Rob Carlisle, Prosthetics – Graham Press, Production Design – Andrew Orlando. Production Company – Universal 1440 Entertainment.
Cast
Michael Gross (Burt Gummer), Jamie Kennedy (Travis B. Welker), Tanya Van Graan (Dr Rita Sims), Jamie Lee Money (Valerie McKee), Francesco Nassembini (Dr Charles Freezze), Adrienne Pearce (Mac), Kiroshan Naidoo (Hart Hansen), Paul Du Toit (Cutts), Keeno Lee Hector (Aklark), Jenna Upton (Dr Sike Daomen), Rob Van Vuuren (Swackhamer), Danny Keogh (Agent Dalkwad)
---
Plot
Burt Gummer is in trouble with the IRS who have just announced that his store is being repossessed over unpaid tax bills. Burt then receives a call from Valerie McKee, an intern at the Boite Canyon research station in Nunavut province in the Canadian Arctic, about a reported Graboid attack. Burt thinks it is impossible for Graboids to operate in frozen weather nevertheless he and his son Travis fly out to investigate. They arrive to find that the station is under attack by prehistoric Graboids that have been thawed out due to the effects of global warming on The Arctic. As they set about to eliminating the Graboids, it is discovered that Burt has become infected by parasites from a Graboid and that the only means of saving his life is to obtain antibodies from the gullet of a live Graboid.
---
A Cold Day in Hell was the sixth Tremors films. Given that the original film Tremors (1990) was only a moderate box-office success, this is a series that has had far more legs than one thought it ever would have. Tremors: A Cold Day in Hell marks the series' twenty-eighth year of operation spanning three decades so far, during which there have been six sequels, Tremors II: Aftershocks (1996), Tremors 3: Back to Perfection (2001), Tremors 4: The Legend Begins (2004), Tremors: Bloodlines (2015), this and the subsequent Tremors: Shrieker Island (2020), as well as a tv series Tremors (2003).
All of these have repeated the same limited premise – of characters hunting the same monsters that burrow underground. The single through character in all of the films is Michael Gross's Burt Gummer who was promoted from eccentric supporting character in the first film to the hero of most of the sequels. A Cold Day in Hell is a direct follow-on from the previous entry Bloodlines and features a return performance from Jamie Kennedy as Burt's motormouth son and is also directed by Don Michael Paul.
I admit to sitting down to watch Tremors: A Cold Day in Hell with the feeling that the Tremors series had well and truly played its premise out with little in the way of variation. About the only difference here is that Michael Gross and Jamie Kennedy are hunting the Graboids in the Canadian Arctic (in actuality, cut-price location shooting in South Africa) as opposed to the desert locations preferred by all the other films. There are a few explanations thrown in about prehistoric Graboids and topical mentions of a Global Warming causing thawing in the Arctic to justify this.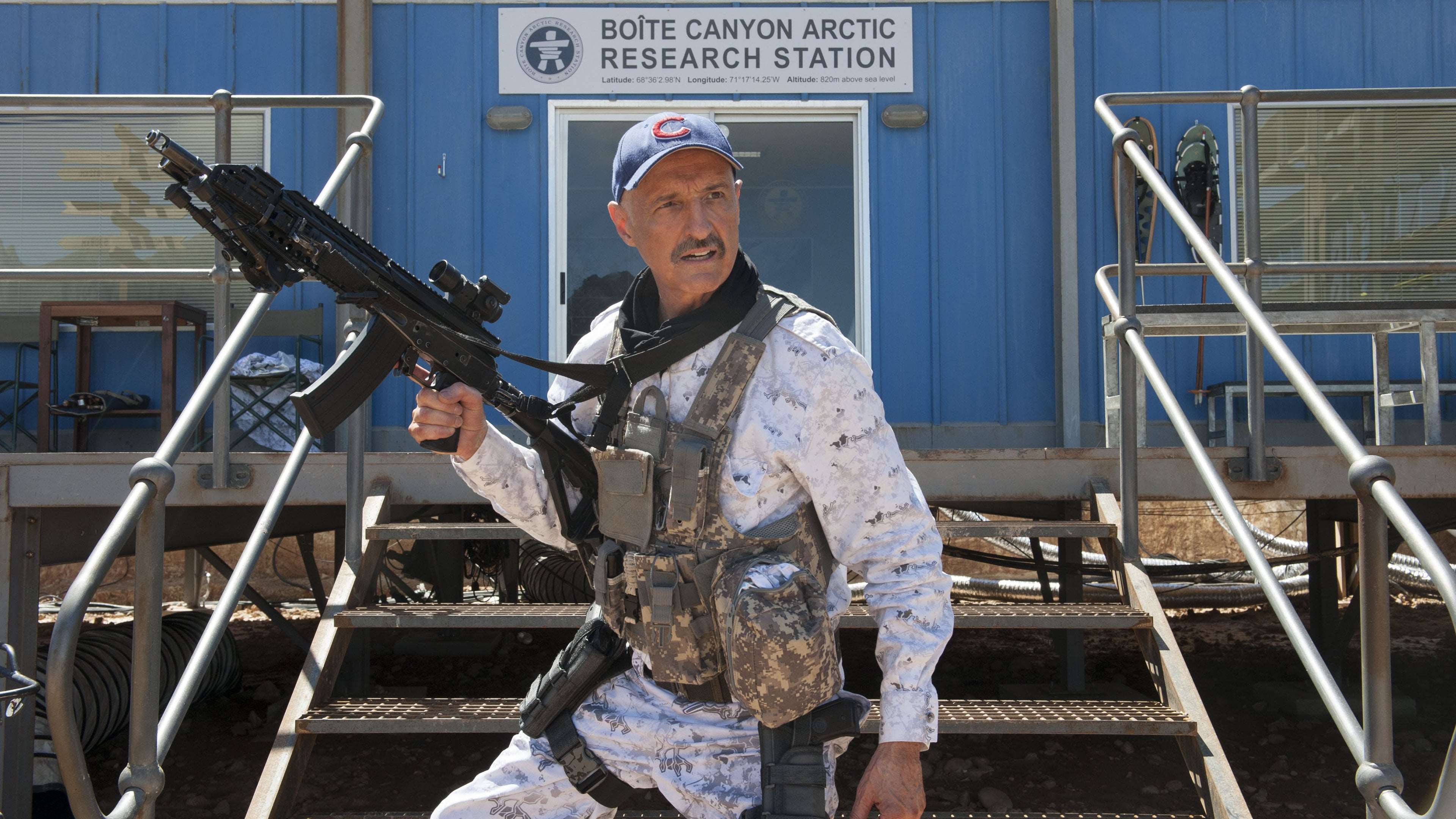 All of that said, Tremors: A Cold Day in Hell surprises you and manages to be undeniably engaging despite recycling the same material as all the other films. Both Michael Gross and Jamie Kennedy have their rapport down pat and spend a good deal of the film playing off one another. The script if not exactly original is snappy and on the ball, providing some witty dialogue. "Take two spoonfuls of cement and harden the hell up," Michael Gross barks at the token coward (Francesco Nassembini) at one point. For the most part, the effects are fairly solid – even if in the Don Michael Paul films, the Graboids have gotten a whole lot bigger than they originally were – and there is little that the film does wrong.
Don Michael Paul debuted as director of the Steven Seagal film Half Past Dead (2002) and has a made a handful of action films, mostly sequels to other people's films. These include Company of Heroes (2013), Jarhead 2: Field of Fire (2014), Sniper: Legacy (2014), Kindergarten Cop 2 (2016), Sniper: Ghost Shooter (2016), Jarhead: Law of Return (2019) and Bulletproof 2 (2020). Paul has occasionally dabbled in genre material with the horror film The Garden (2006), Lake Placid: The Final Chapter (2012), Death Race: Beyond Anarchy (2018) and Scorpion King: Book of Souls (2018), as well as written the future-set biker film Harley Davidson and the Marlboro Man (1991).
---
---