---
Canada. 1998.
Crew
Director – Jeff Woolnough, Screenplay – Peter M. Lenkov, Producer – Bob Westheimer, Photography – Russell Goozee, Music – Crunch Recording Group, Ivan Dorochuk, John Kastner & Steve Pecile, Special Effects – Kavanaugh Special Effects (Supervisor – Michael Kavanaugh), Production Design – Jasna Stefanovic. Production Company – Catalyst Entertainment/Unisol Productions/Durrant Fox Productions Inc.
Cast
Chandra West (Veronica Roberts), Matt Battaglia (Private Luc Devreaux/GR44), Gary Busey (Otto Mazur), Jeff Wincott (Sergeant Eric Devreaux/GR5), Richard McMillan (Dr Walker), Michael Copeman (Lieutenant Colonel Jack Cameron), Julian Richings (Box), Aron Tager (John Devreaux), Barbara Gordon (Danielle Devreaux), Roger Periard (McNally)
---
Plot
Former Universal Soldier Luc Devreaux has escaped from the military program that resurrected him from the dead as a super-soldier. He and journalist Veronica Roberts are in hiding on his parents' farm. The Unisol controllers then activate a homing beacon embedded inside Devreaux's body that makes him return to the Unisol base in Chicago where his memory is reprogrammed. Veronica follows. Sneaking into the Unisol lab to rescue Luc, she discovers that his older brother Eric has also been resurrected. At the same time, the program is hijacked by the ruthless Otto Mazur who wants to sell the Universal Soldiers to terrorist groups. As Luc and Veronica try to stop him, Mazur uses Eric as a pawn.
---
Roland Emmerich's Universal Soldier (1992) was a modest hit when it came out – although, from the way it has subsequently been sequelised, one would have thought it was a smash success that went through the roof. Universal Soldier II: Brothers in Arms was the first of two low-budget Canadian-made video-released sequels that were shot back-to-back – this was followed by Universal Soldier III: Unfinished Business (1998). None of the personnel from the original production were involved in the Canadian video sequels. The following year Jean-Claude Van Damme and the producers of the original returned with an entirely unrelated cinematically released sequel Universal Soldier: The Return (1999). These two different Universal Soldier II's caused some confusion on video shelves. Several years later, there was also the subsequent Universal Soldier: Regeneration (2009) and Universal Soldier: Day of Reckoning (2012), both featuring return appearances from original stars Jean-Claude Van Damme and Dolph Lundgren.
Universal Soldier II: Brothers in Arms looks cheaply made. Moreover, it collapses into utter laughability in the opening scene, which has soldiers gathering on a beach and lots of posed slow-motion striding as the officers led by Gary Busey arrive, before Busey shoots them and then sheds a tear. What makes the scene so laughable is the fact that it, with a bizarre inappropriateness, is scored with Norman Greenbaum's catchy rock song Spirits in the Sky (1969). Later, with equal pretentiousness, we have the slow-motion explosion of a truck accompanied by The Blue Danube. Just about every stride, every action that someone takes throughout the film is shot in slow– and sped-up motion or edited with jump cuts, which tends to suggest a director who has allowed their stylistic pretensions to get the better of them.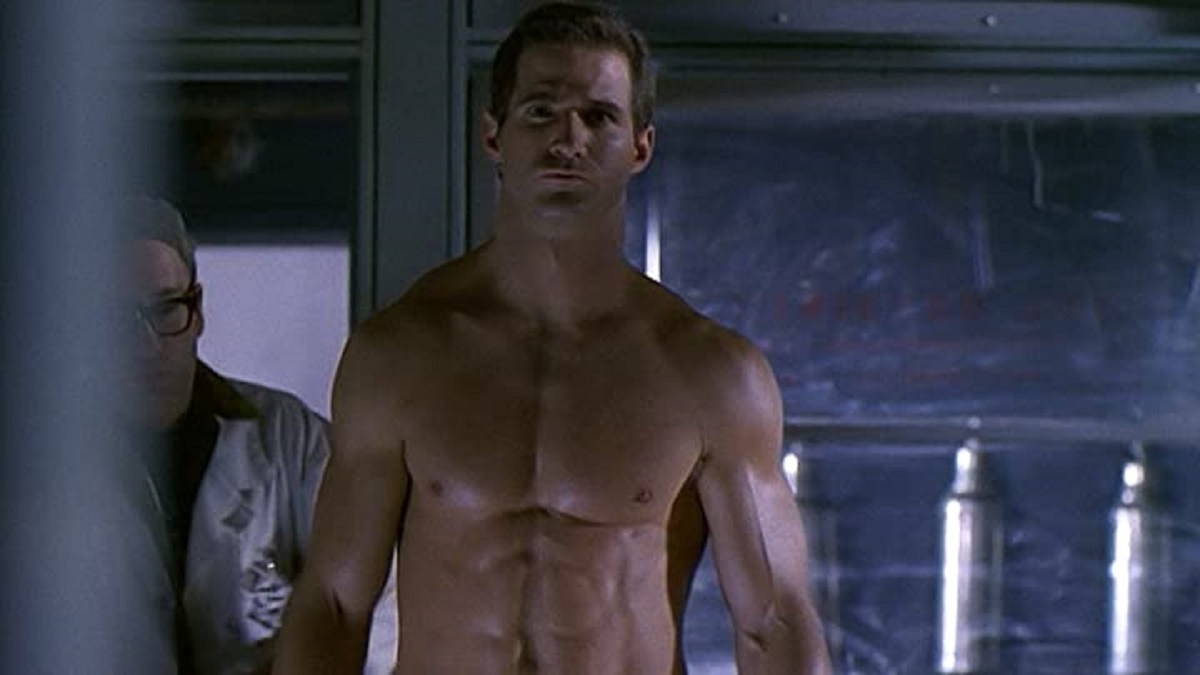 On the plus side, Universal Soldier II: Brothers in Arms is a marginally better film than Universal Soldier: The Return was – although not much. As the hero of the show, Jean-Claude Van Damme has been replaced by Matt Battaglia. Battaglia is appropriately wooden and stiff in the part, although it is hard to tell if this is intended as part of the performance or not. Despite supposedly being emotionless, Matt Battaglia is outfitted with a series of deadpan Schwarzenegger-esque one-liners – "It's time to take out the garbage," he says as he throws one assailant into a trashcan.
Since Universal Solider, Ally Walker went onto better and greater things in tv's Profiler (1996-2000) and the part of Veronica Roberts has now been recast with a standardised blonde bimbo in Chandra West. There is a surprise cameo at the end from Burt Reynolds, who becomes the new villain in the subsequent film.
---
Trailer here
---