---
Crew
Director – John Hyams, Screenplay – Victor Ostrovsky, Producers – Craig Baumgarten & Moshe Diamant, Photography – Peter Hyams, Music – Kris Hill & Michael Krassner, Visual Effects – Gotham Digital Effects, Inc (Supervisor – Joseph Oberle), Special Effects Supervisor – Ivo Jivkov, Production Design – Philip Harrison. Production Company – Signature Entertainment/BMP.
Cast
Jean-Claude Van Damme (Luc Devereaux), Dolph Lundgren (Andrew Scott), Andrei "The Pit Bull" Arlovski (The NGU), Kerry Shale (Dr Robert Colin), Zahary Baharov (General Topov), Corey Johnson (Colonel Mike Coby), Garry Cooper (Dr Richard Porter), Mike Pyle (Captain Kevin Burke), Emily Joyce (Dr Sandra Flemming), Yonko Dimitrov (Dimitri Musayev), Violeta Markovska (Ivana Musayev), Stanislav Pishtalov (Prime Minister Musayev), Kristopher Van Varenberg (Miles)
---
Plot
General Topov, the head of a rogue army that is demanding freedom for the republic of Pasalan, abducts the two children of the Russian President. Topov holes up at the site of the Chernobyl nuclear reactor, threatening to detonate explosives within 72 hours, which will spread a huge cloud of radiation, unless political prisoners are freed. The US Army is called in because Topov has in his employ Dr Robert Colin, a former member of the Unisol program. Colin has developed a superior version of the Unisol, the genetically augmented NGU or Next Generation Unisol, which was used to conduct the abduction. Former Unisol Luc Devereaux has undergone rehabilitation with Dr Sandra Flemming who has attempted to reintegrate him to normal life. Luc is now abducted by the Army and reprogrammed in order to go in and defeat Colin's NGU. However, Colin has also resurrected Devereaux's old rival Andrew Scott.
---
This was fifth film in the series that began with Roland Emmerich's Universal Soldier (1992), which featured Jean-Claude Van Damme and Dolph Lundgren as two rival soldiers who are resurrected as part of a program that turns them into zombie super-soldiers. The problem I have always had with Universal Soldier is that a film where the hero has been stripped of all humanity and is little more than a robotic machine is not exactly strong material for an ongoing series – it doesn't exactly overflow with potential character development arcs.
That does not appear to have stopped a number of people from churning out sequels – first with the low-budget Canadian-made duo of films Universal Soldier II: Brothers in Arms (1998) and Universal Soldier III: Unfinished Business (1998) with Matt Battaglia inheriting Jean-Claude Van Damme's role, while Van Damme returned for Universal Soldier: The Return (1999). (There is also Universal Soldiers (2007), an unrelated rip-off from The Asylum).
With the exception of the Matt Battaglia films, which follow on from each other, all of the sequels operate as though the others did not exist. For example, while this film shows Van Damme struggling to reintegrate into society and being abducted back into service by the US Army, the previous film, Universal Soldier: The Return, had him fully coherent and acting as a consultant to the Unisol program, which has been shut down here. Universal Soldier: Regeneration brings back Jean-Claude Van Damme, whose once A-list career has notably been flagging this side of the 00s, and pairs him back up with Dolph Lundgren.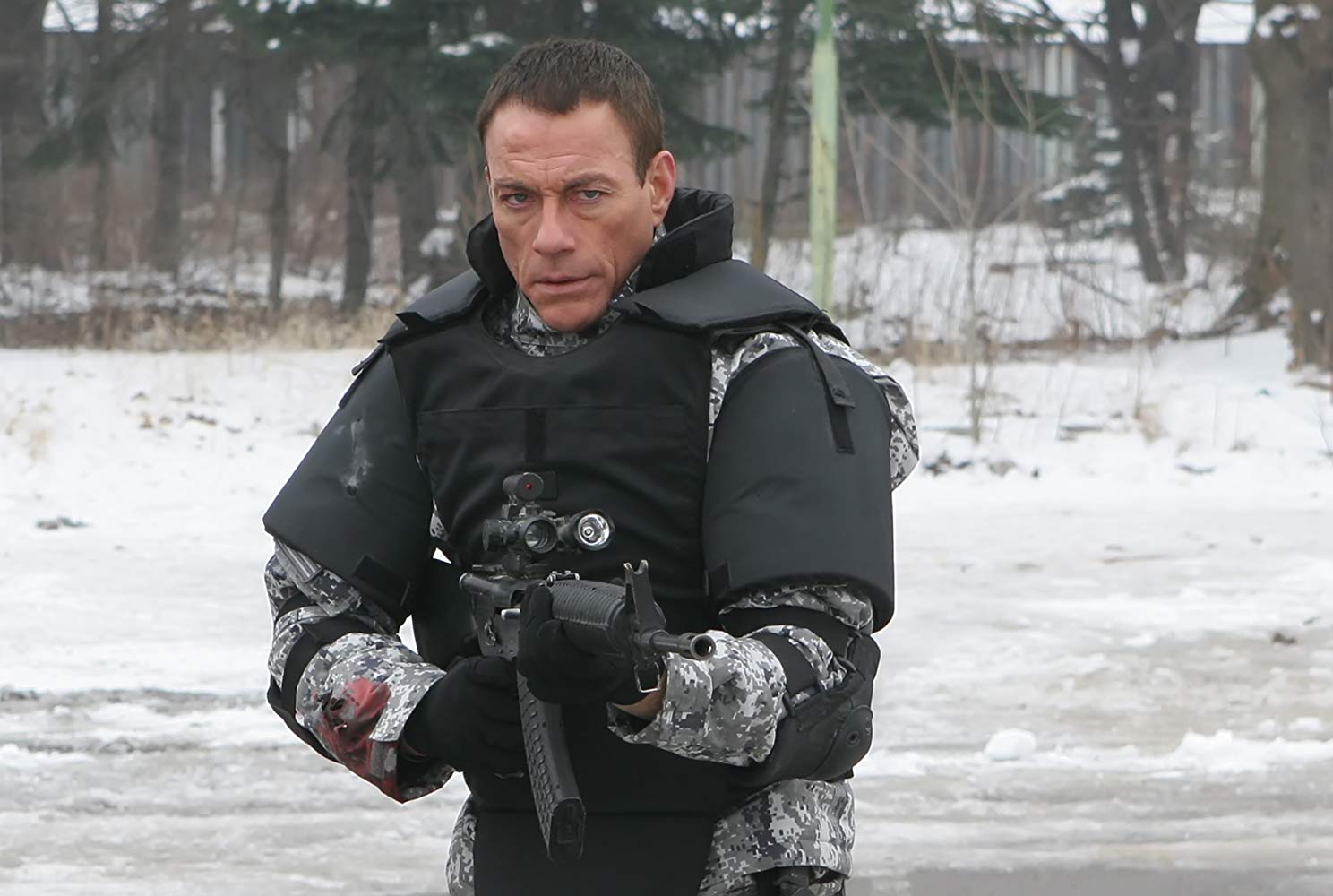 None of the Universal Soldier films are particularly good. That said, Universal Soldier: Regeneration is the best of the sequels. With the premise of the series being so limited, the franchise has straggled by solely on familiarity with the original where the subsequent entries have offered almost nothing in terms of new ideas – indeed, at least until the subsequent film (see below), all the Universal Soldier sequels seem stuck with the clunky problem of how to continue the story and resort to either having Luc Devereaux on the run or up against new villains, even though he was struggling to be little more than a zombie in the first film.
At least Regeneration has the most credible premise and gives us scenes with Luc Devereaux undergoing rehabilitation to act as a normal human being again before he is called back into action. On the other hand, the reintroduction of Dolph Lundgren feels awkwardly grafted on, as though the filmmakers had started shooting without having completed negotiations with his agent and then suddenly had to find a way to squeeze him in after the script had been finalised.
Universal Soldier: Regeneration comes from John Hyams, the son of Peter Hyams, the noted genre director of films like Capricorn One (1978), Outland (1981), 2010 (1984), Stay Tuned (1992), the previous Jean-Claude Van Damme vehicle Timecop (1994), The Relic (1997), End of Days (1999) and A Sound of Thunder (2005), as well as sundry action films, including also Sudden Death (1995) with Van Damme. Peter is known in his earlier works for wearing multiple creative hats and signs on here as John's cinematographer, the first time he has shot someone else's film. John had previously made the film One Dog Day (1997) and a couple of feature-length sports documentaries.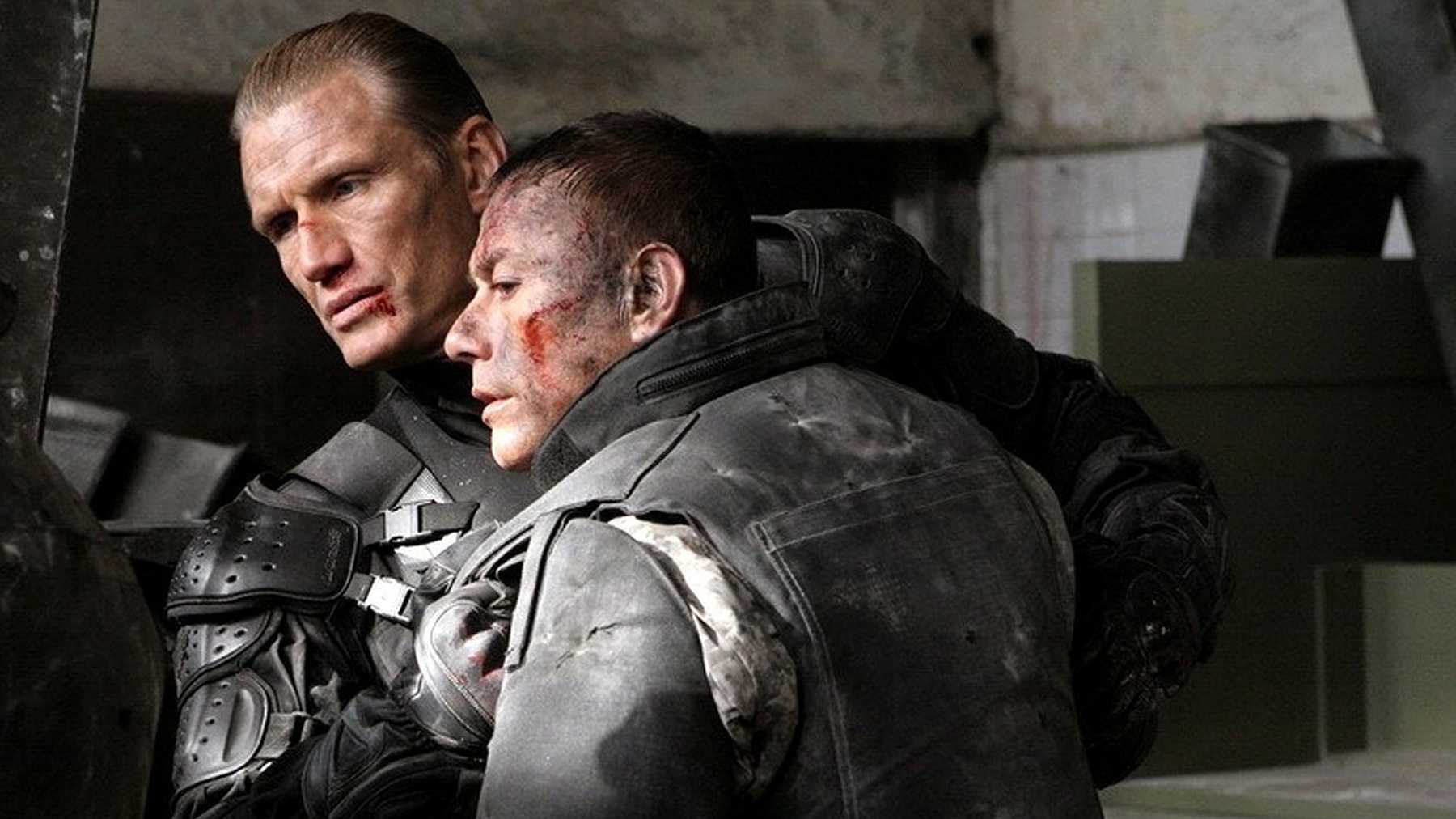 John Hyams returns to the same tough, brutal action stylism that Roland Emmmerich displayed on the first film, something that was watered down in the subsequent entries. The opening sequence bodes well – a full tilt, brutally tough car chase amid much in the way of gunfire and collateral damage with little mercy shown to anyone in the way. It certainly bodes well for the rest of the film, which John Hyams maintains in a similarly violent manner. The drawback of Universal Soldier: Regeneration is eventually that it only ever consists of brutal bloody action scenes, fierce gunplay, stabbings, guttings and heads punched in. John Hyams certainly holds no punches but the repetitiveness of it eventually tires.
Jean-Claude Van Damme and Dolph Lundgren were both coming into their mutual ascendancy as stars when Universal Soldier came out. Subsequently, Van Damme spent his time perfecting martial arts moves, while Lundgren noticeably learned how to act. Here Van Damme is his usual blank, gloopy screen presence but is starting to show his age and looks flabbily phlegmatic. Van Damme is entirely out-acted by Dolph Lundgren who aces the film despite getting half of Van Damme's screen time. Lundgren plays with a cold lethality and the single scene where he turns on and kills his creator is the best in the film.
John Hyams went onto make the even more fascinating Universal Soldier: Day of Reckoning (2012), also featuring return performances from Jean-Claude Van Damme and Dolph Lundgren.
Elsewhere, John Hyams has directed the action film Dragon Eyes (2012), the sports gambling film All Square (2018), the survival thriller Alone (2020) and the Covid home invasion film Sick (2022), plus created/produced and directed episodes of the zombie tv series Black Summer (2019- ).
---
---