---
Crew
Director – David S.F. Wilson, Screenplay – Eric Heisserer & Jeff Wadlow, Story – Jeff Wadlow, Based on the Comic Book created by Bob Layton, Don Perlin & Kevin VanHook, Producers – Vin Diesel, Toby Jaffe, Neal H. Moritz & Dinesh Shamdasani, Photography – Jacques Jouffret, Music – Steve Jablonsky, Visual Effects Supervisor – Chris Harvey, Visual Effects – Cantina Creative (Supervisor – Aaron Eaton), Day For Night (Supervisors – Roger Liu & Kyle Robinson), Image Engine (Supervisor – Martyn Cuplitt), Method Studios (Supervisor – Philippe Desiront) & Rodeo FX (Supervisors – Arnaud Brisbebois, Francois Dumoulin & Sebastien Francoeur), Special Effects Supervisor – Cordell McQueen, Concept Design/Makeup Effects – Weta Workshop, Production Design – Tom Brown. Production Company – Original Film/Valiant Entertainment/Hivemind.
Cast
Vin Diesel (Ray Garrison/Bloodshot), Guy Pearce (Dr Emil Harting), Eiza Gonzalez (KT), Toby Kebbell (Martin Axe), Sam Heughan (Jimmy Dalton), Talulah Riley (Gina Garrison), Lamorne Morris (Wilfred Wigans), Johannes Hakur Johannesson (Nick Baris), Alex Hernandez (Tibbs), Tamer Burjaq (Mombasa Gunman)
---
Plot
US Marine Ray Garrison comes off a tour of duty in Mosul and takes some R&R in Italy with his wife Gina. This is interrupted as mercenaries led by Martin Axe break into the hotel and take them prisoner. Ray is tied up and forced to watched as Axe kills Gina. Ray then comes around in a Rising Spirit Tech laboratory. There Dr Emil Harting informs him that he was a soldier who was killed in the line of duty but that he has been resurrected from the dead by their program. Harting introduces Ray to others at the facility who are all soldiers that have been cybernetically enhanced in various ways. He reveals that Ray's body has been rebuilt with nannites that give him vastly enhanced strength and invulnerability. As he tries to process this, Ray has flashbacks to the murder of Gina even though his mind is supposed to have been wiped. He escapes the RST facility and heads to Budapest, tracking Axe down in order to eliminate him. However, nothing about what happens is as Ray believes it to be.
---
Although it is pitched more as a Vin Diesel action film than a superhero film, Bloodshot is a comic book adaptation – something that has been downplayed by the publicity for the film. The comic-book appeared in 1992 at Valiant Comics where the character of Bloodshot was created as a superheroic cyborg. The comic was created by Kevin VanHook who also works as a visual effects supervisor and has directed several low-budget films with Frost: Portrait of a Vampire (2001), The Fallen Ones (2005), Death Row (2006), Slayer (2006) and Voodoo Moon (2006).
The comic-book and film have overall similarities – both feature the central character of a trained killer who is raised from the dead via nannites in his bloodstream that afford invulnerability, the ability to shapechange and access information systems. Resemblances end about there. In the original Valiant comic-book, Bloodshot is Mafia hitman Angelo Mortalli who is eliminated by his own side only to then be appropriated, his memory wiped and he rebuilt as part of a government program to create a super-soldier. Valiant was brought out by Acclaim Comics whereupon Bloodshot was relaunched in 1997 but given an entire new identity as Ray Garrison where it was explained that he was an undercover agent who had adopted the identity of Angelo Mortalli. In the film, this background disappears and he simply becomes Vin Diesel cast as marine Ray Garrison who is rebuilt as a super-soldier.
The film version is the directorial debut of David S.F. Wilson, a former visual effects supervisor. For essentially an action film, it comes with some impressive names on script. These include Jeff Wadlow, the director and usually writer of films like Cry Wolf (2005), Kick-Ass 2 (2013), Truth or Dare (2018) and Fantasy Island (2020). Even more interesting is the name of Eric Heisserer who started out writing the remakes of A Nightmare on Elm Street (2010) and The Thing (2011), and horror efforts such as Final Destination 5 (2011) and Lights Out (2016), before making an impressive splash with Arrival (2016) and going on to Bird Box (2018)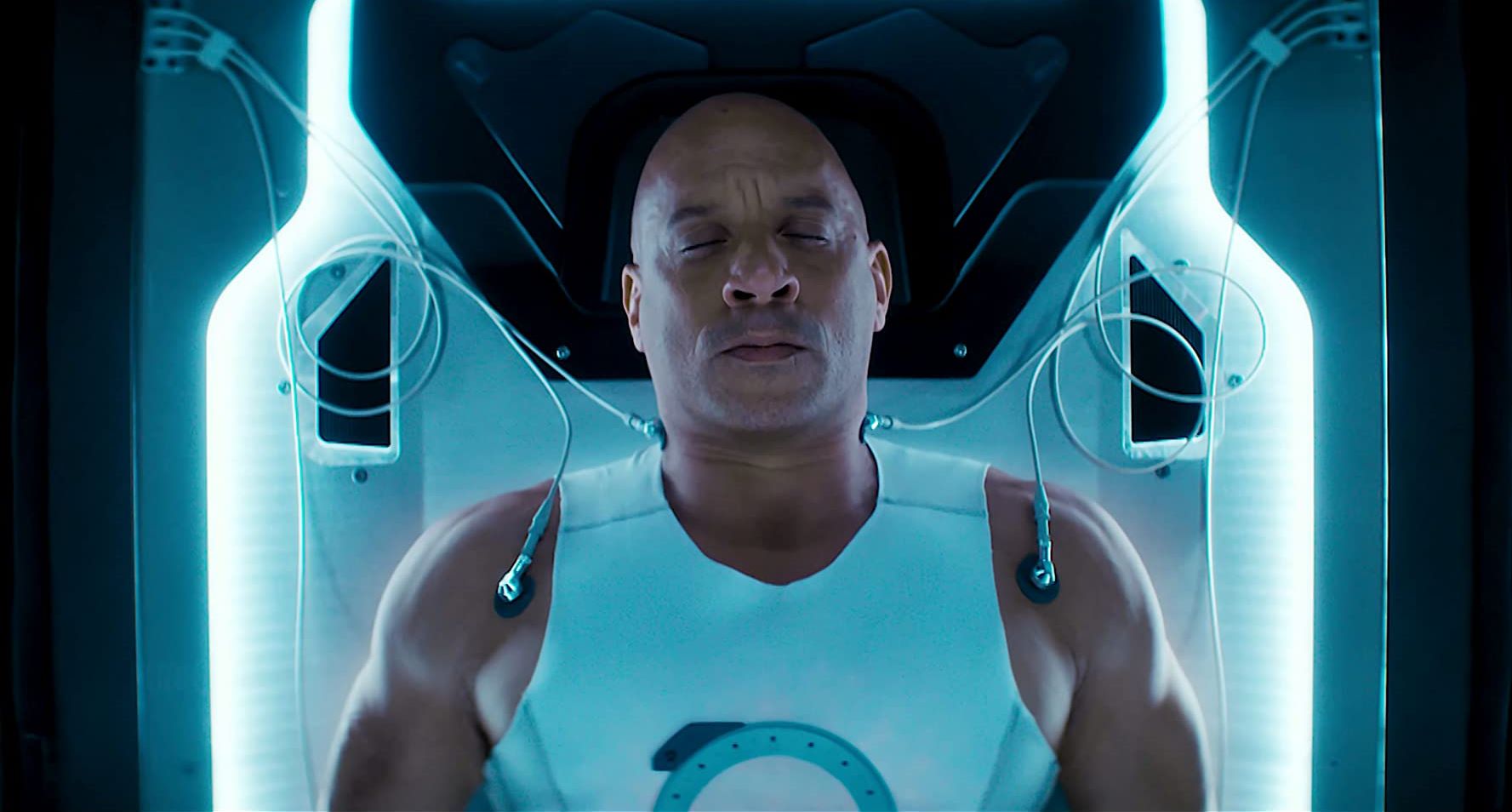 Bloodshot is in many ways crippled by being mounted as a Vin Diesel film. As it starts in, it seems to be a standard action movie. You immediately switch off at the hyper-realised and entirely by the book posturing of the military action. This segues into scenes with Diesel and wife Talulah Riley driving through a more-beautiful-than-the-real-thing depiction of an Italian seaside village and spending the night together. This idyll is upended by a badly over-acting Toby Kebbell who abducts the two of them and forces Vin to watch as he shoots her.
Vin Diesel then wakes up in a laboratory and it is revealed that he has been rebuilt as a super-soldier. Here the film gives all the impression of being another Universal Soldier (1992), albeit with more of a superheroic bent, or perhaps even more so a technologically upgraded version of tv's The Six Million Dollar Man (1973-8). Even then the scenes where Vin Diesel goes into action to eliminate Toby Kebbell's convoy are regular action movie ones – although there is one cool effect in the midst of this where Diesel is shot in the face and continues on with one side of his cheek blown out in a jagged shape.
Things however pick up from about the point where Vin Diesel returns from despatching Toby Kebbell. Everything is suddenly spun on its head in interesting ways. At the outset we are led to assume that we were watching a standard action movie set-up about the hero going on a revenge trail for the murder of his wife a la The Punisher or Charles Bronson in Death Wish (1974). However, this is revealed to be [PLOT SPOILERS] a series of artificial memory implants created by Guy Pearce for the purpose of sending Diesel out to eliminate targets – the scene where Vin sees his wife shot is no more than an artificial memory where the bad guy keeps changing depending on who they want eliminated. We then see Pearce and his team wake Vin Diesel up and go through the entire scenario again. As we watch everything repeat, the reactions Guy Pearce and his team had last time, which were those of controllers shocked to see their creation go rogue, are shown to be merely lines being repeated by actors who are bored with the parts they are playing.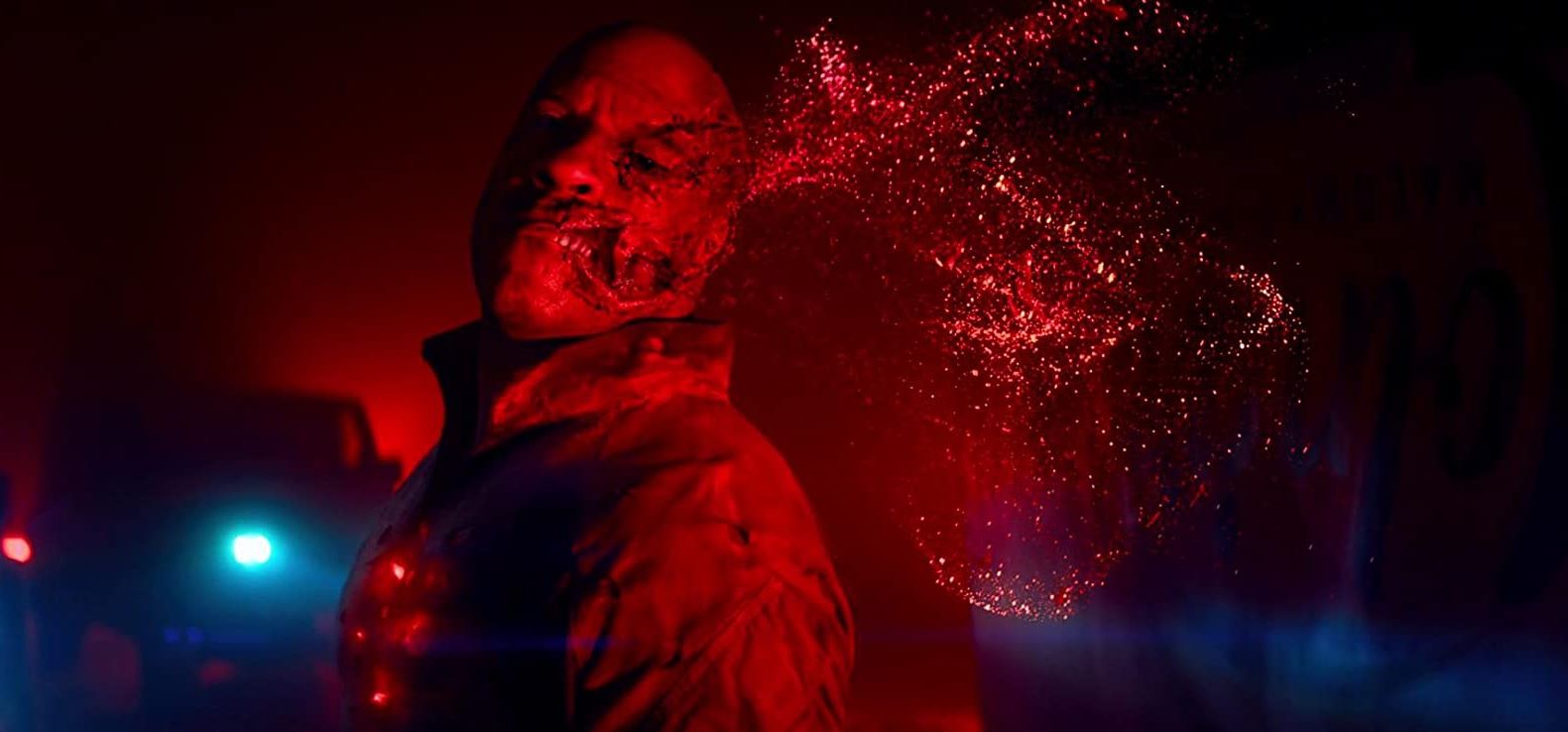 What this gives us is an action film that amusingly deconstructs itself – there are even wry lines about how the tics associated with the killer are bad cliches. There is a neat effect later in the show where Pearce reconstitutes every element of the Italian village inside the simulation with the implication that everything that we saw during the opening scenes was carefully crafted to create a particular mood and effect. It is the clever idea of what at first seems to just another cliched action film that flips over to reveal every aspect has been carefully crafted that way. The other interesting thing is that none of this double-level exists in the comic-book – the comic-book is the equivalent of the mindless action film and it is actually the film version that has elevated the conceptual level of the source material for once.
On the other hand, I am not entirely sure if the cleverness of the scenario is going to end up being appreciated by the film's audience. Indeed, Bloodshot feels like two different films fighting for control – one is a clever conceptual action film that subverts action movie cliches, the other is a Vin Diesel vehicle. Needless to say, the Vin Diesel film wins out and the action movie deconstruction ends up losing.
After the mid film twist, things settle back down to being no more than just regular action movie scenes with Vin Diesel fighting bad guys. Certainly some of these action scenes have a virtuosity that you end up applauding – a furious chase through the streets and alleyways between Vin and the other enhanced members of his organisation and a cool scene where the entire cloud of nannites in Vin's body reconstitutes. The standout set-piece is a battle between Vin Diesel and Sam Heughan who is outfitted with a set of robotic arms – not unakin to Dr Octopus in Spider-Man 2 (2004) – and their fight down and around the outsides of an elevator shaft.
---
---