---
Crew
Director – Roland Emmerich, Screenplay – Dean Devlin, Christopher Leitch & Richard Rothstein, Producers – Craig Baumgarten, Joel B. Michaels & Allen Shapiro, Photography – Karl Walter Lindenlaub, Music – Christopher Franke, Special Effects Supervisor – Kit West, Makeup Effects – Michel Burnett & Larry R. Hamlin, Production Design – Holger Gross. Production Company – Indieprod/Centropolis Film Productions.
Cast
Jean-Claude Van Damme (Luc Devereaux/GR 44), Dolph Lundgren (Sergeant Andrew Scott/GR 13), Ally Walker (Veronica Roberts), Ed O'Ross (Colonel Perry), Leon Rippy (Dr Woodward), Tico Wells (Garth), Jerry Orbach (Dr Christopher Gregor)
---
Plot
The military unveil their Universal Soldier program – a unit of superhuman crack commandos. These are ordinary soldiers that have been killed in action and resurrected as zombies controlled by computer, a process that has made then into the ultimate fighting machines able to sustain massive damage and regenerate. During an anti-terrorist operation, one of the soldiers, Luc Devereaux, starts to have flashbacks to his death in Vietnam and regains his humanity. Fleeing with tv news reporter Veronica Roberts, Luc is pursued by another Universal Soldier, his former comrade Andrew Scott, who has gone rogue.
---
Universal Soldier was the breakthrough of director Roland Emmerich into the US mainstream market. Roland Emmerich would later become an even bigger name and break through into the A-list of genre directors with the massive success of Independence Day (1996). Emmerich's previous successes had been in his native Germany with films such as The Noah's Ark Principle (1984), Making Contact/Joey (1986), Ghost Chase (1987) and most notably Moon 44 (1990).
Universal Soldier was also Roland Emmerich's first teaming with writer Dean Devlin, who has since become his regular screenwriting partner and co-producer with the two going on to make Stargate (1994), Independence Day, Godzilla (1998), The Patriot (2000), Independence Day: Resurgence (2016) and Emmerich going solo with The Day After Tomorrow (2004), 10,000 BC (2008), 2012 (2009), Anonymous (2011), White House Down (2013), Stonewall (2015), Independence Day: Resurgence (2016), Midway (2019) and Moonfall (2022). Universal Soldier was a fortuitous break for the then-unknown Emmerich who was brought in as a replacement on short notice after original director Andrew Davis bowed out.
All the highlights and faults that plague Roland Emmerich's films are abundantly on display in Universal Soldier. There are big action sequences that are spectacular and frequently exhilarating – notably the scene with the bus being pursued by the truck. The action is surprisingly brutal and bloodthirsty, something that Emmerich toned down in later films. The film plays to its star pairing and, as such, is little more than a battle of two blocks of wood – humour is at least poked in the direction of Jean-Claude Van Damme's beefcake, while Dolph Lundgren's performance becomes progressively more campily absurd.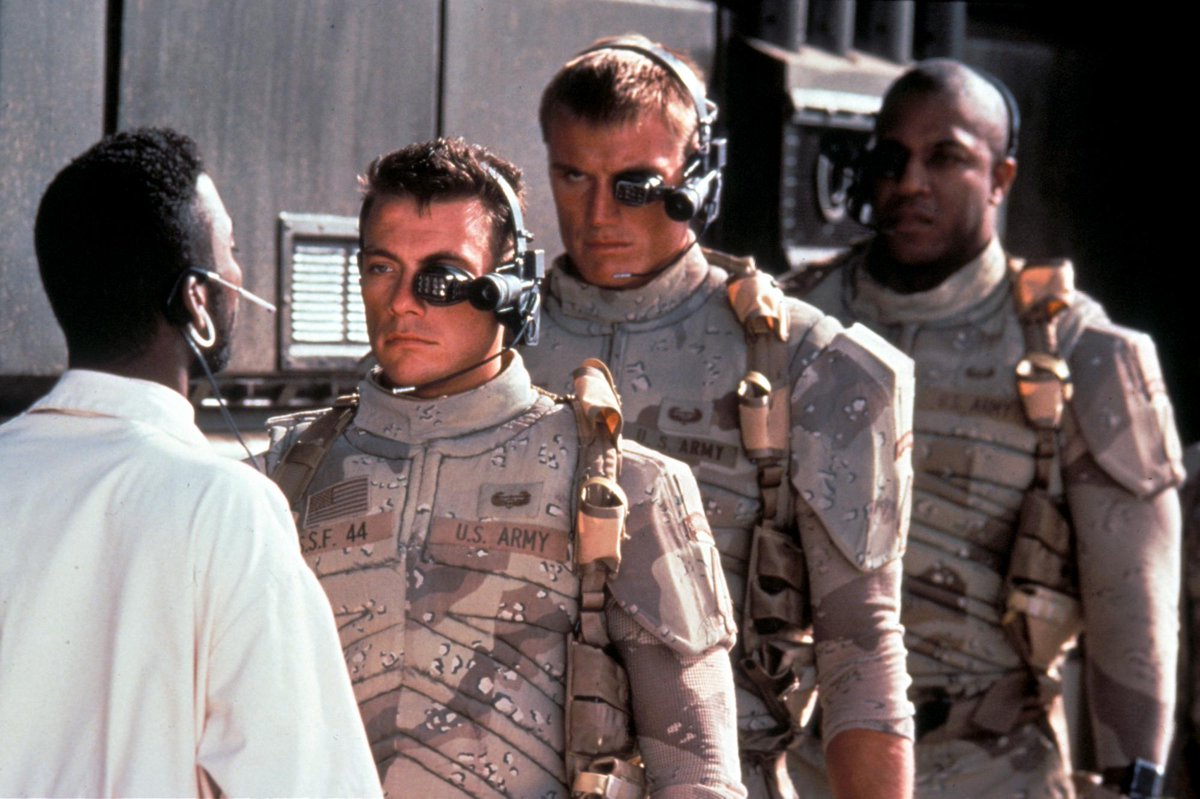 However, the script does not make much sense – the plot has been streamlined to carry the maximum amount of action and as science-fiction is nonsense. As with any Roland Emmerich film, it relies heavily on cliche – the scene where the hero and heroine go to part but she does not get on the bus; the false happy ending and so on. It is most amusing when it comes the Vietnam era cliches, which are so taken for granted now that the film has its soldiers suffering from Post-Vietnam Stress Disorder even before the war has ended.
There was an attempt for several years to turn Universal Soldier into a tv series, even though it is not a story that readily lends itself to such. Universal Soldier II: Brothers in Arms (1998) and Universal Soldier III: Unfinished Business (1998) were two Canadian-made sequels shot back-to-back and released directly to video, where Jean-Claude Van Damme's role was inherited by Matt Battaglia. The unrelated and thoroughly terrible Universal Soldier: The Return (1999) was a theatrically released sequel featuring the return of Jean-Claude Van Damme. Van Damme and Dolph Lundgren both reappeared in Universal Soldier: Regeneration (2009) and Universal Soldier: Day of Reckoning (2012). Universal Soldiers (2007) was a release from The Asylum posing as a sequel but is unrelated.
---
---