---
Crew
Director – Robert Hammer, Screenplay/Producers – Michael D. Castle & Robert Hammer, Based on the Novel Nightline by Michael Curtis, Photography – James Carter, Music – Byron Allred, Special Effects – Dick Albain, Art Direction – Kathy Cahill. Production Company – Scorpion Productions.
Cast
Nicholas Worth (Kirk Smith), James Westmoreland (Lieutenant Chris McCabe), Flo Gerrish (Dr Lindsay Gale), Ben Frank (Sergeant Hatcher), Gary Allen (John Feldon), Denise Galik (Lisa), Chuck Mitchell (Sam Gluckman), Paula Warner (Carol), Pamela Bryant (Sue Ellen), Gail Jensen (Joyce), Dale Kalberg (Nurse), Susanne Severeid (Denise), Chris Wallace (Psychic Dimitrios), Hugh Corcoran (Wino)
---
Plot
Nudie photographer Kirk Smith stalks Hollywood, either invading the homes of women or luring them to model for him and then strangling them. He is also obsessed with calling into the phone line of radio psychologist Lindsay Gale. As the police try to locate and stop Smith, Lindsay and lead detective McCabe are brought together during the course of the investigation and become attracted.
---
Don't Answer the Phone! was one of the films that came out during the slasher film fad of the 1980s that was created by the huge successes of Halloween (1978) and Friday the 13th (1980). Indeed, Don't Answer the Phone! was one of the earliest entries amid the slasher fad and in fact was released four months before Friday the 13th. As such, Don't Answer the Phone! seems to draw more on one of the minor films that came out early amid the slasher fad – When a Stranger Calls (1979). From this, it borrows the idea of the killer stalking someone by phone. In doing so, it becomes the first of several psycho films centred around a killer calling in to a radio talkback host – see the likes of Open House (1987), Dead Air (1994) and Outside Ozona (1998) – even if it does little with the idea.
Don't Answer the Phone! quickly aims directly for the sleazy voyeurism that became endemic among the slasher films of the era. It opens with a typical slasher movie set-up where a point-of-view camera shot follows a woman (Dale Kalberg) through her apartment as we get deep breathing on the soundtrack, where we then watch her undress from the killer's point-of-view, before Nicholas Worth appears and strangles her, contriving to rip her top off during the process.
The film uses the 1970s underworld of sleaze as a backdrop with Nicholas Worth working as a nudie photographer and frequenting Hollywood hookers, drug dealers and porn theatres – it could be a West Coast equivalent of Martin Scorsese's Taxi Driver (1976). Certainly, you get the impression that Robert Hammer was directly inspired by Taxi Driver's image of a sordid Times Square underworld and built a psycho film out of it – something that Taxi Driver seemed to be perpetually edging over into being.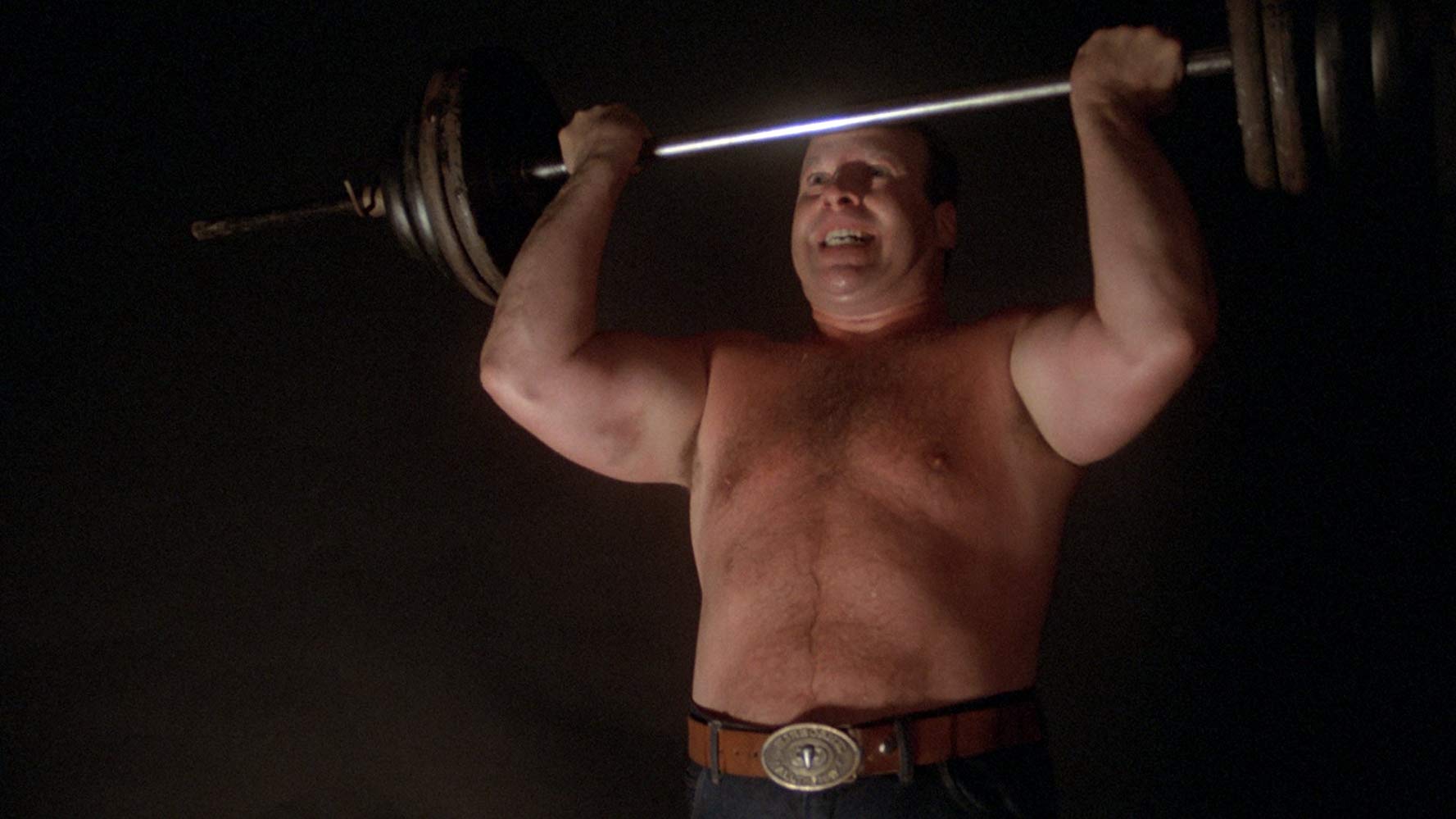 The role of the lead psycho is played by Nicholas Worth, a bulky, balding actor who found a career playing psychos and tough guys, usually in action films and tv episodes. He appeared in a couple of Wes Craven films – Swamp Thing (1982), Invitation to Hell (1984) – and other works like Scream Blacula Scream (1973), Hell Comes to Frogtown (1987), Darkman (1990) and Barb Wire (1996).
Worth seems to be having the time of his life here in what was one of his few starring roles, including scenes where he goes whacko talking down the phone to Flo Gerrish's radio talkback line in a fake Latino voice. He has a series of entertainingly sordid scenes, including one where we see him break into Paula Warner's apartment, lying on the bed with her, whispering "Daddy's not going to hurt you" before he pours hot wax over her body.
The film's When a Stranger Calls theme of the phone stalker is not that well integrated – indeed, the title invocation of Don't Answer the Phone! turns out to be of little significance anywhere throughout the film. Heroine Flo Gerrish is a radio talkback host but there are only a couple of minor scenes where Nicholas Worth calls into her radio show and a couple of scenes where he kills women as or after they are talking on the phone. The title appears to have been construed in the same vein as the spate of 'don't' titled films that were prevalent in the era after the success of Don't Look Now (1973) with the likes of Don't Be Afraid of the Dark (1973), Don't Look in the Basement (1973), Don't Open the Door (1975), Don't Go in the House (1979), Don't Go Near the Park (1979), Don't Go in the Woods (1982) and Don't Go to Sleep (tv, 1982).
---
Trailer here
Full film available online here:-
---