---
Crew
Director – Mike Nichols, Screenplay – Tony Kushner, Based on His Play Angels in America: A Gay Fantasia on National Themes, Producer – Celia Costas, Photography – Stephen Goldblatt, Music – Thomas Newman, Visual Effects Supervisor – Richard Edlund, Visual Effects – R!ot, Special Effects Supervisor – Steve Kirshoff, Production Design – Stuart Wurtzel. Production Company – HBO Films/Avenue Pictures.
Cast
Justin Kirk (Prior Walter), Al Pacino (Roy Cohn), Ben Shenkman (Louis Ironson), Patrick Wilson (Joseph Pitt), Mary-Louise Parker (Harper Pitt), Jeffrey Wright (Norman 'Belize' Arriaga/Mr Lies/The Angel Antarctica), Meryl Streep (Hannah Pitt/Ethel Rosenberg/Rabbi Chemelwitz/The Angel Australia), Emma Thompson (The Angel America/Nurse Emily/Homeless Woman), James Cromwell (Henry), Robin Weigert (Mormon Mother), Michael Gambon & Simon Callow (Prior's Ancestors)
---
Plot
New York City, 1985. Prior Walter announces to his boyfriend Louis Ironson that he has been diagnosed with AIDS. Unable to cope with this, Louis leaves. This abandonment leaves Prior shattered. At the same time, Roy Cohn, a powerful lawyer and a right-wing political conservative, is diagnosed with AIDS but demands that his doctor say that he has liver cancer as he does not want his homosexuality known in the circles he moves in. Cohn grooms his assistant, the milquetoast Mormon lawyer Joe Pitt, to go to Washington in order to protect him from a disbarment trial. At the same time, Joe's wife Harper has become deeply unhappy and addicted to valium over the fact that Joe does not seem to want her sexually. Joe finally comes out and admits that he is fighting again homosexual desires. When he calls to tell his mother that he is gay, she sells up everything she has in Salt Lake City and rushes to New York to help, but Joe has vanished – in fact, has met and taken up with Louis. As he gets increasingly sicker, Prior receives visitations from a female angel who has sex with him and then implants a holy book inside his body, telling him that he is a prophet and must sound the warning that human progress be stopped. As Cohn falls ill in hospital, the ghost of the Communist spy Ethel Rosenberg, whom he helped convict and execute, comes to gloat about his nearing death.
---
Angels in America is based on Angels in America: A Gay Fantasia on National Themes, one of the most celebrated plays of the 1990s. In fact, Angels in America is two plays – Millennium Approaches (1991) and Perestroika (1992) – that were eventually staged as a two-part, seven hour whole. Writer Tony Kushner won the Pulitzer Prize for Drama and the Tony Award for Best Play in 1993, as well as a host of international critics awards. Kushner himself is a gay writer originally from Louisiana who now resides in New York City. He is politically active on many issues and has written a number of other plays on topics as diverse as Nazism, socialism and Judaism, as well as the screenplay for Steven Spielberg's Munich (2005), Lincoln (2012) and West Side Story (2020).
This was an adaptation of the play made for tv. Angels in America comes from the acclaimed Mike Nichols, director of classic films like Who's Afraid of Virginia Woolf? (1966), The Graduate (1967), Catch 22 (1970) and several occasional ventures into genre material – the talking dolphin film The Day of the Dolphin (1973), the interesting werewolf film Wolf (1994) and the alien visitor comedy What Planet Are You From? (2000). The Angels in America mini-series accrued a host of awards and nominations, including a clean sweep of that year's Emmy's and the tv categories of the Golden Globes.
Watching Angels in America felt like the dramatic equivalent of being run over by a steamroller. One was left completely flabbergasted at seeing a work that challenges the televised medium to such an extraordinary extent. It is a work that is willing to go waaay out on a limb. One of the most extraordinary aspects of the series is how it was prepared to encompass so much – everything from an analysis of the zeitgeist of 20th Century American history and politics, with Tony Kushner in particular digging his knife into Reaganite America; a more-than-frank depictions of gay sexuality (Ben Shenkman's encounter with a tough leather boy in the bushes in Central Park – "Can we go back to your place?" only to receive the gruff rebuff "I live with my parents" – is side-splitting); the willingness to fearlessly travel into and analyse what it means to be gay and HIV positive; the question of oncoming death; the willingness to slam religion and, in particular, the series' almost hallucinatory fantasia on Mormon theology.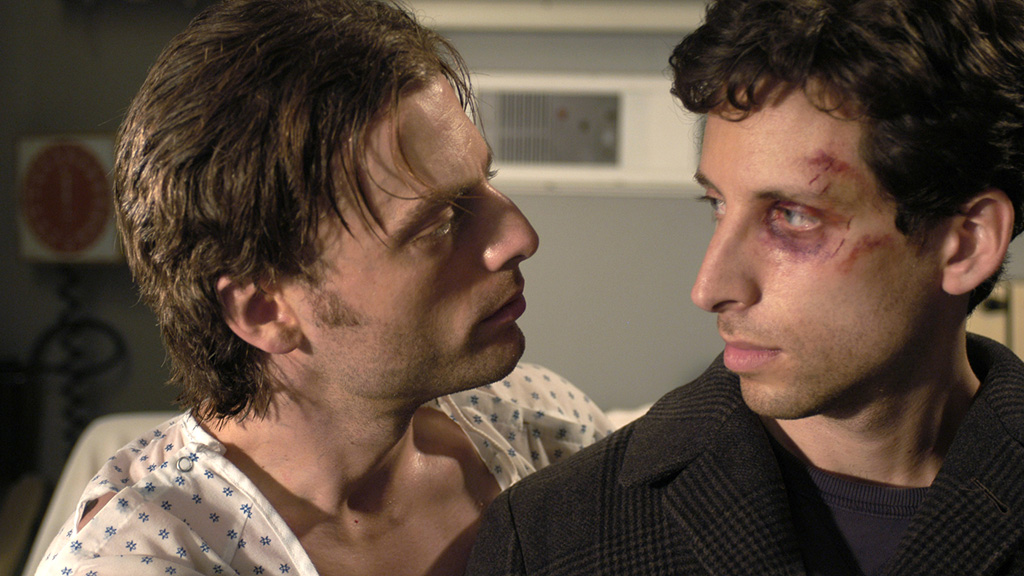 It is amazing that such a work ever managed to be greenlit for production at all in such a deeply conservative country like America. Had the show not been made for cable, which is a much more liberal medium than American free-to-air and an arena that has allowed edgier shows like Sex and the City (1998-2004), The Sopranos (1999-2007) and Six Feet Under (2001-6) to emerge in recent years, it leaves the mind cringing at how much of the show's conceptual boldness would have had to be trimmed to be acceptable.
Maybe the most remarkable aspect of an entirely remarkable series is Tony Kushner's writing. The show is filled with pithy, acidically barbed one-liners where Kushner lingers on the joy of the way adjectives and imagery turn. The series is packed with extraordinary, standout speeches – from Al Pacino's remonstrations to his doctor as to how he does not have AIDS but liver cancer; to Jeffrey Wright's taunting Al Pacino with the vision of Heaven that he will never see. Tony Kushner has been allowed to deliver the sort of writing that we have rarely seen grace the televised medium in some time. Just witness Mary Louise Parker's conversation with the statue of the Mormon wife:
"In your experience of the world, how do people change?" she asks.
"Well, it has something to do with God, so it's not very nice," comes the answer. "God splits the skin with a ragged thumbnail from throat to belly and then plunges a huge, filthy hand in. He grabs hold of your bloody tubes and they slip to evade His grasp but He insists. He pulls and pulls until all your innards are yanked out. And the pain – you can't even talk about that. And then He stuffs them back – dirty, tangled, torn. It's up to you to do the stitching … Get up. Keep walking … That's how people change."
The play/mini-series is largely designed to confront modern American attitudes towards homosexuality and the reactions to the AIDS scare during its first appearance. All of the characters have been designed to reflect some facet of this – from drag and flamboyant camp to the closeted man struggling within the social expectations of a marriage and, of course, the conservative religious reaction.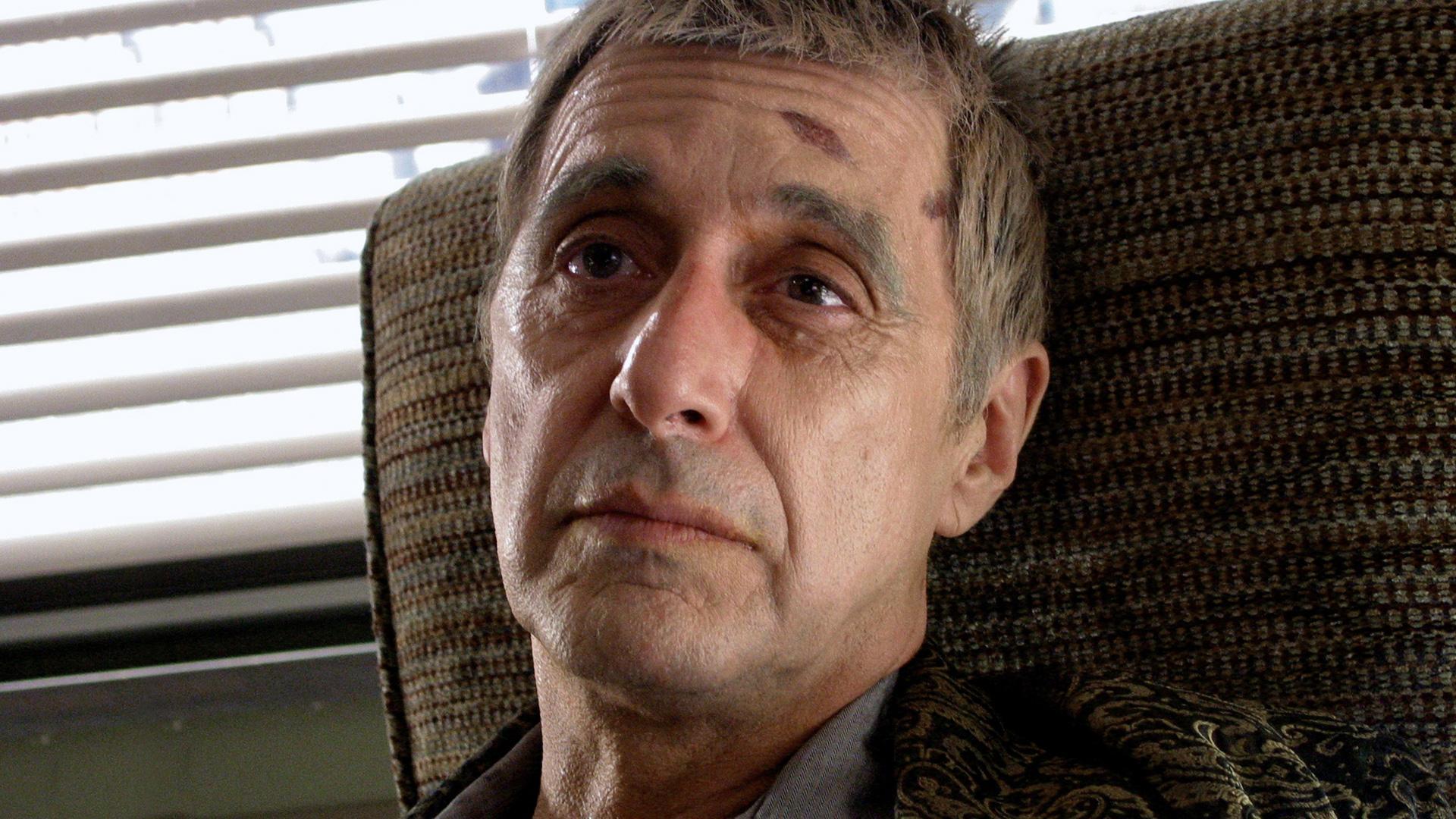 The most fascinating of these is the character of lawyer Roy Cohn played by Al Pacino. What many do not realize is that Roy Cohn was a real figure who was active in the Communist witch hunts conducted by Senator Joseph McCarthy during the 1950s where he was McCarthy's chief legal council. Most famously, he headed the trial that tried and executed Julius and Ethel Rosenberg for espionage in 1953 for supposedly passing classified information to the Soviets. The fascinating fact about Roy Cohn was that he was also gay and died of AIDS in 1986, although vehemently denied that he was gay or infected right up until his death. Moreover, Cohn also hypocritically supported ardent right wing issues and the prosecution of many others for being gay.
At the end of the mini-series, Tony Kushner finally reaches an almost Utopian vision of harmony and hope for the future. The final scene has all the remaining characters directly addressing the camera and Justin Kirk offering what is clearly a manifesto upon Kushner's part: "This disease [AIDS] will be the end of many of us. But not nearly all of us … And we are not going away. We won't die secret deaths any more. The world only spins forward. We will be citizens when the time has come."
Into the bargain, Angels in America is also completely madcap – the play was appropriately subtitled A Gay Fantasia on National Themes. Mike Nichols and Tony Kushner stage all manner of wildly surreal scenes – shared dreams between Justin Kirk and Mary-Louise Parker that restage scenes from Jean Cocteau's Beauty and the Beast (1946) as a drag fantasy of sorts (an appropriate homage in that Cocteau was one of the first openly gay filmmakers); Mary-Louise Parker vanishing through her refrigerator into a fantasyland Antarctica where she is taunted by a Devil figure; the ghosts of Justin Kirk's two ancestors come to visit him, comparing his affliction to the pestilence and wondering why he has not sired a lineage; the dying Al Pacino visited by Meryl Streep as the ghost of Ethel Rosenberg who has come to taunt him; Mary-Louise Parker having conversations with the statue of a Mormon pilgrim wife come to life. One had no idea what was going on half the time but the show managed to be spellbindingly brilliant in its fevered lunacy despite.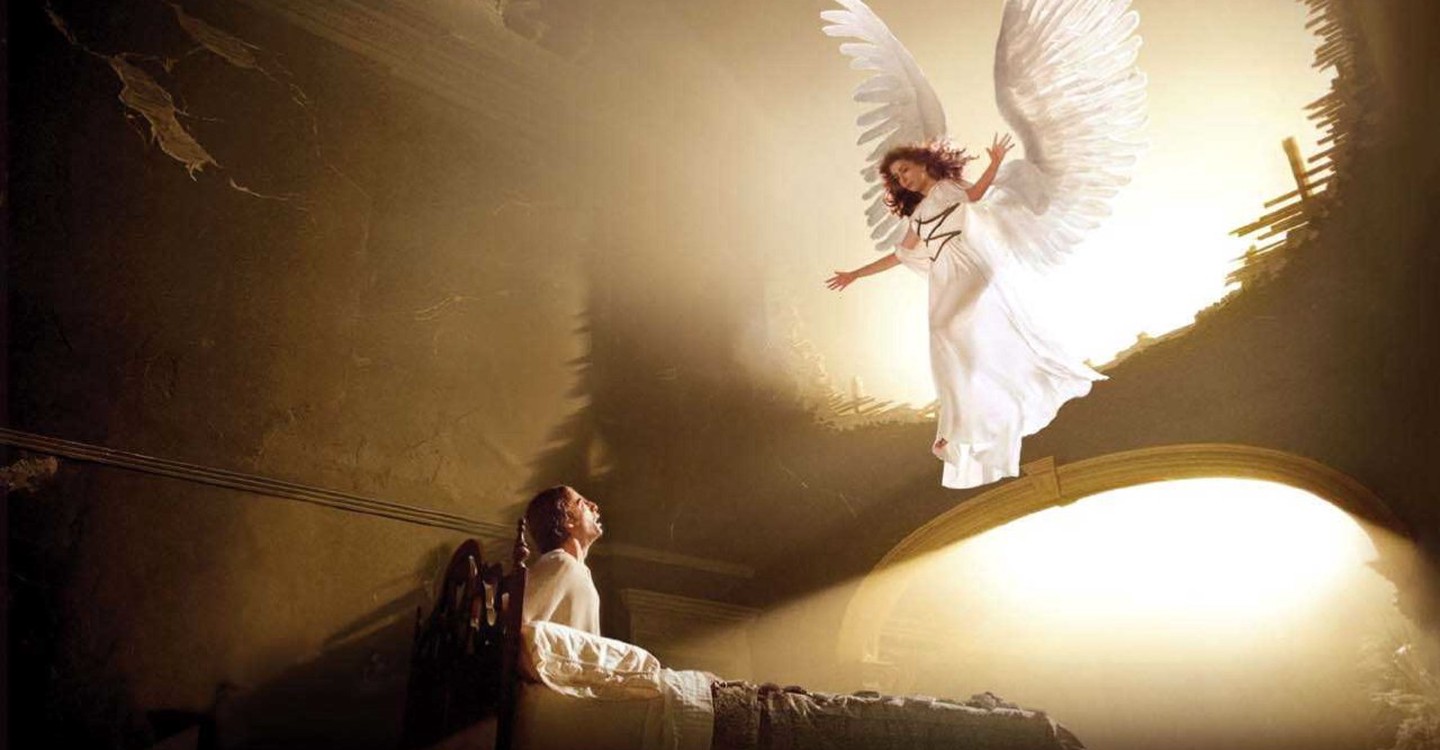 The most amazing aspect of the show's conceptual dazzle is the film's wildly hallucinatory take on Mormon theology. There is an especially side-splitting appearance from Emma Thompson as a horny angel (with six vaginas) who bursts through the apartment roof and ravages Justin Kirk in mid-air. The scene is all the funnier for Tony Kushner's underscoring it with the wittily irreverent – where Emma Thompson's thunderous King James-styled pronouncements are undercut by Justin Kirk complaining about how destroying the fridge is damaging the environment with fluorocarbons, or where she urges him to find the book: "In the kitchen, under the tiles, under the sink." "You want me to tear up the kitchen floor? No fucking way. I'll lose my security deposit." In the last two episodes, the appearances of the angels and mad prophets, even a visit to Heaven (which is just like San Francisco with a Golden Gate Bridge popping up through the clouds) via a flaming ladder, coalesces into an extraordinary theological vision where Tony Kushner (via the mouthpiece of Justin Kirk) taunts an absentee Almighty for not caring.
The show is also an actor's triumph. Almost all of the principals ended up being nominated for or winning awards somewhere and it is hard to say who among the ensemble delivers the most outstanding performance. Meryl Streep naturally accrued the most nominations, winning the Golden Globe, the SAG, the Golden Satellite and the Emmy as Best Actress, and is effective in her role as the hard-nosed Mormon mother to whom basic empathy seems an alien concept.
However, the most outstanding piece of acting that Meryl Streep does is a role where she is entirely unrecognisable. In a holdover from the stage version, the show has the various actors playing different roles throughout and Meryl Streep's best piece of acting comes in the opening scene as a boisterous, octogenarian rabbi who gives a marvellously rousing tribute to the American Jewish diaspora at a funeral – one entirely failed to see that it was Streep in disguise until the end credits.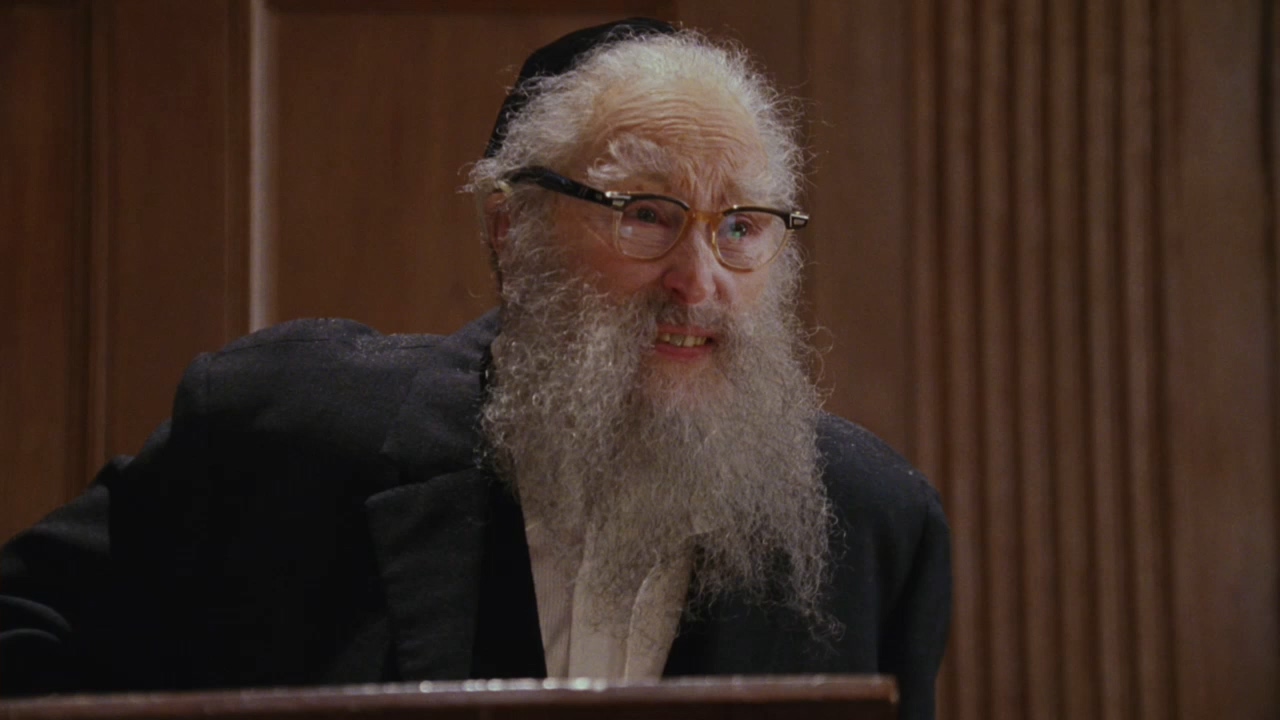 Al Pacino managed to get one less award than Meryl Streep and only gives a single performance but gets all the best lines. There is a fabulous scene between the dying Pacino and Meryl Streep as Ethel Rosenberg's ghost where she starts falling for his dying pitiful lonely boy act and is briefly pulled out of her gloating by sympathy, before he abruptly jolts her out of it.
Only Emma Thompson seems a little underutilized in a role as a nurse (with a not-too-convincing American accent), although shows her stuff in a side-splitting turn as the angel and another of the disguised cameos as a homeless woman wandering in mind who is encountered by Meryl Streep.
The real scene stealers of the show manage to be some of the younger stars – Justin Kirk, Ben Shenkman, Mary-Louise Parker, Patrick Wilson and especially Jeffrey Wright – with the bulk of the plot being more than ably carried by these. One predicts that we are going to hear great things from all of them sometime in the very near future.
(Winner in this site's Top 10 Films of 2003 list. Winner for Best Adapted Screenplay, Best Actor (Al Pacino) and Best Supporting Actress (Emma Thompson), Nominee for Best Actress (Meryl Streep), Best Supporting Actor (Justin Kirk), Best Supporting Actor (Jeffrey Wright) and Best Supporting Actress (Mary-Louise Parker) at this site's Best of 2003 Awards).
---
---